The Last Meal Plan You Will Ever Have to Create
Save time, money & your sanity with this super simple, yet BRILLIANT meal plan hack! A must for busy moms. Set it up once for effortless meal planning all year long!
Does the term meal planning make you cringe? It's almost like a dreaded chore.
We know the benefits of it.
The money we will save, not to mention the time saved because who wants to spend the late afternoon hours running to the grocery store for those few items you don't have to make that dish you want to make… all with the kids in tow?
But even with knowing the benefits, meal planning can still feel like a chore.
I didn't enjoy the process of meal planning either.
Why oh why does my family have to eat dinner every single night? Not to mention breakfast, lunch, and snacks… it's never ending!
But then I discovered a meal planning process that has changed the way I approach meal planning and has cut the time it takes to plan in half.
Are you ready for this little hack that has saved me so much time and has made meal planning feel less like a chore?
Create a list of 20 or so of your family's meals. 
Yep, you read that correctly!
Just sit down right now and write out the list of all those go-t0 favorites that you know your family loves to eat and, for the most part, you know how to make and aren't complicated.
This took me about 10 minutes.
I wrote out the top go-to meals that are easy for me to make or, even better, throw in the crockpot from the freezer, and are also loved by all.
Once I created my list, I went back and organized it so similar meals aren't close together, for example, tacos and enchiladas are spaced apart because while they are yummy, we typically don't like to each them in the same week.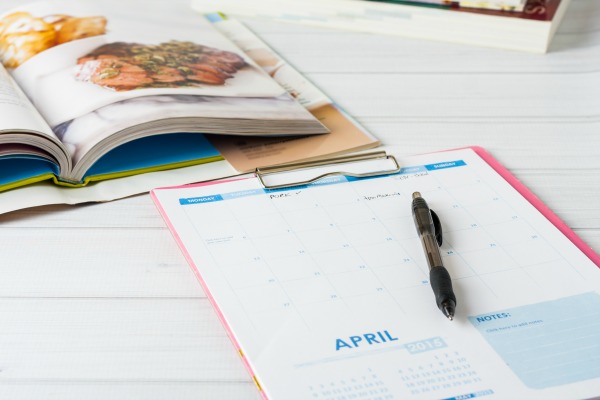 I also like to organize my meals to use leftovers accordingly. For example, I like to place white chicken chili after we make a whole roasted chicken so I can use the leftover chicken in the chili, as well as a few other meals.
This process takes a few minutes to set up but once you have your list in the order that you like and works for your family, you have your meal plan for the entire month… and ultimately, this could be the last meal plan you will ever have to create!
In full disclosure, I actually have four of these meal plans set up seasonally. 
Two for spring and summer meals when we typically eat lighter meals, after all, no one typically likes to eat a piping hot pot of soup in the heat of July.
As well as two more seasonal meal plans for fall and winter filled with warm, delicious, and filling comfort foods we typically eat during the cold winter months.
Here's a picture of one of the lists I made in my CHK Seasonal Meal Planner.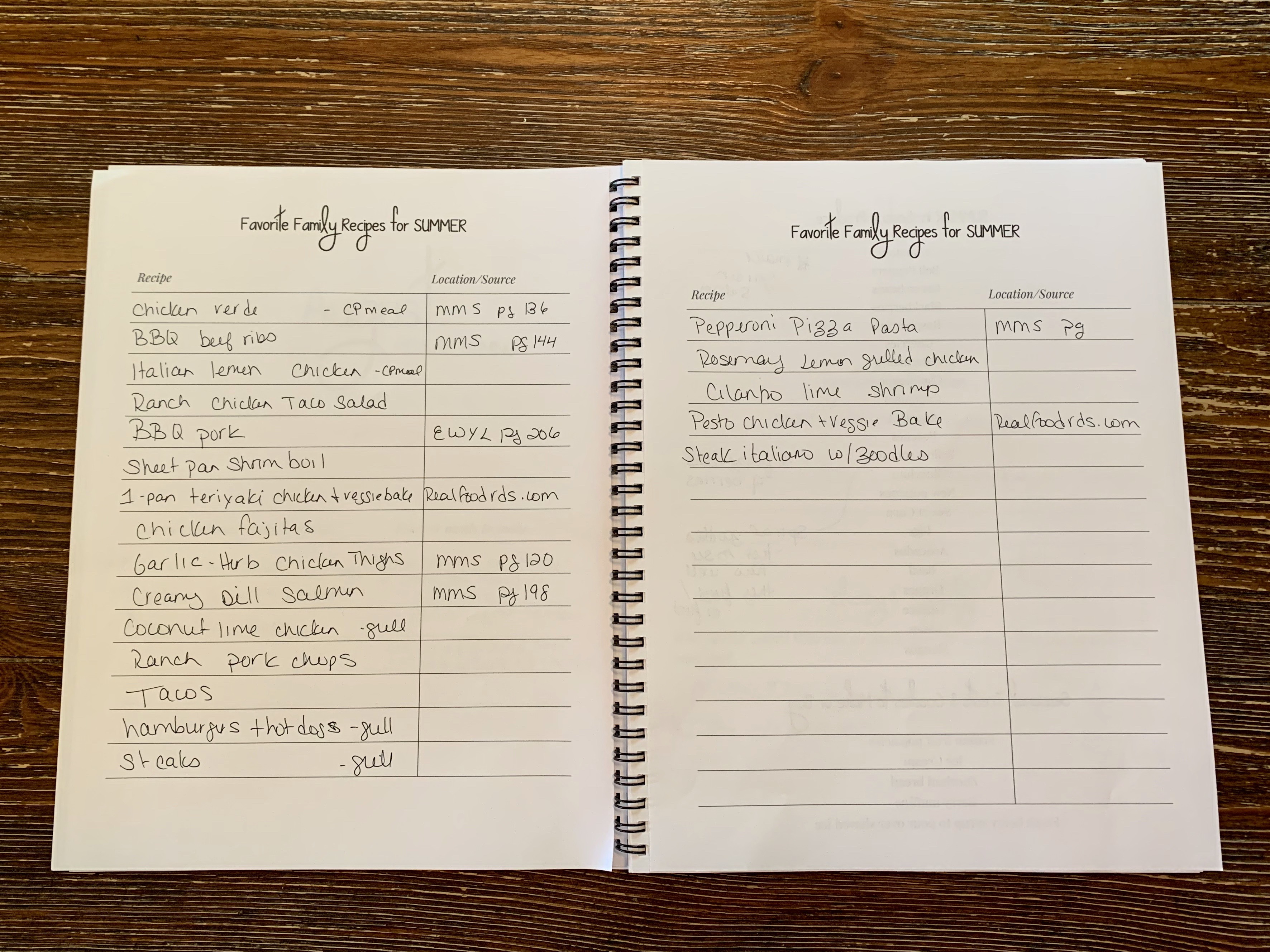 Now I have a list of more than 20 meals that I can regularly pull from and rotate for each month!
That's it, easy peasy!
I also go another step to make it even easier when I sit down to meal plan every month.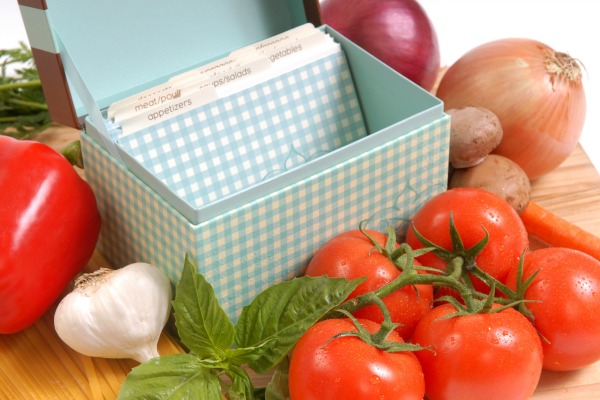 I place all the recipes in my recipe binder so they are always within reach so I'm not hunting down the recipes.
If the recipe comes from a physical cookbook, I use the cookbook list printout, found in The CHK Seasonal Meal Planner to write down the book title and page number.
If it's a recipe I found on the internet, I will print it out or write it down on the recipe locator printout so I'm not searching on Pinterest come dinner time (which also results getting lost in the rabbit hole!)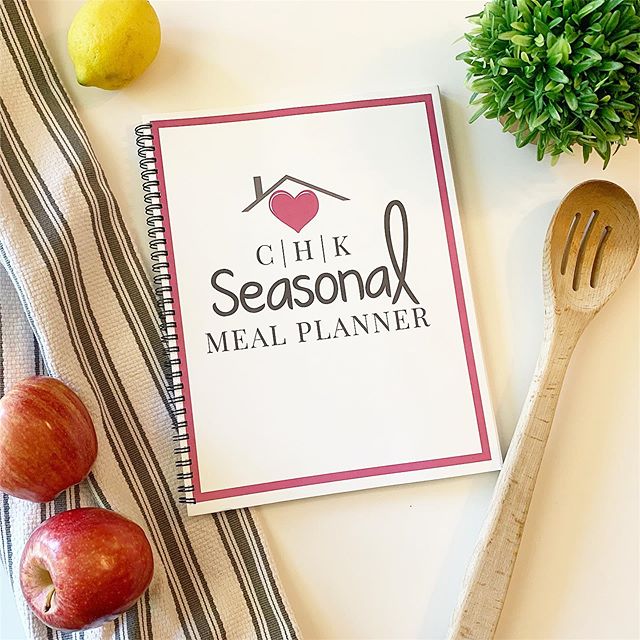 So why start with only 20?
You could easily add more, or less and do a two-week rotation if you prefer, but I like 20 meal ideas because:
It gives me flexibility for dinners out
If I discover a new recipe I want to try, I can plug it in
I'm not opposed to frozen pizza, boxed mac' and cheese, or froze chicken nuggets for quick meals on nights when I just can't even…
This leaves room for leftovers and using what we have in the pantry, refrigerator, and freezer that needs to be eaten
Some months we have special dinners for holidays, birthdays, or other special days
We typically reserve Sunday night dinner for snacky dinners
The best part of this meal planning process?
It's quick and easy once you have your list all set up.
It's also customizable.
You can just use the list as your monthly meal plan as is, or you can pull meals off of the list to plug into your monthly plan as you see fit. Really, it's up to you!
It keeps you from those last minute grocery runs, and the feeling of dread when 5 pm hits and you have no idea what's for dinner.
Taking the time to set up your list, will save you time and money all month year long!
Have you set up a family favorite list to help make your meal planning simple & easy? What other meal planning tips do you? 
PIN IT!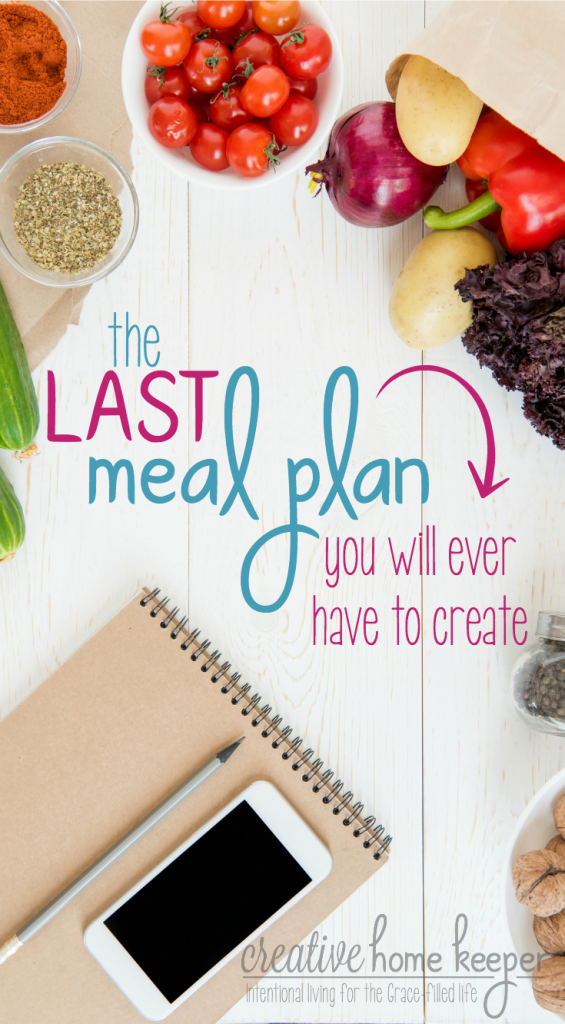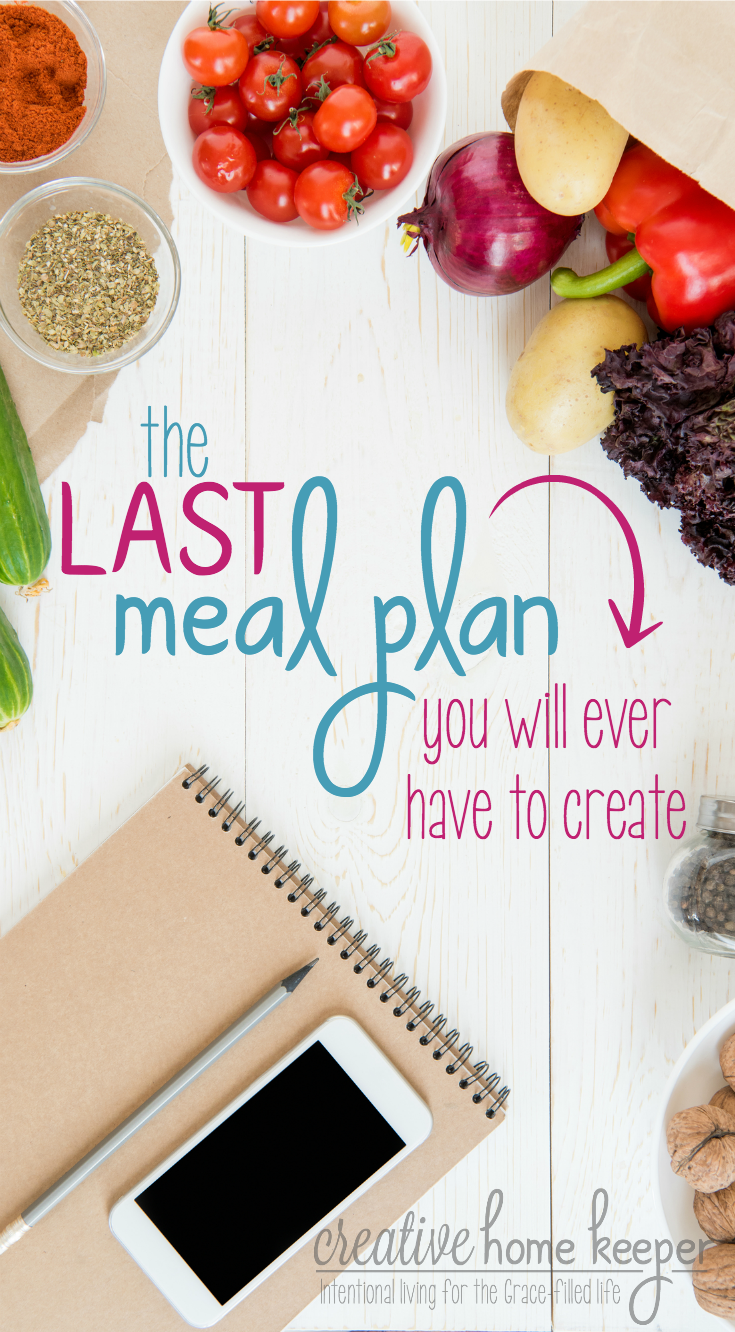 ---
Have you checked out the CHK Seasonal Meal Planner yet?
Does any of this ring true for you too?
Do you wish meal planning was more of a cohesive routine that allows for easy weekly planning?
Do you long to live seasonally and build in traditions to your meal plan?
Do you want to enjoy each season while taking time to plan for your family's special traditions AND plan for meals you will eat every single day?
These were questions I had been wrestling with.
I wanted a meal planning system that would help me carry my seasonal mindset over into my meal planning but there wasn't much out there.
The CHK Seasonal Meal Planner is an all-in-one meal planning system that not only helps to plan what we will eat each day but is also built around each season so we can naturally incorporate our family's traditions and special days.
It will allow you to plan your meals with purpose and intention as you think through special days, holidays, and what each season uniquely offers.
AND It will guide you, step-by-step, through planning each month allowing you to save time and money.
This unique meal planner will hold your hand and take the stress and overwhelm out of planning easy, family-favorite meals.
Plus you will naturally include seasonal elements into your monthly and weekly meal planning!
I could go on and on about all the special features and why I love it so much, but I'd rather you go and check it out for yourself HERE!