Monthly, weekly or daily… are you picking the right planner for your planning needs? There are pros and cons to all the different formats making it crucial to understand how you prefer to plan and use your planner. Come learn how to pick the right planner for you!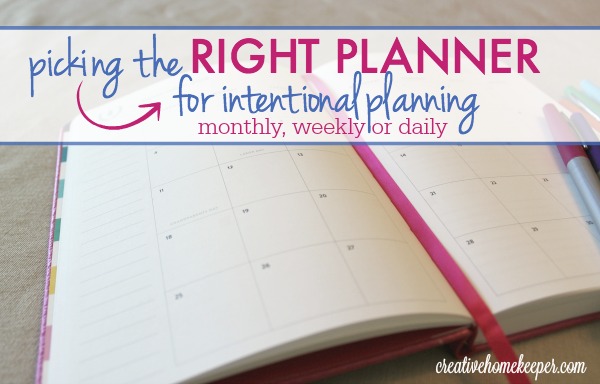 It's no secret I love my planner, it helps to keep me organized and on top of things.
My husband lovingly calls it my second brain because I have to refer to it so often because… well mommy brain is very real.
I forget unless I write important things down.
Over the years I have run the gamut on which type of planner I have used and, depending on the season, my favorite planner format changes.
Monthly, weekly, daily… they all have their pros and cons and all serve a unique purpose in organizing our days and weeks but how do you choose which one is the best for you?
How do you pick the right planner?
Well first, you have to understand the difference between the three formats.
Monthly Planners
Monthly spreads are just one month calendars, a at-a-glance spread,  usually with enough room inside each date to write important events, appointments or other tasks. A good monthly spread also leaves room on the side, or bottom, of the calendar to write out any additional notes or reminders.
Monthly planners might be a good fit for you if:
You're not a list maker
You like simplicity
You want to carry around a smaller planner that fits easily into your purse or bag

Things to look for in a good monthly planner:
A two page spread
Plenty of room in each date box to write 2 to 3 important dates or events
A full calendar (I know it doesn't always work out but it's my pet peeve when the last few days of the month have to share a box with the week before)
Plenty of room in the margins to record extra notes or reminders
Weekly Planners
A few years ago, when I was first introduced to premium planners, I began with a weekly spread in an Erin Condren planner. It was a vertical spread, meaning each day was long to write out morning, afternoon and evening notes. That particular weekly format didn't exactly click with me but some people really adore that style.
Another weekly planner layout, that I'm currently loving, is more of a horizontal layout where each day is spread out linear. This format works best for me, since it allows me room to write out events and doesn't break up my day into 3 categories.
Weekly planners might be a good fit for you if:
You like seeing your entire week in front of you, without having to flip back and forth between pages
You like writing out a small, managable to-do list
You like having a more compact planner that is easy to carry around in your (large) purse or bag
Things to look for in a good weekly planner:
Plenty of room to write out dates, notes, tasks or important reminders
Includes a monthly spread with room for notes in the margin
A layout that works best for how your mind works
Plenty of white space (this allows you to personalize the way you desire)
Daily Planners
I love my to-do lists, maybe it's just the fact that I love crossing things off but writing out a to-do list is one of my favorite things to do (I know, I know…. I'm weird!) 😉
Daily planners organically foster to my love of writing out lists while still leaving plenty of room for notes, time schedules, possibly even space for a meal plan or to include your daily Scripture memory Bible verse if you so choose.
Daily planners might be a good fit for you if:
You love writing out to-do lists
You have a million post-it notes all over the place and you desperatly need a system to organize them!
You like having a detailed schedule of your day
You like having all of your daily reminders, events, tasks, notes, meal plans, and inspirational messages in one place
You don't care if your planner is thick

Things to look for in a good daily planner:
A full page for each day
Plenty of room to write important events, dates, reminders or notes
A time blocking schedule (if that's important to you)
A layout that works best for how your mind works
Plenty of white space for you to personalize
So where do I stand?
I have been using, and loving, my Simplified Planner, Daily Edition from Emily Ley. It's beautiful, simple, and it keeps me organized but I think I may be jumping ship.
From Instagram: Monday? How about super fun mail day?!?! I may be swooning over my new academic @simplifiedplannerfrom the super creative, talented and very generous @emilyley. I should be longing for August to get here so I can start using this but that means that Silas will be starting Kindergarten, and I'm not ready to rush that! So for now, I'm just swooning and you should be too! The new #simplifiedplanner launches this Wednesday!!! #planneraddict #ilovemyplanner #planner
Recently I received the gorgeous new Academic Weekly Simplified Planner, also from Emily Ley, and I think I might be smitten.
It's more compact than the Daily Edition so it's easier to transport around in my purse.
It's a leather bound book that lies flat. My biggest complaint with my spiral bound planner is that it can be difficult to write up against the spirals but this new book bound weekly planner opens flat making is super easy to write.
Weekly vs. Daily
As I shared above, I do love writing out my to-do lists but something I have become aware of is my to-do lists are more of a dream list than what is realistic for my current season. All of those open lines and spaces gave way for me to write out more than I could accomplish, leaving me feeling really defeated at the end of the day.
What I love about the Weekly Edition is there is still room to write a much smaller to-do list, as well as room to write out time-based appointments and dinner. Plus I can see the entire week instead of having to flip back and forth.
The Weekly Edition also includes a monthly spread with a ribbon bookmark. You can also place a small paper clip on the week too for easy location of the page you need.
Final Verdict
Beginning in August (because this is an Academic version which runs from August 2016 through December 2017… 17 months!!!) I will use the Weekly Edition for my everyday planning and organizing.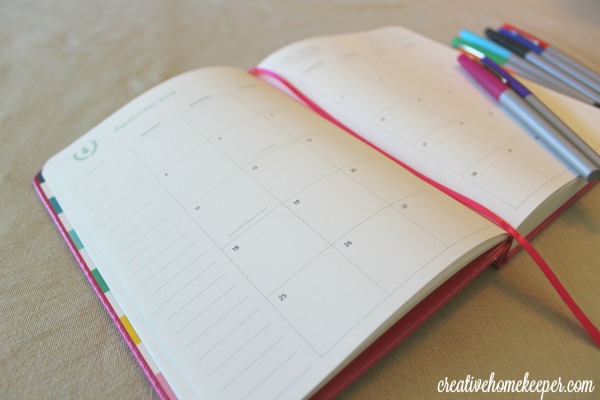 I will continue to use my Daily Edition (it runs out at the end of December) as my blog planner because it's perfect to write out all the daily tasks and goals I have each day for my work, as well as planning out future posts.
I didn't think I would ever go back to a weekly planning format, or prefer it over the daily spread, but I'm growing and learning to appreciate new things in every season of life. I'm eager to try it out and see how it will work for me during my own intentional planning.
Interested in seeing more specifics as to the difference between the Daily and Weekly Editions of the Simplified Planner from Emily Ley? The brand new Academic Editions are now on sale!
Which planner do you prefer… monthly, weekly or daily? 
I received a complimentary Simplified Planner, Academic Edition but the opinions posted are all my own. You can read my disclosure policy here. I really do love this planner!