Intentional Planning: Setting Your Planner Up for Success
Ah! It's almost here, one of my most favorite times of year… time to set up my brand new planner! I'm a self-proclaimed planner junkie. I love filling out my paper planner, no high-tech phone calendar for me!
I'm not alone either because last year when I wrote this post, it has since gone on to be shared hundreds of thousands of times. I'm not even kidding. Who knew a simple post about what to include in your planner would captivate so many people? And to be fair I have received my fair share of critics… "Washi tape? What the what?"  😉
Sure, not everyone shares my love for planners but a vast majority of you do. This year as we are entering into a new planning cycle, I thought I would revamp that old post sharing the most up to date, detailed information about how I sit down, make a plan and use my time to be intentional as possible.
To be clear, I'm a busy stay at home/work at home mom of three little ones ages 5 and under. My days are spent caring for my family, tending to my home, writing, growing a blog and nurturing a small business dream. I wear a lot of hats so in order to be truly intentional, I have to plan ahead. Some might think of my planning system as tedious or overdone. For me though, it's an absolute necessity.
Intentional Planning
Beginning of the Year
While there is nothing magical about January 1st (or even August 1st for that matter), virtually all planner calendars start either in January or August. You can customize certain planners to start on the date you choose, but universally you are either going to have a January through December or August through July calendar.
So whether you are starting in January, August, or any other month of the year, there are some simple things you will want to include when setting up your brand new planner.
At the very beginning of my planner year, I gather up all my supplies including my new planner, favorite pens, stickers and washi tape, my old planner and any miscellaneous notes and dates I need to include. Once I have my supplies gathered, I add the following information:
[clickToTweet tweet="Sometimes we have the best intentions but unless we make a plan, we might not get around it. " quote="Sometimes we have the best intentions but unless we make a plan, we might not get around it. "]
Beginning of the Month
Each month we get a fresh new start, a new beginning to review our plans, set new goals and to track important events. Just like at the beginning of the year when I initially set up my planner, I also spend time at the start of each month (or even at the end of the month before a new month has begun) to preview the month ahead, review goals and track progress.
With my planner in hand and my favorite accessories, I sit down and look over the entire month and add the following information:
[clickToTweet tweet="Don't let months go by where you aren't connecting together, plan for family fun now! " quote="Don't let months go by where you aren't connecting together, plan for family fun now! "]
Beginning of the Week
Monday mornings… you either love them or you hate them. I kind of feel sorry for the bad rap poor Monday gets. While it is the start of the work week making it back to the daily grind, Mondays also have the unique privilege of representing a fresh new start in a brand new week.
In truth, my weekly planning actually happens on Sunday before the week even begins. Every Sunday afternoon I sit down with my trusty planner and loosely map out the week ahead recording important events on my daily planning page in my planner. Some information I add is:
[clickToTweet tweet="Tackle your #GoalswithGrace a little bit each day for #goalsetting success!" quote="Tackle your Goals with Grace a little bit each day for goal setting success!"]
Beginning of the Day (or End of the Day)
I prefer to sit down and review my day the night before as part of my evening routine but many like to go over their calendar's first thing in the morning.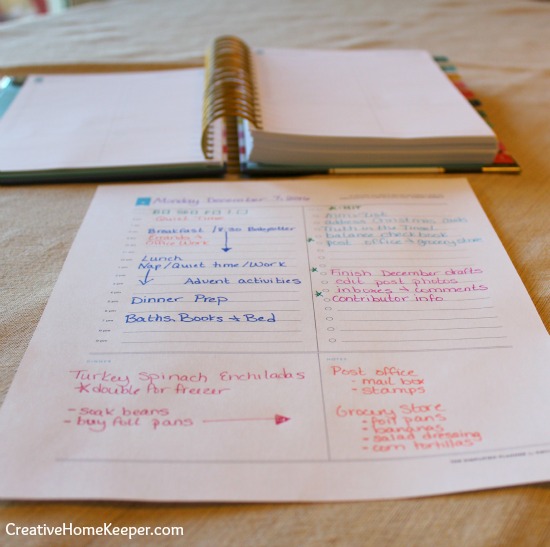 Looking at my calendar helps me to plan my day ahead. While I am fully aware there will always be unexpected events causing my to-do list not to get done, when I have a basic plan already in place before the day begins, I know I will be much more intentional with my time.
Every night when I review my calendar, I add the following:
[clickToTweet tweet="Schedule time for yourself, it's not only good for you, but it's also good for your entire family! " quote="Schedule time for yourself, it's not only good for you, but it's also good for your entire family! "]
I spend a few minutes every day looking over my planner. Those few minutes are precious because ultimately they save me countless hours.
I don't feel like I am wasting time or focusing on things that aren't important, rather I have created a system that lets me be as intentional as possible with my time. This not only helps me get more done but it also helps me enjoy the time I have with my family too, which is so important.
My Planner of Choice
I've used and reviewed a lot of planners over the years. Currently, my favorite planner and the one I have been using is the Simplified Planner from Emily Ley. I have used both the daily (see below) and the weekly versions.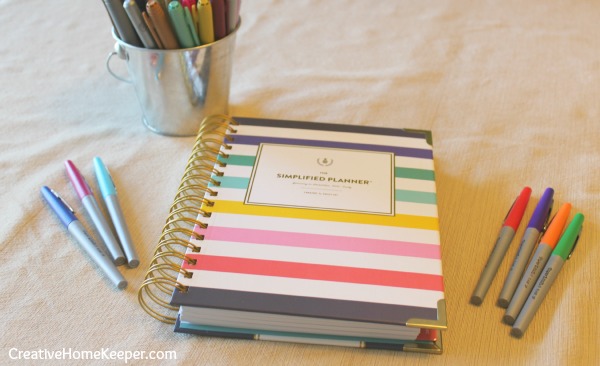 It's beautiful, well designed and laid out, but best of all it's what it's title says it is… simple.
There aren't extra "fluffy" pages or spaces on the daily pages that you may or not use. Each month there is a pretty and simple Month-at-a-view spread with the calendar and space in the margins for notes. Depending on which version you are using (there is both a daily and weekly edition), there are also individual planning pages for each day that contain four simple quadrants: a Time Schedule, a To Do List, a Dinner box to write your meal plan and a Notes box.
Using your own pens, markers, stickers, washi tape or highlighters, you can customize it to your heart's desire.
Here's a peek of how I use my Daily Edition (I printed a free daily planning page from Emily's website to show you since the new 2016 pages are slightly different than the 2015 pages. I didn't want to waste a new page from my planner to demonstrate how I set it up.)
First I write out my To Do List. As you can see I used two different colors to represent my personal/homekeeping tasks and my work/blog related tasks.
I keep each list short. Once I have my lists written out, I go through and place a small star next to my MITs. By the way, MM√L stands for my Motivate Moms Cleaning Checklist which is my favorite way to keep track of the daily cleaning.
Next, I create a Time Schedule of the day. This is where I record my plan but keep it flexible for life's unexpected events. As you can see at the top of my day I include 4 checkboxes. I actually got this genius idea from Kayse Pratt's post on how she sets up her Simplified Planner.
My checkboxes include an E for exercise, SD for Simply Dressed, B for Bible and L for Laundry.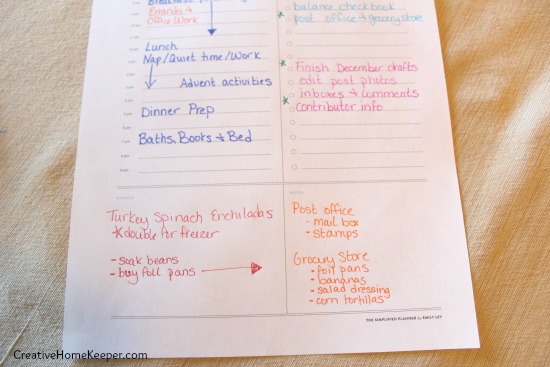 In the Dinner box, I write out what's for dinner and my notes. Today I need to soak the beans and pick up foil pans from the grocery store so I can double the meal for the freezer.
Finally, the Notes section is where I record anything extra that needs to be remembered. Today it's my errands list, some days it's the information I jot down while I'm taking to the doctor and other days it's where I write down my Bible memory verse. I've also used it as a brain dump at the end of the day to record all those little thoughts that need to get out of my head.
You can use it for whatever your own personal needs are.
A quick note on color coding: I don't personally use different color pens to represent different areas of my life (example kids one color, home one color, work one color, etc.) I'm always afraid that if I don't have the specific pen on hand, then it won't be written down. Instead, I just use a variety of different colors from my favorite pens. Somedays it's all the same color, other days it's a multi-color party.
My point is, color code if it works for you, or use whatever color pen you have on hand. It has to work for you to be a successful planner!
[clickToTweet tweet="It has to work for you to be a successful planner!" quote="It has to work for you to be a successful planner!"]
Another thing I love is the front pocket on the inner cover. I have used this to collect random notes, coupons, appointments cards and other miscellaneous pieces of paper until I had a minute to deal with them. This year I purchased the Mini Notes notebook from Emily's shop. It fits perfectly inside the slot without making my planner feel bulky.
This small notebook is where I will house my monthly master list of projects, goals and to do items that need to get done. I will also write down any future appointments that I make for 2017 here in the notebook to keep them handy for when I set up my planner next year.
My other new favorite planner accessory of Emily's is the small magnetic page marker. I love how the monthly calendar is always easy to find and turn to because of the beautiful laminated monthly tabs, but sometimes it can be hard to find the day I need for today's planning. Slipping the magnetic bookmark in and moving it forward day to day solves that problem. It's small and lightweight easily marking one page without causing bulk.
Even though I'm using the Simplified Planner, many of these tips can easily be modified to any planner out there, whether you are using just a standard monthly view or a planner with weekly and daily planning pages. The most important thing to remember though is that you have to set up the planner the way you would use it. 
[clickToTweet tweet="Intentional planning works when you set your planner the way that works for you! " quote="Intentional planning works when you set your planner the way that works for you! "]
How do you set your planner up to be more intentional with your planning?
To purchase your own planner or to check out all the wonderful products by Emily Ley please sure to visit her shop.