I'll admit that I had a pretty good routine in place. I had my day planned out and I got a lot of stuff done, not to mention plenty of time with the kids too. Then through a series of events my whole routine just went out the window and I have been running around on a hamster wheel ever since.
First it was the holidays that, expectantly, put a wrench in the routine. Then one sickness after another either by me, the kids or the husband has plagued our family non-stop for the last two months. There hasn't been a week where not one of us hasn't been sick so far this year. Which means I have been living on survival mode for several weeks.
My energy is drained, my home is out of sorts, my motivation is lacking and I feel like I've lost a little bit of the joy in the day to day.
I knew something needed to change. I knew I needed to get back into my daily routines but the thought of creating new ones seemed like such work. In my current season some of my previous routines just wouldn't work anymore.
But I also knew that what I was currently doing (or rather not doing) wasn't working either. My days where just running together, one task after another, and I was losing focus on what my priorities where and I how I was managing my time.
I've been reading and re-reading several small books over the past two weeks to help me find the motivation to put some new daily routines and disciplines back into my days.
The results? A fresh new perspective and desire to get it together once again. No more excuses, no more exhaustion, no more running around on a hamster wheel.
I'm spending the next few weeks working on re-creating some basic daily routines and tasks, as well as revamping my current chore system, and I'll be sharing them here with you too in case you're like me and need some extra motivation and accountability. 😉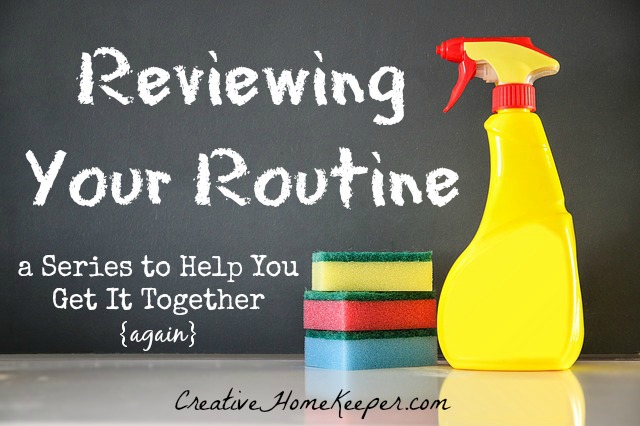 So what's my plan?
Later this week I'm going to be sharing my newly revamped daily checklist as well as my weekly plan.
Next week I'll share my plan for monthly chores, as well as how my husband and I plan our weeks and why I think you should add praying over your home to your cleaning routine.
And the last week in March I'll share how to plan out those annual chores (things that don't need to be done often, but do need to get done), as well a tour of my newly designed Home Management Binder (the one I promised to share with you!), as well as a list of the best Organized Simplicity tips that I (and you) came up with on the Facebook page.
Like the excitement that the first of the year or back to school time brings, I'm sort of excited to be sharing this process with you too. Apparently I do really well when I hold myself accountable by sharing my weaknesses and vulnerabilities with you (hey I'm a real person too!) 🙂
Part of my mission of Creative Home Keeper is to share practical, inspiring and encouraging tips for home life. I hope that this series over the next few weeks inspires and encourages you as I share the processes that I am working through to whip myself back into shape here in my own home.
Oh, and did I forget to mention that there will be more free printables coming too?!?!
And for your reading pleasure, here are a few resources that I have been reading over the past few weeks that have really helped me find my new sense of daily discipline. Some of the links below are affiliate links. You can read my disclosure policy here. 
While I'm no fan of cleaning, or even spring cleaning for that matter, I am a fan of having a routine in place that allows me to keep my home clean and well managed with as little effort as possible. So hopefully with my new found and reemerging since of self discipline, I can get back to a place where I am no longer just in survival mode but rather am thriving again.
What has been your greatest struggle in keeping a routine in place for your days?