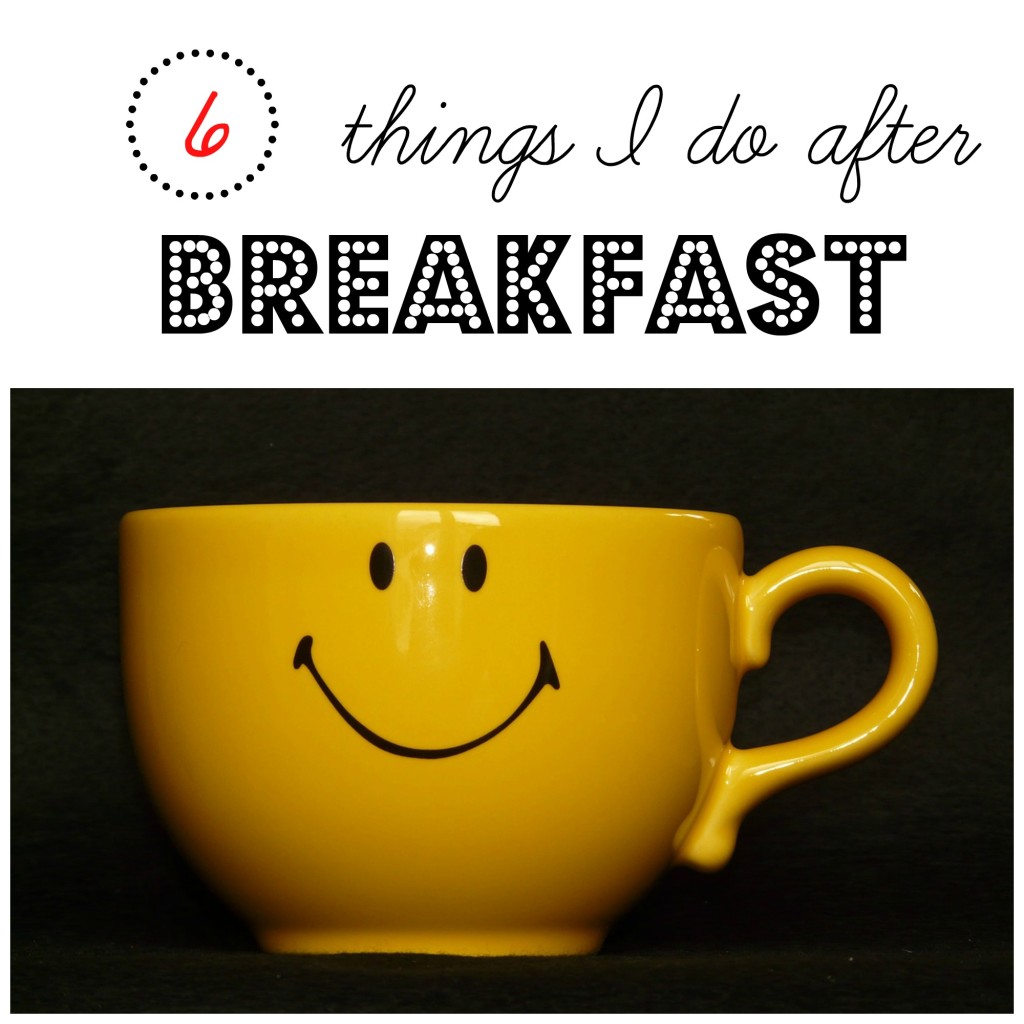 Welcome back for Part  2 of my Daily Routines Series. Last week I shared with you 3 Things I Do Before Breakfast and I am excited to continue building on what my daily routines are. Today I am going to share with you some things that I try and do after breakfast so that I have the rest of my morning to be present with my kids.
I am a morning person and have most of my energy early in the day, so for that reason I tend to try and get most of my house keeping tasks done first thing. I'm also a procrastinator too, so if I don't get some of my chores done in the morning then they probably won't get done at all. OK ready for the list? Here we go…
6 Things I Do After Breakfast
1. Clean the kitchen from breakfast dishes
As soon as breakfast is over I rinse off the dishes and load them into the dishwasher, clean the sink, and wipe off the counter and table. I don't like to let dishes sit out too long, and I hate a cluttered sink.
If I didn't get the dishwasher unloaded last night, I will unload it now. I quickly spray the counters, table, high chair, and bib down with my vinegar cleaner (equal parts vinegar and water) and wipe down with a warm, damp cloth. If I need to sweep the floor (the floor is a magnet for Cheerios, stepped on ones are the worse!), then I will do that also, though I usually save my sweeping for the end of the day.
2. Shower and dress
If it is a good day (meaning the kids sleept in past 6:00 AM!), then I get to shower before they wake up. Other wise my shower time is after breakfast. A few days a week, my mom or mother-in-law come over, so I will wait and take a shower during that time. Most of the time however I have to take the kids in the bathroom with me (I use a baby gate and some toys to keep them safe and occupied). It's not ideal, and it usually takes me twice as long to shower and dress with them underfoot, but I am a morning shower kind of girl.
I am also challenging myself to actually get dressed in something cute and practical, rather than just being comfortable (i.e. stretchy yoga pants). I fix my hair and put on a little bit of makeup. When I feel pretty and put together, I find that I am way more alert and productive than when I'm just in lounge clothes.
3. Quick clean bathroom and bedrooms
After I'm dressed, I do a real quick clean of the bathroom as explained here. I also make the bed, gather up dirty clothes, clear off the night stands, empty the diaper pail, and pick up any other random clutter that doesn't belong.
4. Start laundry
My goal is always to do one complete load of laundry a day (maybe more) which includes wash, dry, fold, and put away. So after I gather up all the dirty clothes and place in the hampers, I immediately run a load.
I used to schedule days when I would do specific laundry (Mondays- colors, Tuesdays- whites, etc.), but now I just through in what ever hamper has the most clothing. I've also been known to mix loads (gasp!) if I have two half full hampers.
5. Daily chores
Like I mentioned before, if I put off my chores long enough, then I won't do them which leads to a marathon house cleaning day at the end of the week which takes time away from other things. So I really try to be intentional and get my daily chores done early.
Daily chores include things like dusting, bathrooms, floors, and any other deep cleaning that needs to take place. Some chores I do wait and complete when my kids are out of the house because it's just easier. Cleaning with kids in tow can often times feel counter-productive.
6. Check to make sure I have everything ready for dinner
There is nothing more frustrating then finding out at 5:00 PM that I don't have 1 random ingredient for dinner, or that I forgot to thaw something from the freezer. I'm usually really good about pulling out frozen food and defrosting in the refrigerator the night before, but I'm human and sometimes I forget. So I always check for my dinner ingredients in the morning. That way if I do need to get something I can plan for it or make a substitution. I also quickly glance at the recipe to check if I need to marinate anything or do any advance preparation.
Once I have completed all these tasks, then the rest of the morning until lunch time, I spent in intentional time with my kids. If it's nice we go to the park, or we might need to run an errand or two. Due to my kids nap schedule, it's just easier to do any outings in the morning.
Like I said, I try and aim to complete all these things in the morning after breakfast but sometimes life happens and some things just don't get done. For example one morning a week I take the kids over to my grandmother's house to visit, so obviously I don't have time to get most of my chores done. But my non-negotiable item that I always do is clean the kitchen after breakfast, because who wants to clean the kitchen just to get ready for lunch?
So what about you? What things do you try to accomplish in the morning?