10 Things I Do Every Day to Keep a Clean and Organized Home
Feeling tired and overwhelmed? Is your house a cluttered, crazy mess? Here are 10 quick & easy things to do every day to keep a clean and organized home, plus they only take a few minutes and require no special tools or gadgets!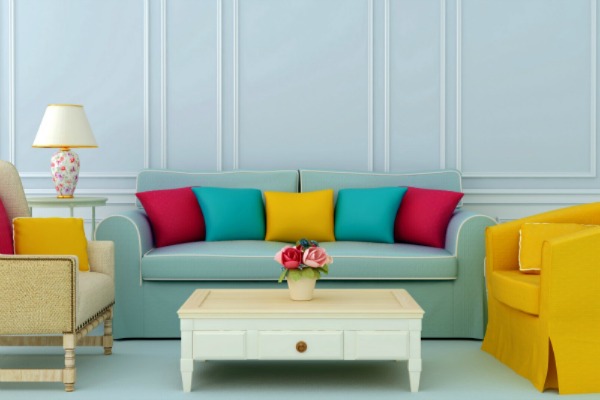 Some days I am super productive, and then other most days I'm not!
As a wife, mom, and homemaker, I have many tasks and responsibilities that I am accountable for, and it is amazing how easy it is for the house to quickly look like three little (adorable I might add) tornadoes have blown through.
You know what I mean? …. toys everywhere, book baskets spilled, cheerios all over the floor, sippy cups leaking water, random articles of clothing lying around.
Moms, please tell me that your house either currently or has looked like this is the past!
So to keep the house clean looking and to help me keep a little bit of my sanity, there are a few things that I try and do every day to really help keep the house in order.
I do use my Motivated Moms cleaning app to help me stay on top of all the main cleaning but some days the only things that get done are the things that I prioritize as the most important.
10 Things to Keep a Clean and Organized Home
Make the bed
I don't know about you, but I feel that when my bed is made I can at least make it through the day. I try to make my bed as soon as I get up.
Even if I get nothing else done during the day, making the bed is a simple way to help keep the room tidy. Plus a made bed is much more inviting to get into at the end of the day, at least I think so anyway!
 Wipe down the bathroom
As soon as I have taken my shower and dressed for the day, I do a very quick bathroom wipe down.
I clean off the countertop by putting away all of my personal products. I wipe around the sink to remove any water rings, makeup, or loose hair. I quickly spray the shower down with a daily shower cleaner
and use a squeegee to remove excess water. I also do a quick wipe of the floor too with an old bathroom towel.
This takes me no more than a few minutes to do this, but it really helps keep the bathroom clean until I get around to doing my weekly cleaning of the bathrooms.
One load of laundry washed, folded, and put away
Laundry seems to multiply around here and if I let a day go by without doing at least one load of laundry, the clothing piles can quickly add up and seem unmanageable!
Most days I do two loads, but my main rule is that I always do at least one load. I also take the time to fold and put away the laundry too, because I hate having piles of clean clothes lying around the house.
Load, run and empty the dishwasher
As soon as breakfast, lunch, and dinner are over, I immediately clean the dishes and load the dishwasher. Most days I run the dishwasher after dinner, but there are some days when the dishwasher needs to be run and unloaded before dinner.
I don't like to let the dishes sit in the sink for very long. I also try to unload the dishwasher before bed because I hate to have to wake up and unload the dishwasher during the breakfast rush.
Keep the kitchen counters clean
As I mentioned above, dishes either get washed or placed in the dishwasher as soon as possible. I also try to keep the counters clear of unnecessary clutter throughout the day.
I clean as I go while cooking so I don't have a huge mess waiting after meal time. Plus who wants to clean the counters just to make dinner?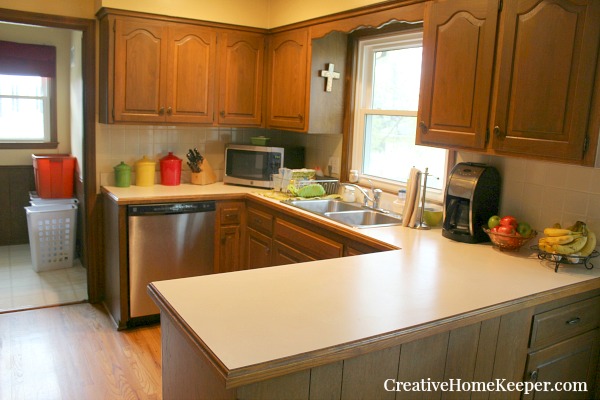 Tidy up bedrooms in the morning and in the evening
In the morning after I make the bed, I also put away my PJs, and take the dirty clothes to the hamper. I clean off the nightstand of water glasses or books.
I'm also teaching my kids to pick up their room too. They love to "throw" their clothes in the hamper and shake the empty trash sack for the diaper pail.
Need help creating a morning and evening routine that will dramatically improve your day?
Arrange the couch pillows
Our living room is the main play zone in our house and it quickly can get cluttered. We have a few throw pillows on the couch that can really look messy if left thrown about.
While I usually tend to wait towards the end of the day to pick up toys and books, I try to keep the couch pillows organized and neat so that way it at least gives the illusion of a neat living room.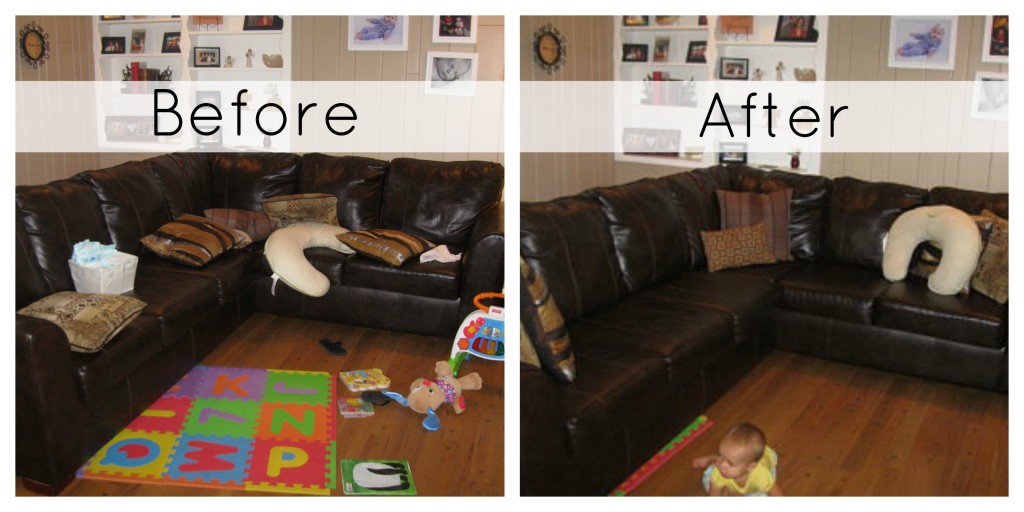 House clutter sweep through
Once the kids are in bed and before I relax for the evening, I do a quick house sweep through. Any remaining toys that need to be picked up, I put away. Any clothing that needs to be folded or put away, I quickly do that.
I wash bottles and clean the kitchen counter of anything left out. This takes about 15 minutes, but it is so worth it. It is so nice to be able to relax at the end of the day knowing that everything is picked up and put away.
Plan for tomorrow
I take a few minutes and look at my calendar and fill out my planner for tomorrow. I make any notes of things I need to do or remember.
I make my lists and write out a basic plan for the day. I also do a brain dump, where I write down anything else that I want to do or need to remember not necessarily for the next day, but for the future. This way I can relax knowing that I have thought through my day and my to-do list.
Layout breakfast dishes
I like to lay out the breakfast dishes on the kitchen counter the night before because I have some early risers! It just helps me prepare for the early morning if I have the main dishes out and ready to go.
I don't lay out any food, just the dishes, toaster, blender, or whatever appliance I need to prepare breakfast. I also make my husband's lunch, get my water bottle ready for early morning exercise and prepare the coffee pot
(the most important task I might add!)
OK… I had to add one more task in, and while it's not necessary to keep a clean and orderly home, it's definitely necessary to keep me sane!
Read
I am very intentional about spending the last 30 minutes to an hour of my day by reading.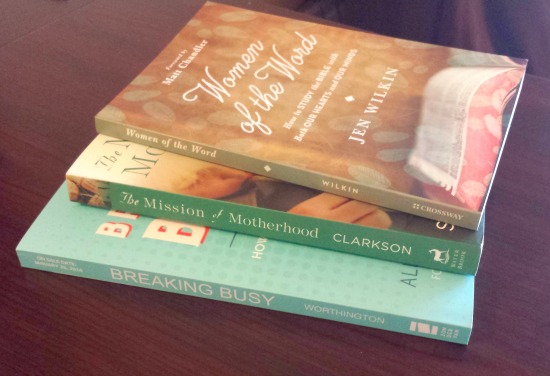 Reading is one of my favorite things to do and it's just nice to spend some time at the end of the day to do something for myself. Reading helps relax me too, and unless I'm reading a page turner, it helps to fall asleep.
I may not get around to doing any real deep cleaning, but I find that if I do these things it helps keep my home organized, tidy, and clutter free.
Plus if I get nothing else done through the day, if I accomplish all 11 of these basic housekeeping tasks, I feel like I did accomplish something.
How about you, what do you try to accomplish every day to keep your home clean and organized?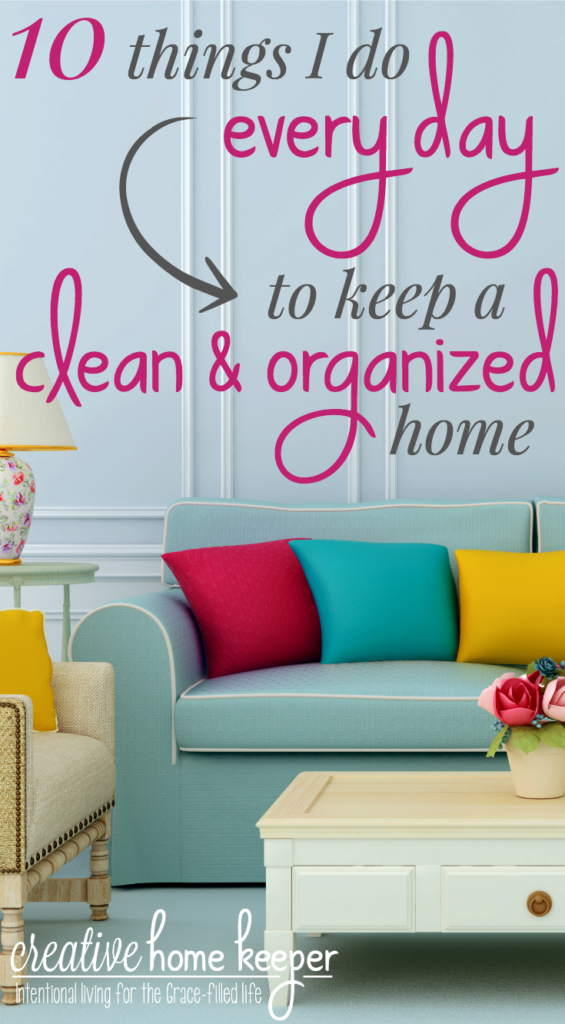 Updated from the archives, originally posted 8/12/13