Creating a Routine That Works For You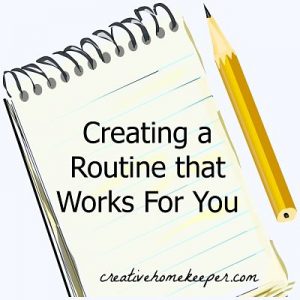 I used to have a pretty great routine.
I was organized, put together, the house was clean, and I felt like I was on top of things.
Then I Had A Child
After my first was born, it took a while, but I finally got back into a pretty consistent routine that worked well for both of us. I had a pretty solid
I had a pretty solid morning and evening routine of housekeeping tasks that needed to be done. We would spend the afternoons napping and playing.
Life was back on track.
Then I Had My Second Child Followed By the Third Not too Far Behind
For me, transitioning from one child to two was a hard adjustment, but then going from 2 to 3 really sent us into a tailspin! I felt like most days I was trying to survive.
I felt like most days I was trying to keep my head above water.
I was in a season of survival mode with a newborn, a toddler, and a preschooler in tow. I didn't put too much pressure on myself because I knew the demands an infant had, and I also knew the demands of my other two seeking attention.
So I relied a lot on the family to help with chores and child care. (My kids are pretty lucky because both of their grandmothers live very close and are very involved.)
As the kids grew older and we moved out of the baby stage, I knew that I needed to get back into somewhat of a structured routine. I purchased one of those online house cleaning calendars from a popular blog with the hopes that I would get it together again.
The main problem I had with the checklist was that it was not customizable. So some days it felt like the chores were very unbalanced. For example, Mondays were our busy day here, we had church activities in the morning, but on the checklist, Mondays were very chore heavy. Usually what I would do was just cross off the chore when I did it, say on Wednesday. But my personality makes me want to check off everything for one specific day in order to feel like I actually accomplished something productive. That's just the way I am.
(I'm not going to share which chore calendar I used. Just because it didn't work for me doesn't mean that it wouldn't work for you. And I don't think it is fair to say that a specific calendar is wrong just because some aspects of it didn't meet my needs.)
So this particular chore checklist just wasn't working for me. But since I purchased it (for less than $10 I might add) I felt like I had to use it to get my money's worth out of it. So I kept on trucking away with it even though I wasn't feeling great about my lack of routine.
Finally, a few weeks ago I just had to chuck it out the window (not really, but you get the idea!) It's crazy to keep using something if it doesn't work for you. I figured by June I had already been using this checklist for 5 months, so I had gotten my money's worth out of it. I gave myself permission to just let it go and try to come up with a new plan. And I did.
One of my favorite series on creating a routine that works is from Money Saving Mom. What I love about this series is Crystal walks you through step-by-step on how to think through your day and make a plan that works for you and your family. I knew that I needed to get back into a more structured (not scheduled) routine. So her advice really helped me to come up with a plan.
The reason I say structured not scheduled is that I have two little ones who have no sense of time. I know that life happens, and things come up. If I were to write out a detailed time calendar for my day, I knew I would fail from the start. That doesn't work for me at this stage. If you're the opposite and you thrive on knowing that every day at 9:30 you are going to do your morning chores, then rock on (and maybe come to my house and do my morning chores too! ;)).
For me, a structured routine lays out guidelines of things I know I need to get done, but I still have a little bit of flexibility in doing them. I started by listing out all the things that I knew I needed or wanted to get done on a specific day. Then I looked at how a typical day usually looks for us around here, and I created a morning, afternoon, and evening routine that I feel works well for me.
Here is what I came up with:
Morning– before and after breakfast
make beds
quick clean master bath
tidy up bedrooms
empty and load dishwasher
wipe down kitchen counters and table
begin laundry
daily chores
Afternoon– before and after lunch, before dinner
clean kitchen and dining room
load dishwasher
sort mail
finish, fold and put away laundry
quick clutter clean up
dinner prep
empty trash cans and recycling bin
Evening– after dinner
load and run dishwasher
clean kitchen and dining room
sweep kitchen and dining room floors
pull out frozen foods to thaw for tomorrow
plan for tomorrow
I've been using this new routine for a few weeks now and I feel like it is really helping me find the balance between getting stuff done and enjoying time with the kids. Some days not everything gets done, and other days I feel like a ninja crossing everything off my list, plus some!
Tomorrow I'll share some practical tips that I used to help create a more structured routine, plus a tool that I use every day to keep me more organized.