What is a Creative Home Keeper?
Are you a creative home keeper? Do you wonder what that even means? Our roles in our homes are many but one thing is always a constant. Let's explore and answer the question together… what is a creative home keeper?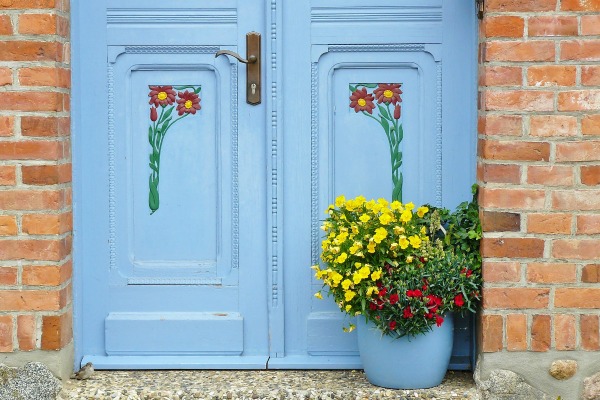 Celebrations come in all shapes and sizes. Some are big, others are small. Some are quiet, others are loud. This past spring I softly celebrated a birthdate of sorts.
Five years ago, in May of 2013, I hit publish for the very first time.
It was scary, thrilling, exhilarating, intimidating, and wonderful all at the same time.
I had a dream, a vision and I desperately longed for a creative outlet, thus Creative Home Keeper was born.
In some ways, I'm completely floored by the growth of this 'lil blog and in other ways, I'm in awe of God's goodness of taking this dream and turning it into something to further glorify His kingdom and bless our family at the same time.
All those years ago I was naive and a teeny-tiny little fish swimming in a large ocean of bloggers. I'm still a little fish but I don't feel so scared of the big waters of the blog-o-sphere anymore.
I've grown, made some deep online friendships, and cultivated a community of like-minded women. The blog has changed a lot from those early days. But even though the blog has changed, the mission and vision have never changed.
This has always been a faith and lifestyle blog for Christian women, I've just grown into certain aspects naturally and found my voice in the process.
Not surprisingly, the one thing I thing I have been asked over and over again is "What is a creative home keeper?"
The underlying question really is, "What does it MEAN to be a creative home keeper?"
I set out to answer that question in the first four blog posts of this blog. Because I'm a sucker for sentiment, and because I'm quite sure you have never read any of those posts (Google Analytics confirmed this for me) 😉 I thought it would be fun to compile them and re-post below.
I've fought the urge to go back and rewrite them, keeping them virtually the same as when I first wrote them, mainly to keep them in their pure form.
So if you have ever wondered the purpose behind the title and what exactly IS a Creative Home Keeper…. this one is for you.
Enjoy these posts dug straight out of the archives.
---
To start off this new blog series, I would like to answer the question that you might have:
"What is a creative home keeper?"
You may not be familiar with the term home keeper, but I'm sure that you have heard of housekeeper and homemaker before.
A housekeeper is an individual who is usually in the home for a longer period of time and may have many projects within the home to keep busy. (Does that sound all too familiar?!?!)
A homemaker is a person who manages a home. A person whose main job is to take care of her own family and children.
So housekeeper and homemaker pretty much go hand in hand, they basically mean the same thing. But what about the term home keeper?
Let's take a look at what God's Word tells us about this subject.
In Titus 2:3-5, God gives us a clear definition of the responsibilities we as women have. Let's take a look at a couple of different translations to get a full picture.
NIV– Likewise, teach the older woman to be reverent in the way they live, not to be slanderers or addicted to much wine, but to teach what is good. Then they can train the younger women to love their husbands and children, to be self-controlled and pure, to be busy at home, to be kind, and to be subject to their husbands, so that no one will malign the word of God.

ESV– Older women likewise are to be reverent in behavior, not slanderers or slaves to much wine. They are to teach what is good, and so train the young women to love their husbands and children, to be self-controlled, pure, working at home, kind, and submissive to their own husband.

KJV– The aged women likewise, that they be in behaviour as becometh holiness, not false accusers, not given to much wine, teachers of good things; That they may teach the young women to be sober, to love their husbands, to love their children,To be discreet, chaste, keepers at home, good, obedient to their own husbands, that the word of God be not blasphemed. that the word of God may be reviled.
Busy at home, working at home, keepers at home
The Greek translation of the KJV keepers at home translates to mean dwelling and to guard. Meaning that a woman is to guard her dwelling. The practical translation:
Women are to be fully aware of all the activities that go on in the home.
Women set the tone of their homes. Women provide structure, routine, stability, peace, safety, a place of comfort, and so much more.
Does our Biblical calling from the Lord overwhelm you?
It does me, to be honest. That is a lot of responsibility, but thankfully the Lord provides us with creativity to use all of our God-given gifts to nourish our homes and families.
---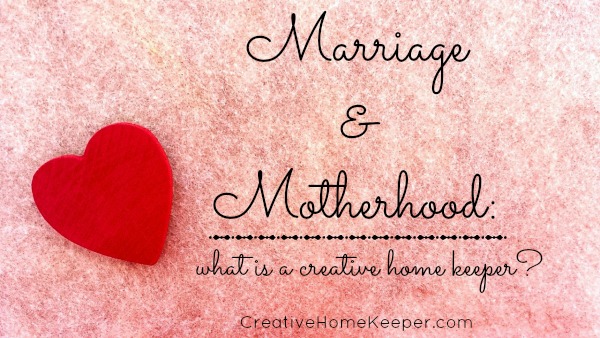 In yesterday's post, we began our discussion on what a creative home keeper is. Today we are going to look at what our responsibilities are as Christian women.
There are 3 main responsibilities that come first in our lives:
Our relationship with the Lord
Our relationship with our husbands
Our relationship with our children
Those are the 3 main relationships that we must tend to first, everything else (extended family, work, ministry, etc.) all should come last.
Sounds harsh, right? Especially since these things are not necessarily bad things. It's not that our work, ministry, and even family relationships are not important (I think they are very important), it's just that we have to first seek after the Lord, and love our husbands and children.
Our responsibilities as women who are seeking after God's own heart are:
to be obedient to the Word of God
love, respect, and submit to our husbands
nurture, love, and mold our children
By today's modern culture, these things are not exactly looked well upon (especially the part about submission to our husbands! We'll get to that later, I promise.)
Along with loving our husbands and children, we are also given the responsibility to manage and watch over the affairs of the home. That is some serious responsibility!
Yesterday when we translated the passage in Titus 2:3-5, we came across the term watchers. Another way to think about it is that as keepers of the home we are watchdogs of the family;
We are the guardians.
Keeping the home is so much more than cooking and cleaning (all important), but more about your heart, your attitude, and the way you manage your household.
We should be in constant communication with God as He leads us and guides us to be home keepers.
Now let's talk about our specific roles as women in regards to our relationships with our husbands and children.
We are called to be a help-meet to our husbands. We can do that by:
keeping a loving attitude
willingness to serve
praying for and with our husbands
ministering to his needs
submitting to his authority
Some of those words are not popular today. Serve and submit tend to have a negative tone. However one of the greatest analogies that I have heard about submitting to our husbands is that submitting means to come under and lift up.
We can lift up our husbands by prayer, acts of service, showing respect, and loving him. Our husbands face a ruthless, cold world out there every day.
If you are not praying for our husbands, who is?
Now I realize that for some women this is an incredibly painful and sensitive subject. Maybe your husband is cruel, distant, or not even a Christian himself.
Sweet sisters, please don't give up hope. Our Lord promises He will never leave or forsake you, He is always with you. Continue to pray for your husbands. There are countless stories of men who have turned the path due to the prayers of their faithful wives. And if you are at a crossroads, seek solid Biblical counseling as to how to move forward (whether that be reconciliation or even at times, divorce).
Now let's talk about our roles as mothers. Our goal is to teach our children, lead them to good character, encourage them to explore their gifts and talents, and to teach them to love the Lord.
Faithful mothers:
Pray for their children
Model prayer
have God's word hidden in their hearts
I don't know about you, but I easily become so overwhelmed at my role of being a mother. I have three little ones God has entrusted me with to teach them about Him. I can't do it on my own, and neither can you. Thankfully we have a Faithful Father on our side who gives wisdom and grace to those who seek it.
There are many, many resources out there about how to be a Godly wife and mother, too many for me to try and summarize. The best advice I can leave you with is to pray daily (heck most days there are hourly prayers being sent forth from my lips!). Pray for God's guidance and wisdom as you love and serve your family.
---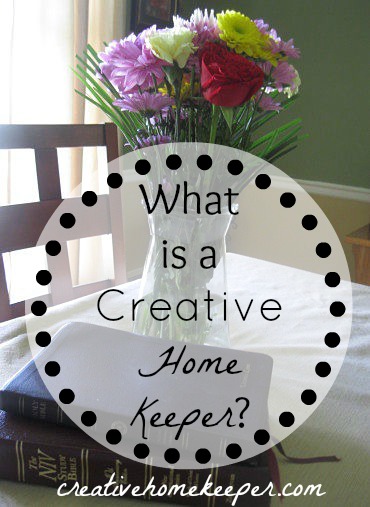 We have been talking about what it means to be a Creative Home Keeper. If you have missed the first two parts of the series you can go back and read Part 1 and Part 2 (posted above)
The past two days we have been looking at what our roles as women and keepers of the home are. Today we are going to dive in and talk about the creative part (this makes me super excited!)
I don't know about you, but when I hear the word creative it makes me think of arts and crafts, sewing, scrapbooking, painting, basically anything that you have to create. All those things make my stomach churn a little. Not because I don't appreciate or love them (I do), but because when it comes to actually having to create them myself they turn out horribly wrong.
I can't sew, I'm not a painter, getting out craft supplies makes me anxious. I'm a little bit of a clean freak, and the thought of paint, glue, paper scraps, and (gasp, the worst) glitter makes me want to run for the hills.
But I love the idea of creating something, and I do think that I am pretty creative too! Creativity comes in a lot of different ways, not just the artistic realm. While I may not be good at arts and crafts, I know my way around my kitchen pretty well and I can throw together some pretty elaborate lesson plans at the drop of a hat (I used to be an elementary school teacher- I think that job alone requires a lot of creativity)!
A creative home keeper is exactly as it sounds, one who can creatively run the affairs of her household.
Now I know what you're probably thinking:
"Where is the creativity in scrubbing toilets, folding laundry, and mopping the floors?"
Well, it's there I promise! We just have to think outside of the box a bit. I'm the first one to admit that I am emotionally allergic to cleaning.
I don't naturally find joy in the mundane housekeeping tasks at all.
With that being said just because there are some tasks that we don't enjoy doesn't mean that we can't find creative solutions and find joy in our daily lives.
Here is what the thesaurus says about the word creative:
| | |
| --- | --- |
| Main Entry: | |
| Part of Speech: | adjective |
| Definition: | artistic, imaginative |
| Synonyms: | clever, cool*, demiurgic, deviceful, fertile, formative, gifted, hip*, ingenious, innovational, innovative, innovatory, inspired, inventive, leading-edge, original, originative, productive, prolific, stimulating, visionary, way out |
| Antonyms: | uncreative, ungifted, unimaginative, uninspired, unproductive, untalented |
I love the words cleaver, fertile, ingenious, innovative, inspired, productive, and visionary. I also found amusing the antonyms of what creative is not, and I do not want to be any of those things.
At home, I aspire to be ingenious when I am looking for ways to save money.
I desire to be productive in all my tasks.
I hope that I am a visionary as I plan my days, weeks, and months with my husband and kids.
I secretly hope that one day they will still think of me as clever and cool! (That might be wishful thinking!)
A creative home keeper is one who is living with joy provided by the Lord, and who fills her homes with laughter, love, memories, hugs, and kisses. Scrubbing toilets, folding laundry, and mopping the floors are also part of the deal too!
Tomorrow, in our final day of this series, we'll take a look at what a creative home keeper is not. Looking forward to continuing on this journey with you all!
---
Today is the final day in the What is a Creative Home Keeper? series. 
We have spent the past several days discussing what a creative home keeper is, and what our roles as women are. Today to conclude this series, we are going to take a look at what a creative home keeper is NOT.
A Creative Home Keeper is NOT:
someone who demands perfection
one who appears to have herself all put together on the outside
someone who lets her family tend to themselves while she pursues her own interests
one who is crafty (OK so that one is a stretch, we all know that I'm not crafty, but there are many other fabulous women who are crafty and beautiful keepers of their homes!)
Let's break down each of these points to see what they mean.
Perfection
A creative home keeper doesn't have to be perfect, have the perfect home, the perfect family, the perfect life, etc. etc. This side of Heaven, there is no such thing as perfect, so we can relax and take a deep breath!
We are all going to make mistakes and even fail at our endeavors. I can't tell you how many times I have made a new experimental recipe only to have to throw it all out because it was disgusting! (My very sweet husband usually assures me that it tastes just fine, but his face doesn't lie!)
It's not about having the perfect house or the perfect family. It's not about appearances, rather it is about the heart.
Which brings us to our next point…
Outward Appearances
How is your heart? How is your attitude? How is your relationship with the Lord?
I can pretty well tell you that when I am not regularly meeting with God, my attitude stinks and my house is a mess mainly because I am so unfocused and unmotivated to do anything.
Imagine this scenario:
It's Sunday morning and you're running late to church. It's taking way to long to get everyone dressed and out the door. You make some snide comments to your husband about how his "helping" you could improve. Your stewing on the inside all the way to church. Once you pull in the parking lot you take a look in the review mirror, re-apply your lip gloss, and emerge from the car. Still grumbling with your family, you flash your prettiest smile and morning salutations to everyone who you come in contact with that morning, except your family.
Does this sound all familiar?
Well, it does to me. I can't tell you how many times I have let others get to see the best of me, while my family gets to see the worst of me.
Shouldn't our families get to see the pretty smile, hear the morning salutations, and get the best of us? They should, but all too often we save the best for others outside the home.
Selfish
Ouch! This one hurts a bit. How do we spend our time? Are we so caught up in other interests and pursuits that we don't have the time and energy for our families?
Now before I get emails about this one, let me be clear. Yes, women need time for themselves.
We need to take care of ourselves so we can best take care of our families. We should have interests, pursuits, and hobbies that engage, challenge, and refresh us. Many women work outside of the home, either by choice or necessity. That's OK!
What I AM talking about is when we get so wrapped up in our own activities, that everything else takes a turn south.
For example, I love to read. I am capable of reading several books at once and finishing books that I start in a week. I'm a fast reader, I make time for reading, I make reading a priority in my life.
Do I approach my marriage in the same way? Honestly, there have been many nights when I spend reading my good book then interacting with my husband. That's a problem, and it is something I am still striving to find balance with.
Tending to the needs of our husbands, children, and home should be our first priority.
Proverbs 12:4 says that a "virtuous woman is a crown to her husband" meaning she brings him honor and joy,
and Proverbs 24: 3-4 says "By wisdom a house is built, and through understanding, it is established; through knowledge its rooms are filled with rare and beautiful treasures."
Don't you want to be a crown to your husband? Don't you want your home filled with treasures? (By treasures I'm not talking about materialistic things, rather I'm talking about the people, tone, and memories you create and encourage.)
You don't have to be perfect (or even crafty) to be a creative home keeper. All you need is to rely on God. He will reveal to you how to be a keeper of your home.
---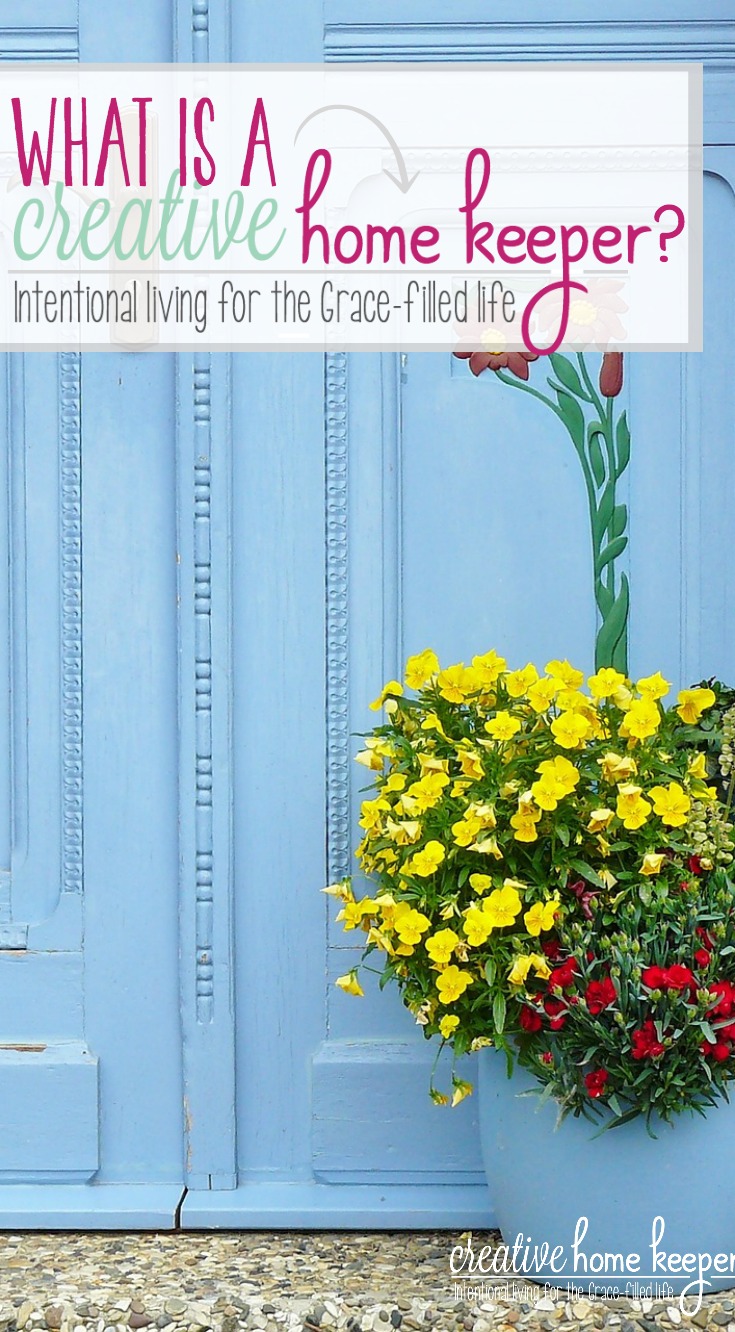 I hope you enjoyed that walk down memory lane and a better understanding of my heart and what this blog has always been about.
What is your definition of a Creative Home Keeper?