Create a Christ-Centered Home
Make your home a place where you can't NOT think about Christ with these 10 easy ways to create a Christ-Centered home. Point your family's hearts towards the Gospel with these simple everyday routines.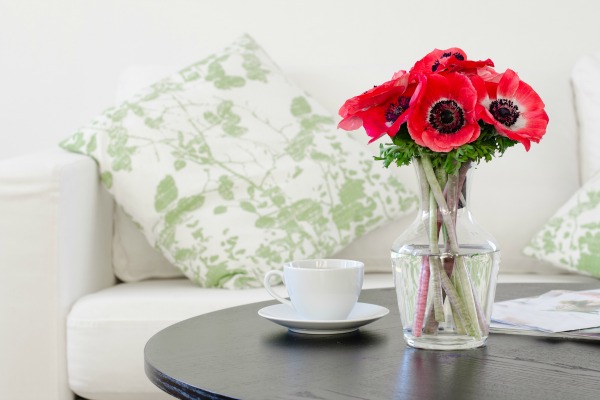 "Mama?!?!"
"Yes, honey?"
"Don't spill milk on your Bible as you pour it in my Cheerios!"
"I'll be very careful, I promise."
As I pour, I watch him as he is holding his breath. My Bible sits open on my place setting, just a few inches from where my son is sitting. He doesn't want any part of the milk to splash on the pages of the Bible.
He's worried because just the day before, we had a minor milk mishap. Trying to display his independence, he was determined to pour his own milk and pour he did!
As if in slow motion, I couldn't get to him fast enough to reangle the milk carton.
Soon about half the carton of milk was overflowing from his bowl all over the table. His poor Cheerios were now milk-lodged and flowing all around his placemat.
After cleaning up, I told him that for a while longer it was probably best for Mama to continue modeling how to pour the milk carton until he grew just a tad bit more arm strength.
Thankfully my Bible wasn't on the table just yet during that milk waterfall moment but it's possible it could have been because it has become a customary occurrence to have my Bible out and open throughout the day.
A great resource for reading the Bible aloud Together: Growing Appetites for God
My children no longer question why, they just know that Mama's Bible is important enough to be out, open, and read from throughout the day.
They even go and find their Jesus Storybook Bibles and proudly display them on the kitchen table during our afternoon table time where we listen to read alouds and eat a snack after returning home from school or the day's events.
One simple act of having my Bible out in the kitchen is planting a little seed in their hearts.
It's not the only act, there are countless other things we do each day in our home that happen without much thought. They are part of our natural rhythms, anchors if you will.
Little things that are pointing my family's hearts straight to the Cross.
Small, seemingly insignificant actions that are making our home a place where we can't NOT think about God every single day.
Several years ago (before I was married), I came across a small pamphlet in a church library called My Heart, Christ's Home by Robert Boyd Munger.
In summary, he goes through each and every room in our physical home to illustrate how Jesus resides there. It has stuck with me all these years later. Concisely, he described a home full of warmth and grace that transformed all who entered by displaying God's love through small actions of service, homemaking, and discipleship.
It set the model for what I wanted my own home to look and feel like…
A Christ-centered home
Simply
Over the years in my own homemaking, I embarked on a journey of putting in place small routines in our day that help to center our hearts and our home on Christ.
I have never been good, or consistent, with family devotions. I used to feel so guilty that we weren't sitting down together every single day for a structured Bible reading and discussion time because so many "others" were doing that in their own home.
When I shared my guilt with an older woman, she asked what I was doing. I shared with her several of the simple things I did each day. Then she reminded me it wasn't so much about the quantity but rather the quality.
That stuck with me.
Yes, reading the Bible together as a family is so important (and we do try!) but it's not the only way to create a Christ-centered home.
There are many grace-filled ways to turn all hearts and eyes to the Gospel, many that we may not even realize the impact they have!
Thinking through what we do, I created a simple resource that quickly outlines each of the 10 activities that point our family's hearts toward Christ each and every day.
Because it's easy to overcomplicate things, I wanted to create a quick guide to help you create a Christ-centered home today.
10 Easy Ways to Create a Christ-Centered Home is a free quick guide available today for you. Simply enter your email address below and it will be delivered straight to your inbox in minutes.
[convertkit form=5222373]
You may never know how big of an eternal impact your homemaking may have.
Small seeds of faith planted, watered, and pruned in your home will reap huge spiritual harvests in not only your own life but also the lives of the precious people you nurture and care for in your own home — your family, friends, and neighbors.
Creating a Christ-Centered Home Challenge
I challenge you to download this guide and set aside about 10 minutes to read through it and then create a simple action plan of how you will implement small changes in your own home.
If you are ready to create a home that simply can't NOT think about God every single day, then download this free guide today.
When you sign up, you'll receive the guide in your inbox along with some added resources to help transform your heart towards Christ-centered homemaking.
So sign up today, check your inbox, and grab a warm mug of coffee as you spend a few minutes reading through the guide and creating a plan of what simple actions you can take today to create a Christ-centered home.
My prayer for you is that you will be like the wise woman in Proverbs 14 who builds up her home by  (I love how Sally Clarkson puts it in Own Your Life)
Painting the reality of God onto the walls of your home… will be one of the great works in your life!
You've got this, sweet friend! I can't wait to hear what God does within the walls of your home!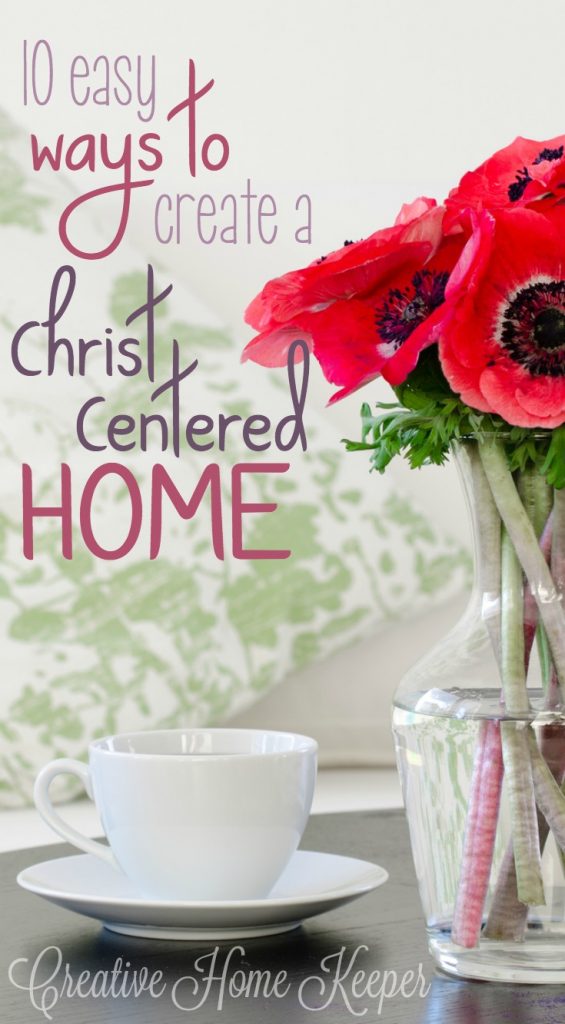 How are you creating a Christ-Centered Home?