Why It's Important for Homemakers to Dress for the Day You WANT to Have
There is a direct correlation between getting dressed & how we approach homemaking which is why it is important to dress for the day we want to have as homemakers.
Let's examine some thoughts on why you may want to invest in your appearance each day. Plus, I'm sharing three of my FAVORITE tools I personally use to build an easy and effortless wardrobe so I can make the most of my days! 
I have a 5-part morning routine that pretty much sets up the rest of my day for success. I plan on going more in-depth on morning routines in the future but for now, here's how it goes…
I wake up, spend some time reading my Bible while drinking coffee, do a quick Pilates workout*, then I either wash my face with cold water or jump in the shower depending on the morning. The final thing I do is — wait for it –get dressed.
Mind boggling, I know but hear me out for a second.
Half of you are reading this right now rolling your eyes with a chuckle because you are probably thinking, "That is just common sense Victoria. I have to get dressed so I can leave the house and go to work!" 😉
The other half, mainly those of us who stay at home or work from home, might have a more relaxed approach to this rule.
I used to go from my PJs straight to my yoga pants but the problem was that instead of putting on my sneakers and actually moving my body in a way that those pants where designed to be worn for, I was instead putting on my slippers, throwing my hair up into a bun, and wearing the coziest sweatshirt I could find.
Let me assure you that it was not a snow day nor was I in the season of nursing my babies around the clock. This was my standard day-to-day ensemble.
This is what I like to call my "frump-a-licous days"
---
True Story: Earlier this year, I accidentally left the house wearing my slippers to take all three kids to the doctor's office! Thankfully my slippers are a brown leather moccasin so hopefully, they didn't stand out too much! 😂
---
To be clear, I am all for wearing yoga pants on the occasional basis and weekend lounging BUT (and I'm emphasizing this BUT for reason), I also believe there is a direct correlation between getting dressed and how we approach our homemaking.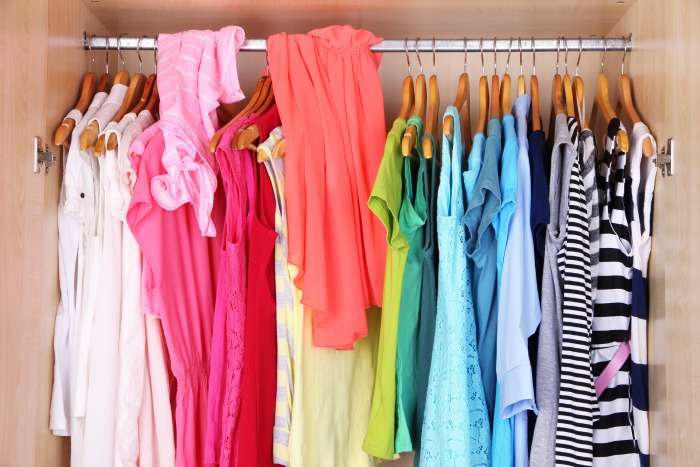 I feel like somehow our culture, myself included, have gotten (dare I say?) lazy when it comes to getting dressed.
Thinking back to my childhood, I can't recall my mom regularly wearing yoga pants or pajamas. In fact, I hardly ever saw her in her pajamas unless it was super early or around bedtime. She was always dressed.
For those of us who do stay at home all day with the kids, cleaning up messes (eventually wearing those messes!) I can totally relate to having the mindset of why even bother getting dressed. It's just going to get ruined anyway, right?
Well, that may be so, those adorable little grubby hands most likely will leave a sticky mess of prints on your pants or smear their facial goop on your shirt while snuggling, but…
Don't you think that you are worth it to get dressed?
No other profession, except maybe for a fitness trainer, would ever consider wearing yoga pants all day every day. So why do we as homemakers do that to ourselves all the time?
By not getting dressed we are basically not preparing ourselves for the day.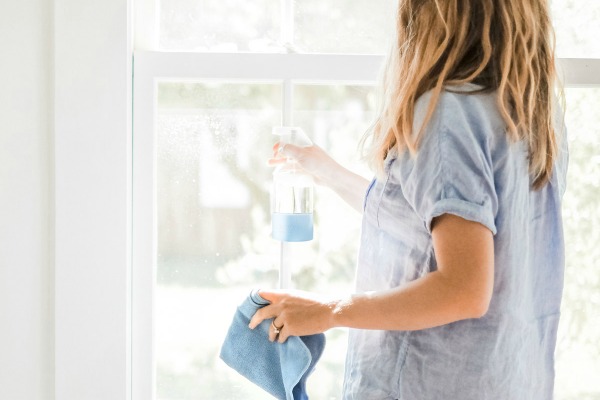 We are keeping the mindset that we are only just trying to make it through the day, survival mode.
Over the past few weeks, I have been working on simplifying my wardrobe to create more of a simple capsule with ready to go outfits for every day of the week.
I have been investing in my appearance. 
This doesn't mean I'm spending hours on end picking out something to wear or locking myself in the bathroom primping. Quite the opposite because who has time for that?
What it does mean though is that I'm making a decision to get dressed every single day in something that makes me look put together and feel good. Most days this is just something simple like jeans with a basic top layered under a cardigan with my beloved TOMS shoes.
I am making the choice that I am ready to tackle my day and to get things done, even if I never set foot out of the front door.
I have said it before, there are definitely times and days where it is OK to wear those yoga pants and loungewear. Nursing newborn babies, seasons of sickness, snowy winter days, or even days where you declared it's a PJ kind of day just for the fun of it!
But think about it for a minute…
On the days where you do make an effort to wear something else besides the yoga pants and sweater, are you much more productive?
Do the chores actually get done and items get crossed off of the to-do list?
Do you feel better about yourself?
Now I'm not saying that you need to get dressed to actually feel good about yourself, God alone fulfills that need, but think about it…
Don't you, at least, feel a bit more put together and ready to combat the day when you are dressed?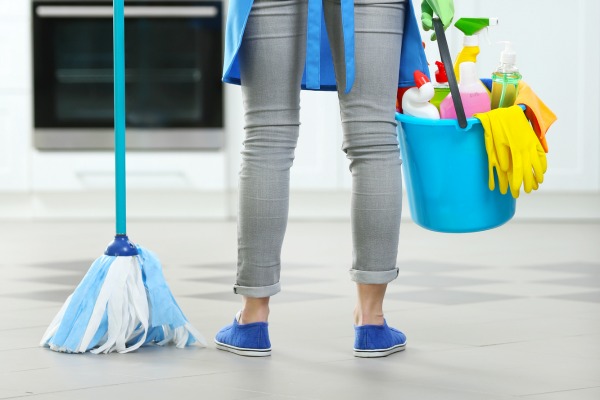 I think it was through Fly Lady where I read that actually putting on shoes every day makes a big difference in our productivity.
I'm going to go out on a limb here and add to that…
by getting dressed in something that makes you look and feel great you are actually maximizing your motivation to get stuff done.
Maximized motivation = productivity… and who doesn't love that? I do! 🙂
There are two main reasons why I've been making the investment in my appearance each day and dressing for the day I want to have.
Modesty
Hear me out for a second, I know the term modesty can bring several different opinions and mindsets but when I think of modesty I think less about covering up and more about dressing in a way that honors my body and allows me the opportunity to bless my family and do the work I was called to do.
2 Timothy 2:9-10 is often quoted in reference to how women should dress in terms of modesty but let's look at it from a different angle for a moment.
In verse 9, Paul uses the terms
respectable apparel (ESV)
modest clothing, with decency and good sense (HCSB)
decent and appropriate clothing (NLT)
dress modestly, with decency and propriety (NIV)
What if instead of looking at this in terms of rules or legalism found in between the lines, we see this as an exhortation to take pride in the way we dress?
To dress with the mindset that we are women who love God, love our families, and love the work we do every single day.
There is so much more to unpack on this topic and I realize this barely scratches the surface but I want to encourage you for a minute and allow yourself to start thinking about WHY it's important to dress for the day ahead.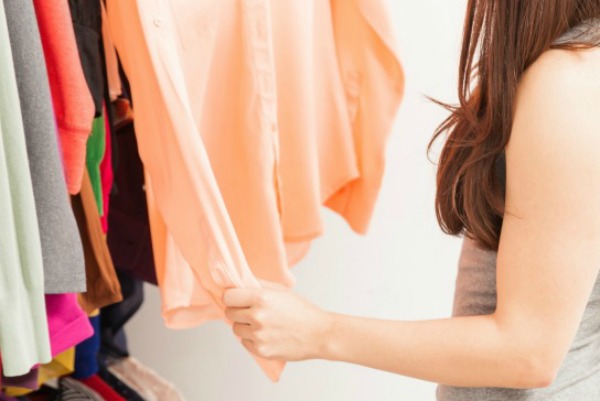 Remove Decision Fatigue
The second reason I'm making the decision to dress for the day I want to have is all about simplifying my life in practical ways.
One way I'm doing that is too remove decision fatigue and build a wardrobe that is simple, practical and allows me to quickly get dressed each morning without a lot of thought.
Over the past year, I have switched from the mindset of filling my closet with lots of "cheap" clothing and instead have been investing in a few quality pieces as my budget allows. I've been purging the stuff that no longer works, fits, or that I don't wear.
Quality trumps quantity and it helps to minimize all the choices.
Instead of having a closet jam-packed with clothing that may or may not fit, I have been building a wardrobe with fewer pieces I actually know fit me today and look great.
Later this week, I'm going to be sharing a few practical ideas about how to start transitioning your wardrobe.
Today, let me share with you three resources that are helping me to invest in my appearance.
GYPO Style Challenges
Regardless of whether you stay at home all day or leave for work or run errands, sometimes we as busy women need a little bit of help and inspiration to have the confidence to quickly build outfits from items we already have in our closets so we can get dressed stylishly and comfortably with little effort.
Because who likes to stand in their overstuffed closet every morning lamenting that you have nothing to wear?
This is where the GYPO Style Challenges* have changed my life in a good way.
Think of meal planning templates but for your wardrobe.
Basically, a GYPO Style Challenge* gives you a list of several different clothing items that are interchangeable so you can build several different items using the same pieces.
What I love is that they help you navigate what you already have in your own closet to build new outfits you might not have thought of before.
They also help you fill gaps by adding items on your wardrobe needs shopping list to purchase as your budget allows.
Here is how I personally use the GYPO Style Challenges*:
I pick the season we are currently in and print off the clothing list.
I immediately go into my closet and pull out the items that I already have that are similar or match. (There are also notes of how to pick items you already have but might not match perfectly).
I add any items I know I do not have to my on going shopping list in my notes app.
Then I use the templates provided and start building outfits from what I already have.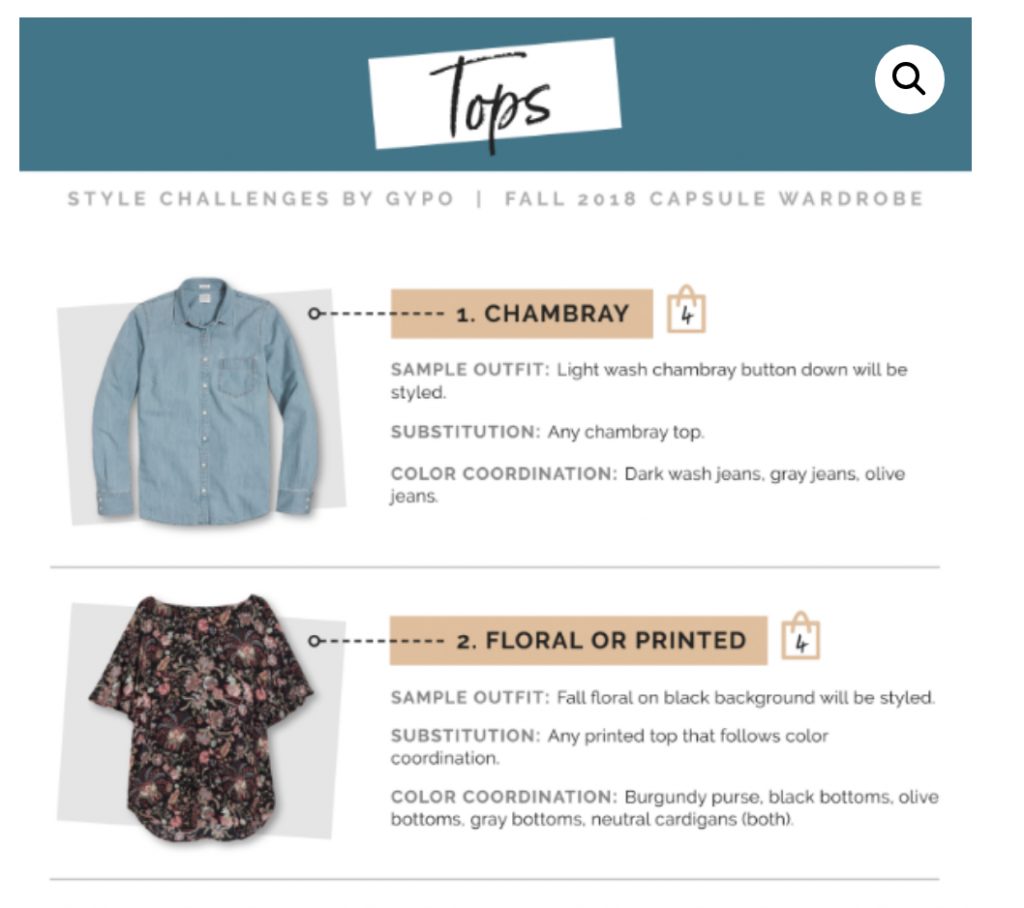 It's kind of fun to "play dress up" and create new outfits. It also helps you break out of your standard uniform to try new combinations
Since I stay at home most days, I choose the more casual outfit templates but I also plan for a few nicer outfits for church and date nights.
Stitch Fix
I was very hesitant to sign up for Stitch Fix* for a few reasons. One was it because it seemed to be trendy and "everyone else was doing it" and I hate to follow trends 😉
The other was that it is kind of pricey but when I stopped buying clothes I didn't need (like grabbing that cute shirt at Target that caught my eye on the way to the toilet paper aisle) I realized my budget did allow for a few quality pieces here and there.
In a nutshell, Stich Fix* is a styling service where you fill out a style profile based on your preferences and a stylist will curate a box of 5 items to send you to try on.
Once you try on the items, you keep and pay for what you want and send back the rest in their pre-paid shipping package.
It takes a few boxes to get into your grove with your stylist but once you supply feedback on why you love or hate the items, they begin to get a real sense of what you want.
I schedule my fixes to come once every two months but you can schedule the frequency and timing as you like. I have been using Stitch Fix* for over a year now and have come to the point where I am consistently keeping all 5 items because of the feedback I have given.
If you are new to Stitch Fix and want to try it, you can use my referral link here to get a $25 credit towards your first Fix!*
Thred Up
ThredUp* is an online consignment store with clothing for women and children, including accessories, shoes, jackets, and other items.
I LOVE ThredUP* and could write a whole post on how to use it (maybe I will soon!)
(Here's a look at what I got last fall to fill in the gaps)
You can also send in quality pieces from your own closet that you are getting rid of through your own purging and if they accept them, will give you store credit. I have done many times but the payout is decreasing since they have been getting so much inventory.
The best way to use ThredUp* is to know your size and measurement in tops, dresses, pants, and shoes. You also need a good idea of what you are looking for because if you just search for women's tops in size Large, you will give thousands of tops to choose from.
This is a sample of how I use ThredUp* quickly:
After working through the GYPO Fall Style Challenge*, I have a list of items I might want to purchase. I include some of those descriptions in my StitchFix monthly request and then I do a filtered search on ThredUp to see if any items are available there cheaply.
For example, I need a button-up chambray blouse in size Medium. So I plug that data into the ThredUp Search bar and up comes the results of that they have in stock.
I pick a few to try on (ThredUp also has super easy returns) and place in my cart.
I repeat this for any clothing needs and then hit checkout.
Within a week, I receive a box of clothing to try one. I keep what I love, return the rest and that's it!
Simple easy shopping to fill any gaps in my wardrobe without leaving home!
If you are new to ThredUp and want to try it out, you can use my referral link to receive a $10 credit off your first order!*
These are just a few resources I use and love to invest in my appearance.
---
Bringing it all back together…
YES, I do believe that getting dressed every day plays a huge role in our homemaking because it helps you to prepare for the day you want to have.
What tools and resources do you use to help build an easy and effortless wardrobe so you can make the most of your day?