6 Tips for Planning Your Christmas Budget Now
Taking the time to sit down and make a plan and budget for the upcoming Christmas season will not only save you time but also money! Check out these 6 tips to plan your Christmas budget NOW!!!!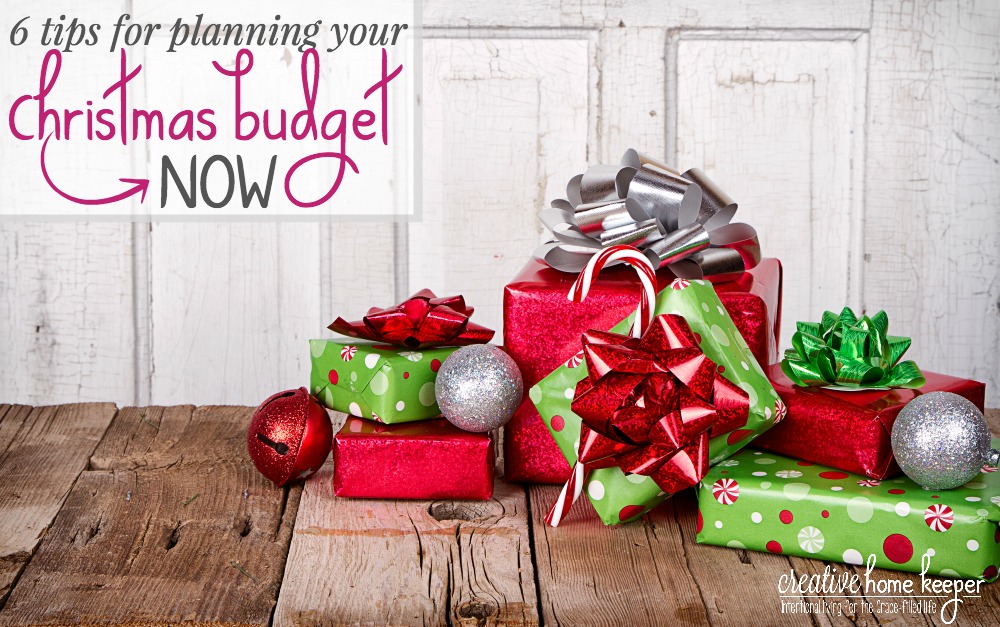 I know what you are probably thinking… fall hasn't even officially begun (according to the calendar). You just pulled out your sweaters and boots and are eagerly waiting for the temperature to start getting a little cooler to enjoy drinking your Pumpkin Spice Latte sitting in a pumpkin patch watching your kids play on the hay bails.
Fall is my favorite season of all and I don't like to rush through it, especially when it comes to Christmas planning. But here is a startling fact… there are only 13 weeks until Christmas.
Which means, give or take, you have 12 weekends remaining to do any Christmas shopping and if you are one who likes to avoid the crowded malls and shops during the month of December, then you only have 10 weekends before Black Friday weekend after Thanksgiving.
So if you are hoping to get your Christmas shopping done before then, you better get busy!
Some of you are reading this with no sweat because you have your Christmas shopping done, or mostly completed or planned out because you plan all year and look for deals. For the rest of us, myself included, we need to get a plan in place now so that we can truly enjoy the seasons of fall, Thanksgiving and Christmas coming up.
[clickToTweet tweet="We need to get a plan in place now so that we can truly enjoy the season. " quote="We need to get a plan in place now so that we can truly enjoy the season. "]
It is so easy to enter into the holiday season with the mindset that you don't need a budget or a plan because you have a good idea of how much to spend. While you might have a good idea, there is also a strong possibility that your budget will be blown and you will be looking at some pretty hefty credit card receipts come January with the sad realization that you have to start a new year with some serious spending habits changed.
I've been there and done that, trust me it's not a fun way to begin a fresh new year.
[clickToTweet tweet="It's not a fun to start the New Year with Christmas debt! " quote="It's not a fun to start the New Year with Christmas debt! "]
So even though we are here in mid-September and just beginning to get back into a school routine after summer and enjoying our fall days, it's important to set aside a few minutes over the next week or two and get a plan in place for how you will spend, or save, your money during the upcoming Christmas season. If you're clueless as to where to even begin, I've got 6 tips to help you plan your Christmas budget now. Are you ready to get started?
[clickToTweet tweet="Get a plan in place now for how you will spend or save money during the Christmas season. " quote="Get a plan in place now for how you will spend or save money during the Christmas season. "]
6 Tips for Planning Your Christmas Budget Now
1. Meet with your Spouse
Do you have previous years when the budget was busted during the holiday season causing tension with your spouse? I do and it's definitely not a fun discussion when you are sitting there looking at the numbers and realizing you overspent.
Before you even begin to create a budget, spend some time discussing what your holiday plans should be with your husband. Ask for his input on how to help curb overspending. When the two of you are on the same team, setting up a budget (and sticking to it!) is a much more enjoyable process.
My husband and I meet on a weekly basis to review our calendars and to go over the budget. My husband is super talented at telling each dollar where to go and has created a beautifully detailed spreadsheet of all our income and expenses. Through this planning, we have been able to set aside a little each month to use for our Christmas budget.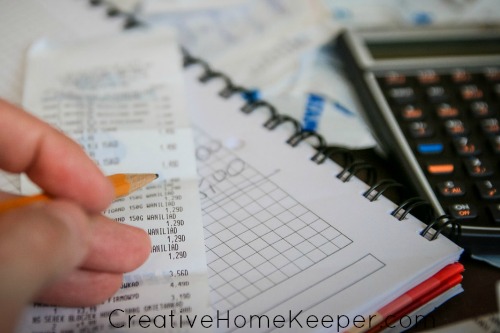 2. Set a Budget
Once you and your husband are on the same page as to how you will plan for the upcoming holiday season, now is the time to set an actual budget of how much you will spend.
Think through of how much you spent in previous years and decide if that was too much, just right or not enough.
Don't just focus on how much you will spend on gifts either. Include food costs if you will be hosting a meal. Or will you send out Christmas cards, take a family portrait, buy some new decorations? How much do you plan to spend on charitable giving?
Think about all the things that you purchase during the holiday season that should be added to your Christmas budget.
A lot of overspending comes when we just focus on the Christmas gifts themselves and not the other Christmas related items you buy during the holidays.
Some even find it helpful to set up two Christmas budgets, once specifically for gifts and another specifically related to food, decorations or other expenses. We personally just have once Christmas budget that we divide up into the appropriate categories but you need to be able to set up a budget that will work for you so that you can stick with it during Christmas time.
3. Create a List of Who to Buy Gifts For
Once you know what your budget will be then it's time to start a list of who you will actually be purchasing gifts for. Usually, the bulk of our gift-giving funds go to our immediate family including children and spouses, but you probably also plan and purchase gifts for grandparents, extended family members, teachers, pastors or others who you interact with on a daily basis.
Make a list of all the people you have given gifts to in the past or those who you would like to purchase for.
Once you have a list made then start thinking about if you can really afford to buy a gift for everyone according to your budget. Sometimes it's no fun to not be able to purchase an actual gift but there are so many other ways to bless that person during the holiday season, I'll share some more tips about that below.
If you are super App savvy, there are also some fun Christmas list apps that can help you track who to buy for, what to buy them, how much to spend and how long you have left to purchase your gifts. Some include:
Christmas Gift List (for Android)

 or Santa's Bag- Christmas Gift List (for iPhone)
4. Assign a Dollar Amount to Each Person
Once you have a list of all you can afford to buy for, now is the not-so-fun part of assigning a dollar amount to each person. For those of us who love to draw our inspiration from the store while we are shopping this can feel limiting but in reality it helps us to be more intentional about what types of gifts we buy for each family member.
No more buying fluff but instead, we are purchasing quality gifts.
For example, if I know that I only have $50 to spend on each of my children, I want to carefully think through some gifts that are not only fun, and sometimes practical, but are also meaningful. I strive really hard to make sure that we follow a simple gift-giving strategy of something fun, something needed and something to help grow their faith.
When my son was little, he loved trains. One year I knew we wanted to buy him a train table and train set for his Christmas present. Due to some extensive planning (because those things aren't cheap) I was able to score a super discounted one (similar to this one
)  on clearance back in September, months before Christmas.
If I didn't have a plan in place I would have missed out on that deal and would have probably blown our whole Christmas budget. But thanks to my planning, and with the help of some contributions from grandparents as well, I was able to purchase the table and a complete set for less than $70, which in my opinion is steal compared to full-priced train table sets.
Now, are you beginning to see why having a plan in place is so important? You can be on the lookout for killer deals long before the holiday rush begins!
5. Create a Shopping Plan
Now that you have a budget, a list of who you will buy for and a good idea of how much to spend on each person, it's a good idea to start thinking through a shopping plan. I like to jot down a few ideas of gifts next to each person's name on my list. This helps me to start thinking through ideas as well as to get an idea of how to spend the money that I have allotted for each person.
Think of what you purchased last year, for example with the grandparents it's pretty easy since we usually get them a photo calendar or photo book of the kids throughout the year. Grandparent's love those sorts of things!
Also think through how you will shop. Will you shop mostly online (as I do because it's super convenient) or do you love actually going to the stores? Are you hoping to beat the holiday rush by shopping before Black Friday or does the thrill of the crowd excite you?
Thinking through your actual shopping plans will allow you to jot some dates on your calendar to help you set aside some time to actually go out and get your Christmas shopping done, from now until December 24th.
Here are a few important dates you should be aware of in your Christmas shopping plan:
Black Friday is November 29, 2019
Cyber Monday is December 2, 2019
Free Shipping Day is Saturday, December 14, 2019
Usually some of the best deals can occur during those dates if you are willing to wait and shop with the crowds. But as I mentioned before, don't be afraid to start looking at clearance deals now, like I did with the traintable.. You might be pleasantly surprised by some markdowns of retailers as they are making room for all their Christmas inventory.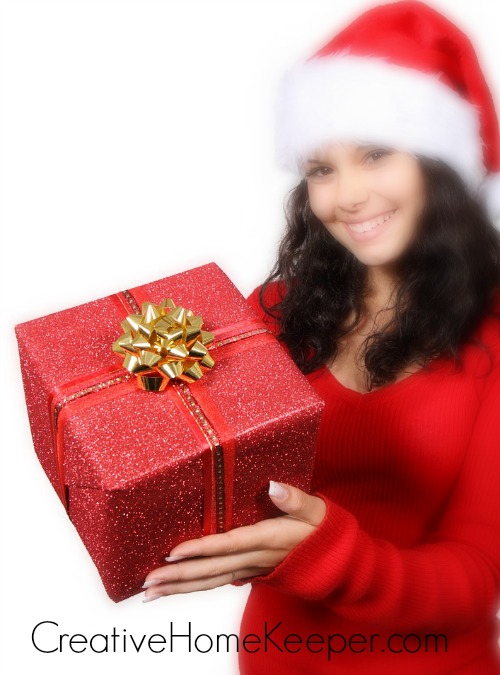 6. Decide How to Bless Others
You probably won't be able to afford to purchase gifts for everyone that you would like to but there are super easy and frugal, often times free, ways to spread a little Christmas. For exampl,e I like to use some of my Swagbuck points to cash in for $5 Starbuck's gift cards. Those are great to place in a dollar store mugs filled with candy to give to teachers, assistants or others.
Perhaps you can bake extra cookies or goodies to make a special treat platter. Or your and your kids can get together and make some simple Christmas crafts, cards or ornaments to pass out.
There are plenty of frugal ways to spread the Christmas cheer without spending a ton of money, especially if your Christmas budget is so tight to begin with. It's so important to be realistic with the set amount of money you have to work with.
[clickToTweet tweet="There are plenty of frugal ways to spread the Christmas cheer without spending a ton of money!" quote="There are plenty of frugal ways to spread the Christmas cheer without spending a ton of money!"]
By creating a plan and a budget now you will not only save money but you can save time too.
When you have a plan in place you know what you need to buy and when to buy it. You can avoid the crowds and the rush and just enjoy the Christmas season with your family.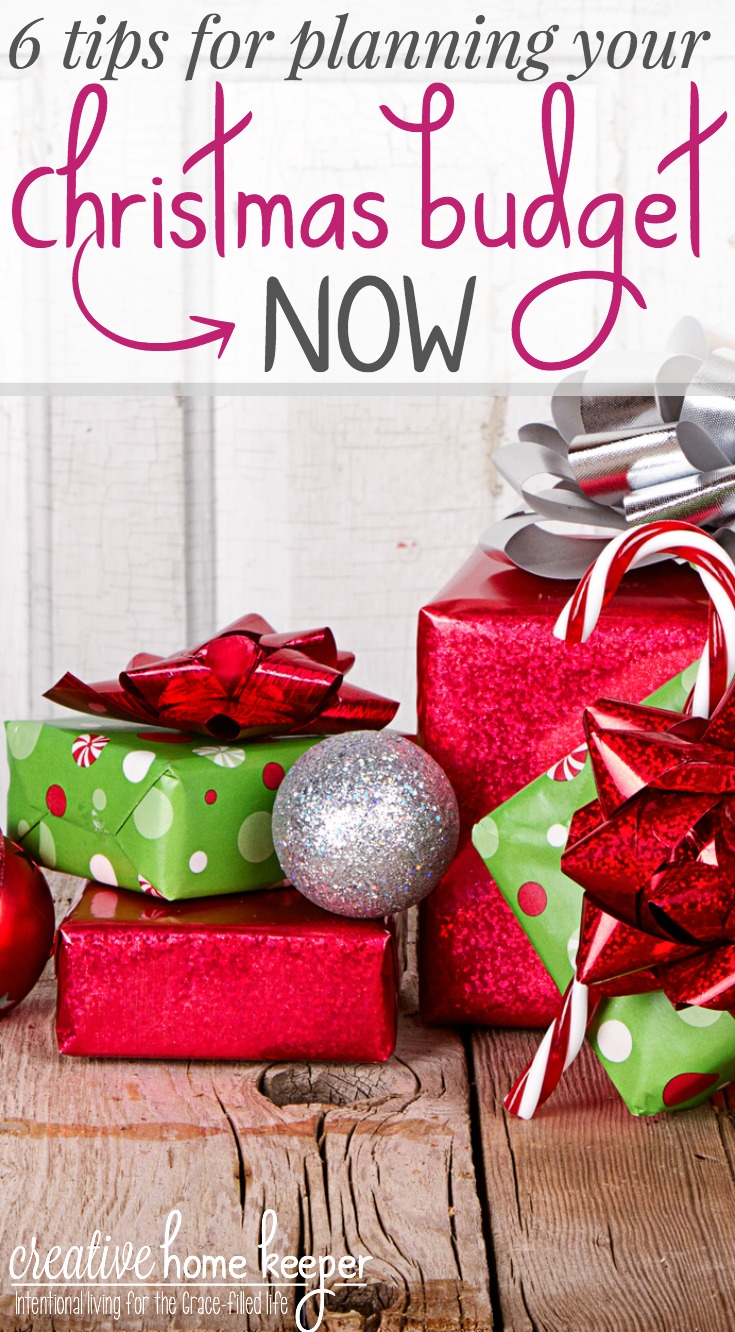 What are you best tips for planning your Christmas budget now?