The Case for Christmas Cards
Thanksgiving will be here soon, and while I'm holding true to my word that the Christmas season does not start until after the turkey is eaten, there is a little planning and prep work that has already gotten underway.
There maybe a closet or two with gifts stored away waiting to be wrapped. There may be supplies gathering around for my attempt at a craft project (say what? I thought you weren't crafty? I'm not normally, but sometimes inspiration hits, stayed tuned though because I will be posting the project.) And there has been a little planning on putting together our family Christmas card.
One of the best things about the month of December is being able to open your mailbox and have more than just bills in there. You know what I mean, all of those festive colored envelopes filled with Christmas cards, holiday greetings, family pictures, and newsletters.
It seems thought that in recent years there has been a decline in Christmas cards in my mailbox, and I know I'm not the only one.
People just aren't sending out as many Christmas cards anymore. I know there are a variety of reasons, with the rising cost of postage many families just can't afford to anymore. While finances can be a factor, I want to offer a simple  challenge to you this year: Do consider mailing Christmas cards, or at least a few, this year.
Tips to Help Simplify Sending Out Christmas Cards
They Don't Have to be Elaborate
Christmas cards don't have to be elaborate or fancy. You don't have to custom make your own hand-crafted cards (but wouldn't that be something!) They can be the basic box cards you buy on discount from the end cap at Wal-Mart or DaySpring carries my favorite selection of inspirational boxed cards that aren't very expensive. 
For the person receiving the card, a simple note is what blesses them the most.
Some of the most creative cards I have received actually haven't been cards, rather newsletters or top ten lists typed up by the family. They use colored graphics, uploaded a family picture or two, and highlighted some important events of the year.
Printed on regular white paper, stuffed into a standard envelope, and bam!… a creative, festive Christmas card.
I'm a fan of the photo-cards, and while some can be pricey, you can upload a simple photo to almost any store website (CVS, Walgreens, and Wal-Mart have some pretty good deals this time of year) and print off a standard 4 x 6 print with Merry Christmas layered on top for pennies.
PicMonkey is my favorite online free photo editing site. You can create custom collages or edit photos by adding graphics and typography. All of the photos that I use here on the blog have been edited with PicMonkey. Which brings me to my next point…
The Photos Don't Have to be Elaborate Either
A few years ago we had a newborn and a toddler, we didn't have a family photo season and the thought of trying to stage one was just to much work for this mama at the time. So instead of having photos taken, I used photos that I had already taken and made a collage. Our family loved seeing photos of Silas meeting his new baby sister for the first time.
This year we took some family photos so I will be using those to make a Christmas card using coupon codes from Tiny Prints and Shutterfly. Using two different photo companies means my cards won't all be the same but by using their coupons emailed to me, or from the Shutterfly app on my phone, I will be able to save BIG!
Another great idea is to use PicMonkey to create a festive 4 x 6 photo of your family with a Christmas overlay. Print them out and then stamp a larger mailing address label on the back with a short update of your family. Place in a regular envelope and BAMB… super easy Christmas cards that only cost a few bucks!
Evaluate Your Mailing List
You don't have to send a Christmas card to everyone on your mailing list, and chances are there are a few addresses that need to be updated or removed as you have lost touch. If budget is a factor perhaps you could send cards to close family and friends only.
I usually only send cards to distant family and friends, immediate family, and very few select local friends. I would love to send some to everyone who knows and loves our family, but the budget just doesn't allow for it.
Some photo card companies do let you email the photo card to people, but they would have to pay to print it and I am personally not a fan of e-cards, though others love them.
If writing out a bunch of addresses and return addresses stresses you out, then purchase a pack of simple white labels to print your own. You can also be on the lookout after Christmas for Christmas themed stationery to make your own for next year. I did this several years ago and loaded up on label stickers and I still have enough to last us.
Think of Those Who Could Be Blessed By a Card
Instead of mailing a Christmas card to everyone on your mailing list, why don't you focus on the people who you think would greatly benefit from a little Christmas cheer?
Elderly grandparents, family or friends who may not have a lot of visitors LOVE receiving mail and updates. Or think of those who are widowed or who live alone or who have recently suffered a great loss.

While you might need to approach with sensitivity, a lovely note inside a Christmas card might make their whole holiday season.
Make a Plan and Stick to a Budget
I have personally stood in a long line at the post office mid-December to buy a book of Christmas themed stamps and it's not fun.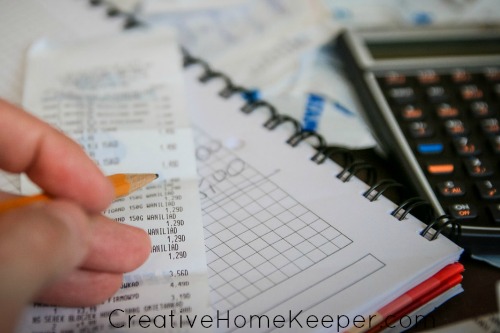 Don't do it!
Now is the perfect time to stock up on stamps because the Christmas themes are already in stock at most locations, and the lines are probably much shorter. To make things even easier this year, I have already bought my stamps in bulk at Costco. Sure they won't be Christmas themed, but we have plenty of stamps to last for several months, no need to stand in a long line!
I also think it is incredibly important to have a Christmas budget already in place including not only gifts but all things Christmas related- cards, postage, wrapping supplies, decorations, food, and drink.
If you know how much you can afford to spend on Christmas cards you won't set yourself up to fall in love with cards that you can't afford…. Been there, done that, not fun!
Also, think about the card size, uniquely shaped cards cost extra and can be a hassle to mail. I'm reminded of my wedding invitations, they were square and trying to mail them out on a budget without having a tacky collage of stamps was like mission impossible.
Get Them Done and Mailed Out Early
Mine are ordered, which means they should be arriving here soon and my plan is to have them in the mail a few days after Thanksgiving.
Let's face it, the holidays are busy and the sooner you can tackle on more thing off your to-do list, the sooner you can enjoy and be intentional with your family this Christmas.
I hope I have made the case that creating and sending out Christmas cards doesn't have to be expensive or elaborate, and hopefully, I have convinced some of you to put some in the mail this year. Are you planning on sending Christmas cards this year? What tips do you have for simplifying creating and mailing out your Holiday cards?
Are you planning on sending Christmas cards this year? What tips do you have for simplifying creating and mailing out your Holiday cards?
What are your tips for making and mailing our Christmas cards to be both budget-friendly and easy to do?