5 Tips to Getting Your Days Back After a Difficult Season
When you have a family member who is nearing the end, it's a gut wrenching time. You never know if the time you spend with them will be the last time. You jump at every phone call dreading what news might be on the other end. It's an emotional roller coaster and you are all over the map.
I didn't realize just how much losing my dad would affect me. Yes, he was my father and we had a pretty good relationship but we weren't super close, I definitely was not a daddy's girl. I knew he was sick, but I didn't let myself dwell on just how sick he actually was until the final few weeks.
I also didn't realize just how tense I was until the weeks following his passing. Grief would sweep over me during the most inconvenient times… Silas would ask a question about Papa Joe, every single TV show I watched seemed to have some sort of father-daughter relationship conflict, the gloomy April shower days that I normally loved would open the flood gates of my own and tears would start to form just by a memory of looking at a picture.
I have lost other family members before but never a parent, and never as a parent.
The past few weeks have been both rough and a time of personal growth too. I let myself grieve in my own way and some days that meant that I was wearing my yoga pants longer then what I normally considered appropriate.
I struggled in managing my day to day and for a few weeks I honestly had no routine, plan or schedule. And for a girl who likes a routine, it was starting to wear on me. I knew that I needed to work towards getting back on track but I didn't want to overdue it in typical "Victoria" fashion (have I mentioned I'm an all or nothing type of person?).
So I started small and focused on a few things to help improve my mood, my energy, my productivity and to get my days back. Today I wanted to share with you 5 tips to getting your days back after a difficult season. Whether you are experiencing a season of mourning or you just need some baby steps to get your days back, I pray that these will be useful tools for you as well.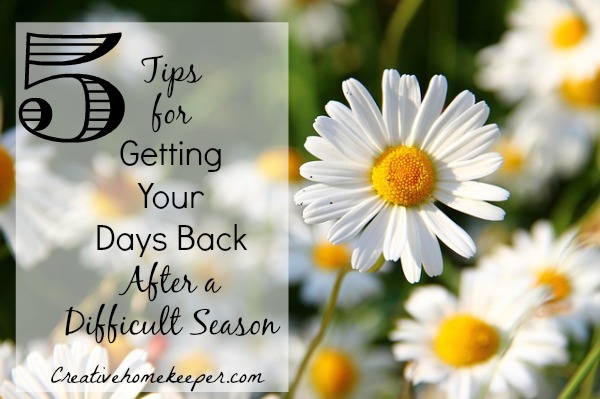 1. Focus on Scripture
It sounds obvious right? But for some reason it seems like it's the last thing we do when we are hurting.
With Easter being last week, I was reminded just how much God knows what a broken heart feels like, and His pain was infinity greater than mine. We have a God who is real, present, and who loves us more than we can even comprehend.
Last week I shared 10 Scriptures that have been a huge source of encouragement and inspiration for me. Focusing on the truths and promises of our Heavenly Father is the best way get back into a routine after your life has gone through a difficult time.
I also got way behind on my Bible reading plan, like it's so far behind I've started a new daily Bible plan! 🙂 Even though I wasn't reading through my plan, I did spend some time everyday to read through one of my daily devotionals or prayers books which are based on Scripture.
Spending a few peaceful moments reflecting on how faithful and good God is does a world of difference to a heart that is grieving.
2. Get Dressed
I've said it before but I still need to hear it, the absolute best way to start your day is to get dressed.
I'm not talking about yoga pants or sweats either. I'm talking about jeans and a cute top or something that makes you look and feel great.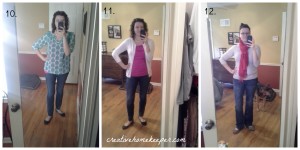 Remember those go-to outfits? 
Over the best few weeks the simple act of getting dressed has definitely helped start my day in a positive way. It sounds crazy but the simple task of getting dressed can actually improve your mood, your energy and even your productivity levels.
You're taking the tine to make your outward appearance a priority, which has an effect on everything else in your day.
3. Set a Small Goal for the Day
It isn't lost on me that during this hard season of loss and having no routine, I had just finished up a whole series on creating a routine… oh the irony!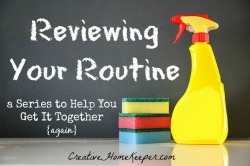 The truth is that no matter how many plans we have in place, life happens and seasons change causing major routine shifts. There were a few weeks where the thought of following my daily routine was just too much to handle.
I quickly learned that instead of focusing on a long list of routines and tasks, it was much more manageable to make a list of 1-2 MITs (most important tasks).
MITs are small goals that need to be done: whether it's one load of laundry, return a phone call, write thank you notes, return a book to the library, go to the grocery store or any other basic task to complete. Don't focus on an entire list of things to do, pick one or two things to complete each day.
By removing the self-imposed expectations that I had created for myself and the super long to-do list, I was able to slowly get back into a routine.
4. Get Outside
I got into a really bad habit (partially thanks to the cold winter) of turning on PBS after the kids woke up from their naps and just sitting on the couch while my kids played in the afternoon. It was easy to veg out and watch my kids, then to actually get down and play with them.
Then the weather started to slowly get warmer and sunnier and I knew that we needed to start getting outside, but that felt like too much work. Anyone with little ones knows just how hard it is to get shoes on (and have them stay on!), jackets on and any other outdoor items together. Your exhausted before you even step outdoors!
But once we were outside  I just felt so much better. The sun was warm, the breeze was cool and refreshing, and it's hard to stay in a sullen mood when you see your children giggle with delight over chasing the butterfly.
Getting outside has many benefits, not to just to overcome those feelings of lose and pain. You are outside breathing fresh air and are watching life bloom all around you. Plus you are up and moving, either by a family walk or chasing after your kids. Getting a little exercise in helps to get your blood flowing and those endorphin's to kick in.
5. Choose Gratitude
It's easy to focus on what you have lost and to allow the grief to continue to swallow you up. It's also easy to get lost in our sea of self pity. There is definitely a time to mourn, as there is a time for all seasons, but there is also a time to tell yourself, "Stop It!" and to turn away from negative thoughts.
In my case I have two beautiful, healthy, vibrant toddlers, a husband who has been patient, caring, understanding and loving. I have an extended family who is also hurting but who have come together to love and support one another. There is so much good in my life even in the midst of pain.
While my heart will have a void in it of losing my father, I know that life moves on and that I do have so many wonderful blessings in my life that God has so graciously gifted to me. I don't keep a specific gratitude journal but I have gotten in the habit of speaking thanksgiving over several areas of my life in prayer. What a difference it has made!
All of us have gone through a season in our lives where the door of our comfort was flung open and we have had to experience some difficult seasons. God never promised this life would be easy or pain free but He did promise that He would always be with us. We are not alone in this journey and no one knows better how we are feeling then our Heavenly Father.
What are some tips that you have experienced to help you get your days back after a difficult season?