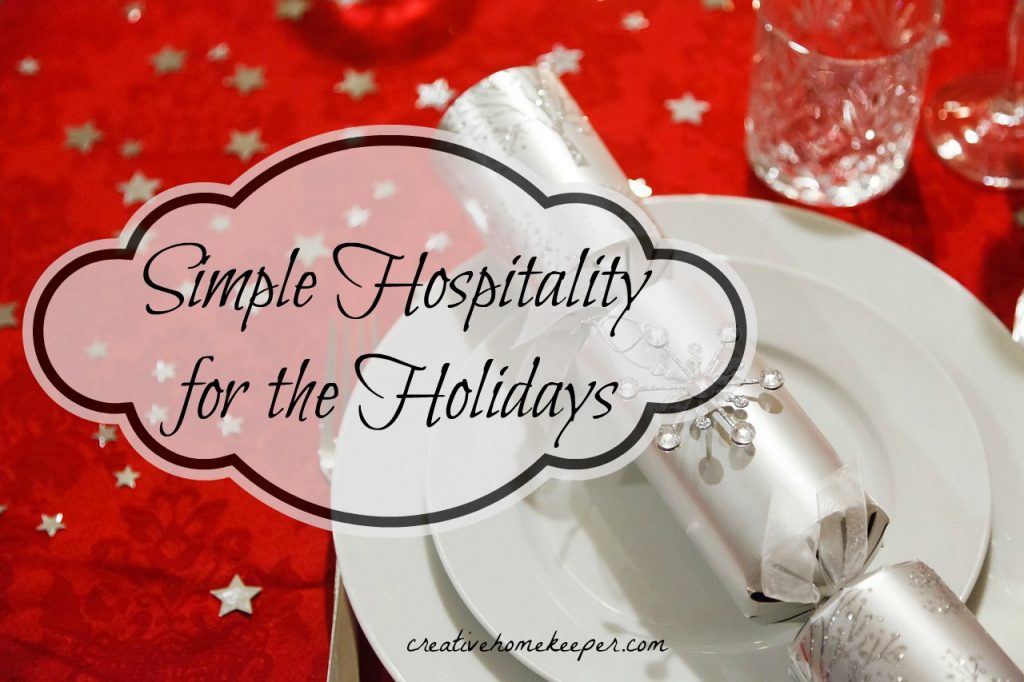 A few weeks ago I shared some practical and simple tips for practicing hospitality through the holidays. I have since thought of a few more tips that I thought I would share to help as you get ready for your second round of holiday get-togethers over the next few weeks.
I am all about keeping things as simple and easy as possible especially during the holiday season where stress seems to be at an all time high. These are some things that I do to remove some of the fuss allowing me to be able to enjoy the holiday with my family and friends.
Paper Goods are OK
While I try to limit the use of paper towels on a regular basis and use cloth napkins instead of paper, sometimes I think it's OK to give yourself a little grace and go the paper route during Christmas dinners. I'm sorry if I'm offending the environmentally conscience ones, but depending on how many people you are having over, you could be stuck in the kitchen doing a lot of dishes. And who wants to spend their Christmas party washing dishes?
I have a nice set of Christmas dinner plates that I use to serve dinner one, but I stock up on festive paper napkins, plastic cups, and plastic silverware. It makes things much easier, plus over the years the number of glasses and silverware we have has diminished (the garbage disposal as "eaten" its share of spoons) so I have to use paper supplies until we save up in our budget room to replace those various kitchen items.
Keep Drinks Simple
Every holiday get together we host at our house I always assign my father-in-law to bring the drinks. He always brings the same thing: a cooler with ice, some two liters or cans of soda, and a pitcher with either lemonade or tea. I provide the cups and water :), that's it. No fancy drinks, not a huge variety but enough to keep everyone happy. I usually place the ice in an ice bucket, and set out the cups on a small table in the kitchen. Keeping it simple like this makes things so easy.
Now we are a family that doesn't consume alcoholic beverages so I don't know all the ends and outs of keeping a bar well stocked, but I'm pretty sure you can keep that simple too. Instead of trying to provide a variety of drinks, try focusing on just one or two "house" cocktails, or assign people to bring a few different drinks.
Set Up a Snack Station
I like to set up a small vegetable platter or crackers with dip on a table out of the kitchen. Not enough to fill everyone up, but enough to keep everyone out of the kitchen while I'm finishing up. I've learned over the years that if I don't set something small out, then I have people hoovering over me while I'm cooking. While I love to visit with my family sometimes it stresses me out to have "to many cooks in the kitchen".
By setting out some simple snacks or appetizers out of the main kitchen area, it keeps everyone satisfied and allows me to make my final touched without feeling frazzled. I realize this tip might be more of a personal preference, but it's something that definitely keeps my holidays simple
Go Buffet Style
If you have a lot of counter space try setting out all the food there and letting everyone make their own plates. This way your dining table doesn't have to be so crammed with food and people can come and get what they want when they want it. Even back when we have a very small kitchen I was able to set up a little buffet by creatively using the stove top, a small T.V. tray and the little counter space I had. It might not have looked really pretty, but it got the job done.
Now I have a lot more counter space so I'm able to spread the food out and organize it a little more nicely. Plus it's just so much nicer to be able to see everyone at the table and not have to continually pass plates around.
These are just a few of the things that I do to really keep things simple and allows me to enjoy the day and have plenty of time to visit with my family. We also keep several games handy to play after the meal (Scrabble, Yahtzee, and Monopoly are a few favorites) for some of us to play. By keeping things fuss free I'm able to laugh and enjoy these fun times.
What tips or advice do you have for practicing simple hospitality during the holidays?