30 Days of Thanksgiving: Cultivating a Heart of Gratitude All Year Long
Cultivating gratitude and practicing thanksgiving isn't just reserved for the month of November. They are spiritual disciplines we can include in our everyday daily devotional time.
Start the disciple by practicing gratitude for 30 days with these simple ideas to draw your heart closer to all the gifts and blessings from above.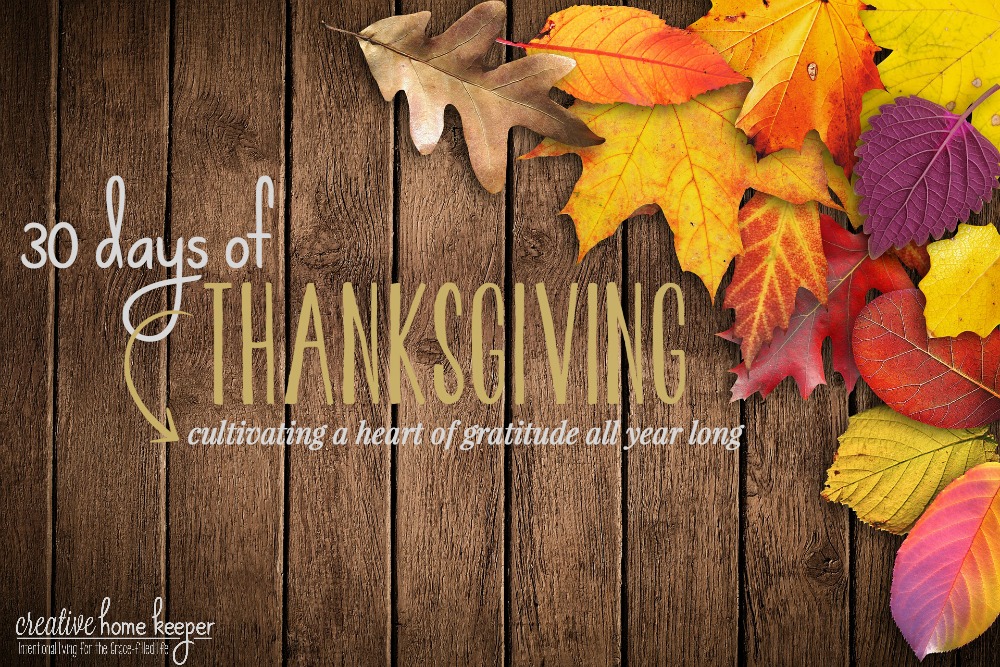 Thanksgiving is my favorite holiday of them all.
The food, the feast, the gathering around the table with family and friends… it's all so wonderful!
I love spending a lazy morning on the sofa watching the Macy's Thanksgiving parade with my family.
I love cooking the traditional feast of turkey, stuffing, butternut squash soup and other delicious sides followed by a round of apple and pumpkin pie.
Mmmm… my mouth is watering just thinking about all that goodness!
I love sitting around the table as a family (drama and all!) and sharing stories and laughing together.
I love playing a rousing round of Yahtzee or Scrabble while we eat desserts (I married into a family who takes Yahtzee very seriously!) 😉
I love curling back up on the sofa with my stretchy pants, drinking some ginger tea (because we all overindulge) watching a mix of either football or Elf, our favorite newer holiday movie.
And I love sleeping in and watching the news on Black Friday…  I am fascinated by you all who are brave enough, and motivated enough, to venture out in the early morning hours.
In my family, we spend Black Friday decorating the house for Christmas because I'm a stickler for not putting up any decorations until after Thanksgiving is over.
Thanksgiving serves as a bridge between ending all of my favorite fall traditions and venturing into the Christmas season.
It's a mix of both worlds because apples, pumpkins, and colorful leaves are still present but sitting down together as a family to share a meal welcomes in the new holiday season.
In America, we celebrate Thanksgiving as a way to honor those early days of our country's history, the feast of gratitude through making it through the first harvest.
I realize it's much more a complicated story than that but it's the main focus. They gathered together thanking God for the blessing of the harvest and for survival.
We gather together today thanking God for all the many gifts He continues to bless us with, from the large and miraculous to the small, everyday little things that make up our days.
In the past few years, gratitude journals and listing out blessings have become increasingly popular but the discipline isn't some new trend.
Listing out our blessings and counting our gifts is one way to practice daily spiritual blessings.
Listing out blessings and counting our gifts is one way to daily practice spiritual blessings.
Click To Tweet
Gratitude and thanksgiving are essentially one and the same; having a thankful heart, giving thanks, and sharing our blessings.
It's a discipline that has been around for a long time.
Over and over in the Bible, there are countless verses offering thanksgivings to God.
Give thanks to the Lord, for he is good; his love endures forever. ~ 1 Chronicles 16:34

I will give thanks to the Lord because of his righteousness; I will sing the praises of the name of the Lord Most High. ~ Psalm 7:17

Let us come before him with thanksgiving and extol him with music and song. ~ Psalm 95:2

Enter his gates with thanksgiving and his courts with praise; give thanks to him and praise his name. ~ Psalm 100:4

Taking the five loaves and the two fish and looking up to heaven, he gave thanks and broke the loaves. Then he gave them to the disciples, and the disciples gave them to the people. ~ Matthew 14:9

All this is for your benefit, so that the grace that is reaching more and more people may cause thanksgiving to overflow to the glory of God. ~ 2 Corinthians 4:15

Do not be anxious about anything, but in every situation, by prayer and petition, with thanksgiving, present your requests to God. Philippians 4:6

Let the message of Christ dwell among you richly as you teach and admonish one another with all wisdom through psalms, hymns, and songs from the Spirit, singing to God with gratitude in your hearts. ~ Colossians 3:16
A small list of thanks and gratitude listed from the Bible yet it serves as a reminder that the Word is a book full of thanksgiving.
We have much to be thankful for indeed!
November 1st usually starts a trend, especially on social media.
#thankful #blessed #30DaysofThanksgiving are increasingly popular hashtags that are used. We see them all over on Facebook, Instagram, and Twitter.
We use them ourselves to remind ourselves and to share with others what we are thankful for.
They are a good reminder that November is a month of thanksgiving and celebration of the harvest, all of God's blessings and the life He has freely given us.
If we only reserve thanksgiving for the month of November, we are missing out.
Click To Tweet
However, if we only reserve thanksgiving for the month of November, we are missing out.
We should be cultivating a thankful heart all year long.
Giving thanks shouldn't be only reserved for sitting around a table with the family the last Thursday of the month.
Practicing gratitude and giving thanks should be something we do every day.
Practicing gratitude and giving thanks should be something we do every day.
Click To Tweet
Today marks November 1st so it's the perfect time to start the spiritual discipline of counting your gifts.
Spend the next 30 days really searching for all the ways you have been blessed.
From the big…
Were you cured of cancer?
Reunited with an estranged family?
Did you accept God's gift of salvation?
To the small…
the giggles with your children
holding hands with your husband
an inside joke between two friends
a good book to read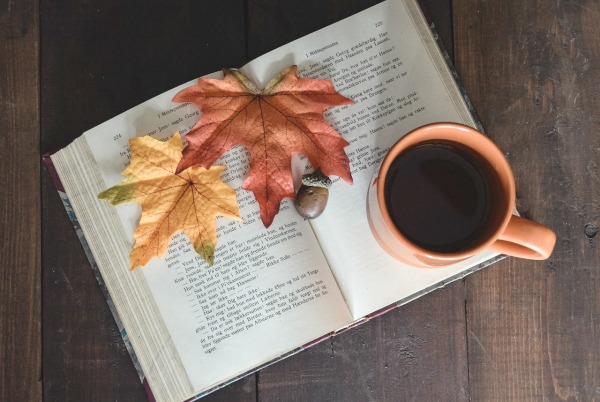 Give it all to God, the big and the little.
He is in everything.
When we spend time counting the gifts, we spend time in deep communion with Him.
Give it all to God. When we spend time counting the gifts, we spend time in communion with Him
Click To Tweet
Looking for some simple ways to start the practice of daily thanksgiving?
Start a thankful journal. Every day spend a few minutes writing out as many gifts as you can think of and don't be afraid to include everyday things. They may seem mundane to you but they are special to God. You can use a simple spiral-bound journal or a book bound journal.
Write one thing you are thankful for each day on a small sheet of paper and place in a jar. At the end of the month, open the jar up and read through your gifts.
Make a thankful tree with your children. Grab a large stick or tree branch from outside and place in a vase on the table. Along with your children, each day adorn it with a small token of gratitude or have your young children draw a picture.
Read a book on gratitude. My personal favorite one is Choosing Gratitude by Nancy Leigh DeMoss. It also includes a 30 day devotional in the back.
Do a word study. Using a concordance or Bible dictionary, spend the next 30 days looking up all the verses in the Bible with the words thanks, thankful, blessing, gratitude, or thanksgiving in them.
Complete a Bible study. Join the She Reads Truth gratitude online Bible study (you don't need to purchase the study pack to participate) or other online Bible study resource like YouVersion Bible App, the First 5, Hello Mornings, or Good Morning Girls just to name a few.
Pick a few Bible verses on gratitude to memorize this month. Write them out, journal through them, pray them, speak them, and let the words marinate in your heart.
When November is over, don't stop.
Continue to list out your blessings every day.
Count your gifts and give them to God.
Let this spiritual discipline of giving thanks become a daily part of your devotional time.
What are the ways you practice Thanksgiving year-round?