An Easy Worshipful, Restful and Simple Advent Season
Focus on what matters most with a simple Advent season that is restful, worshipful, and Christ-centered. Check out these easy ideas for a simple Advent season that points your family's heart towards Christ.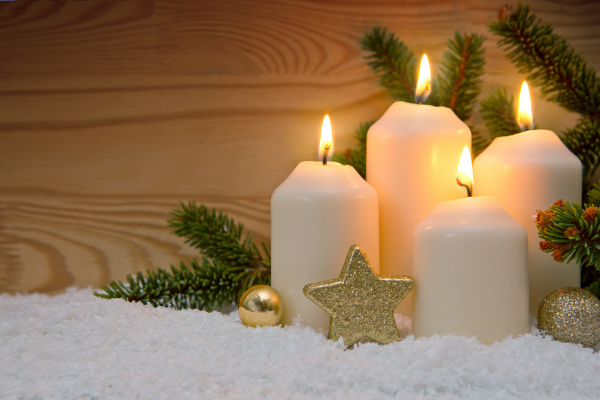 In just a few weeks, we officially shift our gaze from fall and the season of gratitude to the beginning of Advent.
A season of joy, longing, hope, and anticipation for our Savior's birth.
But it can also be a busy season.
If there was ever a year for a worshipful, restful and simple Advent season, this would be it!
Two Christmas hymn verses that keep floating around in my mind as I long for Advent are:
Come thou long expectant Jesus…
The weary world rejoices!
2020 has been a long, hard year
At the same time, it has also been a year filled with gifts and unexpected blessings, many of which I'm still trying to process.
As we turn our hearts towards the weeks leading up to Christmas, this year I'm desiring more worship and less stuff.
A restful and simple Advent for our family.
A season of longing for Jesus.
A simple season.
In previous years, we've done a lot for Advent. From family devotionals, activities, countdown calendars, and a few other extras. Those have been fun and have brought many sweet memories and traditions.
BUT this year, I'm tired and weary.
Bone tired and oh so weary.
Instead of pulling out all the stops, we are putting the brakes on.
Because I want my kids to really understand what it means to slow down and wait.
What it means to long for our Savior without all the extras.
And because I'm plum-tuckered out, I don't have a lot of margin for daily craft activities.
So we are keeping it simple and restful.
Our Plan for a Worshipful, Restful and Simple Advent for 2020
Focusing on the Names of Jesus
I created this free Names of Jesus countdown and it is probably one of the most favorite things I have ever created!
It is so simple yet reflective.
Just 25 days of reading a short Scripture verse that proclaims the different names of Jesus throughout the pages of Scripture.
Last year, we read the verses at the breakfast table before the kids headed off for school, then attached a new chain to our countdown.
The kids were amazed at how many different names Jesus had!
These names all pointing to the fulfillment of God's promise.
Some mornings, our conversations went deeper.
Other mornings it was all we could do to read the verse with a positive attitude (hello grumpy morning kids… and mom!)
This year, now that my kids are all school-aged and can write, I think we are going to create a Christmas journal using a simple notebook.
This will allow them to write out the verses and even draw a picture (my kids LOVE to draw!)
The activity is simple and it's free. You can download yours here.
These are the journals we are going to use (see what I mean about simple!) They can decorate them in their free time.
Light the Advent Wreath Candles
I grew up lighting the purple and pink candles around the Advent wreath that sat on our dining room table every Sunday evening.
The glow of the light in a dark room is a visual I will never forget…
A dark and weary world waiting for the long expectant Jesus.
In the early days of our family, I purchased our own candle holder and colored tapers to light each Sunday evening.
In previous years, our church has provided a family devotional to read.
I have also purchased several resources to read over the years including:
This year, I'm going to publish the Advent reflections I delivered to my email subscribers last year that went along with the Names of Jesus countdown right here on the blog.
Every Sunday, starting November 29th, 2020, I'll share a review of the names of Jesus, including Scripture reading, a hymn that corresponds with the lighting, and what candle to light and why we light it.
Don't have an Advent wreath?
They are fairly inexpensive to purchase but my favorite DIY project is to take 5 white candles and place them on a plate or platter.
Wrap three of them with purple ribbon, one of them with a pink ribbon, and leave the plain white candle in the center to represent the Jesus candle you light on Christmas day.
Don't have any ribbon? That's OK!
Just grab whatever candles you DO have and light those. They don't have to be any specific color or size.
Just arrange whatever candles you do have and explain that the light from the candles represents the light the world receives from our Savior.
She Reads Truth Advent Reading Plan
I have been a long time fan and reader of the free reading plans She Reads Truth puts out.
They have study books you can purchase (I do LOVE purchasing their Advent and Lent books) but all of their reading plans are free to read on their blog.
In fact, you can even sign up to have the daily Scripture reading along with a short devotion delivered straight to your inbox!
Their Advent reading plans are usually a well-curated plan of Scripture reading that lays out the story of waiting in Scripture for the birth of Jesus.
I typically reserve this reading plan for my own personal Bible reading and devotional time.
Since I did purchase the study book, I will plan to keep it out on our coffee table for the kids to look through and read on their own if they wish.
If we have time in the evenings, I may even read aloud the Scriptures as we hang out together before bedtime.
One of my favorite moments during the Advent season is to wake early and sit by near the glow of the Christmas tree. With my Bible, SRT reading plan, and a hot mug of coffee, it's my favorite way to start the day!
Advent Storybook Collection
When my oldest was celebrating his first Christmas, a fun activity and tradition I started, thanks to a Pinterest search, was to wrap up 25 Christmas-themed books for him to unwrap each day leading up to Christmas.
10 years later, we are still doing that… and boy has our collection of books grown!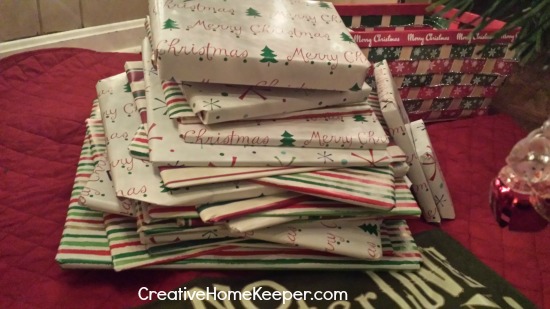 I am a former elementary school teacher so I already had a collection of Christmas books. As my kids have grown, we have added so many beautiful and Christ-centered books to our collection.
I also reserved a lot from the library when I was looking for specific titles that we didn't have the budget to purchase.
Here are some of our current favorites:
I am debating if I really want to wrap up 24 books.
A few years ago I started only wrapping 24 since Christmas day was already filled with so much unwrapping of other things!
I'm tired so we are trying to keep our Christmas celebrations simple, but my kids LOVE this tradition.
One idea I have been floating around is to place them all in a gift sack and just pull out one each day.
We might even keep it super simple and just place them in the basket under the tree (unwrapped) and grab a new one to read every afternoon.
Or maybe I will get the inspiration one evening while watching a Hallmark Christmas movie to pull out the wrapping paper to quickly wrap 24 books! ?
We'll see… but no matter what, we will read a Christ-centered Christmas themed book each day leading up to Christmas because both my kids and I LOVE reading aloud together no matter how busy or tired we are.
Christmas Hymns
Finally, the last Advent activity we are doing this year is a Christmas Hymn  Collection Countdown.
I don't know about you but I LOVE Christmas hymns.
The good, old-fashioned hymns that have strange old English words in them that you sing from a hymnal in church.
While modern worship music is beautiful and deeply impactful, there is something so precious about singing words people of the faith have been singing for decades, even hundreds of years.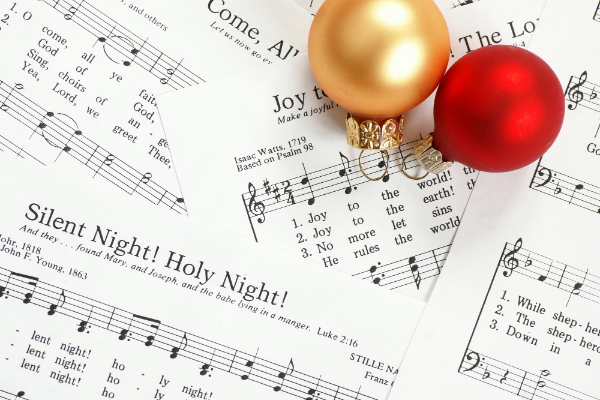 Recently, I purchased a Christmas hymnal and devotional.
It is a new release that is divided up into three sections: Hymns of Advent, Hymns of the Nativity, and Hymns of Ephiphany.
Over 40 classic, familiar, and new-to-us hymns to carry us through the entire Advent and Christmas season!
Each daily hymn not only includes the music sheet but also a short devotional and background information.
As part of our breakfast reading and Sunday evening candle lighting, I'm going to look for recordings on Amazon Music to play.
Many of the hymns I am sure my kids already know. However, there are a few that aren't as familiar that I look forward to introducing my kids to.
And added bonus…. my oldest kids started piano lessons last year so I'm hoping they can learn a few of the songs to play for us!
So there you have it! This is our plan for a worshipful, restful, and simple Advent season for the year.
Outside of my kids writing in their Christmas-themed Scripture journals, we aren't doing any daily crafts or activities.
Or at least we aren't planning as of now to do crafts or activities… I'm leaving the door open for activities to happen organically and spontaneously.
What is your family for a simple, restful, and worshipful Advent season this year?