Looking for the perfect gift ideas for her? This ultimate gift guide for moms, grandmothers, sisters and best friends contains gift ideas for all budgets.
These are perfect gift ideas for the women in your life for Christmas, Mother's Day, birthdays or any special day!
Ladies, this one is just for you!
With the holidays upon us, we are in full-blown gift-giving mode with planning and purchasing gifts for our husbands, children, friends or other family members.
While the Christmas season is so much more than gift-giving, it's still fun to think of thoughtful and meaningful gifts for the people you love most but this gift guide is just for YOU.
Every single year when my husband asks what I want for Christmas, I have no clue how to answer him. So this year, with the help of some friends, I put together a list of great gift ideas for her that fit into any budget.
Go through to gather some great ideas for your mother, mother-in-law, sister, daughter or best friend, then forward this on to your husband with a little smiley face. 😉
And feel free to Pin this list to refer back to when you have some post-holiday gift cards or money to treat yourself with!
Great Gift Ideas for Her under $15, $25, $50, or  Over $50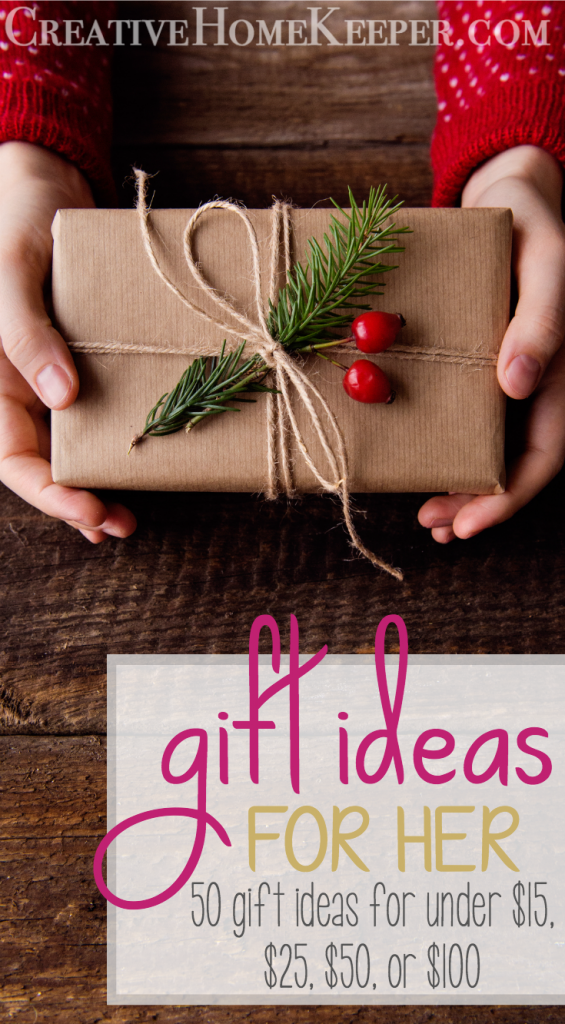 Please note that prices were listed as such at the time of creating this post. Prices may increase or decrease at any given time, or products listed below may no longer be available. Always check out the price before heading to check out.
All links below are affiliate links which means if you click through and make a purchase, I receive a small commission. Regardless, I only recommend products that I love. Thanks for supporting CHK!
Gifts Under $15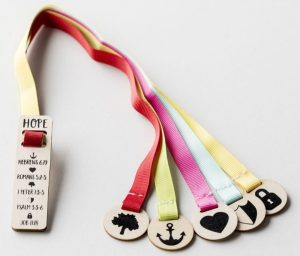 Illustrated Faith Multi-Ribbon Bookmark – Highlight your favorite verses in your Bible, separate different sections in your spiritual disciplines journal, or even use it in your planner. This gorgeous multi-ribbon bookmark includes small wooded medallions with symbols as well as Bible verses.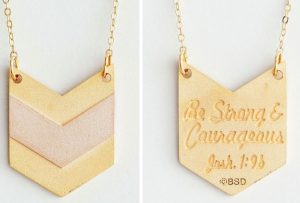 Be Strong & Courageous Chevron Necklace – A beautiful, and fashionable, a reminder of God's promise right on your neck. A perfect accessory that would compliment most outfits.
Reading Journal for Book Lovers – Love to read and record what you've read the old-fashioned way? This fun journal will not only keep track of all that you've read but also helps you remember why you loved a book so much, or maybe why you didn't. Perfect for book lovers!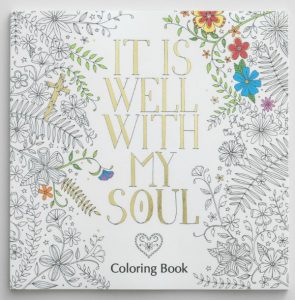 It Is Well With My Soul Inspirational Coloring Book – Adult coloring books are still incredibly popular and this one is not only good for those moments when you need a break but is also filled with Scripture too! Pair it with some premium colored pencils for a complete gift set!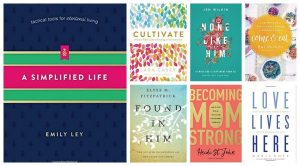 Good Books – Asking for books is always a request of mine. I love to give books to others and I always have a massive list of books on my reading list so there is never a shortage of good books. Here are a few picks that are on my radar this year:
Scripture Ceramic Coasters – Perfect for her desk and beautiful for the coffee table. I love the vibrant colors as well as the whimsical lettering. These ceramic coasters would be perfect in a stocking or would make a fabulous hosting gift.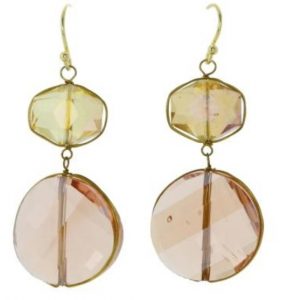 Avril Double Circle Drop Earrings  – Every woman needs a good set of earrings and these are stunning. Not only are they budget-friendly but they also would compliment just about every outfit, skin ton, and hair length. I'm keeping my fingers posted these end up in my stocking!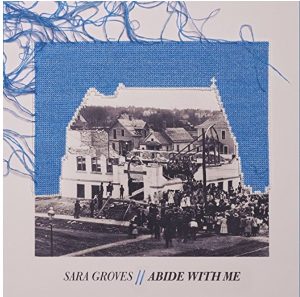 Abide With Me Sara Groves' New Album – My absolute favorite singer and songwriter is releasing a brand new album of hymns just in time for the holidays! The album includes 11 classic hymns reformatted to match Sara's unique voice and music style. I am so excited about this one!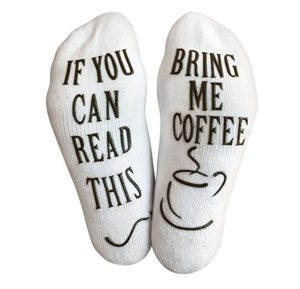 If You Can Read This… Bring Me Coffee Socks (they also have wine and chocolate socks too!) – Oh my! These are hilarious! Perfect for a gag or white elephant exchange but if I'm being completely honest, I would wear them all the time during the winter months! This is a perfect gift for the ladies who not only love coffee but also love staying home and cozying up on the sofa 🙂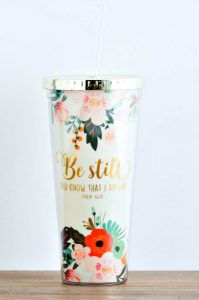 Be Still Insulated Tumbler – Every woman needs a water bottle to carry with them during the day to stay hydrated but who says it can't also be cute and inspirational? The beautiful florals with complimentary gold lettering make my heart swoon!
I am Treasured Trinket Dish – Most of us have an issue with taking off our rings, earrings, or other small jewelry at the end of the day with nowhere to put it. This small and pretty trinket tray would make a lovely gift to place on a vanity for the perfect home for those jewelry or other small accessories.
Gifts Under $30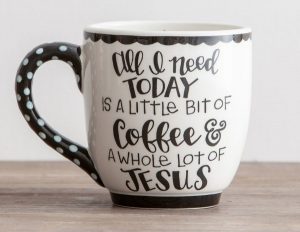 All I Need Today Mug – I've had a smaller mug with this same quote I purchased years ago and always receive so many questions about where I got it from. Unfortunately, it is no longer available so I've been on the hunt for a new mug and I've found it! Bonus points for being a jumbo mug… more coffee!!!! Place a few KCups, tea bags, or maybe even a small gift certificate to a favorite coffee shop, for a perfect gift.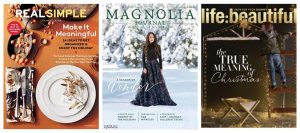 Magazine Subscription – Magazines are fun to read to unwind at the end of the day when you don't have the mental capacity to follow along with a book, or they are inspiring to flip through if you need some inspiration for home decor and organizational projects, new recipes, or for quick, easy-to-read articles. These are my favorites:
Magnolia Journal – Chip and Joanna Gaines are the go-to people for home decor right now and their farmhouse-inspired quarterly magazine hits the spot.
Real Simple – I've been a reader since it first came out when I was in college. Practical recipes, good lack hacks, and simple projects to keep home and life simple.
Life Beautiful – Magazines for Christian women are hard to come by but this one is filled with Scripture, Gospel-centered articles, recipes, family advice, and even home decor ideas.
Inspirational Tees from Cents of Style or Live Your Faith T-Shirt Dayspring – These shirts are comfortable, flattering, and filled with a graceful message to minister to your own heart and display for those around you. Paired with a simple cardigan, these shirts will add as a stylish staple to anyone's wardrobe.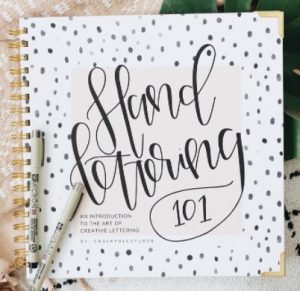 Hand Lettering 101: An Introduction to the Art of Creative Lettering by Challfuloflove – Handlettering is all the rage but it's also a skill that needs to be learned and crafted. This beautiful practice journal has a sturdy hardback cover, thick pages, and gold coils. Each page is filled with plenty of examples and practice space too. Throw in the perfect pens and markers to make a thoughtful gift set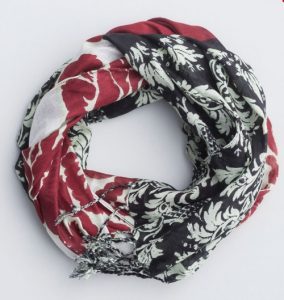 Faith, Hope, Love Scarf – Pretty and functional, this fashionable scarf will pair well with a variety of outfits for both an accessory and to keep warm.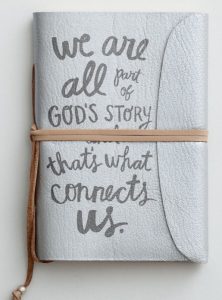 Village Artisan Part of God's Story Leather Journal – I gave this exact same journal to my sister-in-law for Christmas two years ago and ever since I have wanted one for myself too! Small enough to be portable to keep in your bag for sermon notes or beautiful to keep out on your desk.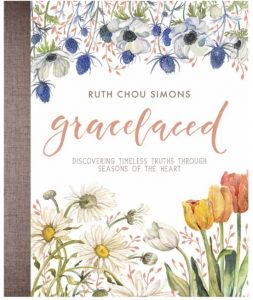 GraceLaced: Discovering Timeless Truths Through Seasons of the Heart gorgeous hardback book by Ruth Chou Simmons – If you love inspirational books that are also gorgeous enough to keep on your coffee table, this one is for you. Each page contains stunning handcrafted watercolors that Ruth is known for but also has a grace-filled message of hope.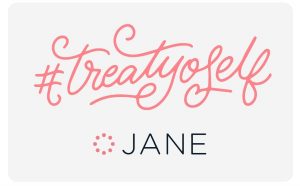 ThredUp Gift Card or Jane.com Gift Card – Confession: Most of my current wardrobe of late has come from ThredUp or Jane. They are two of my favorite online shopping experiences because every single day they have different options available. ThredUp is just for fashion (clothing, shoes, bags, accessories) whereas Jane also includes unique home decor items or great gifts for others.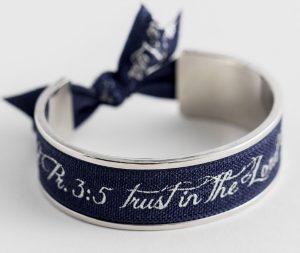 Trust in the Lord Silver Hair Tie Bracelet – Keeping a hair tie on your wrist isn't always pretty but this gorgeous bracelet makes it practical and inspirational.
Gifts Under $50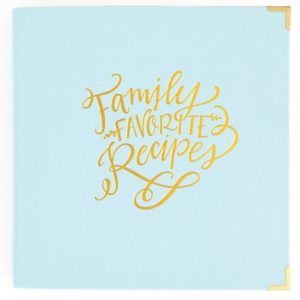 Recipe Binder – Most women have a overflowing drawer, binder, or cabinet stuffed with random recipes, magazine clippings, or random scraps of paper with recipes scribbled on them (anyone else or just me?) This gorgeous binder from Emily Let keeps them all neat, organized, and preserved in a pretty spot to make meal planning more fun!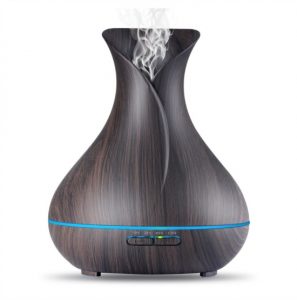 Essential Oil Diffuser – Diffusing oils to make your home smell amazing is safer than lighting candles plus fills your home air with oils that can treat a variety of health issues and purify the air. This stylish diffuser fits in with your decor and is super easy to use.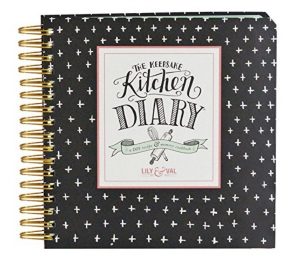 The Keepsake Kitchen Diary from Lily and Val – This is a big item on my wishlist! I love keeping memory journals for my kids but the idea to combine our favorite family recipes with cherished memories to create a keepsake dairy to pass on someday is truly an award-winning idea!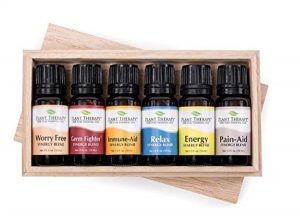 Essential Oil Kit from Plant Therapy – If you are looking for a simple kit to get you started in growing your collection of oils to manage your health and wellness, this is the kit for you! And if you have kids, this kidsafe wellness sampler kit is also a must.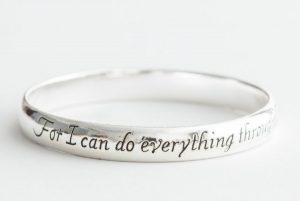 Everything Through Christ Scripture Bangle – A few years ago I read a blog post from a mom who keeps a Scripture bracelet on her wrist to look at when she feels she is at the point of losing it with her kids. Taking a moment to read the verse and say a quick prayer really helped her to regain her composure and to respond to her kids with grace, love, and patience instead of yelling. What a powerful tool for young moms! This beautiful bangle contains a verse that is well-known and loved and would serve as a calming reminder for all women, not just young moms.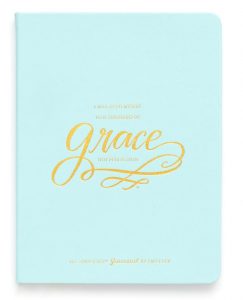 The Simplified Journal – This beautiful journal is leather bound and a perfect place to record prayers, sermon notes, Scripture writing, Bible study notes, goal setting, bullet journaling, keepsake journaling for your family, or anything else.
Stitch Fix Gift Card – Stitch Fix is a popular shopping choice for many women, one because you don't have to leave your house, and two because you are giving a fashion expert the chance to pick out clothing for you that you might have never chosen yourself. It's a pricey service but the clothing is high-quality so it will last longer.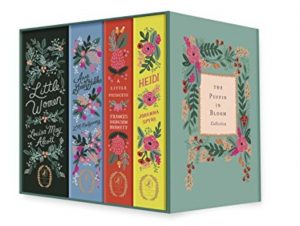 The Puffin in Bloom Classic Book Collection – Book lovers everywhere are swooning over this stunning collection of classics. I believe everyone should have pretty books on your bookshelves to read and love and to serve as eye candy 😉 I've been eyeing this set for a while now but I've heard from many friends who have already made the investment that it was well worth it because the books are even prettier in person.
Gifts Over $50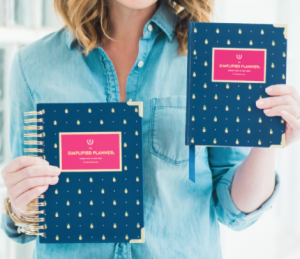 Simplified Planner by Emily Ley – Hands down, my absolute favorite planner of all. It's gorgeous and makes me smile every time I walk by my desk. It's also simple, which means there aren't a lot of bells and whistles, just simple planning pages for your month, week, or day.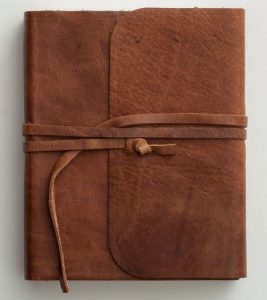 ESV Single Column Leatherbound Journaling Bible – This is the creme de la creme of leather-bound journaling Bibles. It's expensive but sturdy and breathtaking. It's been on my wishlist for years and someday hope to own this premium Bible.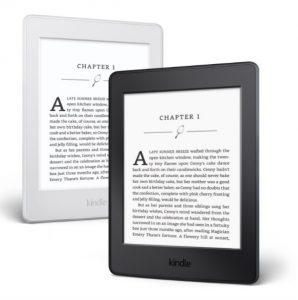 Kindle Paperwhite – If you are an avid reader who loves to collect books without the physical clutter, the Paperwhite is for you. If you want an e-reader that makes reading super simple without all the distractions of a tablet, the Paperwhite is for you. If a regular high-definition screen makes your eyes hurt and you want to read a screen that actually resembles a book, the Paperwhite is for you.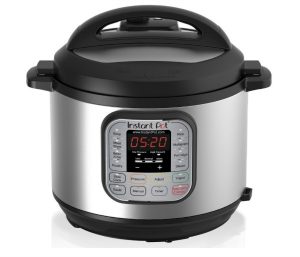 Instapot – Perhaps the most popular kitchen device of the past few years, the Instapot has a strong following of cooks who rave about its ability to cook juicy, tender meats in no time at all.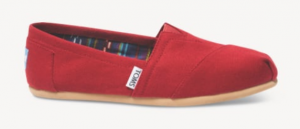 TOMS Shoes – Outside of workout shoes, every single shoe that I now own is a pair of TOMS. From their classic canvas slide on they are most well-known for to their super comfortable flats, TOMS shoes are the real deal. They fit my feet, last all day, and are stylish enough to go with a variety of outfits, from work casual, to everyday wear, and to date-night fashion. Plus, they provide shoes to kids in need!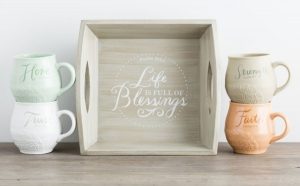 Trust, Strength, Faith, Hope Stoneware Mugs and Wooden Tray Set – A perfect set for the woman who loves to open her home for fellowship and hospitality, this beautiful set would look gorgeous on the table and on display.
Faithbox Subscription
– Who doesn't love happy mail? This subscription box is filled with goodies to grow your faith. Each box contains a small collection of books, Bible study resources, handcrafted goodies and other fun items. Purchase a single box or a monthly subscription for the gift that keeps on giving.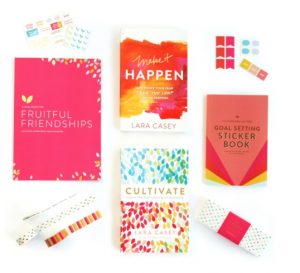 Lara Casey Cultivate What Matters Bundle – This fun collection includes who two bestselling inspirational books, a guide to friendship, and plenty of fun stickers for your planner. Perfect for a best friend or sister!
Seeds Family Worship CD collection – These albums are designed to plant Scripture into the hearts of your children but the music is not just for kids, everyone will love it! I personally love listening to the CDs we own. The music is similar to what you might hear from your favorite singer and songwriter!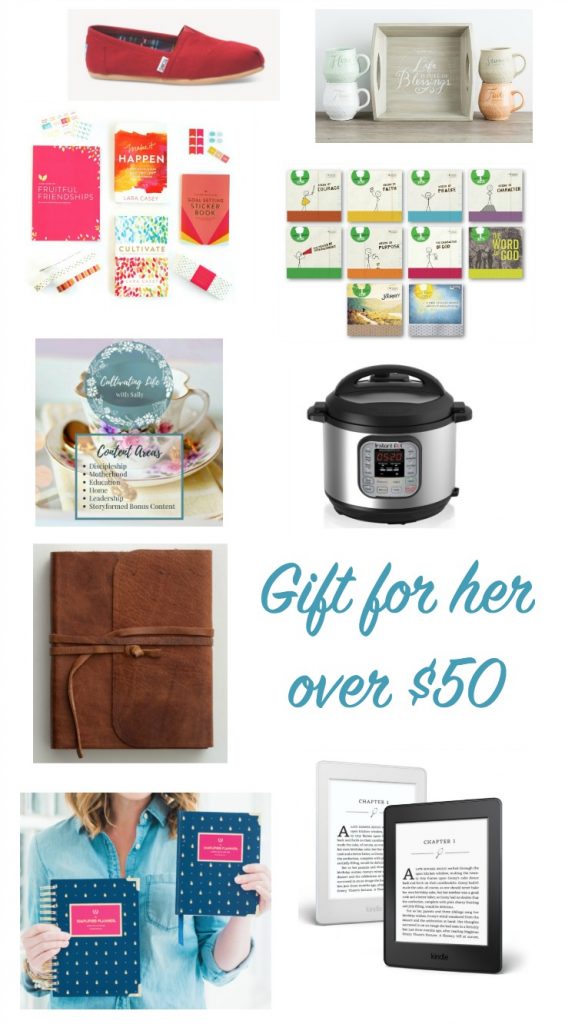 What are you planning on getting the great women in your life this year?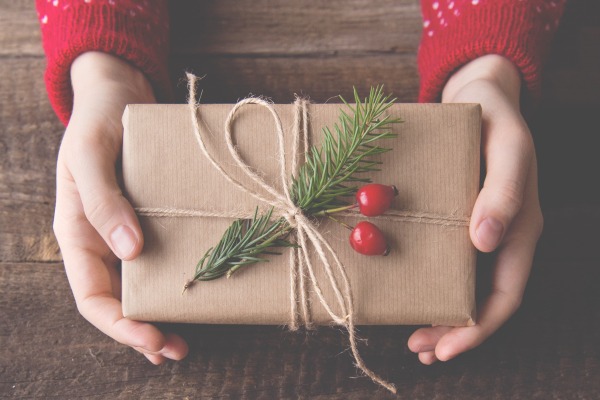 Looking for more great gift ideas? Check out these posts for more ideas:
50 Practical and Useful (Yet Fun) Stocking Stuffers
Gifts for the Dads in Your Life
The Best Gifts for Your Mom Friends
Giving the Gift of Experiences These Christmas
5 Meaningful Teacher Appreciation Gifts