4 Meaningful Things to Do Before the End of Summer
Don't let the season wind down before trying out some meaningful and intentional things to do before the end of summer. Spend time together as a family before the busy school year starts, reflect on memories shared together, and enjoy the final few days of summer before entering into a new season.
The other day I was walking through Target to head to the seasonal section to load up on some more sunscreen since we were about out. But as I rounded the corner, I realized that the seasonal section wasn't filled with summer items anymore
Nope, school supplies filled the area.
It's the sight that may or may not be welcomed to see come mid-July… the reminder that school is starting back up soon and the long, lazy days of summer of quickly coming to an end.
Seasons work like that, going through the cycle that leads into the next season. Each season offers something special, whether you like that season or not.
I'll admit, once July hits I start looking forward to the back-to-school season mainly because that means fall is coming and you all know how much I LOVE fall.
But I also enjoy summer, more specifically I enjoy the family time we have in the summer.
Especially near the end of July when most of our activities, day camps, and vacations are over and we have about two weeks of unstructured time to do what we want before the end of summer.
It's a mix of both… planning some last-minute summer fun as well as starting to gently ease back into a more structured school schedule.
Before we start filling our backpacks, it is important to take some time to make sure we are ending the summer well.
No matter if school starts for you this week or in four weeks, there is still plenty of time for meaningful things to do before the end of summer.
4 Meaningful Activities & Things to Do Before the End of Summer
Take a Picture
How many of the photos you have taken this summer include you?
As I was scrolling through the photos on my camera this weekend, I realized that the majority were of the kids, as expected, and I even had a few of my husband with the kids. But there was not one single photo of me in any of them.
Not even one.
I realize that as moms, we are usually taking the photos, and sometimes because of how we feel about our looks and body, we don't want to be in the pictures.
Here is a morbid thought I don't like to think of but it kind of helps to put things in perspective a bit.
If you were to pass away tomorrow, would your family have a current photo of you to remember you by? If they were flipping through the family albums, would their wife and mother be present?
I am challenging you, and myself, to make a very conscious effort to get in a photo or two (or 3, or 5, or 10!) with your kids before summer ends.
Take a selfie together while you are at the park, visiting the ice cream stand, waiting in line at the amusement park, or just hanging out at home.
Give the camera to your husband and ask him to take a few photos. Ask someone nearby to take a photo, it takes only a few seconds but it's important. Invest in an inexpensive selfie stick or tripod so you can take a quick photo is no one else is around.
You are a part of your family's' summer so you should be in a picture too.
Extend Hospitality
Summer can get so busy and filled with all sorts of activities that before you know it, it's over and you realized you didn't talk to your neighbors or friends one time.
Open the door and invite them over.
Last weekend, I had been texting back and forth with a friend about trying to get our kids together for one last playdate that fit everyone's schedule (rocket science apparently is easier….) when an idea suddenly popped into my head.
"Hey, I had a thought. We are grilling out tomorrow night, would you guys like to come to dinner instead of trying to find a free morning?" 
"Sure!" she replied.
And the plans were set.
Now I'm not talking about inviting over friends for dinner to a table set for perfection. Quite the opposite.
I knew we had almost enough food to cover both her and my family. I only had to go to the store to buy an extra package of hamburger buns and another bag of chips.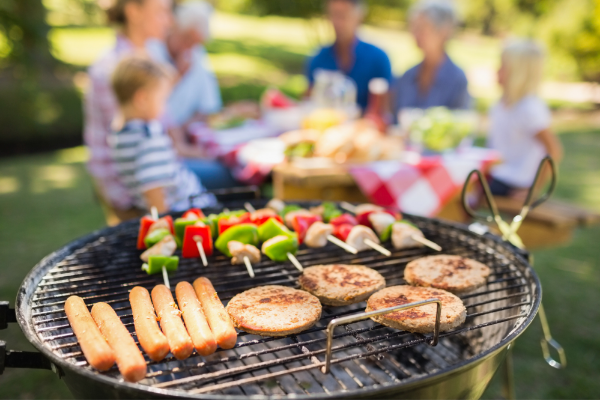 Between the meat, we had in the freezer, random fruit and veggies in the produce drawer that needed to be used up, and paper plates in the pantry, I was able to whip up a quick meal to serve about 8 people.
It was that easy.
No place settings, no fancy cheese board (those are delicious by the way), nothing out of the ordinary, just inviting some friends over for an easy meal but lots of fellowships.
Don't have a fully stocked fridge or freezer to make a meal?
Invite the neighbors over for an after-dinner dessert of ice cream or popsicles.
Or brew a batch of sun tea or freshly squeezed lemonade to sit out on the front porch with the neighbors while all of the kids are running around in the yard.
It does not have to be much, just open the door (as the popular book suggests)
Write Down a Memory
We are usually so good about having our kids record memories or write down something they loved about the summer, but how often do we do this practice ourselves?
At the ripe ol' age of 36, ? my memory is terrible (mom brain) but there are some things I just want to remember.
Like the time my sweet and onrey little boy climbed up in my lap to snuggle for about 1 minute before he promptly got down to go back to his business of launching his toy trucks into his sister's dollhouse much to her dismay.
Or the way all three of my kids were holding each other's hands while we were on a walk through the neighborhood only moments after they were bickering non-stop.
I don't want to forget the time my oldest son spent his summer eagerly reading and devouring book after book when the reading bug finally bit him AND he knew that he was going to get a one-on-one date with his momma at the end of summer for meeting his reading goal.
And I certainly don't want to forget the afternoon that just my daughter and I spent together without all the boys, talking and giggling while we worked making friendship bracelets.
Little, everyday, ordinary things that are worth remembering for years to come.
I write down these memories inside my kids' memory journals that I have been keeping since they were each born but you can write down these little memories anywhere.
Open up the notes app on your phone or purchase an inexpensive journal or notebook (I'm always seeing cute little notebooks at the Dollar Tree or in the Dollar Spot at Target). Keep these in your purse or nearby to write down those special little moments after they happen.
And of course, have your entire family write something down too that they don't want to forget about this summer.
You may have not had a big family vacation, but I'm sure there are plenty of those little moments you don't want to forget.
One Last Family Activity
The days are quickly counting down to the first day of school, and while there is some eager anticipation for a new school year to begin, don't miss the opportunity to have one more (maybe a few if time allows) family summer adventure together.
We all know how busy our calendars once school starts.
It seems like September through December is a blur of fall and holiday activities. Enjoying some laid back family fun before the hustle and bustle of the new season begins is always worth it.
Depending on how much time you have left, sit down together as a family and pull out the summer bucket list.
What have you already done? And what activities are remaining?
If there are several unchecked bucket list items, prioritize based on what your time and budget for. Maybe you have a Saturday afternoon where you could knock out a few things together, such as going to the waterpark then ending the day stopping for ice cream.
If your family has already knocked off every item on your summer bucket list (good for you!) are there any activities worth repeating? Or have you heard of something another family did that sounded cool? Be creative!
You don't even have to go anywhere either.
Maybe your summer has been GO GO GO running from one activity to another. Perhaps carving out some time to spend a quiet weekend at home playing games, watching a movie or grilling out is what your family craves.
The point is to carve out some intentional time to spend together before the busy new season begins.

As the season is winding down, what meaningful things to do before the end of summer will your family do?