Fall Nature Scavenger Hunt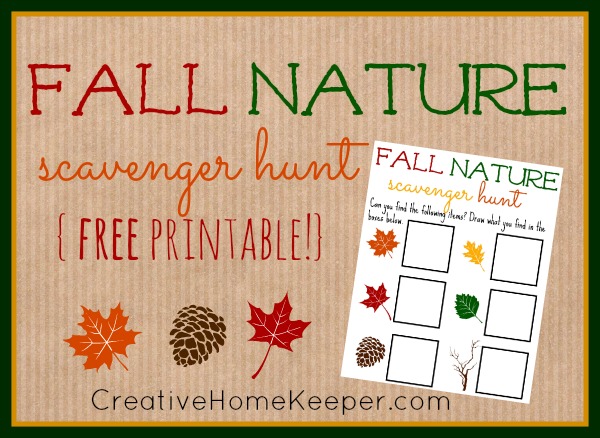 Can I confess something? This summer due to my nausea from pregnancy symptoms and the super hot temperatures, I hardly spent anytime outdoors with the kids. The kids spent plenty of time outside thanks to family members who stepped in to help me care for my family while I was feeling so sick, but I hardly spent anytime outdoors. Even though I'm not necessarily what you might call an outdoorsy person, I still love to go to the pool and do other water activities with the kids. But I didn't, and there's grace.
Thankfully those first trimester pregnancy symptoms are a distance memory and as I'm close to moving into my third trimester, I feel great most of the time, despite the achy lower back 🙂
I hate to be hot, or cold for that matter, but the best thing about fall, especially October where I live, is the weather is perfect. Cool 40's and 50's on cold days and warmer 70's on other days. Light breezes, crisp air that distinctively smells like fall fills the air. There is something magical about this time of year, and even though I'm not much of an outdoors fan, I can't get enough of it which is why I love being outside in the fall. And so do my kids.
Thursday I shared with you 25 real and practical ways to get outside as a family to enjoy fall and one of the ideas was to do a fall nature scavenger hunt.
Fall is goldmine for nature hunting. There are so many sights and smells, small discoveries to find on the ground and leaves to jump through and crunch. It's a truly wonderful sensory overload.
Since my kids are 3 and 2 I knew that I would need to do a little more planning and prep wok than to simply tell them we would be going on a nature scavenger hunt. I would have to prepare them for things we would actually see and for specific items to look for.
The best way to do this was to create a printable worksheet they could carry around on a clipboard to serve as a visual. My son was more into this than my daughter but she still enjoyed picking up leaves, sticks and other odds and ends.
Before we left the house, I went over each picture with my son of things we would see or hope to find including leaves in the colors of red, yellow, orange and possibly even some green, some sticks and pine cones or acorns. I told him we would collect what we could find in a plastic bag (you could use a small bag, box or container that you have handy) Once we got home with our collection, I gave him some crayons and let him draw and color pictures of what he found.
Of course I forgot to take my camera with us on our nature walk, so I have no adorable photos of my kids to share so sorry about that! I'm going to place his fall finds into a sensory bin for him to play with throughout the season (I'll be sharing that soon!)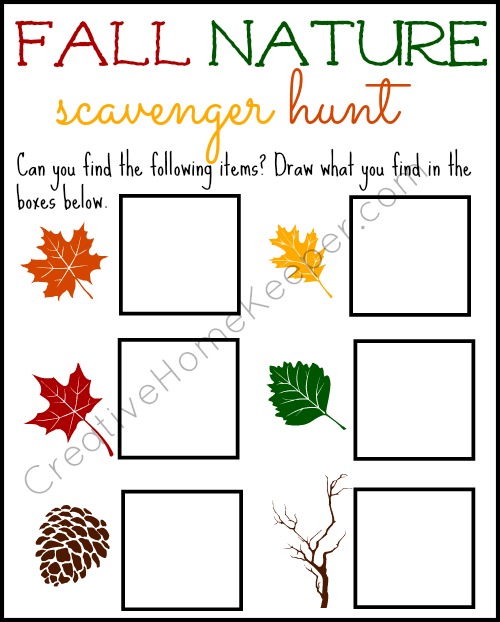 Hope you and your family are enjoying this season as much as we are!
This post is part of the 31 Days of Savoring Fall Series. Click here to see all the posts in the series.
Affiliate links may be used in this post meaning, at no additional cost to you, if you click through and make a purchase, I receive a small commission. Thank you for supporting CHK! You can read my disclosure policy here.