25 Ways to Get Outside as a Family this Fall
Savor the season and get outside as a family this fall with a list of 25 activities that are either free or require very little prep or energy planning.
This is a post I'm writing to challenge myself because while I love fall– the colors, the landscape, the smells– I don't love being outside. And sometimes it takes some serious effort on my part to get myself outdoors.
I know, it's a terrible habit to remain indoors but when I look at my to-do list or see all that needs to be cleaned, I find myself making excuses like… "There is just too much to do inside for me to enjoy going outside."
Recently I read Fifteen Minutes Outside: 365 Ways to Get Out of the House and Connect with Your Kids which helped me start to look at going outside to play with my kids more as a joy and less as a burden.
Yes, there will always be a long list of things that need to get done inside to maintain and manage the house.
Yes, I will always find being curled up in my big, brown comfy chair with a book much more appealing than digging in the mud.
But here's the thing, my kids will only be little for so long.
Soon they won't want to go outside with me, they will be off with their own friends doing their own activities. I won't be the main source of their entertainment.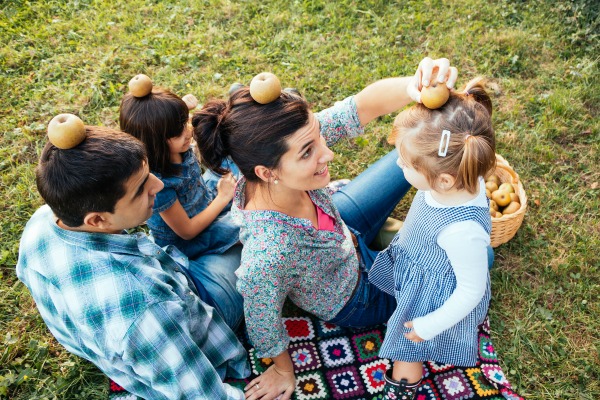 I want to cherish the time that I have with my kids during this season and if that means spending some time outside with them playing in the mud, going on nature walks, pulling them in their wagons or pushing them in the stroller… than so be it.
To help motivate myself to get outside and savor fall with my family, I created a list of activities for us to do.
Most are free or require very little effort on my part to gather supplies.
A few are events that only happen once during fall so do require a little extra planning or thought.
All are ways to simply enjoy these fall days by getting outside especially while the weather's still nice, cool and crisp before the winter frost sets in.
25 Ways to Get Outside as a Family this Fall
Have a picnic outside. The weather may be getting cooler but chances are it's nice enough to throw out a picnic blanket, load the picnic basket, put on a light jacket and enjoy lunch outside before the coldness of winter comes in.
Take paper, crayons, markers or paints outside to draw pictures of leaves, acorns or other beauties of fall.
Visit the nearby pumpkin patch, or go to the store to pick out a pumpkin.
Spend a morning at your local farmer's market before they close for the season. Find the pumpkin stand to pick out a pumpkin, then find the vendor selling hot apple cider or pumpkin spice lattes if you're lucky!
Spend an afternoon at a local apple orchard picking apples. Come home and make apple chips or other delicious apple treats.
If the pumpkin patch or apple orchard has one, spend some time getting "lost" in the corn maze. It's a fun team building activity learning how to trust one another and to see who is naturally good with directions to take the lead.
Talk a walk through your neighborhood or a nearby trail and see who can collect the most leaves, acorns or other fall delights. Use a Fall Scavenger Hunt guide to help! Collect and bring them home to place in a fall nature sensory bin or use them to make crafts, cards or decor for your home. (You can easily make your own sensory bin by filling a large plastic storage bin, with a lid, with rice small shovels and other seasonal exploratory finds). 
Invest in a few small child-sized rakes. Go outside as a family to rake big piles of leaves then take turns jumping in them.
Instead of laying down newspapers all over the kitchen, take the pumpkin and carving tools outside to carve. It's going to be messy anyway, might as well do it on the porch or grass where you don't have to worry about cleaning up.
Or instead of carving pumpkins, you can take your painting supplies outside to paint the pumpkins.
Build a small fire in a fire pit or grill one evening and roast marshmallows for s' mores or drink hot apple cider. You can eat your favorite soup or chili outside around the fire for a complete harvest evening.
Play tag or other favorite childhood games on the lawn. What's more fun than running through and crunching leaves underfoot while trying to sneak up on someone?
Take your blanket and fall book basket outside and read in the grass instead of inside.
Take your camera outside to take pictures of the leaves and your kids playing in the huge leaf piles.
See who can stomp through the leaves the loudest.
Using sidewalk chalk, draw the outlines of leaves and acorns along your sidewalk or driveway.
Blow bubbles, because bubbles are fun no matter what season you are in!
Visit a nearby farm or farmstead for a special outing. Learn how the farmers prepare their crops for the upcoming harvest and winter and how they take care of their animals.
Take a walk to collect sticks to make a Thankful Tree.
Visit a community fall festival or local Trunk-or-Treat together as a family.
Take a walk to collect leaves to press in decorative frames for quick and easy fall decor.
Sit or lie down among the leaves and look up at the clouds and explain what shapes you see.
Go to the park or playground, the weather will be turning all too soon so you might as well enjoy your park days while you can.
Check out a few books from the library about leaves or fall to use as field guides then go on a walk together to try and discover different things,
Just get outside together daily. It doesn't matter what you do, spending time as a family is a wonderful way to savor the season.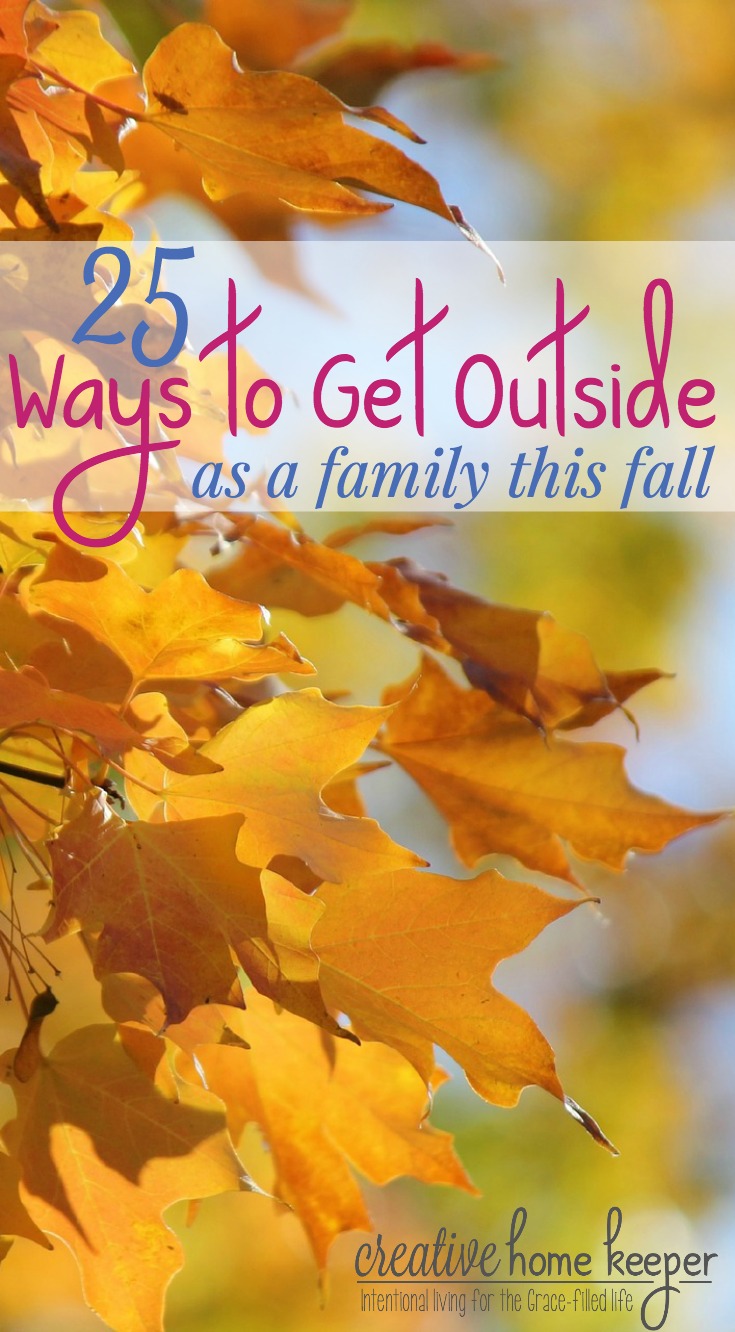 What are your favorite outdoor activities during the fall?
Updated from the archives, orginally posted October 9, 2014