DIY Simple Twine and Leaf Garland
We've already established the fact that I'm not crafty… right? 😉
However I've mentioned there is something about the holiday season that makes me want to pull out my glue gun and walk the aisles of Hobby Lobby or Michael's with a newfound sense of determination.
My crafty nature only comes out this time of year and after a few DIY projects, I'm always reminded why 🙂
But with that being said, I love the idea of DIY on certain projects that provide warmth and depth into your everyday home decor.
Last week I shared with you our simple fall wreaths that are proudly hanging up in our home. Today I wanted to share with you another super simple DIY project that I attempted — and mastered I like to add — a simple twine and leaf garland.
We have a beautiful hearth fireplace that sits in the center of our large family room, kitchen and breakfast nook (which we have transformed into a playroom for the kids).  It is honestly the feature in our home that had me at love the first time I walked into our home over five years ago. I was ready to sign the contract before I even saw the rest of the house!
Thankfully the entire home met mine and my husband's wishlist and we were incredibly blessed to be able to purchase our forever, dream home when we did. (Long story short, we took advantage of the crash of the housing market in late 2008, early 2009 and bought our dream home that we probably otherwise wouldn't have afforded if the market was different.)
While I love our fireplace, sometimes it provides a bit of a decorating dilemma, after all it is smack dab in the center of the house. It sort of cuts off a traditional flow of furniture placement, making it hard to arrange.
And it's dark — dark brick, dark tin awning.
Someday I plan on painting the tin awning to a lighter rustic cream color when we paint our kitchen, but for now it's a dark statue of brick and brownish, red color tone. Even though it's dark and make for a difficult room arrangement, I still love our fireplace.
It adds character, it's unique and even though we have yet to build a fire in it (we have to spend a huge chunk of money to repair, so for now there are just candles inside) it adds warmth to the main living area of our home.
During Christmas, I string some lighted evergreen garland around it but I've been looking for a fun, festive and simple garland that I could easily make to bring some fall into our home.
I first saw the idea of making a leaf garland on Pinterest using fishing wire and real leaves but since our leaves have only just begun to change colors, I decided to use some felt leaves that I have had in our fall storage bin for years but never knew what to do with them.
Between this project and our wreaths, the leaves have gotten a lot of use this year.
DIY Simple Twine and Leaf Garland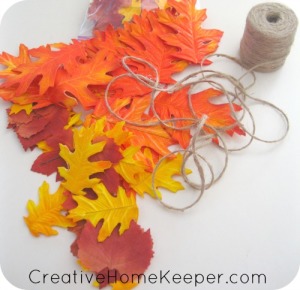 Supplies Needed
Twine
Decorative FeltLeaves or Real Leaves
Scissors
Hot Glue Gun
Step One
Measure and cut the length of twine you will need for the size of your garland. I had to cut about 12 feet of twine to wrap the entire length of our hearth fireplace.
Step Two
Place a little hot glue on the back of the leaf and place the twine on top. Gently hold down while the glue dries. I found it easier to glue from the back of the leaf.
Step Three
Continue gluing leaves along the twine, spacing out as you wish. I chose to leave about 5 inches in between leaves but you could male them as close or as far apart as you wish. I also arranged my leaves in a pattern by color and size to make sure the same leaves weren't too close together.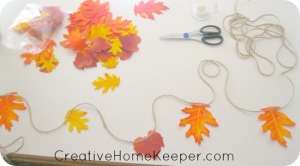 Step Four
Once you have glued all the leaves down and have let the glue dry and settle, now is the time to string your garland up. This twine and leaf garland would be adorable strung along a staircase, across a bookcase in a zigzag pattern, hung around a dining room buffet or strung just about anywhere in your home to add a little bit of a fall touch.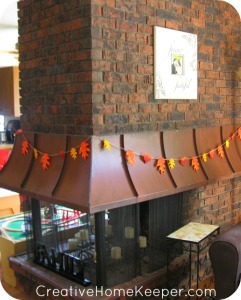 Tomorrow I'll be giving you a peak into our home with a fall decor tour and sharing some tips on how I have come to love and embrace the home we have today, not the home improvement projects that we wish to complete someday.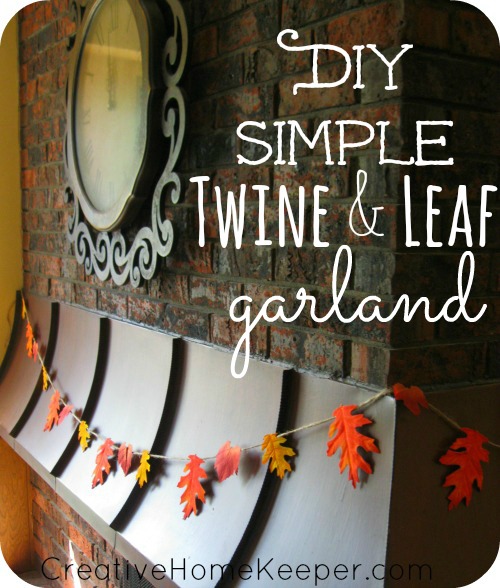 This post is part of the 31 Days of Savoring Fall Series. Click here to see all the posts in the series.