Why I Stopped Making My Own Cleaning Supplies (& What I'm Doing Instead)
I love using safe and natural cleaning supplies but sometimes life gets in the way of best intentions. It's OK to let go of the guilt and self-imposed expectations to stop making your own DIY natural cleaning supplies.
You can still clean safely, effectively and on budget with a few well-priced store-bought options.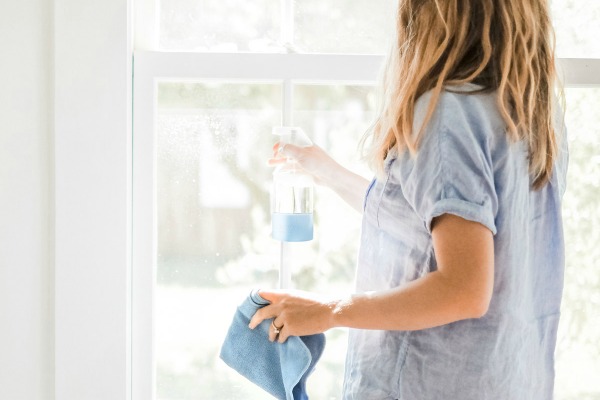 I kind of feel guilty for writing this post, for sharing that I'm not currently making my own cleaning supplies after I've shared in the past why I do.
I used to be a big proponent of making your own cleaning supplies (in truth, I still am) but lately, I've just needed to simplify my life as much as possible.
And choosing to be intentional means to make smart, simple choices that match your values and what is most important to you.
Being a mother to three young children, managing our home, and running the blog and business takes a lot of my time, focus, and energy. My kids are constantly changing and growing. Now that we are in the season of kids attending school, our calendar is busy.
When one milestone is reached, another child is going through a stage that zaps our energy and leads to exhaustion. When I feel like I've finally got a handle on one thing, another challenge or routine change comes up leaving me feeling like I'm running on a never-ending hamster wheel.
I know as long as my children are living under my roof, life will always be hectic and crazy but despite the exhaustion, feelings over overwhelm and frazzle, I wouldn't wish these days away for anything.
Our life is crazy, hectic and fast-paced (and OK some days I do feel like I'm going to lose my ever-loving mind) BUT our life is so full too.
The days are filled with more joy than I can handle (despite the sleeplessness, temper tantrums and never-ending laundry piles).
All of this lead me to really think through some routines and practices I had in place and was running myself ragged trying to keep up with.
Some seasons you just have to wave the white flag of surrender and realize what worked in the past, and what very well may work again in the future, just doesn't work right now.
Rather than beating ourselves up about it or feeling guilty that we aren't doing the things we should be, giving ourselves grace to simplify and let go really is the best thing.
One of the things that I had to let go was making my own cleaning supplies. It was something I just couldn't keep up with.
I was tired of the clutter
I was tired of opening the pantry that houses all of the cleaning supplies to see lots of little bottles, odds, and ends, and other miscellaneous items I would use to make my cleaning supplies.
Some may argue that making your own cleaning supplies really only takes a few natural ingredients, and while I fully agree — here's what I normally used — those few ingredients mixed in with the containers to house the mixtures in, along with rags, sponges, and other cleaning tools can quickly get out of hand.
To be honest I was getting completely discouraged about cleaning before I even began cleaning!
All of the little bottles and cartons I normally used to make those few cleaning mixes was really taking up a lot of space making it hard to figure out what I had and what I needed.
Yes, organization is a big factor here and while I tried my hardest to stay on top of the clutter in the cleaning cabinet, it just became too much for me to deal with.
My personality tends to shut down when I have too many choices and visual clutter.
Time was a factor
To actually use your own cleaning supplies you have to make them. (You're welcome for that life-changing piece of wisdom) 😉
Again I'm sure some would argue that it really only takes a few minutes to whip together a few different ingredients to make some but when I'm trying to quickly clean the bathroom with three curious preschoolers underfoot, stopping to make something just isn't convenient.
I wanted to calm the chaos
Rather than being completely overwhelmed by the choices, the clutter, and the supplies I was supposed to make, I decided to just calm the chaos.
I just wanted a few simple, well made, safe (and natural as possible) cleaning supplies that would get the job done and wouldn't add to the visual clutter anymore.
So I made the decision to let go of the guilt and self-imposed expectation that in order to be a good home keeper I needed to make my own cleaning supplies. I realize how foolish that sounds even as I'm typing this. 😉
To be clear there may very well be a day in the near future where I will go back to making my own supplies, or there may not be, but the point is sometimes we just have to give ourselves grace and let go of some things that sound really good but just don't fit into our current season for whatever reason.
For me, that was to quit making my own cleaning supplies. For you, it might be something entirely different.
So what am I using instead? 
A few high quality, multi-purpose cleaning supplies from companies that I trust to provide safe and natural products that will clean my house efficiently.
Now when I open my cabinet instead of being met with an overflowing cluttery mess of different bottles, containers, and jars hiding all of what's inside, I only have 6 bottles and two high-quality rags. I still vouch for my cleaning tools but these are the only products I currently use to clean my whole house with:
a multi-purpose cleaner for the bathrooms and the little bit of tile floor we have.
toilet bowl cleaner
an anti-bacterial cleaner for cleaning up the messes to get rid of harmful bacteria and other surface born germs that need to go especially during flu and cold season
a wood floor cleaner because more than 90% of our home floors are natural wood
a glass cleaner to clean the fingerprints and smudges off the appliances, glass doors and mirrors
a scouring powder to scrub away the tough soap scum and other gunk
3 microfiber cleaning cloths that work better than any dusty old rags I was using in the past. 3 of these cloths is all I keep on hand now.
With these items, I can clean every surface of my house quickly and effectively.
Where am I getting these products from frugally?
Most natural brands of cleaners are easily more expensive than their competitors on the cleaning shelves at the store. In fact, some can be marked up pretty high making it seem impossible to use them and stay on a budget.
A few years ago I kept hearing from so many about Grove Collaborative and their low prices on natural cleaners.
It sounded almost too good to be true so I decided to check them out for myself. Needless to say, I've been super impressed with not only the quality and variety of products available (everything from cleaning supplies, hygiene products, candles and paper products) but also their prices.
And here's the biggest turn on for me… you can order online and they deliver to your home!
This simple thing actually saves me even more money because let's be honest for a second here, how many times do you add one or two items on your list and head to Target (or other store of choice) and quickly those few items turns into a cartful of stuff you didn't know you needed?
Ahem… ?
Yes, I'm very guilty of my lack of control in Target so I pretty much have to avoid going in at all costs. I know I'm not alone on this one either! 😉
Sometimes the savings from one item at Target, or another store, doesn't add up to any other impulse purchases. But when I order online at Grove Collaborative, I can quickly get what I need and move on. My shopping list gets crossed off and my budget stays in tack.
Some of my personal favorites, and what usually ends up in my monthly subscription box (which you can customize to fit your needs) are Method hardwood floor cleaner, Mrs. Meyers Dish Soap and hand soap, Method Moisturizing Body Wash (for me and the kids), and Grove Collective soy candles (they smell divine!)
See my entire list of must-have products from Grove Collaborative here
Recently I began experimenting with semi-homemade cleaning products that don't take up extra storage room and clean efficiently.
Grove Collaborative has a new line of cleaning concentrates that I'm currently loving.
Instead of buying a big plastic bottle of cleaning solution, you just dispense the concentrate into your spray bottle, add water and voilà!
Right now, you can try them for free with your first order of $20 from Grove Collaborative. Here's what's in the set:
Free Grove Collaborative Cleaning Concentrates Set (3 pack of all-purpose cleaner, glass cleaner, tub & tile cleaner)
Free Grove Collaborative Glass Spray Bottle
Free Grove Collaborative Microfiber (3 pack)
Free Shipping & 60 Day VIP Trial
If you're already a customer, you'll receive a free set of Grove walnut scrubbers — they're sustainably made and get dishes super clean! – I use mine every single day!
In the past, I've been known to stretch cleaning products and laundry detergent by adding some water to the bottle. With Grove concentrates, I don't need to: a 1 oz. tube makes 16 oz. of cleaner!
Each concentrate is made with plant-derived ingredients and essential oils, so you can feel good about using them in your home. I was especially thrilled to see that these cleaners combine my two favorite scents: orange and rosemary. It's truly the perfect all-season fragrance.
The set also comes with a gorgeous glass spray bottle to mix up your cleaning concentrates. The bottle is very sturdy and the silicone sleeve keeps it from slipping out of your hand. I've purchased a few so that I can keep one in the kitchen, one under the bathroom sink, and I even leave one out for misting my plants.
Along with the spray bottle and cleaning concentrates, these Grove microfibers are great for wiping down counters, cleaning windows and mirrors, and scrubbing the shower door. I just pop them in the wash when I'm done — if you take care of them, they'll last for years.
That's one of the (many) reasons I love Grove Collaborative:
Their products work AND they're good for the planet.
Once you sign up, Grove will deliver your favorite natural products (carbon offset) right to your doorstep, on your schedule. They'll even save 25 square feet of rainforest for every order!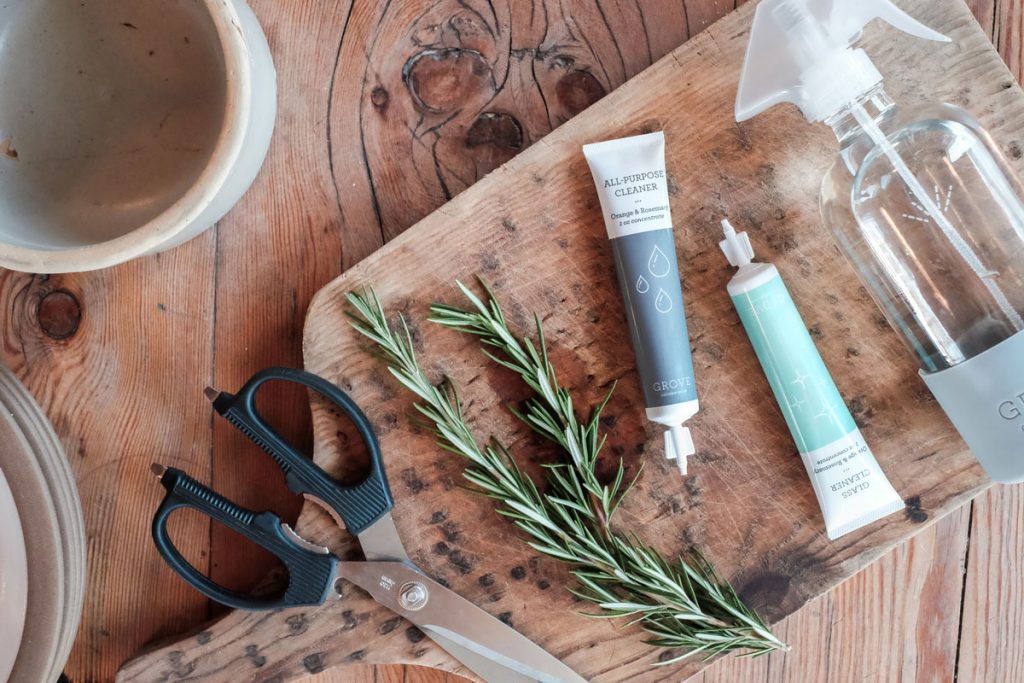 Here's How Grove Collaborative works (it's super simple and only takes a few moments to sign up!):
If like me, you're trying to reduce your impact and create a healthy home, I can't recommend Grove enough. Here's how to get your free gift and give Grove a try:
Sign up for Grove Collaborative here. You will receive the Grove Cleaning Concentrates Set for free when you sign up!

To receive this offer, your order needs to be a minimum of $20. Choose the combination of products and scents you love and receive your first box within a few days.

You made it! Click Finish & Pay and place your order.
Existing customers, use this link to receive your free walnut scrubber.
Pssst… made it this far? Here's a bonus tip to help you save even more: Once you have submitted your Grove order, you will be signed up for the free 60 day VIP trial. For 60 days, save even more with free shipping, free gifts, price matching, exclusive sales and personal service.
If you have any questions at all, use Grove Collaborative's live chat feature. Their customer service team is wonderful. And they have made the shopping experience super easy and wonderful. They even sometimes have popup discounts like $2 off your order when you answer questions and interact with their customer service.
For subsequent shipments, Grove Collaborative will suggest items based on your household's needs and habits. You'll get a reminder email  7 days before each shipment is scheduled to go out. It's a breeze to log in and modify your order or cancel your subscription at any time.
I hope you give Grove Collaborative a try, it truly has made my life so much easier!
If you have any Grove Collaborative tips or favorite products to share, please tell us in comments.