3 Family Favorite Homemade Salad Dressing
One of the best things about summer is the abundance of fresh, delicious produce available in the grocery store or farmer's market. It's bright, colorful, flavorful and packed with nutrition. I love to stock up and pack most of my summer meals with fresh fruit and vegetables to make "lighter" meals to end the warm and lazy days of summer.
Somehow I have been blessed with two little ones who not only eat their vegetables, they love them! In fact 9 times out of 10, when giving them a snack choice, they make a healthy choice. I can't complain, in fact it makes me think twice about the snack choice I'm making for myself!
Since my kids are both vegetable lovers, I am free to plan meals around a variety of fresh and in season produce. One of the ways I always get another serving of vegetables in is by serving a salad alongside with dinner. I also like to make big salads for myself for lunch.
I build the salad with whatever lettuce is plentiful along with some power greens, either spinach or kale, followed by tons of delicious add-ins to make the salad as colorful as possible. Currently my kids love eating grape tomatoes, carrots and cucumbers. My husband and I also love purple onions, radishes and celery. To make it a complete meal I might top it with sliced almonds, fresh berries, raisins or shredded chicken.
Strolling through the farmer's market will tell you what vegetables are in season, so whenever I go I load up on a variety to not only make fresh, seasonal salads but also to serve as snacks or to roast and cook for dinner sides.
While the salad itself can be very nutritious, I love adding a little bit of dressing on top to give it even more flavor. The problem is most store bought dressings are loaded with sugar, soy and other questionable ingredients I can't even pronounce. So I have started to make my own.
Today I'm sharing my family's favorite homemade salad dressing recipes over on Young Wife's Guide (where I'm also a new contributor too!) Head here to get the yummy recipes perfect for your summer salads!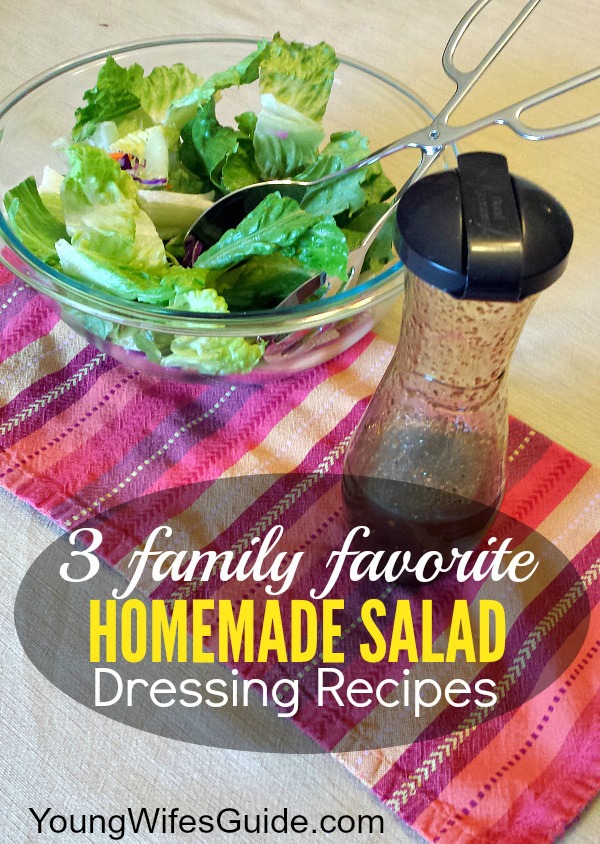 *This post may contain affiliate links meaning at no additional cost to you, if you click through and make a purchase I receive a small commission. Thanks for supporting CHK! You can read my disclosures here. 
here