6 Tips for Organizing Your Closet Now
It always seems like the days between Christmas and the start of the year are the perfect time to do some serious purging, cleaning and organizing. Sort of like a pre-curser for January, the month that is notorious for organization projects.
Christmas decorations start to come down, toys are being purged to make room for new Christmas presents, the kitchen needs some serious work as the refrigerator is stuffed with leftovers and the counters are cluttered with various platters, pots and pans. I don't know about you, but in my house there has been a lot of little cleaning and organizing projects that have happened over the past few days.
One area, though, that needs some serious work is my closet. It's a pit… a cluttered, jumbled mix of maternity, postpartum, pre-pregnancy and lounge clothes. I desperately need to spend some time in there organizing, purging and packing up some clothing, but for me it will have to wait for a few more months while I am in the final days of my last pregnancy and work to slowly get my body back.
Perhaps for you, this is the perfect time to spend sorting through your closet. Maybe you have a few hours over the next several days or start of January, to do some serious cleaning and organizing of your wardrobe getting it ready for the start of the year, the remainder of winter and even for the hope of warmer days of spring that will (fingers crossed) be here before we know it.
If you have some time over the next few days, I have some tips and tricks for organizing your closet that you don't want to miss!
1. If it doesn't fit, get rid of it
It seems obvious but it is so common to hang on to pieces that are either too big or too small with the hopes that someday you may be able to wear it again. But you need to be honest with yourself. If you have gone through several pregnancies, it's a good chance your body is not ever going to be the same size again.
Along with fit you also want to consider if it's even comfortable to wear. Does the fabric itch or cause you discomfort? If something is uncomfortable to wear, chances are you aren't wearing it to begin with. Get rid of all clothing that doesn't fit or doesn't feel comfortable to wear.
2. Check for stains, holes, or rips
Some stains and holes can be fixed, some can not. It it's time for an item to be thrown out due to unforgiving signs of wear, then get rid of if it.
Also check for broken zippers or missing buttons too. If you are handy with some needle and thread, those can easily be fixed.
3. Evaluate if you truly love wearing it
Favorite tops and pants are a no-brainer as to whether or not you keep them but the rest of the items of your clothing may fall into a gray area. Just because it's not your favorite top doesn't mean that it's time to get rid of it. Sometimes there are various necessity pieces that you need, like layering tanks and cardigans.
However there might be several items of clothing that you haven't worn in a long time, or possibly never wore to begin with, that are taking up valuable space in your closet. If you haven't worn it in a while and you know you probably won't, then place it in your giveaway pile and move on.
Don't think to long or hard about certain clothing pieces, usually it's indecision that keeps you from getting rid of clothing that you know deep down you will probably never wear again.
4. Your closet doesn't have to be magazine quality organized
Don't fall into the assumption that in order for your closet to be organized it has to be filled with beautiful organizers, baskets, matching hangers or pretty paint colors. Sometimes magazines and Pinterest, while providing good ideas, give us the impression that it has to be beautiful to be organized. That simply is not true.
Use what you have to organize your clothing in ways that work for you. Some like to fold everything, where as others like to hang up all their clothing.
Currently my closet is a mismatched set of hangers. I have been slowly adding some nice, matching, no slip hangers but don't quite have enough for a full set yet which means that there are some plastic and wire hangers mixed in.
You can always add organizing items (seem #6 below) to your wants and needs list to purchase over time, but don't use this as an excuse not to organize your closet and sort through your clothing.
5. Have fun building new outfits
Cleaning out your closet can be fun!
How? Because you get to re-discover new clothing and build some new-to-you outfits with pieces that you already have.
I'm not creative in an arts and craft way, but I love to build outfits from pieces that I already have. Breathing fresh new life in wardrobe without having to go out and buy new clothing doesn't require a whole lot of work. Use Pinterest as a source of style inspiration or just your own creative imagination to build new outfits that you will love wearing.
6. Create a wants and needs list
As you clean out your closet, you will probably come across some gaps that you will need to make a plan to purchase in the future. Before you immediately head out to go shopping, create a wants and needs list to truly prioritize what you need to buy vs. what you would like to add to your wardrobe.
Walking into a clothing store with no list is only going to add more clutter to your closet in the long run. Plus making a list will also help you stay on budget and create a shopping plan. Post Christmas and January sales are huge when it comes to finding some amazing deals and coupons on clothing staples but just because something is a good deal, doesn't mean that it's worth purchasing to add to your clothing collection.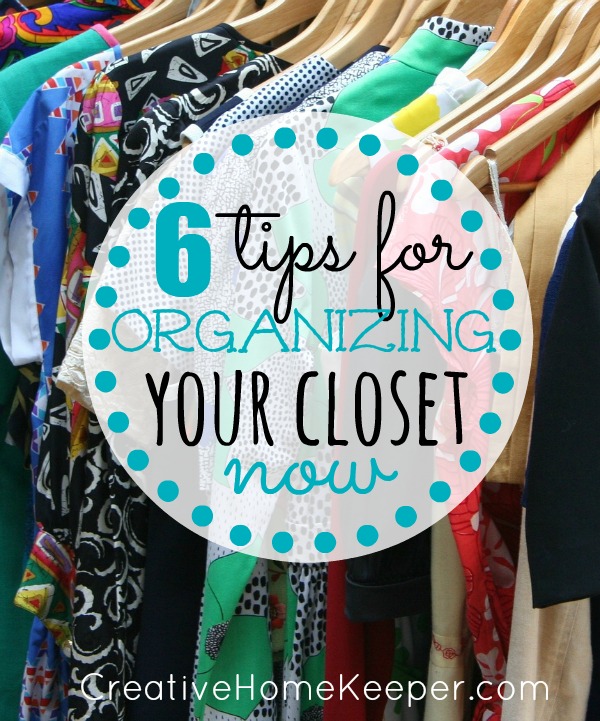 Following these 6 tips can help you streamline and focus your closet clean out in a quick and easy way but I've got another resource that will help you go even further into cleaning, organizing and building a wardrobe you actually love.