Real Tips to Organize Your Closet
Welcome to day 20 of our 31 Days to a Wardrobe You'll Actually Love series. Today we are talking about real tips for organizing your closet. To read all of those posts in this series, click here.
There are many, many articles and blog posts all about how to organize your closet. Some of them provide some really great information, with amazing pictures of beautiful, and often times, professionally designed organizational systems.
I swoon when I see some of them. But then I remember my current clothes would probably only fill about less than a third of the space.
Real Tip: It's not about having some beautiful, large, perfectly designed, organized closet (although those are quite beautiful).
You could easily go out and spend a fortune on organizing baskets, bins, and storage totes. I find it ironic that the same products that claim to simplify your life are also pretty expensive.
But don't worry, I'm not going to tell you what to buy, instead we are going to focus on how to organize our closet with tools you already have.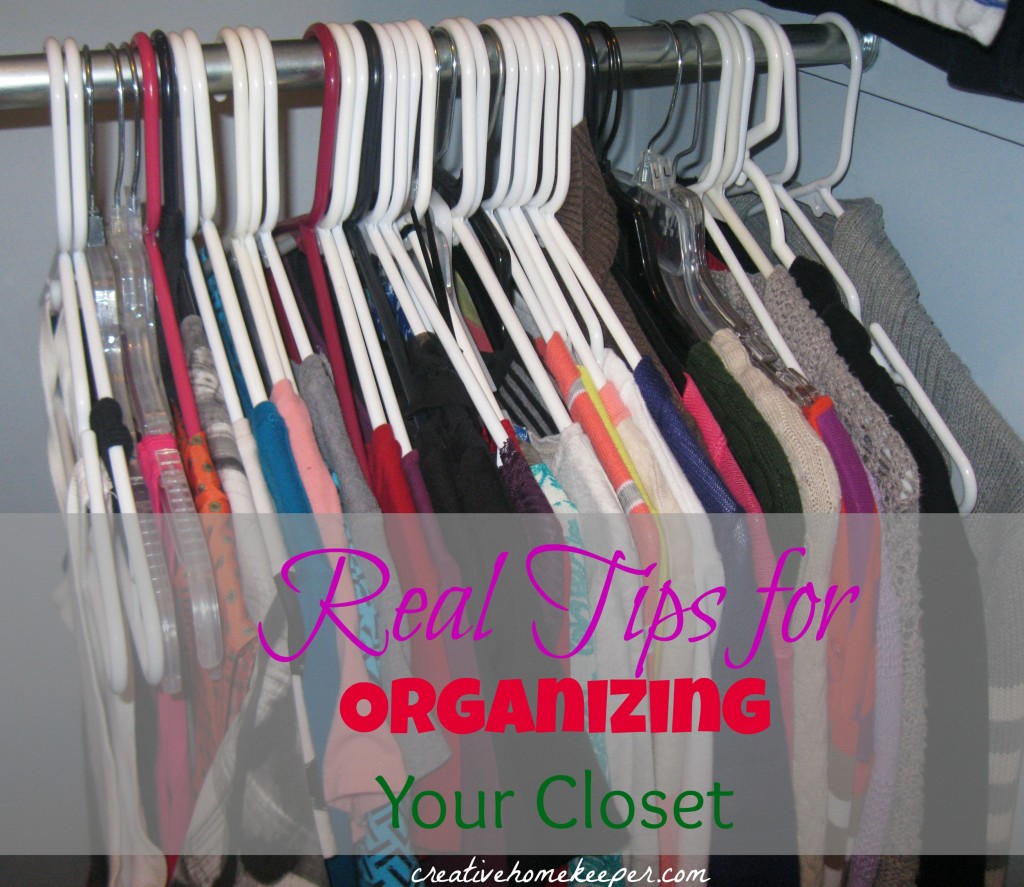 Today I'm going to share with you some real tips to organize your closet, especially useful if you have zero budget to go out and buy anything. If you find you need to purchase some hangers or bins, you can always add them to your Needs and Wants list.
Real Tip: You don't necessarily need to go out and buy anything to organize your closet with.
I'm going to share with you how I organize my clothes, to maybe inspire you if you're looking for some inspiration. When we moved into our current house, our master closet already had some built in shelves, which was really nice. They aren't new and fancy, but they get the job done.
Someday when I have some spare time (maybe in twenty years when the kids are in college?) I'd like to paint our closet a nicer color. It currently is a light blue, but it's really old with lots of marks and paint chips.  But that's a project that is not currently on my priority list.
Alright on with my simple closet organization. There are affiliate links below, you can read my disclosure policy here.
Shirts, Sweaters, and Dresses
These are currently all of the tanks, blouses, shirts, cardigans, and sweaters that are left in my closet.
I have to admit, this is the part where I get a little O.C.D. on you. I like all of my shirts hung up, facing the same way, organized by sleeve length, and color. Oh and all of my hangers are facing the same way too. A little obsessive much? Yes, it's true, I think this is why I have such a hard time shopping at thrift stores!
You would also think I have matching hangers, but the truth is I don't. I have a mis-matched assortment of plastic and wire hangers that I have accumulated over the years. It is on my wish list to add these hangers, but honestly since they are so pricey and not necessary, it will be a while before I can ever justify purchasing them.
Real Tip: It's OK to have mis-matched hangers. As long as they don't cause harm to your clothing, and are doing what they are suppose to do (which is hang your clothes up), then they will work just fine.
The only shirts I don't hang up are my workout and pajama tops. They are folded in a drawer that is in my dresser. I do have two sweaters that I keep folded since they are a heavier sweater and I don't want the hanger to stretch them out.
Real Tip: Fold bulky sweaters because hangers will form stretch marks in the shoulders and possibly cause a rip. Place folded sweaters on a shelf or in a drawer, basket or plastic tub.
Pants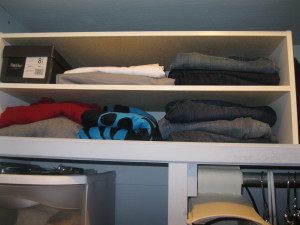 I keep my jeans folder up on a shelf in my closet, along with my shorts. They are stored on a white shelf that I have had since I was a teenager. The rest of my plants are hung on pant hanger similar to this one. I like to keep my Capri pants, and my longer pants together. I also use a large plastic white hanger to hold my leggings.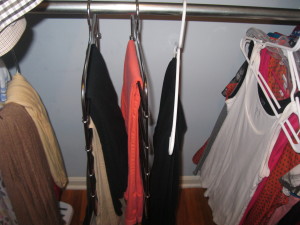 Real Tip: If you can't afford a multi-pant hanger, then use a larger plastic hanger that you can drape one or two pants over (similar to what I used to hang my legging on in the above picture). Or if you have the shelf or drawer space, carefully fold the pants to store.
Skirts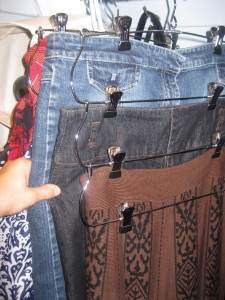 I hang up all my skirts on a skirt hanger that holds four skirts. These hangers have really helped me to save space since I have had so many different skirts over the years.
Real Tip: If it's in your budget and you have a lot of skirts (as I do), then it wise to invest in one of these hangers that holds 4 skirts. If a special hanger is not in your budget, then you can fold your skirts and let them drape over a larger plastic hanger (similar to your pants above).
Scarves and Belts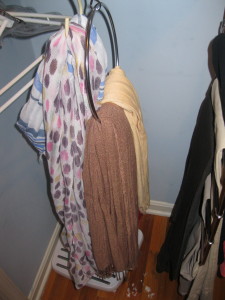 I use a circle hanger like this one to hang all of my scarfs and belts.
Real Tip: Scarves can easily be folded or draped over a larger plastic hanger too. If you have some hooks in your closet, you can easily hang your belts there.
Shoes

I have one hanging canvas shoe holder that I use to store all of my flats, and sandals. My boots are stored on shelf in the closet, and I have a wicker basket on the floor to keep my flip flops. slippers, and tennis shoes.
Real Tip: Shoes are probably the easiest item in your closet to store because they are worn so often. If all else fails, then you can easily store your shoes on the floor if you have the space. Some people also keep the shoe boxes they come in, attach a picture to the front and stack them up. It may not be the pretties thing, but if you have zero budget for closet storage, it may be your only option. And it is OK, remember very few people actually see your closet (unless you're like me and post your pictures for all to see!)
The Rest
I keep all of my pajamas, workout clothes, and yoga pants are folded in one large drawer in our dresser. My undergarments are folded and stored in a smaller drawer. (The other two drawers are for my husband's clothing). In the closet I also have two plastic storage drawers that I use to store socks, shape ware, and swim suits.
Real Tip: Use drawers to your advantage! If you have really deep drawers, then you can potentially store a lot of clothing in them. Learn how to fold clothes to really maximize your space.
So that's it, that's how I organize my closet. Nothing fancy, not a lot of special organizers or baskets. It's simple, keeps my clothing organized and visible. The only thing I would like to add someday would be for matching hangers, but that is obviously not a necessity at this stage and the hangers that I do have work just fine.
Real Tip: It doesn't have to be pretty to be organized. Use what you already have. Create a Wants list to slowly add to your closet organizational system as budget allows.
Want some more inspiration? I really enjoyed these posts about closet organization that provide some great tips, but be warned these closets are super organized and look really pretty. I may or may not have a little closet envy going on right now.

Today's Assignment:
Arrange the clothes in your closet in a practical way that works for you. It usually works best to have like clothing together, like all shirts together, all sweaters together, and so one.
Using what you have, create a storage system that stores clothing effectively and keeps clothing safe. If you need baskets or storage bins, shop your house first to see if you have any that you can use or re-purpose. Also check thrift stores too. I have scored some pretty cute baskets over the years there.
Make a list of any Needs or Wants you will want to purchase in the near future to organize your clothing. Do you have enough hangers? (I could mail you some!) or Baskets?
Doesn't this feel great! Not only do we have a closet with clothes that we actually wear, we also know everything that is in our wardrobe and have it organized in a practical way! OK, am I the only one that is excited about that? 🙂

Starting tomorrow we are going to be spending the next several days taking the clothing we have and creating some amazing outfits, as well as finding inspiration from other sources. The fun is really getting started now! See you on Monday!