7 Lessons I Have Learned in 7 Years of Marriage
Today my husband and I are celebrating our anniversary. I was telling someone that my husband and I had been married for 7 years a few weeks ago and they made the comment that was a long time. I was almost puzzled by that because in my mind hearing about couples who have been married for 30, 40, or even 60 years, like my grandparents, seems like a long time. Seven years seems like a drip in the bucket to me.
But the sad reality is that in our current society 7 years is a long time.
It makes me sad to hear about the divorce rates, even among Christian couples. I know that there are reasons that lead to divorce that are necessary, like abuse, but there are also so many reasons that just seem so sad to me, like the grass looks greener on the other side of the fence mentality.
My husband and I both come from families of divorce for different reasons so we know that technically the odds are against us, which also makes me sad because I feel like we are sending the message if your parents didn't make it then don't expect to make it either.
And so many people believe this to be true.
But my husband and I are in this for the long haul. We are committed and we know that we will fight to protect our marriage no matter what.  I'm sure that even as I type that sentence Satan is looking for an area of weakness to wiggle his way in.
Fighting to keep a marriage strong isn't always easy and it definitely takes work. Today I wanted to share with you 7 lessons I have learned in 7 years of marriage.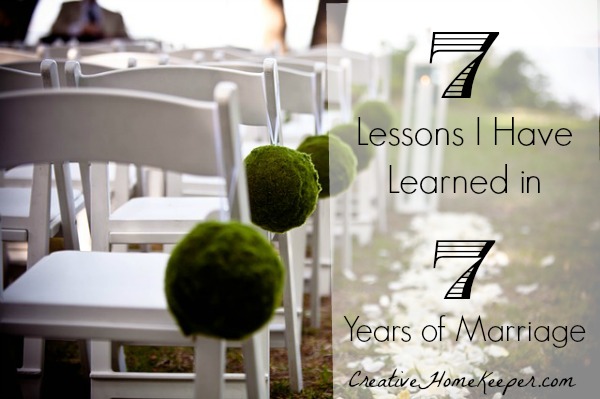 1. Prayer is a Necessity
Of course this seems obvious but it is so true. Praying for your marriage and praying for your spouse are two important things we should be praying for everyday.
Everyday I pray for my husband and when I don't know what specifically to pray for I pray a prayer from Prayers Of An Excellent Wife: Intercession For Him
by Andrew Case which is one of my favorite prayer books. I also like this prayer calendar as well.
As well as praying for your spouse, pray with them. I will admit that over the last two years we have gotten out of the habit of having our nightly prayer and Bible reading time together, mainly because of babies and unpredictable sleep schedules, but this is something that we have both made a effort to revive again for the sake of our marriage.
2. Fighting is Not the Answer
I recently told a group of women that my husband and I don't fight and they looked at me like I had 3 heads.
Yes, of course my husband and I do experience conflicts, disagreements, frustrations and excommunications but we don't fight about them instead we talk through them.
My husband has never raised his voice at me nor I to him. I have never left the room stomping my feet or slamming doors. We haven't gone to sleep without at least talking through our issues. They might not immediately be resolved but we spend the time expressing why we are upset.
I'm more emotional than my husband so there have been times when tears have been cried as I'm trying to express myself but I'm careful to not let it turn into manipulation.
While I do think it is healthy to work through conflicts and disagreements, I hate the term fighting and sometimes I think it can cause more conflict than need be.
3. Weekly Meetings are Key
I've shared before about the weekly meetings that my husband and I have. I can not stress enough just how important this time has been. Each week we set aside time to look over the calendar and budget together. We make plans and set goals. Plus we use this time to bring up any concerns, questions or continue to work through any conflicts that are still an issue.
Because of these weekly meetings, my husband and I are always on the same page when it comes to money and time. We also have a built in, uninterrupted time to sit down together and talk face to face amid the busy season of raising little ones which leads to face to face time being limited.
4. Time Together is Key
Whether it be a date night out of the house, a weekend get away or just some intentional time after the kids are asleep or otherwise occupied, time alone together is a must. We need that time time to focus on each other, to get out of the day to day routine, to be intimate with each other and to just show love.
Not everyone has room in the budget for regular date nights but I think there are always ways to be creative to get that time alone without spending any money.
My husband and I are a bit spoiled since both grandmothers live super close and want to spend as much time with the kids as possible. So not only do we have free babysitting but we always have an opportunity to get away for a bit. I know that's not the case for everyone but with some simple planning it can be done.
5. Flirting is Always Appropriate
It is so easy to get caught up in the day to day tasks and chores that we lose track of showing love and affection to one another. Especially when you have little ones running around, they take so much of our energy and focus that we may tend to take for granted our spouse and not give them any affection or attention.
I was guilty of that. Shortly after our first was born, my heart exploded with emotions as this chubby, squishy, cuddly little baby, who relied on me for his every need to be met and I was all to happy to oblige. My husband once jokingly made the comment that he wished I would kiss him as often as I kissed the baby and that comment stung. Not because it was meant to guilt me but because it was true.
And sometimes the truth hurts. While I was spending so much of my time and focus on the baby, rightfully so, I was also neglecting my husband.
So I started to make the effort to flirt with him again and to show him love and affection in sometimes serious ways, and other times playful ways too. Sometimes it's just the little things that can really bless our husbands. It can be as serious and heartfelt as a love letter or as playful as quick text or, my personal favorite, the "love tap" as I walk behind him 🙂
6. Compromise is the Heart of a Great Marriage
We can't always get our own way and sometimes as much as we would hate to admit it, their way is better and vice versa. We have to be open and willing to hear our spouse's point of view and beliefs. We might not always agree with it or even like it but with open ears we can listen.
Sometimes my husband's idea really is for the better and I have to let go of my pride. Sometimes my thoughts make more sense after discussing them together. The key to compromise is to let go of the pride and learn to really listen to each other. Sometimes it might take a while for compromise to be reached where as other times it happens quickly.
I love that phrase that we all one mouth and two ears so we should be willing to listen first and speak second. I think this is also where prayer comes in big time. Sometimes my husband and I have to leave a conversation unresolved and spend some time praying about it, to see the point from the other's perspective.
7. Submission is Not an Ugly Word
The word submission definitely gets a bad rap these days and I think it's because so many people have a very wrong understanding of what that word means. Sadly there have also been many churches and religious groups that have abused women in regards to what submission means.
When I think about being submissive to my husband that does not mean that I am weak, unequal, less than, a doormat or other negative term.  One of the best analogies I have heard on submission is for wives to get under and lift up.
I am a partner with my husband, we are a team. We don't make any big decisions with talking to the other one. Yet I let him take the lead. Not in a way where he walks over me or doesn't listen to my opinion. Remember when I said that compromise is the heart of a great marriage? Yep that applies here too.
I'm not going to dive into the theology behind submission because there are many others who have already done that in a Biblical and graceful way. And I also know that there are many who are reading this right now who probably disagree with me on submission not being an ugly word.
I don't have all the answers and I've only ever been married to a kind, generous and gracious man but I do believe in the power of prayer. I have seen women praying for their husbands and for a transformation to take place in their marriages and God answer those prayers. So even though I have listed out a list of 7 lessons learned, I think it all goes back to prayer being a necessity.
I realize that I still have a lot to learn in my marriage and God is continuing to shape and guide it. I'll probably be continuing to learn these lessons, as well as a whole host of others! But I think we can all glean from one another when we share our successful marriage tips and advice to show our support for marriage and to fight to keep it strong.
Whether you have been married for one day or 60 years, what are the most important lessons you have learned along the way to keep your marriage strong?
Are you looking for some more resources for building a strong marriage? I highly recommend the following books: