16 Must Read Books to Get You Ready for the New Year
January brings about a new desire for living simply, intentional and inspired for me, and for a lot of people too. The first of the year represents a fresh new start, a chance to "begin" again, clear the plate, get organized and redefine your purpose. While I don't love the freezing temperatures, I do love everything else that January represents.
One of my favorite things to do the week between Christmas and New Year is to sit down, reflect on the previous year, map out new goals and make a plan to get our home in order and back into a routine after the busy holiday season.
Part of this process also includes revisiting books and resources that have motivated, inspired and encouraged me during previous years. These are some of my favorite books that I have read over the past few years, and have really helped me create a plan and vision for my life as well as help get me organized for the year.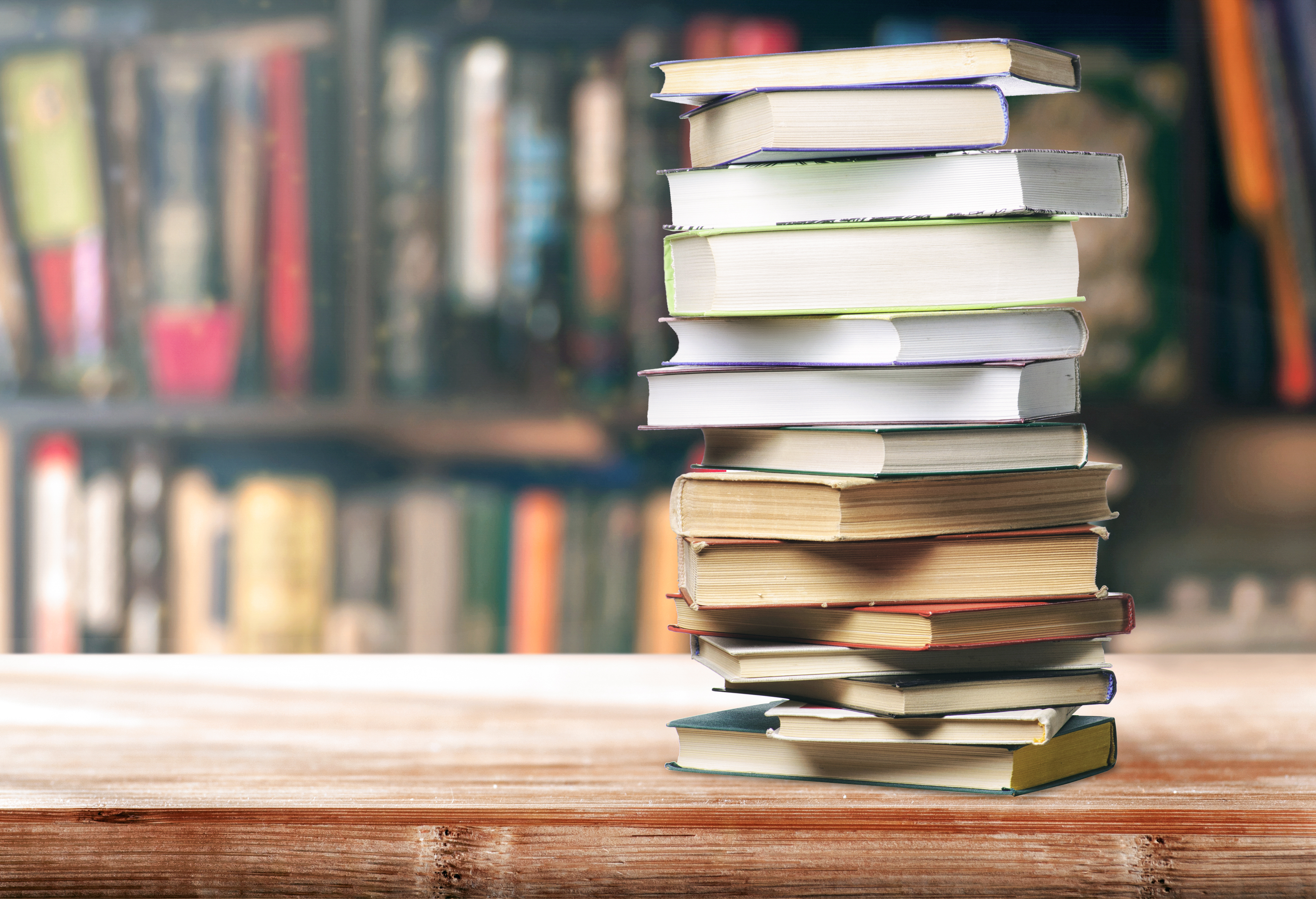 So whether you are reading this list today and preparing for January 1, or are taking notes and placing some of these books on your "Read in a Few Months" list, I think this selection is a great place to start to help you start to think through the new year and become intentional with your goal setting, home keeping or your own personal spiritual growth. There is a book here for just about any stage of life!
16 Must Read Books to Help You Get Ready for the New Year
Living Intentionally and With Purpose

Living Well, Spending Less: 12 Secrets of the Good Life
 by Ruth Soukup
What I most love about Ruth is that she is real and isn't afraid to share her own personal story– battling through depression, poor money choices, discontentment, a struggle with consumerism among other things. Just because she writes at Living Well Spending Less doesn't mean that she has always done that.
This book is not only filled with practical tips and encouragement it's also filled with her own story, and that's what makes her incredibly credible to me.
Living Well, Spending Less was written to bring hope and encouragement to every woman who currently feels overwhelmed or stressed with a life–and budget–that feels out of control. It speaks to the mom trying to juggle all the demands of a busy life with the pressure to keep up with those around her.  It is a practical guide for those of us who often long to pull ourselves together but doesn't always know how. It is real, honest, packed with practical tips, and speaks to the heart of the matter–how can we live the life we've always wanted?

Organize Now! Think and Live Clutter-Free: A Week-by-Week Action Plan for a Happier, Healthier Life
 by Jennifer Berry
There are several books in this series, everything from cleaning and de-cluttering your home, to organizing your work life. This edition of Organize Now! is all about creating an action plan for a happier and healthier life by removing all the mental clutter, the do-lists and other things that get in the way of living our your purpose.
Like the other books, each chapter is broken down into one week's worth of action steps to get your life and home organized, along with checklists and strategies for things you can do weekly, monthly and annually to identify and live out your life according to your goals and purpose. This is a great resource to get your year started off on the right foot.

Say Goodbye to Survival Mode: 9 Simple Strategies to Stress Less, Sleep More and Restore Your Passion for Life by Crystal Paine
Tired of running on empty and completely stressed out? So was Crystal and she knew some things had to change. In her book, Crystal shares the struggles of over-commitment and lack of focus that put her family, business and own personal health at risk. She shares the choices she made to change her mindset towards business and the action steps she took to transform from living in survival mode to thriving in life.
I love how real and honest this book is, what young mother doesn't feel like we are in a constant state of survival mode? (I know I do!) But I also love the heart of this book too and many of the tips and routines that Crystal outlines are things that I have put into place in my own life (like having a morning routine) to really make a difference in my own productivity and well-being.
Goal Setting

Make it Happen: Surrender Your Fear. Take the Leap. Live On Purpose by Lara Casey
I love the title and sub-title: Make it Happen! Live on Purpose! As a busy, wife and mom I also have a vision for working from home to accomplish a dream of mine, so did Lara Casey (and countless other women, bloggers, and entrepreneurs who I am incredibly fascinated by). I look forward to digging into this book and reading about Lara transformed her life by finding a balance in living for Him, serving her family and running a business.
Even if you are not dreaming of working, Make It Happen is for women who find themselves worried, anxious, and completely overwhelmed by the constant chase for perfection, those seeking the courage to jump into a new venture, working women who are struggling to "do it all", weary wives and moms looking for relief from burning the candle at both ends and anyone who dreams of a life lived not by accident, but on purpose.
Cleaning & Organizing

Organized Simplicity: The Clutter-Free Approach to Intentional Living by Tsh Oxenreider
This book is probably one of favorite on not only walking you through a step-by-step, room-by-room deep cleaning and organizing of your home, but the entire first half is all about living with intention and purpose. Crafting a family mission statement, defining your definition of simple living, living on a budget and living with less stuff, in general, are just a few of the topics that she dives into.
Plus the resource section is filled with DIY home cleaners, forms to organize your home and place in a home management binder, as well as additional reading resources. This is the perfect resource to get your home and life in order any time of year really.

Clutterfree with Kids: Change your thinking. Discover new habits. Free your home
 by Joshua Becker
Does anyone else feel like after Christmas and birthdays the amount of stuff your children has is taking over your whole house? Even though we started the tradition of simple and intentional gift giving (and thankfully the grandparents respected that!), there is still a lot of toys, clothing, books and other kid-friendly odds and ends filling up corners, closets, and the basement.
While our home will never be a minimalist dwelling with only a few random pieces of furniture and items in the closet, I do value the perceptive of living simply with less.
Spiritual Formation
Women of the Word By Jen Wilkins
Want to grow in greater knowledge of the Bible but don't know where to start? This excellent book by Jen is a much-needed resource for every woman who desires to study God's Word.
My friend Leigh Ann and I had so much fun with our online book club this past spring and many great discussions and dialogues came forth. 

Own Your Life: Living with Deep Intention, Bold Faith, and Generous Love
 by Sally Clarkson
Oh, how I love Sally Clarkson, even though I have never met her she has been a huge source of inspiration and encouragement in my walk towards intentional motherhood. Her new book comes out on January 6th and I have already pre-ordered it and am eagerly awaiting its arrival.
Healthy Living

100 Days of Real Food: How We Did It, What We Learned, and 100 Easy, Wholesome Recipes Your Family Will Love
 by Lisa Leake
I have been following along her 100 Days of Real Food Blog for a while now and while not everything I put into mine or my family's belly is "real food" I have been slowly making changes.
Plus I love collecting cookbooks with beautiful pictures and great recipes. I have prepared several of the recipes of her blog, and if her cookbook is anything like those (which I'm sure it is) I'm looking forward to trying out some new fun, easy and delicious real food meals that my family and I will enjoy.

It Starts With Food: Discover the Whole30 and Change Your Life in Unexpected Ways
 by Dallas and Melissa Hartwig
I'm not planning on doing a Whole 30 again anytime soon but I do love their book. It is packed full of useful and relevant information about eating healthy and removing potentially harmful foods from your diet.
Even if you aren't planning a Whole 30 either, this book is a fantastic resource packed with information in an easy to understand format. So many times you hear health experts say to remove certain foods from your diet but you don't often understand why they make that claim. Dallas and Melissa do an excellent job explaining the science behind why you should make certain dietary changes and how to do it in a way that works for you.

Well Fed: Paleo Recipes for People Who Love to Eat by Melissa Joulwan
I don't eat an entirely Paleo diet but I do love most of these recipes, and the sequel to this cookbook is also great too. Packed full of so many delicious recipes, mostly with ingredients you actually have or can easily buy at your regular grocery store. Plus many of the recipes are family favorites, even for my sugar and grain loving husband! 🙂

Fit For Faith: A Christian Woman's Guide to Total Fitness
 by Diana Anderson
Sometimes I think the Christian community overlooks the need for a healthy lifestyle but I personally believe that our bodies are created in His image to be used for His glory and it's our responsibility to take care of it. Now that I'm not pregnant anymore and once I can get back into a fitness routine, I am eager to begin the process of getting my body back in shape.
What books are you excited about reading for the New Year?