Women of the Word Book Club
If you've been around here for a while you know I have a deep passion for several things, one of those is being in the Word. Reading my Bible is an integral part of my faith, as well as my daily routine.
But it wasn't always like that.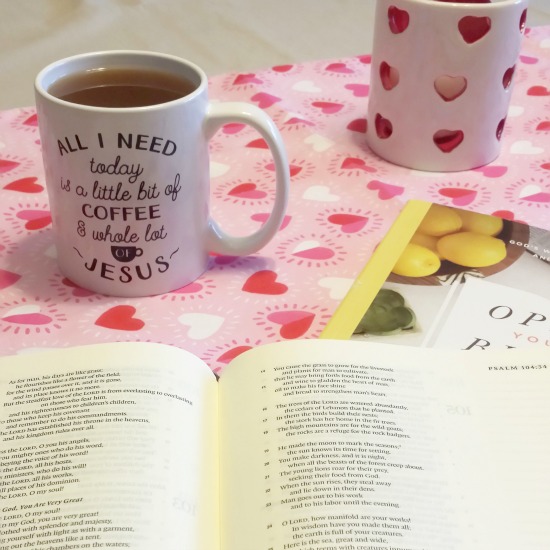 I've been a believer for majority of my life but it wasn't until last year when I finally came to realize just how important being in God's Word every single day was.
As a new Christian in my teenage years, I would flip through my Bible on a whim.
As a young adult I would passionately study certain books of the Bible for group study but never on my own.
As a working professional, I was "too busy" to find daily times to sit down and read the Bible, getting most of my teachings and encouragement from spiritual growth books.
As a young mom, I was (and am still!) overwhelmed, exhausted and frazzled. How could I possible get up any earlier to read my Bible?
I was in a dangerous cycle of only going to God's Word when I needed a pick-me-up or encouraging word to apply to MY life. I wasn't looking at the bigger picture.
In the later part of the fall of 2011, my heart started yearning for something more though. I knew God's Word needed to be a bigger part of my life, but how?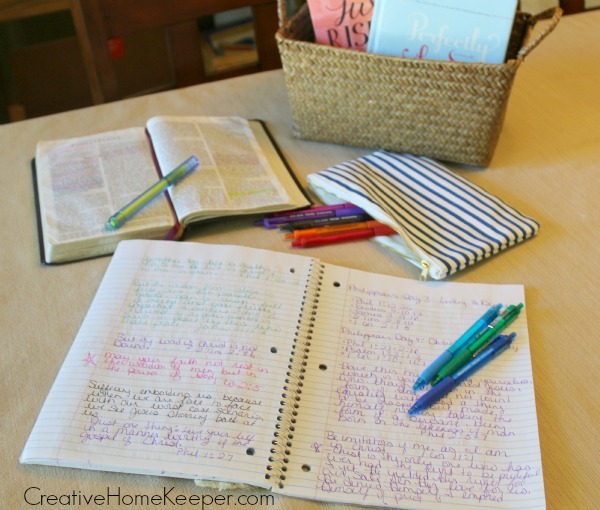 So I did the only practical thing I could think of…. commit to reading the entire Bible in one year. And I did but as I reading the assigned passages so I could "check" them off my list, a bigger story started to unfold in my heart.
Along with reading the Bible through, I started reading aloud The Jesus Storybook Bible to my kids every single night. I've believed that God can use anything to truly touch our hearts, and he did. He used a children's read aloud book to captivate my heart.
I wanted to know more about the stories I was reading aloud. I wanted to connect the dots to see how God used these people thousands of years ago to record the story of our faith journey. I wanted to draw closer to God.
As a result, I've been actively in God's Word daily now, no longer approaching it as a source for daily encouragement to fill ME up (although it does) but rather as a way to draw closer to the heart of God.
I share the story of my own Bible illiteracy to show how common of a problem it is… even among believers.
How NOT to Read the Bible. from Crossway on Vimeo.
Some Shocking Statistics:
Bible illiteracy is a real problem among professing believers. More and more people aren't actively in God's Word every single day, yet what is more alarming is that many Christians don't even know the basics about the Bible to begin with!
According to the

2014 "The State of the Bible" report

 by Barna Group and American Bible Society,  81% of adults said they consider themselves highly, moderately or somewhat knowledgeable about the Bible. Yet less 43% were able to name the first five books of the Bible. –

Christian Post
Only 3 out of 5 Christians read their bible weekly. – Lifeway Research
In their research, the Barna Group, summarizes the situation this way:
Americans revere the Bible–but, by and large, they don't read it. And because they don't read it, they have become a nation of biblical illiterates."
Still, even more poignant on the status of Bible literacy is this excerpt from the Holman Bible Handbook:
While Medieval Christians were separated from the Bible by ecclesiastical authority, many modern Christians are separated by apathy. Herein lies the first and most vital principle about the Bible for Christian living. In order to guide faith and life, the Bible must be read and used. The most potent enemy of Christian life has always been neglect of Scripture."
I don't know about you, but this is alarming to me!
We see it in the news every single day about how our society is getting farther and farther away from morals and absolute truth. A simple scroll through your Facebook feed, a glimpse of the news or even a casual conversation among friends, will reveal just how much the moral compass of our country is declining.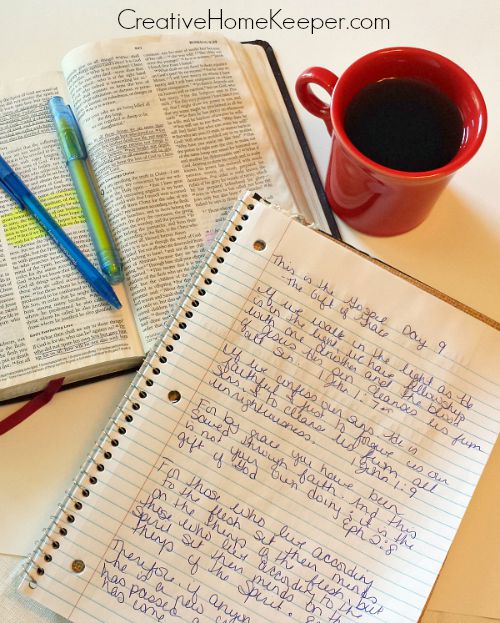 We lament about it and then wonder aloud, what can we do?
God tells us exactly what we can do, be in His Word.
If we, as women, started in our own homes by being actively in the Word, modeling it to our children and letting our family be influenced by it, Satan will be defeated! It may seem like such a small thing, in the grand scheme, but starting in our own circle of influence is where real change takes place.
So Where Do We Even Begin?
As a wife and mother my focus is usually always on my family but this is one area where my heart has to be filled first before I can influence Bible literacy in my family. We need to believe that Scripture is important, that God's Word is alive and active, that it's more than just reading the Bible but it's also studying it and allowing it to soak into our hearts.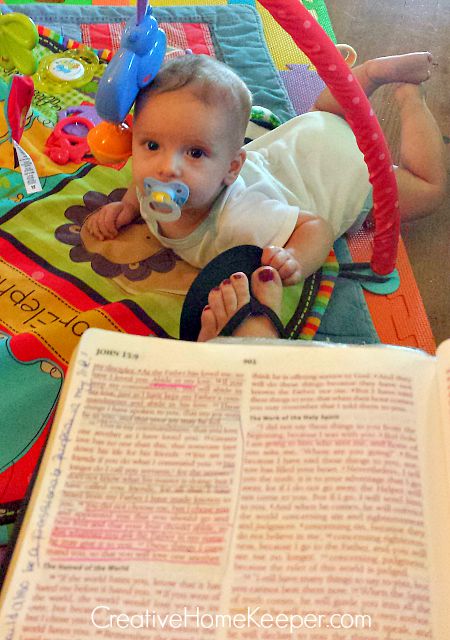 Making God's Word a cornerstone of our faith, family and homes is more than simply just opening your Bible every day, it's also coming to the real understanding that it's vital for growth.
Join us for the Women of the Word Book Club!
I don't just lay this burden of Bible illiteracy out here for you to chew on and then just walk away. No, I want to partner with you on this journey!
I want to grab hands with women all over the world and make His Name famous so that we can not only influence our families, but also influence others.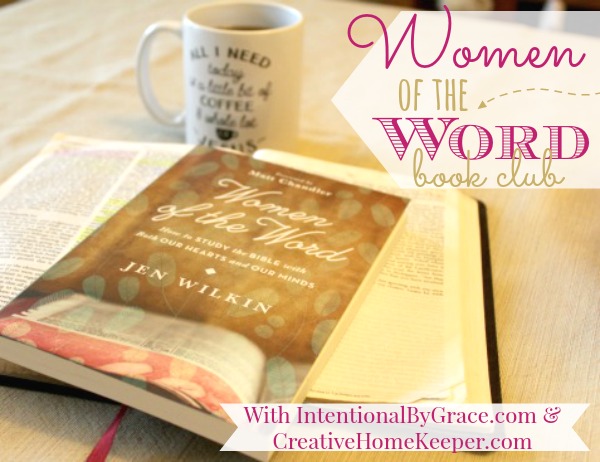 Leigh Ann from Intentional By Grace also has the same burden and as a result we are joining together to become Women of the Word by taking part in a 9-week book club discussion because we believe it's that important.
You're invited to join in the conversation every Tuesday afternoon at 2pm CST  as we talk about How to Study the Bible with Both Our Hearts and Our Minds.
Join Leigh Ann and me, your hosts, for some afternoon fun and discussion about one of our favorite things – God's Word!
We will be using Jen Wilkin's book, Women of the Word, as our discussion guide. In her book, Jen walks us through how to study God's word for ourselves.
She is one of the better Bible teachers I've had the privilege of hearing teach and her book is the perfect tool for spurring deeper discussion about Bible literacy and how we can start being a solution to the problem.
Click here to grab your copy of Women of the Word: How to Study the Bible with Both Our Hearts and Our Minds by Jen Wilkin.
The Book Club Schedule :: Click on the Link Next to each topic to see the replay and highlights from the discussions. 
Book Club #1: Tuesday, March 8, 2016 @ 3PM EST/2PM CST
Topic: Setting Expectations & Introduction
Book Club #2: Tuesday, March 15, 2016 @ 3PM EST/2PM CST
Topic: Chapters 1 & 2 (Turning Things Around & The Case for Bible Literacy)
Book Club #3: Tuesday, March 22, 2016 @ 3PM EST/2PM CST
Topic: Chapter 3 (Study with Purpose)
Book Club #4: Tuesday, March 29, 2016 @ 3PM EST/2PM CST
Topic: Chapter 4 (Study with Perspective)
Book Club #5: Tuesday, April 5, 2016 @ 3PM EST/2PM CST
Topic: Chapter 5 (Study with Patience)

Book Club #6: Tuesday, April 12, 2016 @ 3PM EST/2PM CST
Topic: Chapter 6 (Study with Process)
Book Club #7: Tuesday, April 19, 2016 @ 3PM EST/2PM CST
Topic: Chapter 7 (Study with Prayer)
Book Club #8: Tuesday, May 3, 2016 @ 3PM EST/2PM CST
Topic: Chapter 8 (Pulling it All Together) &  Chapter 9 (Help for Teachers & Conclusions)
The Discussion Guide
Though simply reading the book is enough, if you want to be able to think through the discussion questions beforehand, we'll be using Crossway's Study Guide for our discussion guide.
You can download a PDF copy of the discussion questions here.
Women of the Word Giveaway
The giveaway is now over but we would still love for you to join the book club. Check your local library for a copy of the book or you can purchase it here.
Want to win your own copy of Women in the Word? Two lucky readers will be randomly chosen to win a paperback edition of the book.
Entering is super easy, just use the rafflecopter below. The giveaway will be open until THIS Saturday, March 5th, 2016 at 11:59 PM CST.
**Two winners will be randomly selected and notified by email. All entries will be verified meaning if you don't complete the task, you will be disqualified. Due to shipping expenses, giveaway is only open to US citizens. You must be 18 or older to enter. The prize contains two paperback copies of Women in the Word to be given to two different entries. This giveaway is in no way sponsored or endorsed by the author or Crossway.