Writing the Word: How a Simple Discipline Transformed My Faith
Writing the Word, simple and effective, this written discipline has completely transformed my faith and will transform yours too!
It's early morning.
I stumble out of bed and tiptoe like a ninja out of our room to not wake the sleeping baby. Unfortunately, my tiptoeing doesn't silence the creaky wood floors in the hallway where I'm met by a visitor. We make our way to the kitchen where I turn the coffee pot on, settle my early riser on the couch with an approved show and make my way to my desk.
I have a small ritual I perform every morning before I sit with my piping hot cup of coffee and sit in God's presence.
First I light my candle. I don't know what it is about the flame flickering and the gentle aroma of the fresh scent, but the lit candle helps create a sanctuary for me.
Next, I power up my laptop but I have disciplined myself to go straight to Pandora to turn on my morning playlist and set the volume low. Adding to my morning sanctuary is gentle, soft music. My morning playlist is usually always from the Sara Groves or Sovereign Grace channels.
I pull my Bible book basket off the shelf to retrieve my Bible, journal, pens, and highlighter. The other books and devotionals I will use later if time remains but my first priority is to get into the Word.
Lastly, I open up the daily devotional on She Reads Truth to see what passages I am to read today.
I sit in my chair with the journal set to a new page, my pen and highlighter ready to write and mark, the warm cup of coffee willing me awake and alert, and the gentle music and the flickering flame set the stage.
My Bible open and my pen hits the paper to start writing out my daily letter to the Lord.
Giving Him praise, offering up gratitude by listing my blessings, dumping out the thoughts in my brain to make room for the promises and truths He is about to fill. I write my prayers out in my journal. I connect with my Friend and Savior, making my heart and mind ready to take in His Words.
As my eyes start to read the words in my Bible, I am compelled to write them down.
No longer is it just good enough to read them, I have to write the Word.
Click To Tweet
Sometimes I write just a verse or two, other times I am transposing whole passages of Scripture in my journal.
Depending on the words or what God is revealing to me, I write them word for word or I might paraphrase them into prayer from deep within.
It doesn't matter how I write, it's the simple discipline of writing out the Word that is rapidly transforming my faith.
It's the simple discipline of writing out the Word that is rapidly transforming my faith.
Click To Tweet
When God's Word is flowing through my pen and spilling out onto my paper it is no longer just a passive discipline to read the Word rather I am fully immersed in it.
Writing is slower than reading so I am able to marinade on each word longer. Truths I may miss from a read through are being highlighted in my brain and written out to completely grasp the mystery of the Gospel.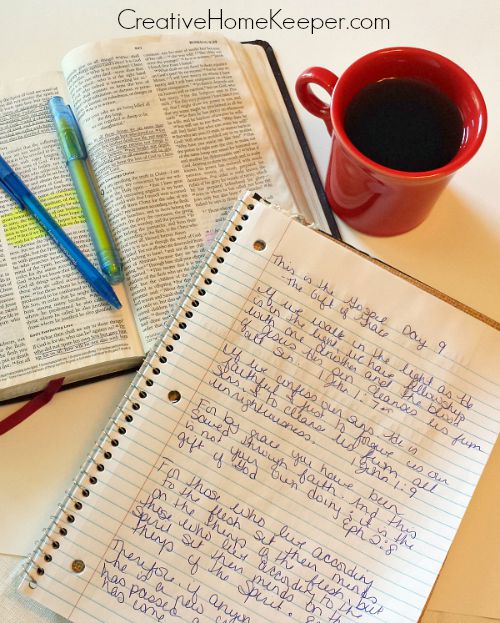 Some days I write a lot whereas other days I write a little, but there is no day when none of God's Word is being written down.
It's a daily spiritual discipline that has drawn me closer to God.
Writing the Word is bringing my heart and mind closer to the throne of God.
Writing has been a passion of mine that has been reawakened to me in the previous years. It is something I feel called to do, especially here on this online space. Sometimes my words are more practical bits of advice or homemaking tips, other times it is is lessons and truths God has firmly placed on my heart and to NOT write them out would be going against what He has called me to do.
Writing the Word is not something I have always done consistently.
In my prayer and faith journals I have recorded prayers and occasionally I would write out a passage or two along with a passage or quote I was moved by from a book or devotional.
This year, however, something has changed.
January 1st my third was born and it was the first of seven long days we would spend in the NICU. I felt alone during those long days and nights but I also found something else.
A few days earlier in December as I was sitting and making plans for the year and thinking through grace-based goals, I made the choice I would spend the year reading and studying the Bible through the She Reads Truth online studies.
It was one of the best spiritual decisions I made for the year.
Not because that ministry is the best one, although it's pretty good, it was more the fact that they removed all the extra fluff from their daily readings so many other studies put in. It's a passage with a short devotional but they outline studying the Word through three practices: She Studies, She Prays, She Lives.
No prewritten study questions to guide my time in the Word. I was left with just my Bible and my pen.
So I did the one thing that felt so natural at the time… I wrote out the Scripture passage. And you know what?
God's Word came more alive to me in that simple discipline than anything else I had done before.
God's Word came more alive to me in that simple discipline than anything else I had done before.
Click To Tweet
So I continued to write out His Words in my journal on a daily basis. I've been a Christian all my life but as mysterious as He is, He is able to capture our hearts in different seasons.
This season He has drawn me closer to Him through written words.
Do you write the Word on a consistent basis?
If not, may I suggest you start? You don't have to write out whole or long passages but just a verse or two to help you capture the main idea of what He is teaching you in your daily reading.
Over the past few months of writing out His Words, I have come to see many benefits of the discipline, including:
the Word being firmly planted in my heart
the Word being written on the doorposts of my heart (Deuteronomy 6:8-9)
aiding in Scripture memory
It allows for God's Word to deeply penetrate my heart
It enhances my morning un-unquiet time
Writing the Word is not something you need a lot of supplies or materials for. All you need is your Bible and your journal. A favorite pen helps too 😉
Starting is easy too.
Start in prayer as the foundation of your day and devotional time.
Turn to the passage you are reading today (if you don't have a reading plan you should really check out She Reads Truth. They also have a men's version He Reads Truth too!) and start reading with a pen in hand.
Let God lead you and write down anything you feel stirring your heart, whether that be a few words or the whole passage.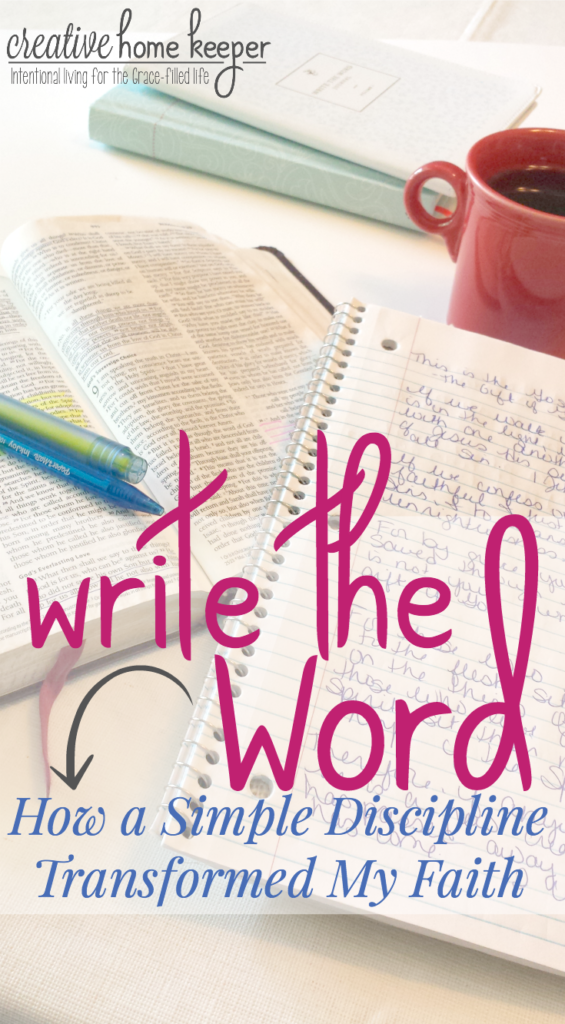 Be creative, if you doodle, draw or paint let those creative energies flow into your writing. If you like different colored pens, highlighting, starring or marking, do that too.
There are few rules in writing out the Word… only to write.
There are few rules in writing out the Word... only to write.
Click To Tweet
Get started today and let this simple discipline transform your faith and your heart… like it has mine.