The Blessing of Praying Scripture-Based Prayers Over Your Children
Praying for our children is such a blessing but imagine the impact of praying Scripture-based prayers regularly will have on them?
Scripture-based prayers can radically transform your prayer life and greatly impact your entire family!
Parenting used to feel a bit safer.
Don't get me wrong, I was constantly thinking of my children and ways to keep them safe, but when they were younger, they were mostly in the care of my home for the majority of the day.
I could easily monitor and shield them from the dangers of the outside world.
Now, however, they are starting to spread their wings and fly and for this protective mama it all seems so scary.
There are so many things in our broken world pulling for them.
From pornography, bullying, predators, peer influence, drugs, alcohol, and other worldly pleasures, it's quite scary out there.
Here's the truth though, as much as I would love to keep them safe and sound inside the walls of our home which I have painstakingly worked hard to create a haven, our children WILL spread their wings and fly.
At first to explore only to return each night, but all too soon, they will fly away to their new homes.
Earlier this summer the reality that we only have 18 summers to really pour into and invest in our children became quite apparent but now as we are well into the school year, it's getting even more real.
Even though my children are still young, I am feeling just how quickly time is moving. One year ago I was anxiously preparing to send my oldest off to Kindergarten, now he's in first grade and my other two aren't that far behind him.
Time is moving, the years are unfolding, and our children are growing.
So how to do we as mothers, who want to grab hold of our children and keep them safe and innocent, cope with these quickly moving changes?
We have to fall to our knees daily and surrender them to God in prayer.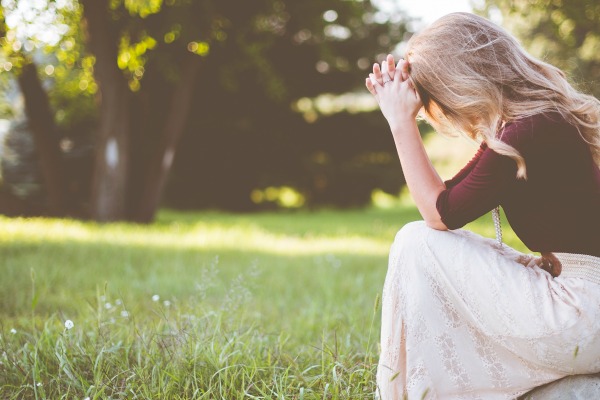 I know, I know… it's HARD!
It's hard to give up control.
It's hard to pray BIG prayers that God most likely will not answer according to our plans (His plans are better anyways).
It's all so hard but it is worth it.
Last year I gave up control and sent my son off to school fully trusting God with the journey and you know what? It ended up being the BEST thing for our family.
My son thrived, he had an amazing teacher and began to grow into the boy that God created him to be.
It was so hard for me but I faithfully prayed for him and for his school every single day and I am confident in how I have seen God move and work in our hearts as a result of those faithful prayers.
Praying for our children isn't a once and done kind of prayer, it's a continual journey that will last until we take our last breath.
[clickToTweet tweet="Praying for our children isn't a once & done kind of prayer, it's a continual journey #prayer" quote="Praying for our children isn't a once & done kind of prayer, it's a continual journey. "]
There are many stages of life to pray for our children through, from pregnancy to toddlerhood, from elementary school all the way up to college graduations, from career opportunities to marriage and becoming parents themselves.
Our children will grow and move through each season of life, some with more challenges than others, but what a blessing it is to them to have a mother praying earnestly for them?
So where do we even begin?
With prayer! 
Prayer is our direct, two-way conversation with God.
How amazing it is that we serve a God who not only loves us in a "Never Stopping, Never Giving Up, Unbreaking, Always and Forever Love." (courtesy of The Jesus Storybook Bible) and knows the depths of our pains?
Jesus carried that burden so we wouldn't have to.
It's easy to say start with prayer, but prayer can also be hard too.
I don't know about you, but I am constantly asking these questions when it comes to prayer:
How do I pray?
What do I pray for?
When and where should I pray?
What do I say?
Where do I start?
Can I be honest for a second? Some days it's just not easy to pray. 
I've woken up in foul moods and am already feeling the weight of my sinful, selfish heart but let me share the obvious truth that God continues to unravel in my heart…
When I pray, my heart changes.
[clickToTweet tweet="When we #pray, our hearts change! #prayerchangeseverything" quote="When we pray, our hearts change! "]
It is no longer about me but rather Him working miraculously through my life.
Where to Begin & How to Pray
Point blank… you just have to sit down and start!
If you scroll down, you will find a list of some of my favorite Scripture-based prayer resources to help you pray for (& with) your children, and motherhood in general.
If you are struggling with understanding how to pray, open one of these books or print off the prayer calendar and begin reading aloud the prayer.
Swap out the pronouns of she/her/he/him for your children's names occasionally, to make it more personal.
There is something to be said about praying by name for a person!
If all you can bring yourself to do is just read aloud, well done! You have made a great start!
You will probably find that many of these tools and resources will lead you into deeper times of prayer for your children.
Use these prompts as a starting point.
Write down your prayers in your favorite prayer journal or notebook (Sidenote, if you are looking for a guide to creating a prayer notebook, this is the BEST resource out there!)
There is no rule about what time of day you should pray. I prefer to start my day in prayer and Bible reading simply because it transforms my heart before the day has even begun.
If time in the morning is an issue, use those small pockets of time throughout your day:
In the car, while you are driving to work
Washing dishes (my favorite time!)
While you are working out or walking
In the shower or while you are getting dressed
Cooking dinner
Under an apron (It worked for Susanna Wesley!)
Pray aloud when you feel yourself starting to lose it with your child
With a little creativity, there are endless options of where and how to pray!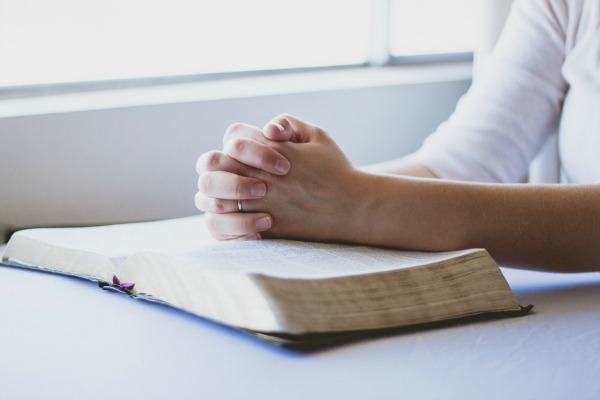 What to Pray For
Here are just a few ideas of things to regularly pray for your children:
Their faith
Their education
Their heart
Making good choices
Health
Faithfulness
Finding and developing faithful friends
Relationships with teachers, coaches, instructors, mentors
Attitude in school and at home
Purity
Praying Scripture-Based Prayers
We have the amazing gift of having God's Word available to us and what is more powerful than praying His Words over our lives?
[clickToTweet tweet="what is more powerful than praying His Words over our lives? #Scripturebasedprayers " quote="what is more powerful than praying His Words over our lives? "]
Praying Sripture-based prayers has radically transformed my prayer life because it's no longer me struggling to come up with the words to say. Rather I am turning to the passages in Scripture full of promises and truth and praying those over my family, my community, and my own life.
The Bible is the greatest gift we have. Through Scripture we can battle the enemy's lies, deception, and tempation.
If praying Scripture-based prayers is new to you, I have included my favorite prayer resources below.
Helpful Resources to Pray for Your Children
Jesus gave us the perfect example of prayer in the Lord's Prayer found in Luke 11: 1-4.
In addition to that, we also have so many wonderful and helpful resources to pray for your children thanks to gifted writers who share the message God has laid on their hearts.
When it's hard to pray or I don't have the words to get started, these resources have come through time and time again.
[clickToTweet tweet="When it's hard to pray these resources have come through time and time again. " quote="When it's hard to pray these resources have come through time and time again. "]
Some are well-worn copies with folds, rips, and lots of markings. Others are new treasures in recent years that have already proved faithful and trusted tools.
Rooted in Scripture, these prayer resources have greatly impacted my faith and prayer life over the years.
Praying these prayers each morning and using them as a starting prompt to jump further into my own time of prayer for not only my children but also my own heart towards motherhood and the importance of our family.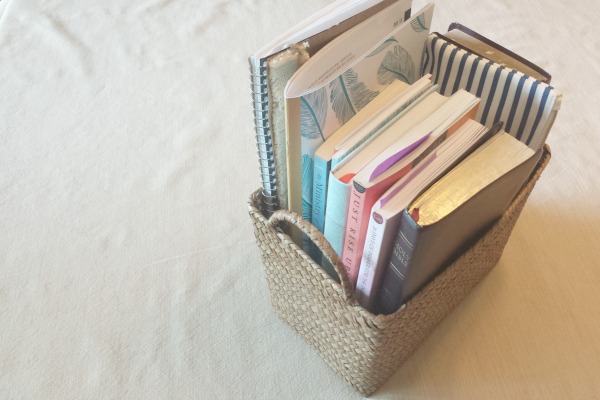 Praying through the Bible for Your Kids by Nancy Guthrie
Nancy is a gifted Bible teacher and her Seeing Jesus in the Old Testament series has profoundly changed the way I read and study the Old Testament. I purchased this book earlier this year and it has found a firm place in my Bible book basket.
It's one of the books in The One Year series, designed to walk you through reading the Bible in one year. Each day contains a Scripture reading, short devotion, and then a prayer for your children rooted in Scripture.
Since I already have a Scripture reading plan, I usually just skim the devotion and the highlighted verse, then use the prayer to jumpstart my prayer time.
Praying for Boys: Asking God for the Things They Need the Most by Brooke McGlothlin
Praying for Girls: Asking God for the Things They Need the Most by Teri Lynne Underwood
This is a series of two books that are filled with specific prayers to pray for your daughter and/or son. I have both copies since I have a daughter and two sons.
These books will become helpful resources as my children grow and move into elementary school all the way up through their teenage years.
Along with guided prayers, there are also simple teachings to help navigate through certain seasons with your children.
If you have any extra money in your budget, I highly recommend you adding these three books to your own prayer toolkit of resources.
Free Resources
If budget is a restriction right now, then these two resources are free (with an email subscription) for you to download and pray every single day.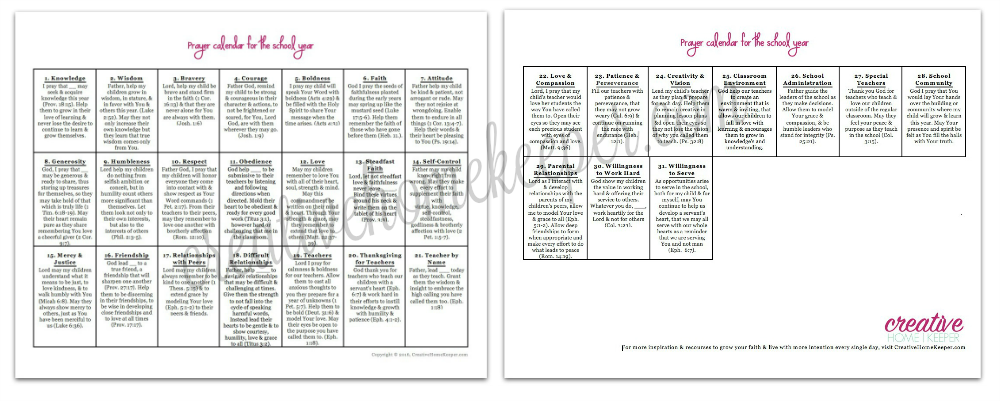 I created this prayer calendar last year before my son headed off to Kindergarten. I've been using it faitfully ever since to pray for my children, their education, their teachers, and the entire school community whether that be a preschool, a tradition school, a homeschool co-op, or any place where they go and learn (including your own home!)
I have it printed, folded, and placed right in my Bible as a bookmark to mark my place in my Scripture reading plan.
Every day after I read, I use the one sentence prayer prompt as a place to begin my prayers for my children and their day ahead.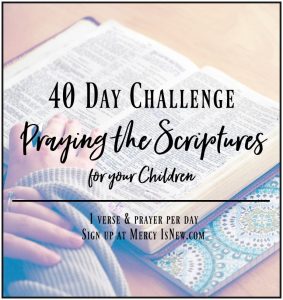 Praying the Scriptures 40-Day Challenge
I love this resource from my friend Candace at His Mercy is New. Every day, for 40 days, you will receive a short Scripture verse along with a prayer delivered straight to your inbox.
When I went through it, I used it to begin my afternoon time of managing my emails with a short prayer for my kids. It was a way to practice prayer without ceasing through my day.
This little list of resources isn't exhaustive by any means.
There are so many wonderful resources and tools available to further your time studying the Bible and praying. These are some more of my favorite.
What tools and resources do you use to pray for your children on a regular basis?