Drawing Close to God During the Busy Season of Motherhood
Drawing close to God during the busy season of motherhood can be a challenge but with a little creativity, and by letting go of the idea of "quiet" time, you can cultivate your relationship with God with these 10 simple tips.
My home is anything but quiet these days. In fact, you might even say it's similar to a three-ring circus!
There is usually always something going on with the kids, either they are laughing, singing, playing, using their outdoor voices inside (AKA yelling) or just walking because let's be real… little kids don't know how to walk quietly! 😉
Even when they are sleeping they are noisy, and by sleeping I mean waking up every few hours. 😉
My current reality is the newborn sleeps better than my older two, go figure!
Plus they wake up early, like super early! Some mornings they are waking anywhere between 6:30 or 7:00 am, which means that my "quiet" time doesn't really happen when things are all that quiet.
For the past few years, I have been struggling to develop a consistent morning devotional time before the kids wake up but I'm slooowly learning to accept the fact it might be a while before that will happen.
I've been told there will be a day when I will have to drag the kids out of bed, although I'm not entirely sure I believe that will ever happen!
So what's Mama to do?
How are we suppose to spend time with the Lord and draw closer in relationship with Him when our days are busy, messy, and not so quiet?
How?
By being creative and stepping out of the box, and letting go of the idea that our daily devotional times need to be at the same time and place every day before the kids wake up when the house is still quiet.
It isn't always ideal but these 10 tips are the ONLY way that my relationship with God is thriving during this busy season of motherhood.
Bible Reading Apps
I was kind of adamant about NOT getting a smart phone because I didn't feel like I needed one, but I gave in. Even though the phone can be a huge distraction, there are many things that I love about it too. One of those are apps that serve a purpose in my life.
One of my hands down, favorite apps is the YouVersion Bible app.
It's free and you get access to almost all translations and the entire Bible right on your phone. Plus many of the translations also have an audio version too so you can listen to the Bible for free!
There are also several reading plans too, from topical to reading the Bible in a year, making it a complete Bible reading resource. They even have a kids app too!
There are other popular Bible reading apps too, another favorite is the She Reads Truth app. While the app itself is free, you do have to pay a small fee to access some of the reading plans. But even on the free version, there are some great tools to help you spend time in the Word when your hands are full.
I currently use my Bible reading app when I'm up nursing the baby early. I can hold a phone with one hand better than I can hold a book, so, for now, my Bible reading takes place on the phone.
Podcasts
I discovered podcasts about two years ago and I am forever a fan. They are such a source of encouragement to me. The ones that I listen to regularly range from inspiring God-centered motherhood tips, sermons to business and blogging tips.
My church also records all the weekly sermons and places them online a few days later. With a newborn, and two toddlers who were perpetually sick this past winter, it was my lifeline to listen to the sermons when I wasn't able to attend church.
I love listening to podcasts while I'm doing various chores around the house, when I'm nursing or when I'm on the go, like running errands in the car or going on walks. Plus my kids are also listening, so there is some good truths being planted in their little hearts as well.
Audio Bibles
Similar to podcasts, listening to Scripture has been such a blessing. Sometimes we aren't able to sit down and spend as much time in the Word as we would like but that doesn't mean we can't listen to it!
There are many great audio Bibles out there, some for sale (I like this one
) and many are free online too! I mentioned the YouVersion Bible app above that has an audio Bible feature which is the primary place I listen to the Bible.
Pray While You Are Working Around the Home
Chores and homemaking/motherhood just go hand in hand. We have lots of chores that we have to get done but instead of wasting that time, why not use your chore time as a way to communicate with God?
I've shared before that I use laundry time as a time to work on Scripture memorization and how I like to pray over my home while cleaning. Chore time is also a time to just lay our your heart out for God.
Sometimes I don't feel like cleaning because it seems like an endless task and seeds of bitterness start to creep in, but when I use my chore time as another time spent talking with my friend, my Savior, my Father… my heart is instantly transformed.
And who knows, you might even look forward to cleaning! 🙂 (OK, let's not get too carried away now!)
You can download prayer cards for praying over your home here.
Read the Bible Aloud TO Your Kids
The two children's Bibles we own, The Jesus Storybook Bible and The Big Picture Story Bible,
are excellent!
We love reading them aloud together. The stories are beautifully written, both the kid's and my heart are touched. The illustrations are engaging and I can honestly say that I have gotten a better grasp on the major stories of the Bible by reading them aloud to my kids.
I also periodically read aloud my Bible to them.
I do this for three reasons, one is that I firmly believe seeds of truth are being planted into their hearts when they hear the Scripture being read. It's also a good model for them to see me sitting down (or standing!) reading my ACTUAL Bible. I try really hard to pull out my leather bound Bible
and read that in front of them.
I love my Bible reading app but to my kids, it can look like mom is just playing with her phone so I try to be very intentional about modeling Bible reading to them.
And finally, I read aloud because when they are in the room being anything but quiet if I'm not actually speaking the words, I have no idea what I just read because I'm too distracted!
Not only is it a good modeling tool but it also helps the word to sink into my heart as mind as well.
Please tell me I'm not the only one?!?! 🙂
Attend a Bible Study Group or Fellowship Meeting
I attend a weekly Bible study group of women from my church. It is an encouraging time because we are a group of women in all different seasons of life who come together. I learn so much about God, His Word, and how to thrive in life from these ladies.
I know not everyone's schedule allows for another event in your week but it really can be a great experience to draw closer to God.
I also am aware that many women have been hurt or disappointing by their experience in a Bible study group. If you still want to connect with God and with other women, find a good Bible based group that is open and inviting, and pray for the relationships there as well as the teaching.
Fill your Home with Inspirational Quotes and Scripture
From beautifully designed prints to post-it notes, having Scripture throughout your home can provide a source of inspiration and encouragement throughout the day. Not only that, but they add a bit of beauty too.
Scripture instructs us to fill our home and instruct our children with God's Word (Duet. 6:4-9).
Often times I find myself reminded of His presence in my day when I look up and read a verse printed on a card that I displayed.
My kids can't read yet but one day they will be able too. How great will it be for them to look up and read His Word throughout the rooms of our home?
Listen to Praise and Worship Music
Perhaps the simplest method but so effective. Turning on your favorite worship CD is just an easy way to fill your home with inspiration, plus it can change the mood of your entire home too!
Some mornings we are all grumpy and tired. I'm impatient with my kids and they are whining, complaining and fighting with one another. When we are having one of those mornings, I turn off the TV and turn on some music and almost instantly, everyone's mood changes!
Hopefully, where you live you have access to a Christian music station, I know K-LOVE is very popular is played most places, as well as streams online.
I personally love to turn on my favorite Pandora station, I have a few set up (My favorite channels are Sara Groves, Sovereign Grace Music, and Ellie Holcomb). I also have a few favorite CDs that I love to turn on, including:
Memorize Scripture
I like to focus on a small passage of Scripture to work on memorizing. Thanks to my mommy brain, I'm not great at it but when I am intentional about working on Scripture memory, I am able to let God's Word soak in.
Currently, I am using the memory work in the She Reads Truth studies, I used to host a Scripture memory challenge here on the blog but moved away from that as I started using She Reads Truth.
You don't even need a fancy curriculum, just pick a passage each week to focus on memorizing. Start small, like a verse or two, then build up from there.
Also, don't forget your kids! Their little brains are like sponges and are able to absorb just about everything, so encourage them to memorize right along with you!
Go to Your Prayer Apron
I love the story of Susanna Wesley, the faithful mother of John and Charles Wesley. She has many children who she taught and trained. Her home was a busy place and when she could find spare moments throughout her day, she would pull her apron over her head to pray.
Susanna was the perfect example of how to find small pockets of time throughout the day to spend with God. People often think that if you can't spend a long time devoted to Bible study and prayer, then why bother?
Her story is a great reminder that we can seek God anytime and anywhere through our days, even during chore time!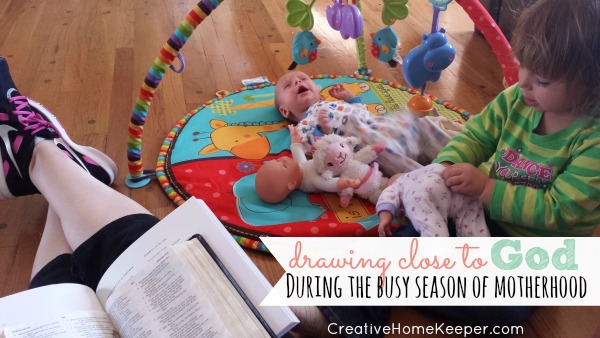 There are many simple ways to draw closer to God during our busy days but we have to be intentional about carving out a few minutes of time here and there.
I'm in a season where I have to give up the expectation that I can have a devoted quiet time every day and the exact same time with no interruptions. So I have to be flexible and move around, which is part of the reason why I love my Bible book basket so much!
How do you find the time to draw closer to God during your busy seasons?

 

If you want to study God's Word and allow His truths to marinate deep inside your heart but have no idea where to begin or how to do it, then this resource is for you!
Bible Study Methods walks you through step–by-step HOW to study God's word. It's a self-paced, 7-day online course that includes 7 training videos, a workbook, and step-by-step printable worksheets for each method.
This 7-day course will:
teach you 7 different Bible study methods  
streamline the learning process so you don't spend weeks or months figuring it out
give you tools for going deep into God's word in as little as ten minutes a day (perfect for busy moms!)
provide ready-made templates and printables you can choose from
show you exactly how to do each method with the daily videos 
revolutionize your time in God's word and discover fresh intimacy with God in the process.
equip you to nourish yourself with the Scriptures
teach you how to develop your spiritual senses
help you establish a Bible study habit!
Plus, you can start anytime, go at your own pace and you'll have lifetime access to the course materials.
If you've ever wished you could dig deep into the word of God and get more from your Bible reading, Bible Study Methods: 7 Ways in 7 Days is for you.
This course is now OPEN! Sign up today to grab your spot!