The Secret to Stop Dreading Difficult (or mundane) Tasks
You want to know the secret to stop dreading the difficult or mundane tasks? Want to make cleaning, exercising or anything you have to do (but don't really want to) more entertaining? We still have to do the work, but we can make it a bit more enjoyable with this simple homemaking tip.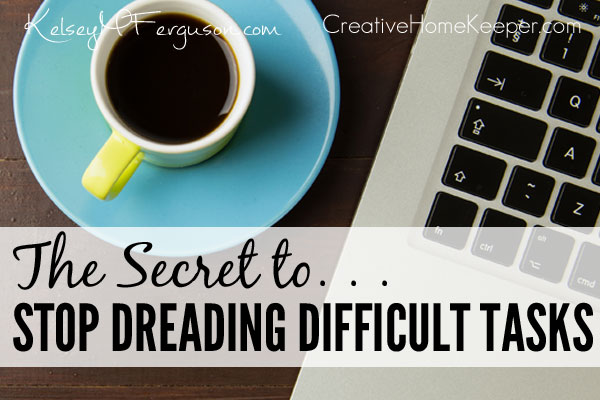 By contributing writer, Kelsey Ferguson.
Confession: I struggle with exercising consistently and keeping my house at a semi-guest-ready state.
I find both mind-numbing, and there is always something better I could be doing with my time. Something more. . .exciting, like reading or writing.
And I know I'm not the only one who struggles in this area. Have you been on Pinterest lately? Have you seen the massive amounts of how-to-exercise and how-to-organize pins?
And I know I don't need to tell you all the reasons — both Biblical and not — to treat your body well, and I'm sure you know the importance of creating a welcoming and comfortable space.
We know "why" but it still doesn't make it enjoyable.
Others may argue that some things simply aren't pleasurable, and we shouldn't try to make them that way. And maybe there's something to that, but. . . I found the secret to motivate myself to clean and exercise, so I'm ignoring their advice.
The Secret to Stop Dreading Your Difficult (or mundane) Tasks
So what is this secret?
It's simply tricking our brains into thinking we're doing something fun and exciting — like hanging out with imaginary, inspiring friends. This is also known as listening to podcasts. (What's a podcast?)
We still have to do the work.  But while we're working — or working out — we are also learning about missionaries in Lebanon or geeking out over Anne Bogel's book recommendations or listening to Biblical encouragement.
Our brains get to escape the monotony of the task at hand to focus on life giving words.
Ready to try it out?
Tips for making podcasts work for you!
Learn how to listen. If you know how to download an app on your phone, you will have no problem figuring podcasts out. Here's a really simple explanation on how to begin. If you don't own a phone or iPod, you can still listen on your computer — simply follow the links provided below.
Make it easy to listen. You can listen directly from your phone or computer or headphones, too.  I plug my phone into an iPod docking station to listen. You may need a little trial and error to figure out what works best for you.
Sample many to find a few favorites. You might not find the perfect fit right off the bat. That's okay. You may not like any of my recommendations. That's okay, too! Try out as many as you'd like. They're free!
Save your favorite shows for your most daunting tasks. I love What Should I Read Next?, so I try especially hard to save new shows for deep cleaning days or hard workouts.
7 Inspiring Podcasts to Stop Dreading the Mundane
So where do you even begin? Well, here are some (a very small number of them) of my favorites to get you started. . .
For General Encouragement (and entertainment)
The Simple Show – Tsh from The Art of Simple features some pretty awesome people and interviews them on what simple living means to them. The topics, while focused on simple living, do vary, so there's a little bit for everyone.
Around the Table – I'd describe this podcast as two fun friends chatting about life and encouraging others along the way. Jacey and Maggie are constantly making me laugh and challenging me to be a better person. Their tagline very much suits their show: Our goal is to help you live purposefully without skipping dessert.
Happier with Gretchen Rubin – Author Gretchen Rubin chats with her sister, Elizabeth, about creating, maintaining, and breaking habits. If you are interested in personality psychology or simply want some tips to create better habits, this podcast is for you. Let's just say I binged listened to this podcast when I first found it.
For Biblical Encouragement
Revive Our Hearts – Revive Our Hearts is technically a radio show by Nancy DeMoss Wolgemoth that's been put into podcast form, but I'm including it because the Biblical teaching is amazing. If you've read Jen Wilkin's Women of the Word (this is our current book club discussion book!), you will like this podcast. (Jen teaches in a couple of the shows, too!)
For Motherhood Inspiration
The Inspired to Action Podcast – If you need a motherhood pep talk, this is the show for you! Within the first 5 minute, Kat Lee will lift you up, affirm your calling as a mom, and remind you of Who you belong to. Every mom needs to listen to this podcast.
For Creatives and Small Business Owners
The Influence Podcast – If you are interested in how small business owners and creatives got their start and what inspires them to keep going, you will enjoy these shows. I always find myself inspired after listening.
For the Book Lover
What Should I Read Next? – Anne Bogel from Modern Mrs. Darcy hosts this new-ish podcast, and it has quickly become my favorite. Each week she interviews a guest about 3 books they love, 1 they hate, and what they are currently reading. And then she gives them 3 book recommendations. If you're a book lover, this podcast is the podcast I'd start out with.
What's Next?
The truth is I'm still not perfect at exercising and keeping my house clean, but I no longer dread these tasks. Getting to learn and "chat" with fun friends had made all the difference for me.
So what do you think? Are you ready to try out "my secret?" Do you listen to podcasts? What's your favorite?  I'd also love for you to share your favorites tips to make the mundane more exciting in the comments.
And, remember, whatever you do do as if you are doing it for the Lord.
A quick note from Victoria: I love podcasts too! And I love Kelsey's tip to listen to them while cleaning and exercising. A few of these are my some of my favorite channels too, along with some I'm really excited to check out. I also wanted to add a few more to this list, my current 3 favorite podcasts that I LOVE!
Your Intentional Family – This is a brand new podcast from Mark and Leigh Ann Dutton (of Intentional By Grace) and while they have only done 3 episodes so far, they are so encouraging! Biblical resources to help you grow your family and put Christ as the focus.
Homemaking Foundations Podcast – I really love this podcast from Jamie of Young Wife's Guide. She shares Biblical encouragement about finding joy in your homemaking, marriage tips, thriving in motherhood and so many other wonderful bits of inspiration to encourage you in your homemaking journey.
Brilliant Business Moms – I love these podcasts from Beth Ann and Sarah, a sister team who are encouraging women in all stages and seasons of life to turn your dream into a business, while keeping family as the primary focus. While some are geared towards bloggers and etsy shop owners, there are many episodes that are just great business advice for whatever business you run, whether online or brick and mortar.