Super Simple Makeup Brush Cleaner
Ok, let's be honest for a minute shall we? When was the last time you cleaned your makeup brushes?
Did you know it is recommended to clean your brushes as least once a month? I will admit I am good if I remember to clean them a few times a year!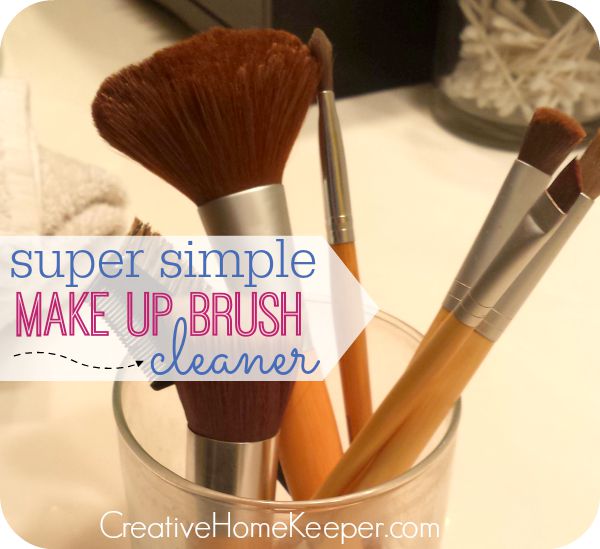 Yikes! Seriously though, think about how dirty they can become. Not only are the constantly covered in different makeups but they are also covered in dead skin cells and other nasty things I would care not to think of.
And to think those brushes glide over my face each day?!?!
Cleaning your makeup brushes is actually not very difficult either. It's incredibly easy, simple and you don't even need one of those special (and expensive) makeup brush cleaners they sell in the makeup aisle. I guarantee you have everything you need in your own pantry to effectively and easily clean those brushes!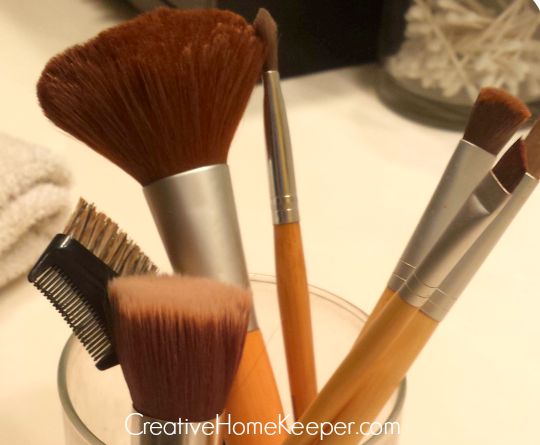 All you need is hot water and distilled white vinegar, which is a regular staple in my natural cleaning supply box. 
Super Simple Makeup Brush Cleaner
Here's What You Need:
hot water (enough to fill a large bowl or small sink – about a 1/2 gallon)
2 TBSP distilled white vinegar (I usually just eye ball it and pour in two large dashes)
Here's What You Do:
Fill a large bowl (but I prefer to fill the bathroom sink to save the step of washing a bowl) with hot water. Then pour in and mix the vinegar. Oh and there's nothing better then realizing you have some gunk forming around the drain of your sink while you are editing photos! 😉 I'm a little embarrassed by that, something else to add to the never ending list!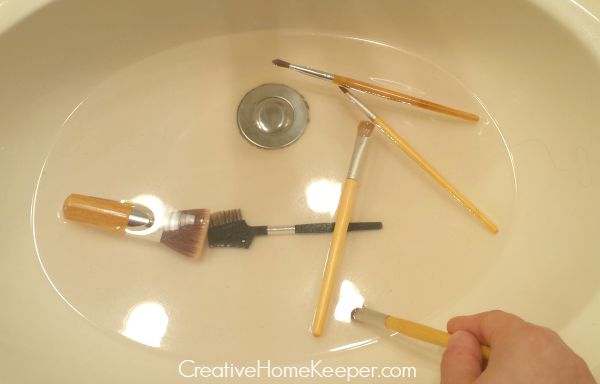 Place your makeup brushes in the water/vinegar mixture and swirl around. Gently use your fingers to scrub the brush bristles to help loosen all the makeup and dirt.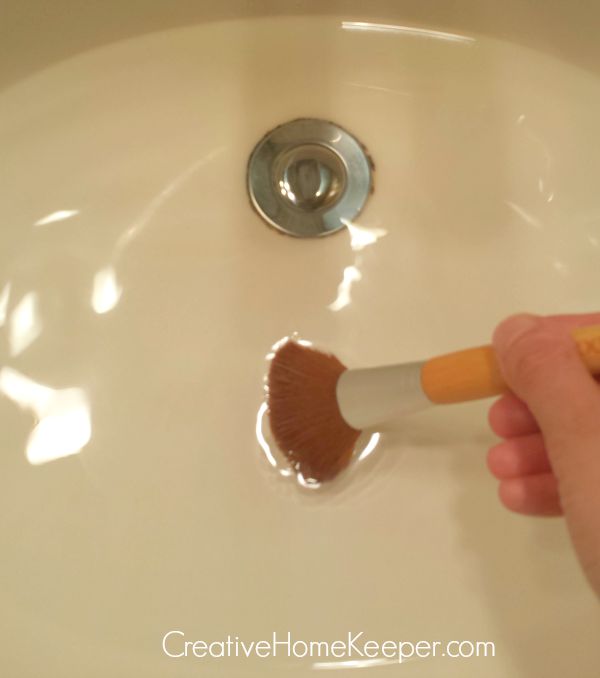 Remove brushes from the water/vinegar mixture and squeeze out the extra moisture from the bristles.
Empty the water and replace with fresh clean water to rinse out any remaining debris or water/vinegar mixture. I just empty the sink, turn on the water and place the brushes under the running water.
Wring out all the water and fan out the bristles so they can dry and are reshaped back to normal.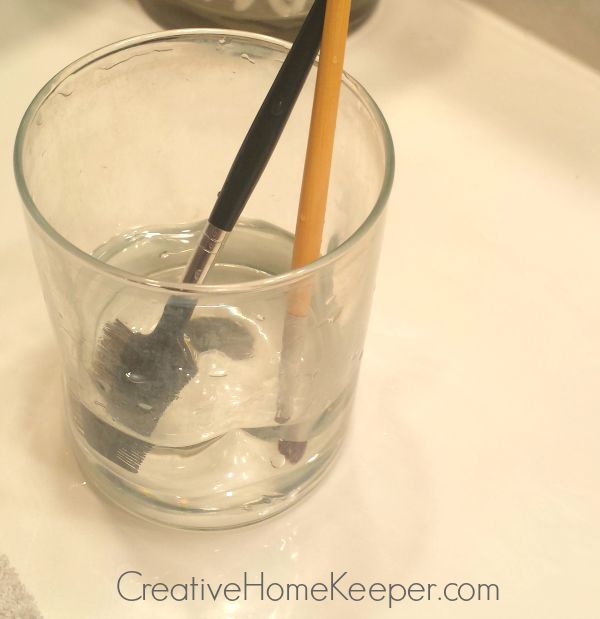 My eye make up and lip brushes where pretty gunky so I let them soak longer in some hot water with a dash of vinegar to help remove the hard, stuck on make up.
Line up the brushes on a clean towel to dry. Oh and don't mind my stained white towels. Just FYI I will probably never buy white towels again, especially since I don't use bleach!
That's it… you are done!
Super simple — super easy — super clean! 
This is safe for all of the different brushes you might have for your makeup routine. I have both bamboo and plastic wands, neither have been damaged but I also don't leave them in the water for very long either. You can also roll up the towel slightly and let the brushes dry at an angle (bristles facing down) so excess water doesn't seep into the handle through the metal bracket.
The brushes do take several hours to dry so it's best to clean your brushes after you have applied your make up for the day.
This literally only takes a few minutes but does a really great job at cleaning the brushes and leaving them fresh. Also if you rinse with some cool water you won't have a vinegar after smell, I promise!
I cleaned my brushes over the weekend, since it was the first of the month — why not? I also programmed my Motivated Moms Cleaning List to add this simple task on a monthly basis so I wouldn't forget.
So if you can't remember the last time you cleaned your own brushes (don't worry because before this weekend, it had been a while for me too!), grab your vinegar, a towel and head to your bathroom sink.
This simple task will only take a minute and you will feel much better about applying makeup to your face with clean brushes!
Have you cleaned your makeup brushes recently? What other easy ways do you use to clean your brushes?