Bless Your Marriage By Writing Love Notes
Valentine's Day is coming up soon and while I am a firm believer that we don't need one particular day to show our people how much we love them, it's still afun day to celebrate the love and relationships in our lives.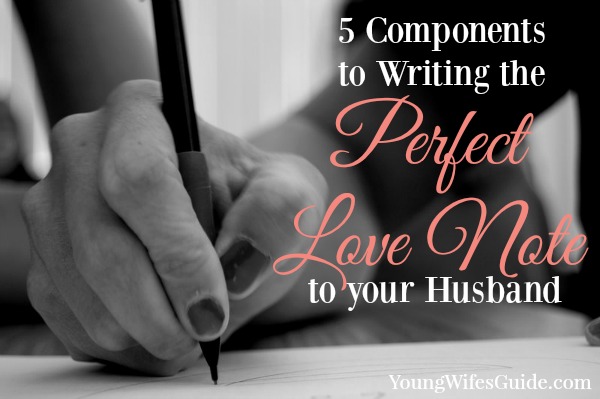 My marriage is one of my highest priorities under my relationship with God. My husband and I are partners, teammates, friends, lovers and co-parents together. His love and support means the word to me, and vice versa but sometimes during this parenting season it's easy to put the children first before our marriage.
They are young, have needs, don't sleep well consistently, have discipline issues and they just demand our attention in both a fulfilling and completely exhausting way. Sometimes at the end of a long day, connecting with my husband is the last thing I desire to do.
But it's so important to find creative ways to keep the spark alive, to pursue one another, to share our love and respect with one another and to lift each other up in prayer and encouragement.
Today I'm over on Young Wife's Guide sharing one way I have recently discovered to show my husband love… love notes.
I've been sharing in my Weekly Goals that I try to write him a little note every few weeks. I place it in his briefcase each morning so he can discover it during the day. They aren't elaborate or long notes, rather short, simple and sweet little sentiments that remind him (and sometimes myself, if I'm being honest) that I am so thankful and blessed to have him as my husband, that he means the world to me, that he is a wonderful husband, father and provider to our family, and that I enjoy spending time with him.
Here's a little snippet:
Last year I wanted to do something that would not only bless my husband but also strengthen our marriage. Having three little ones always around has definitely taken it's toll on us.
We are tired, exhausted and just plain spent at the end of a long day.
Finding ways to connect with one another and spend quality time together, doesn't just happen naturally any more. Conversations over dinner are always interrupted by the children needing things or wanting us to listen to them. Then usually by the time we get everyone down for bed, we can barely keep our eyes open long enough to make a daily connection.
I know this season of little ones won't last forever but I also know that if we don't take the time to invest in our marriage now we won't know each other when all of the kids have grown, moved out of the house and it's back to just being us.
I desire a strong relationship with my husband. I firmly believe that after our relationship with the Lord, our relationship with our husband comes first… even before the children. Afterall, we were wives before we became mothers.
To read the full post, head on over Young Wife's Guide, where I'm also sharing the basic template of what I include in each love note.
Do you write your husband love notes? What do you include in your notes?