I seriously have baby on the brain!
With the pending birth of my little guy quickly approaching, I have been sorting through all of the baby gear and clothing that I have accumulated through the previous two children. Some of it was super useful, which I'll be sharing below, and some of it… well let's just say was not so useful (for me) and I have since placed it in the giveaway pile and won't be digging it out this time around.
I almost wish I could go back four years ago and re-register for baby items with the knowledge that I have now. I would have been so much more wiser as which baby items to choose and my nursery wouldn't have been overflowing with stuff that maybe only got usesd or worn a few times. With this third baby, I have become a tad bit minimalist in what I use to take care of my babies, because after all they don't really need much outside of clothing, diapers, a car seat, and the love of a family.
I hear a lot of moms say that, so instead of looking back, I'm going to share with you some of my top new baby essentials that I have on my list and I think you should too (if you are planning on having a little one in the future that is!)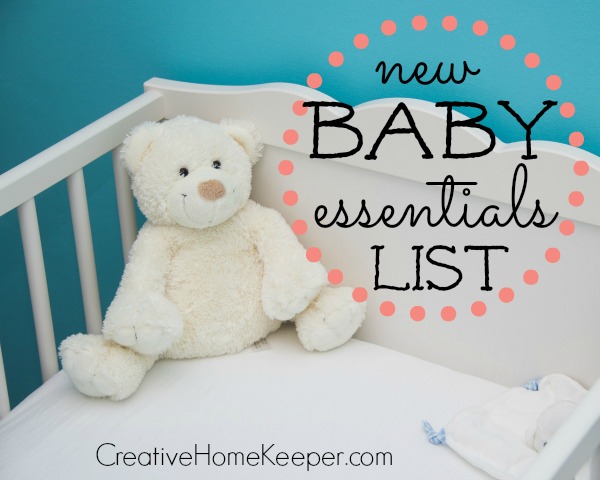 Baby Carrier
I will be the first to admit that I hardly ever used the baby carrier with Silas, he was after all my only child and since he was also the only grandchild, he got held ALOT! In fact I was almost tempted to get rid of it but then when Amelia came I was glad that I held on to it because she practically lived in the baby carrier, and in history repeats itself, so will this one.
When you are a mom of a newborn with other little children, you can't hold the baby all day but you can wear the baby. My two favorite carriers are the Moby Wrap
and the Ergobaby Baby Carrier
.
I mainly used my Moby Wrap
the first three months when the babies are so tiny. I know not everyone is a fan of all the extra fabric and learning to tie it up, but once you get the hang of it not only is it super easy to tie, you can put it on quickly too, and it's pretty comfortable.
The Moby Wrap
is designed for older children, but I found that once they can old their heads up and are more aware of their surroundings, the Ergobaby Baby Carrier
was a much better option. What I love about the Ergobaby Baby Carrier
is that you can adjust it to wear three different ways (in front, on the side or baby on your back) with just a few clips. Both of these carriers also position the baby in a safe seated position so they are never dangling.
Swaddle Blanket
Forget those small receiving blankets (I have literally no idea why they even make them, they aren't big enough to do anything with), invest in one or two good Muslin Swaddle Blanket
.
These things are AMAZING!
Not only are they great at the obvious use of swaddling, but they are big enough that you can use as a light weight nursing cover, wrap around the baby carrier when it's cold outside, spread out on the floor for a large tummy time play space, and even use as a special "blankie" once your baby has outgrown the use of a swaddle blanket.
Plus they are large enough to drape over the car seat when you have to carry it outside in colder weather or to shield your baby from the sun. And they are so soft too! I almost wish I could find a light weight blanket like this for me! 😉
Bouncy Seat
I received both a swing and a bouncy seat
when I had my son and I have used both for both kids, but I will say that the bouncy eat is a much better investment and space saver than the big, bulky swing. For one, you can easily move the bouncy seat around the house, which is primarily how I showered (or did any chores) with a newborn baby!
While my son did love the swing, it was actually the only way I could get him to nap for a period, my daughter wanted nothing to do with it. But both of them loved the bouncy seat (and so did their parents for that matter!) Some nights when we had a fussy baby due to gas or reflux, the baby would sleep in the seat so they where a little elevated.
They do make a two-in-one bouncy seat/swing but if I had to choose one, I'd go with the standard bouncy seat. We had one that didn't have all the bells and whistles, it just had a small vibration switch and a removable toy bar and it has been the number one baby essential item on both mine and my husband's list. You don't need those expensive, fancy looking ones. Sure they are nice but save the money to use else where and just buy the cheaper, generic Fisher-Price Baby Bouncer
. Sure it may not be as chic or fit in with your home decor, but it gets the job done and your wallet will thank you!
Burp Cloths
What goes in a baby, must come out! One of our kids hardly ever spit up, the other spit up so much I'm amazed that they were able to grow up so healthy!
I personally used and loved old school Gerber Birdseye 3-Ply Prefolds
because they were big and absorbent. They fold up great so you can easily store them around your house so you always have a burp cloth nearby, plus once you are finished with the burping up stage, they make great rags too!
Full Coverage Bib
My daughter spit up so much, I hardly have any baby pictures without a bib on her which means all the cute, girly clothes are not visible. And she didn't just spit up a little either, we are talking full on projecticle spit up! Thank goodness we have hardwood floors and a leather couch for easy clean up!
She would go through so many outfit changes a day (talk about the laundry!) until I discovered these bibs
and boy were they a game changer for us!
They literally cover most of the body to help catch the spit up before it ruins an entire outfit. I will say that since they are kind of expensive for a bib, I would hold off on purchasing one (or in my case ten!) until you know for sure you have a full blow spitter-upper.
Sofie the Giraffe
Yes, I have jumped on the band wagon of safe and natural toys but this one really is a good one.
Newborn babies obviously don't need toys, but as they start to get older and explore the world around them, not to mention "chew" on things, it's good to have a few toys around that are safe to go in baby's mouth.
Sophie the Giraffe
is soft, squeaky, safe, easy to wash and pretty darn cute too. She was a favorite for both of my kids and is one of the few toys that has actually lasted for baby #3, making her quite a durable little power house!
So that's it, that's my list of favorite new baby essentials. Obviously there is a still a lot of items that are necessities that aren't on here but are still important, including diapers, wipes, bottles, pacifiers, clothing and a car seat just to name a few, but these are the things that I personally would miss, and be at a loss, if I didn't have them.
Hopefully if you are new expectant mother or hope to be a mother in the near future, this list will help you narrow down what you truly need.
If you are an experienced mom, what are some of the things you view as new baby essentials?