My Favorite Reads of the Year
I knew that this year I wouldn't be able to read as much as I normally would and while I didn't even remotely come close to meeting my reading goals, I did read a fair amount.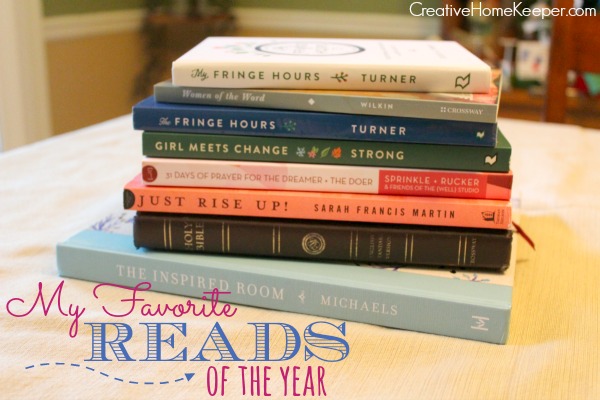 To cap off the end of the year, today I'm sharing my favorite reads of the year. These are the books that stuck with me, encouraged me, challenged me, inspired me and allowed room to breath in my soul.
The Fringe Hours: Making Time for You :: It seems only fitting that the very first book I completed this year was all about making time to do things you love. We mom are notorious for filling our days with serving and loving others (all good things) but don't necessarily make time to treat ourselves well.
I felt an immediate connection with Jessica Turner from the start, after all both of our 3rd baby's were born within hours of each other, but what I loved most was the practical tips and encouragement to fit in small pockets of time to invest in myself… without the mommy guilt. To continue on in the journey of maximizing my own fringe hours, I purchased her new book My Fringe Hours: Discovering a More Creative and Fulfilled Life for myself for Christmas.
Women of the Word: How to Study the Bible with Both Our Hearts and Our Mind :: This year I have spend more time in the Word than any other time of my life. I made a resolution to myself to make the most of those minutes caught underneath a nursing or sleeping baby by downloading several Bible and devotional reading apps on my phone.
I read Jen Wilkin's practical and helpful book earlier in the year (and do have plans to go back and re-read very soon). If you have ever wanted to learn to read and study God's Word without feeling like you need a theology degree or "extra resources" this book is for you. It's short, concise, written for women by a gracious woman who knows her Bible well, and leaves you with the desire to overcome Bible illiteracy to truly draw closer to God.
Time Management Mama: Making Use of the Margins to Pursue your Passions :: The wonderful sister duo behind my favorite podcast, Brilliant Business Moms, wrote this super helpful book for women everywhere: wives, moms, entrepreneurs or women who just want to better use their time to make things happen.
I read it from the view of a busy wife, mother and entrepreneur but even if you aren't a business mom, there are loads of wonderful and useful tips on how to use your time, set goals and get stuff done.
Beth Ann and Sarah are also really personal and add their own unique voice and experience making it a fun read too. I walked away with lots of fresh ideas to implement in my days to tackle those projects that needed my attention.
Love the Home You Have: Simple Ways to…Embrace Your Style *Get Organized *Delight in Where You Are :: I loved this read about embracing the home you have right now, not your dream home you hope to live in one day. Melissa shares her journey towards love as she moved from home to home, transforming each house into the haven her family needed. 
While she did provide a few decorating tips, it was more filled with inspiration and encouragement to embrace contentment and to see the lovely where you are. After reading I did purchase her coffee table decorating book The Inspired Room: Simple Ideas to Love the Home You Have which I am also LOVING. Filled with beautiful pictures, inspiration and ideas I'm planning on implementing next year in a fun new series (stay tuned!) 
Fit to Burst : Abundance, Mayhem, and the Joys of Motherhood :: Can we all agree that motherhood is just plain hard? It's even more of a challenge when you have several little ones running around. I loved this short and sweet read from Rachel about loving your children amidst the chaos. 
Not really a parenting "how to" book rather it was filled with personal stories and accounts of embracing Jesus and honoring our call of motherhood in the day to day mundane tasks of keeping home and raising our little ones.
What is even more impressive is that Rachel is a mother to 5 little ones herself! She is in the thick of the trenches as well so she knows exactly what it feels like and her writing comes from a place of understanding and encouragement.
Girl Meets Change: Truths to Carry You through Life's Transitions :: This one challenged me on a few different levels. I personally feel my life has been a constant flow of transitions over the past 5 years. Once I embrace one stage, a new season begins never allowing me to fully adapt. And as one who doesn't do well with a lot of change, the past few years have been a tad on the overwhelming side! 😉 
But I loved Kristen's fresh words of encouragement about embracing change and not viewing it as an grievance but as a grace. She constantly points us to following after God's plan for our lives, not our own. When we fully rely and lean on His plans, however hard or uncertain at the time, we are left with peace, contentment and eyes to see the blessings of the hard journey. This one is one my "to read again" list because I enjoyed it so much.
Thirty One Days of Prayer for the Dreamer and Doer :: If there was ever a prayer book and devotional that was written for just the perfect season, this was it. I have been re-reading and praying these prayers over and over since I was first introduced to this book earlier this year. 
"Whether you are called to design, create, write, speak, support, grow, share, serve, or build… there will be a journey. There will be days of joy, days of weariness, days of fear, days of success, days of loss, days of restoration, days of creativity, days of brokenness, days of rest, and days of nothing. Whatever the day, stay tethered to the Dream Giver with prayer and His Word… Dreaming is a beautiful burden that can bring ultimate glory to the Dream Giver." 
And that was just from the introduction!
This collaborative prayer devotional came at just the right season. There are so many dreams, ideas and visions floating around in my head, not just for the blog and business here, but also for my family. These prayers really helped to focus those dreams and align them with God's purpose.
This is another book, that though is designed to encourage entrepreneurs, is for ALL women regardless of what season or stage you are in. This now permanently sits in my Bible book basket for easy reference.
Just Rise Up! A Call to Make Jesus Famous :: If you are looking for a meaty Bible study and devotional for your New Year, this is it!
An indepth study of Psalm 145, Sarah digs deep into scripture and challenges you greatly. My book is filled with notes, dog ears and underlines, I'm constantly flipping back through the pages.
It's five chapters but each chapter is broken up into five lessons or devotions to be done individually. She also includes a group study guide at the end to help you walk through this book with a group of women.
Hands Free Life: Nine Habits for Overcoming Distraction, Living Better, and Loving More :: I'm actually listening to this one right now which is not so smart because everything Rachel says I want to write down! 
Even though I'm still listening to it, I wanted to include it on this list because it is challenging me and making me think about so many areas in my life where I have let distractions overwhelm me and closed off my eyes to the good things.
I read her first book Hands Free Mama about a year ago but I think this one is so much better. She goes beyond the distractions of technology to reveal everyday distractions that are robbing us of joy and purpose. I actually just bought the eBook too because there are so many truths I want to savor and remember!
So there you have it, a list of my favorite books I read this year!
The books that stuck with me, challenged me, encouraged me, and lead me in my walk with the Lord. Many I'm sure I will re-read again over the next few years because they were so good.
As I look forward to a New Year, I'm also looking forward to a fresh new batch of books I'm excited about digging into. I'm also excited about a new reading challenging I'm instilling on myself that I'll be sharing more about soon!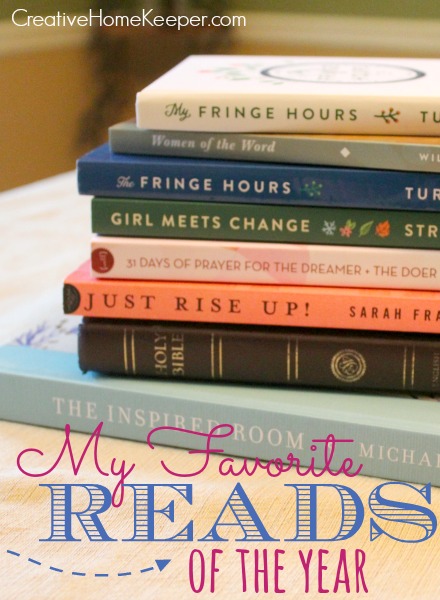 What books did you read this year that are your favorites?
**Affiliate links were used in this post meaning, at no additional cost to you, if you click through and make a purchase I receive a small commision. You can read my disclosure policy here. Thanks for supporting CHK!