Invest in your marriage… Because we believe marriage is worth the fight and believe that your marriage will only get stronger when you implement these 4 tips into your marriage.
Can I share with you my greatest struggle?
It's not the house cleaning (although those skills could sure use some improvement), it's not even homemaking in general.
It's my heart.
I have been chasing after too many things. I have been scattered, distracted, running from one thing to another.
My priorities have been out of check and my attitude greatly reveals that.
I sat down recently to give myself a mini evaluation and one thing I realized is how much I have taken my marriage for granted.
Life with little ones is so fulfilling but it is so easy to put our husbands on the back burner as we care for our children.
It's not intentional, it's just a the end of the day I am exhausted.
I am touched out.
I am questioned out.
I've exerted every ounce of patience.
I just want to crawl up in my little nest and have silence.
But my husband?
He's been hard at work too.
He's been out there fighting the good fight, working hard to support our family.
He wants to come home and know he is respected, loved and has a partner in this journey too.
He doesn't want to just co-parent with me (which sadly that's the trap I've fallen into), he wants a cheerleader by his side to encourage him as he has been doing for me too.
It was a wake up call to me. We have a good marriage and are fully committed but I want more than just a "good" marriage…
I want a great one.
A marriage that fights hard.
A marriage that puts one another above the other.
A marriage that continues to pursue, flirt and always remember those butterflies we had in the pit of our stomachs during those early days of dating.
A marriage that never forgets to stop dating and have fun together.
A marriage that is a strong team as we teach and train our children.
But most importantly… a marriage that seeks to love God and put Him as the cornerstone of our lives.
That is the marriage we both want, and it's worth fighting for because it doesn't just happen. It takes work, commitment, releasing of selfishness, and letting go of stubborn pride.
After I had my mini-evaluation, I sat down with my husband. We made a plan right then and there of how we would go about improving our marriage and how we could make our marriage even stronger.
Because we believe our marriage is worth the fight and we believe that our marriage will only get stronger, these are the 4 things we are committed to do with each other.
Be in the Word Together
Somewhere in the span of adding three kids in four years (among other things) we stopped reading the Bible together. It was a slow decent, happening without either one of us even realizing it.
We used to read the Bible and pray together every night before bed (we have completly different morning schedules) but stopped. Having newborns and toddlers who go to sleep at different times and wake you up all hours of the night played a role. We made sleep a priority, so when the kids went to bed, we rushed around to finish any night time tasks so we too could get into bed.
Now that we have had our eyes open to our lack of Bible reading and prayer time TOGETHER (we do have our own personal devotional times) we have made the commitment to get back into the habit. We even set an alarm to remind us to start shutting down and heading back to bed at a certain time.
Are you and your husband making time to read the Bible and pray together?
Commit to making this is a daily practice. Read through a book of the Bible together, one chapter a day, and spend a few minutes praying together, for your family, for each other and for any other prayer needs you know of.
Grow Spiritually Together
Along with reading the Bible and spending time praying together, we have also made a commitment to encourage each other to grow spiritually by taking the time to read books together or enjoy Biblical teaching outside of church.
Currently we have started The Mingling of Souls by Matt Chandler. We read a chapter (separately) and then make the time to watch the teaching video on RightNow Media and spend time discussing it. To be honest, I would would love to say we complete a chapter each week, but more realistically it's usually one chapter every two to three weeks.
This gives us the time to read and then make a date to sit down together to watch a short 30 minute (or so) video clip and get away to discuss what we read.
Is there a book or devotional you and your husband could read together?
Commit to encouraging one another to grow spiritually together through a book study, participation in a small group, church attendance or Bible study.
Date One Another
Dating doesn't stop when you say I Do but sometimes after kids, it gets pushed to the backburner. Our goal is to get away without kids (out of the home) at least once every other month. Hopefully as the kids get older we can have a date once a month or maybe even once a week!?!?
The common objection we hear so often it is time and money. There's no time to date! After the babysitter and dinner, it's too expensive!
I hear you on all those but to me making dating a priority is worth the cost and effort.
It doesn't have to be expensive to date. There is no law that says a proper date is dinner and a movie (or fill in the blank to your favorite activity).
A date can be as simple as going to the park to take a walk, purusing through a bookstore together talking about your favorite books, having a picnic together or sitting on your back porch together eating dessert after the kids have gone to bed.
The key thing is making time together, alone, a priority.
When was the last time you and your husband went on a date?

Commit to going on a date together sometime in the next 30 days. Make a plan now, put it on the calendar, find childcare and make it happen. It's easy to say you will go on a date but unless you actually make a plan, it probably won't happen.
Prioritize Intimacy
Ok here is the part where I remind you men and women have different needs when it comes to the area of intimacy.
But intimacy is also so much more than just sex.
When was the last time you touched your husband just for the sake of letting him know you love him? Or held hands together, or hugged one another? And not just a passing hug as they leave for work but a real, tight squeeze, I don't want to live this life without you kind of hug?
When was the last time you really gave him a good old (we are finally married!) kind of kiss?
I came to realize most of our hugs and kisses where in passing, usually when one of use was headed out the door. Where is the romance in that?
Be more intinal about the physical acts touch you give to your spouse (I'm preaching to myself here!), commit to really giving him a good ol' smooch. Grab his hand when you are out taking a walk. Give him a hug that lets him know you are the only person you want supporting your home.
And while you are at it, make sex a priority here (again, preaching to myself!) and don't just make it about "filling his needs" either.
Change the verbiage in your mind from just "having sex" to "making love". Trust me, it makes a difference.
OK so now that my face is bright red 😉 we will move on!
Just like when it comes to your finances, when you invest in your marriage today, it pays off in the long haul. Our marriages are a sacred covenant, the single most important physical relationship yet sadly many of us (myself included here) take them for granted or get so caught up with life, work and raising children, that we neglect to water the roots.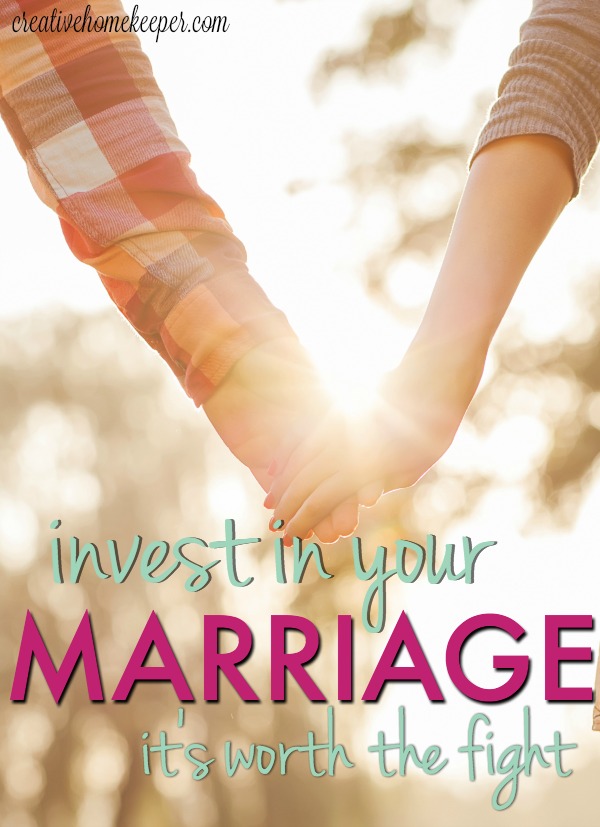 What are you doing today to invest in your marriage?