Helpful Resources to Pray for Your Marriage & Husband
Do you regularly pray for your marriage? No matter what state or season your marriage is in, prayer has the ability to completely transform everything. Don't know where to start? Check out these helpful resources to pray for both your marriage and your husband. Prayer is truly heart transformative!
Our marriages are truly a blessing. We unite together in love under a precious covenant through God.
Marriages serve as a beautiful picture of sacrificial love, the love of Christ for His church, it's a profound mystery (Ephesians 5:23) but a beautiful one.
When we begin our marriages, we are excited, eager, and ready to take on the world. Those butterfly feelings in the pit of our stomachs send waves through our bodies as we are giddy with love and excitement. While our love grows throughout the marriage, we lose some of that romantic charm we had in the beginning.
Real-life happens, demanding workdays, long nights with crying babies, young children who zap all of our energy, financial stresses, and other events that pop us out of the newlywed bubble.
It's not a bad thing, though, after almost 13 years of marriage, I love my husband more than I did on the day we got married. It's a stronger love, more steady. Grounded deeper in the years we have spent together.
We have weathered the storms of life together over our marriage: loss of a parent, birth of 3 children back to back to back, new jobs, and the financial downfall, just to name a few.
We have worked in unity to balance difficult family members, unmet expectations, and communication issues.
We have read marriage books, gone to marriage conferences, and listened to sermons on Godly marriage together. Not only has our love grown stronger, but so has our knowledge of God's design for marriage.
How amazing it is that God brings together two imperfect people to unite as one flesh, to bring forth children, to grow as a family, and to model the love that Christ has for His bride?
It is truly remarkable!
While marriage is truly a beautiful thing, it isn't always easy. In fact, some days the choice to actually LOVE our husbands is just downright hard!
We get caught up in our own selfishness and desires, or we have high expectations from our husbands that go unmet. We have different opinions about how to raise the kids, manage the finances, how to spend our time or what to watch on TV.
Perhaps you, dear sister, who is reading this, are in a really hard marriage with no hope in sight and the choice to love almost feels too heavy and impossible. I don't always have the right words to share, although I do believe in the value of seeking help through a trusted counselor or Pastor, I do know one thing…
Start with prayer
No matter what state or season your marriage is in, prayer has the ability to completely transform everything.
[clickToTweet tweet="No matter what season your marriage is in, prayer has the ability to transform everything. " quote="No matter what season your marriage is in, prayer has the ability to transform everything. "]
Prayer may not be answered immediately or even in ways we want them to, but given time, faithfulness, and patience, God answers each and every prayer in His own perfect way!
Prayer is our direct, two-way conversation with God. How amazing it is that we serve a God who not only loves us in a "Never Stopping, Never Giving Up, Unbreaking, Always and Forever Love" (courtesy of The Jesus Storybook Bible) and knows the depths of our pains? Jesus carried that burden so we wouldn't have to.
It's easy to say start with prayer, but just as in marriage being a hard choice to love, prayer can also be hard too.
How do I pray?
What do I pray for?
When and where should I pray?
What do I say?
Where do I start?
I'll be the first one to admit, it's not easy to pray some days.
I've woken up in foul moods and have harbored resentment in my heart but let me share the obvious truth that God continues to unravel in my heart…
When I pray, my heart changes.
It is no longer about me but rather Him working miraculously through my life.
[clickToTweet tweet="When I pray my ❤️ changes. It is no longer about me but rather Him working through my life. " quote="When I pray, my heart changes. It is no longer about me but rather Him working through my life. "]
Where to Begin & How to Pray
Point blank… you just have to sit down and start!
If you scroll down, you will find a list of some of the best resources to help you pray for your marriage and husband. Open one of these books and begin reading aloud the prayer.
Swap out the pronouns of he/him for your husband's name occasionally, to make it more personal. There is something to be said about praying by name for a person!
If all you can bring yourself to do is just read aloud, well done! You have made a great start!
You will probably find that many of these tools and resources will lead you into deeper times of prayer for your marriage and husband.
Use these prompts as a starting point. Write down your prayers in your favorite prayer journal or notebook. I currently use and LOVE my Val Marie Prayer Journal, it has truly transformed the way I pray!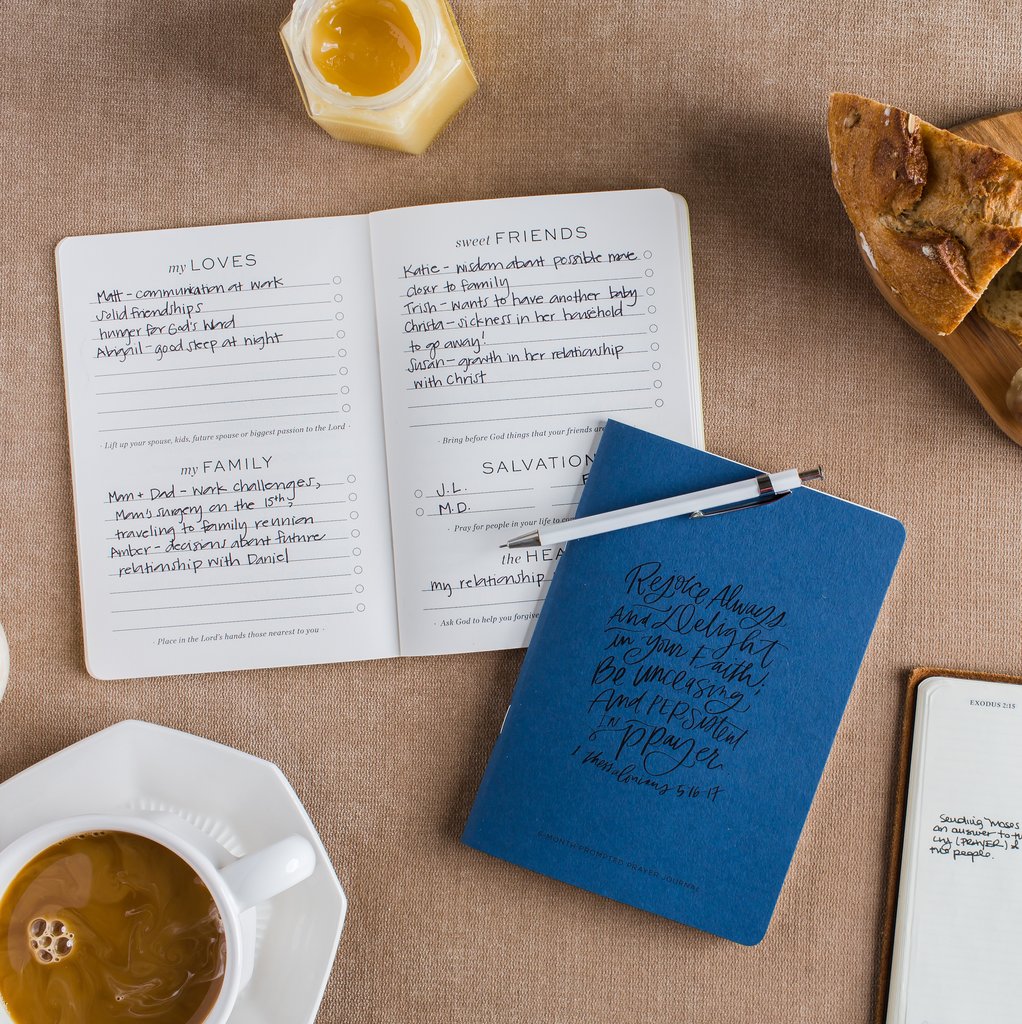 There is no rule about what time of day you should pray.
I prefer to start my day in prayer and Bible reading simply because it transforms my heart before the day has even begun.
If time in the morning is an issue, use those small pockets of time throughout your day:
In the car, while you are driving to work
Washing dishes (my favorite time!)
While you are working out or walking
In the shower or while you are getting dressed
Cooking dinner
Folding clothes
Under an apron (It worked for Susanna Wesley!)
With a little creativity, there are endless options of where and how to pray!
What to Pray For
Here are just a few ideas of things to regularly pray for your husband:
His faith
Being the spiritual leader to you and your family
His heart
Protection
Health
Faithfulness
Fatherhood
His relationships
Godly male friends
His work & job
Making good choices
Intimacy within marriage
Purity
Helpful Resources to Pray for Your Marriage & Husband
Jesus gave us the perfect example of prayer in the Lord's Prayer found in Luke 11: 1-4.
In addition to that, we also have so many wonderful and helpful resources to pray for your marriage and your husband, thanks to gifted writers who share the message God has laid on their hearts.
When it's hard to pray or I don't have the words to get started, these resources have come through time and time again.
[clickToTweet tweet="When it's hard to pray these resources have come through time and time again. " quote="When it's hard to pray these resources have come through time and time again. "]
Some are well-worn copies with folds, rips, and lots of markings. Others are new treasures in recent years that have already proved faithful and trusted tools.
Rooted in Scripture, these prayer resources have greatly impacted my own marriage over the years.
Praying these prayers each morning and using them as a starting prompt to jump further into my own time of prayer for not only my marriage but also for our family has greatly impacted our family.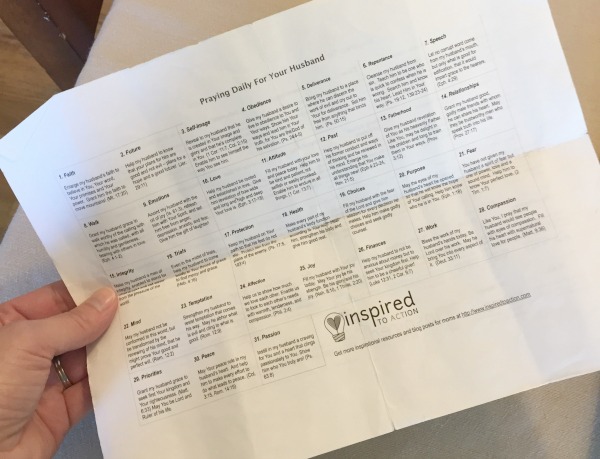 Praying Daily for Your Husband Calendar from Inspired to Action // I have had this calendar folded up inside my Bible for over 6 years now. The paper is faded and soft but the prayers are used daily as a prompt.
Prayers of an Excellent Wife by Andrew Case // An excellent Scripture-based prayer book filled only with short prayers for your husband. It is written in an older language (think thy/thee) but is still a great tool to use. Often, I will replace some of the pronouns with my husband's name.
Thirty-One Prayers for My Husband by Jennifer Smith // I actually just received this book about two weeks ago and am already loving it. There is also a campaign for husbands too! Each day includes a short prayer with plenty of space to write out your own prayers too!

Praying for Your Husband from Head to Toe: A Daily Guide to Scripture-Based Prayer by Sharon Jaynes // The 30-day prayer guide provides Scriptures for each day along with corresponding prayers to target the crucial areas of every man's life. You'll be equipped and empowered to establish the habit of purposeful prayer in just a few dedicated minutes each day.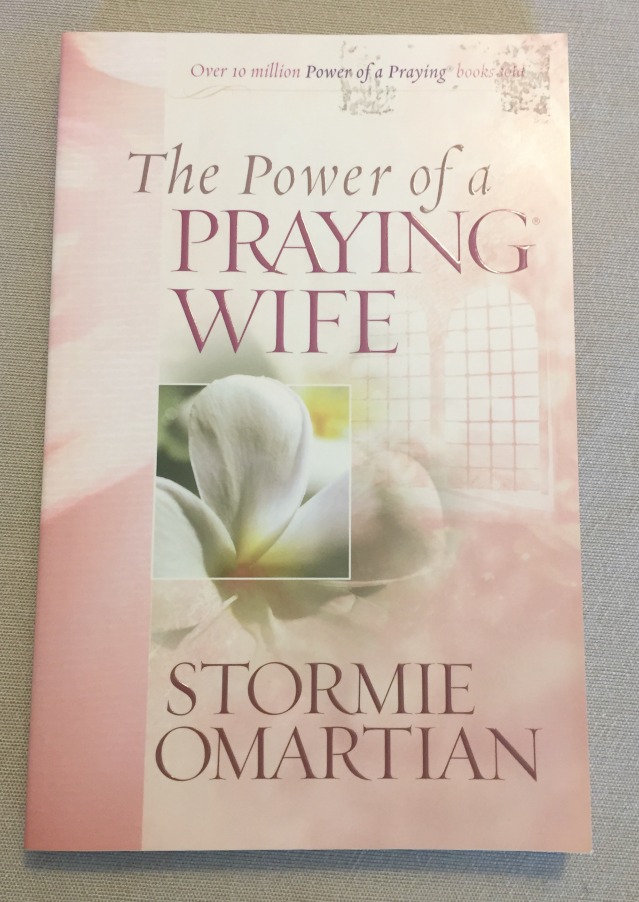 The Power of a Praying Wife by Stormie Omartian // A classic prayer book — I purchased this one when we were engaged. Each chapter includes some teaching, Scripture, and a prayer to pray for specific areas concerning your husband, marriage, and family.

The Power of Prayer to Change Your Marriage: Book of Prayers by Stormie Omartian // Small enough to keep in purse or pocket for quick conversations with God, this little book will help unlock the power of prayer through looking to God to strengthen and protect your marriage, praying for your marriage in order to keep your hearts aligned with one another and to overcome issues of anger, infidelity, or any other problem that might try to undo what God has joined together.
100 Prayers for Your Marriage: Draw Close to Each Other and Closer to God by Darlene Schacht //This book is an invitation to draw close to each other and closer to God. It's a dare to fight for your marriage. It's a challenge to pray with and for each other every day through short, daily prayers.
52 Uncommon Dates: A Couple's Adventure Guide for Praying, Playing, and Staying Together by Randy E Southern //Learn how to practically speak each other's love language, incorporate prayer in ways that are natural and relevant to real life, and finish strong with questions that help keep the conversation alive. You can even dig deeper to discover Bible passages that fit the theme of each date.
The Love Dare by Alex Kendrick //If your marriage is in trouble, this 40-day challenge is for husbands and wives to understand and practice unconditional love. Daily Scripture-based encouragement, assignments, and prayers to strengthen your marriage.
What tools have you used to pray for your marriage & husband? 
This post has been updated from the archives, it was originally posted on February 18, 2017