Simple Ways to Grow Your Faith this Summer
Keep it simple and grow your faith this summer with these easy ideas to plant seeds of faith in your heart as you play in the sun and enjoy all your favorite summer traditions with your family!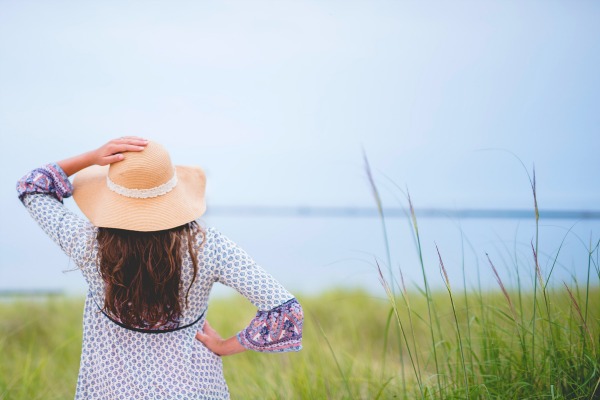 Want to grow your faith this summer?
The summer days are long, filled with fun in the sun, and precious memories to cherish for years to come. In some ways, they are exhausting too.
However, it's one of my greatest priorities to spend time with the Lord every single day. Not only for my own time of spiritual growth but to also foster the love of the Word in my kid's hearts as well.
So how do we go about the important task of growing our faith during the busy summer months?
Three words…
Keep it simple.
I know, I know… it's a simplistic response but hear me out.
God isn't about quantity when it comes to our daily quiet times.
I've searched the Scriptures, there is no rule about spending XYZ minutes or hours a day in Bible study.
Even still, after creating our bucket lists and adding dates to the calendar, if we aren't careful our daily quiet times can be the first to go out the window.
BUT it's so important to make sure we make the time to be in God's Word every single day.
His Word will fill us up and will equip us when our patience is running thin.
And let's be honest for a second, shall we?
When we are around our children every second of the day and add in the exhaustion of summer fun and the sun, we will be quick to lose it if we aren't equipped. ?
Today we're looking at simple ways to continue to grow your faith this summer when life seems busy and full.
Take a few minutes to read through these ideas and pick one that will work best for your family.
4 Easy Ways to Grow Your Faith this Summer
Write the Word
Writing out Scripture is something that is simple yet has radically transformed my faith.
Writing takes the impassive act of reading and turns into an active disciple of writing.
God's Word flows from my hand, through my brain, to my heart.
Over the past two years, I have been slowly writing through the entire Gospel of John and OH MY has that CHANGED ME!
But even if you aren't ready to write through a whole book, just taking 10 minutes and writing down a few passages of your daily Bible reading is transformative.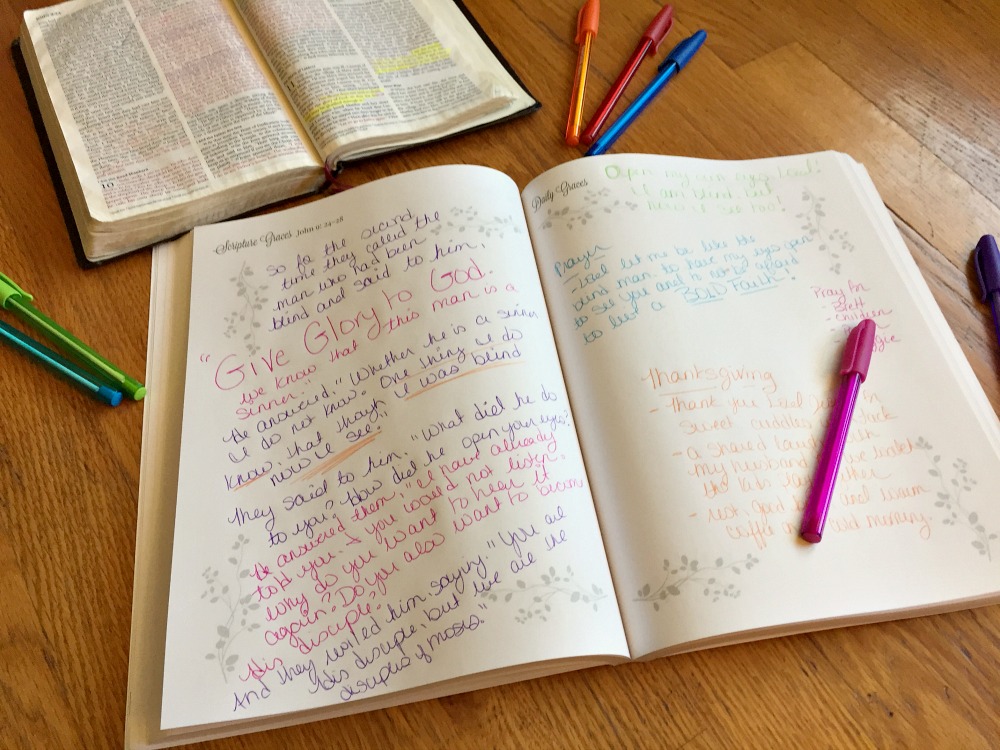 Want to start writing the Word but don't know where to start? Obviously, I'm biased with starting with John ? but you can start anywhere.
Pick a book you are currently reading through and set a goal to write out a few passages each day. You can write through the entire book in chronological order, or just a few passages that stood out to you.
Be sure to check out this free Scripture Graces Quick Start Guide that goes over the entire method of Scripture writing I'm very passionate about. There is even a free 5-week plan to help you write through the entire book of Colossians!
Have your kids write out a passage or two each day as well.
Not only will it help God's Word to be planted on their hearts but it will also be a nice summer enrichment activity for their handwriting and developing language skills. ?
Read the Bible Aloud
I recently read a book that changed the way I view reading my Bible aloud. Now I'm committed to reading aloud daily to my kids (see the next point below for another great idea)
It's messy, and it's not always this picture perfect scene (trying to have any sort of daily devotional time with your kids is quite the sanctifying experience, isn't it?) LOL!!!
Here's the amazing thing though…  when I think they aren't listening or something is way over their head, they ask a question.
Or later in the day, I'll overhear them acting out one of the Bible stories in their pretend play.
Guess what? They ARE listening!!!!!
Perhaps all you have time for is taking 10 minutes to read aloud while everyone is eating breakfast.
Start there.
Reading the Bible aloud doesn't have to be complicated or planned out. If you have a Bible and a few minutes, that's all you need!
Tune Your Ears
Did you know that there is a free app you can download to your phone that will play the entire Bible (in a few different translations) for free without purchasing anything?
It's called the YouVersion Bible app and it's totally free (there are some in-app reading plans for purchase but the bulk of the app is free).
Some mornings while I'm making breakfast, I will play a chapter or two of the passage I am currently reading through. I will play it in the car (I've even purchased an auxiliary cord to plug my phone into the stereo to play over the car's speakers!). I'll listen while I'm doing chores, or when we are all sitting down at the table coloring together.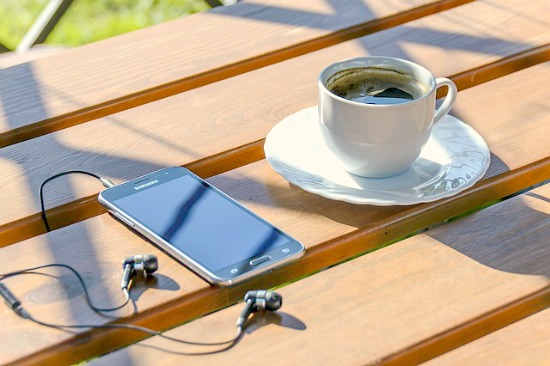 Just like above when I talked about the benefits of reading the Bible aloud to your children, listening to the Bible yourself is such a simple and effective way to get more of God's Word into your life.
Some days you just will not feel like reading the Bible aloud. On those days just turn the volume up and listen instead.
Let your heart be poured into.
Along with listening to the Bible, there is also a handful of encouraging and inspiring Podcasts I will listen to as I go about my day.
Some of my favorites include The Bible Project, Revive Our Hearts, At Home with Sally Clarkson, and The Hello Mornings Podcast. (They are ALL kid-friendly too if you need to listen with your kids around).
Turn On the TV
You heard me correctly on that one! Yes, my kids watch TV and no I'm not ashamed of it. Sometimes mama just needs a few minutes, am I right?
While we do watch TV, it's not a free for all and we certainly have parameters in place including when the TV is on and what is being watched.
Some mornings my kids wake up super early. Some afternoons after coming in from a fun and exhausting day from the pool, it's a great rest time for everyone to relax on the couch with a TV show.
And then there are those moments when mama just needs 10 to 20 minutes of blissful silence (please tell me I'm not the only one?)
So what does watching TV have to do with growing our faith?
There are many high quality and entertaining shows that I'm very happy for my kids to watch because they point to God's love and grace.
So while my kids are being entertained, they are also having some pretty important truths planted in their hearts as well.
Even when I have sat down to watch one of their shows with them, I have learned a new thing or two!
This post here shares exactly what shows we watch together that encourages spiritual growth.
Some are available on Netflix, Amazon Prime or YouTube. Many you can purchase, and I have found a great selection to check out from our local library as well.
Get Organized with a Bible Book Basket
I've been singing the praised of my own Bible Book Basket for years! I love having all of my current Bible study materials, journals, pens, highlighters, and devotionals in one place.
It's portable so I can easily move the basket to cuddle with an early morning riser on the couch or even take it outside to the patio while my kids are playing.
My kids even have their own baskets set up with their Bibles and kid devotionals too!
Looking for some fresh new Bible study materials? Check out this massive post of favorite Bible studies and devotionals. 
There is a list of books and Bibles for kids too! 
There are so many simple ways to build in time to grow our faith and encourage our children's hearts this summer. Take a few minutes today and chose one of the ideas above you can implement into your summer routine with your kids.
Keep it simple because sometimes it really is the simplest of ideas that really transforms our hearts.
How do you plan to grow your faith this summer? 
Summer Survival Guide Series Posts
Sanity-Saving Lifesavers for Summer
Summer Meal Planning: Don't Sweat It In the Kitchen this Summer
More Tools for Your Summer Toolkit