Open Your Bible: The Blessings of Starting Your Day in God's Word
This morning it was extremely difficult to get out of bed. It's freezing outside and my warm sheets are ever so inviting but I got up.
It's hard but I know if I don't use these precious few moments of quiet in the early hours of the day, I'll be running ragged before the day even begins.
I'm a morning person by nature but these early years of motherhood have left my morning hours few and far inbetween. Late nights, multiple wake ups, midnight party animals (AKA young children) all keep me from restful sleep but I am determined to use my morning hours well.
Why?
Because I so desperately want to start the day in God's Word.
I want to be filled up before I can pour out. I want to sit in His presence, reading His truths and promises. I want to offer up my daily gratitudes of how He has blessed me.
[clickToTweet tweet="I want to be filled up before I can pour out. " quote="I want to be filled up before I can pour out."]
I want to just be near Him.
Being a young mom means that sometimes it is so hard to have these consistent morning quiet times. In fact, I've shared before how my quiet times are anything but quiet, what I refer to as my "unquiet" times. It's not required to be a good and faithful Christian you have to have a dedicated set morning time to pray and be in your Bible. In fact, there really aren't any rules that say just what your devotional times should look like.
Except one… to just open your Bible and be in the Word sitting in the God's presence.
For me, though, I crave those early hours. I know my personality and what my weary soul needs. I know that when I'm in God's Word first in my day, the rest of my day follows suit. It doesn't mean that I will have a perfect day with no issues (far from that actually) but rather it helps me see my day with a new perspective.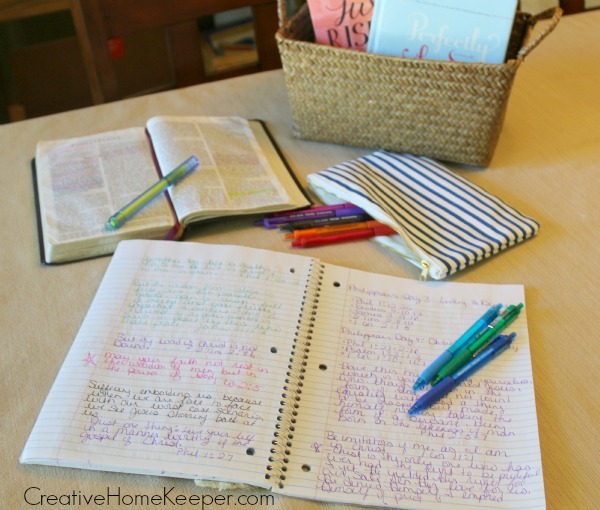 Being in God's Word every single day, preferably the morning hours, is crucial for me. I need it. I crave it. I desire it. But sometimes it's just plain hard.
"Mommy you are really grouchy today!"
Those words stung after they left my four-year old's mouth. Not because they were hurtful but because they were true. I was being really grouchy.
Letting the events of the morning cloud my attitude, I went about my morning routine feeling bitter and entitled. I was tired and exhausted from being up in the middle of the night with a baby. I was frustrated that instead of waking up before my family so I could have some quiet time to prepare for the day (something this introverted Mama so desperately needs), I woke up to their demands and needs instead.
I didn't even have time to have the warm and comforting sips of coffee grace my lips before I had to deal with temper-tantrums, breakfast needs, soiled diapers that needed to be changed and all the daily needs that needed to be met.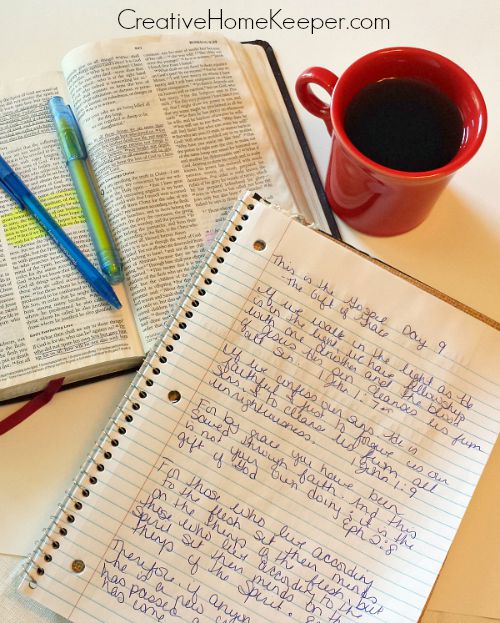 While I didn't have the moments to be in God's first thing in the morning that day, there were certainly moments where I could have stopped, opened my Bible and read for a short time. Enough to let me sit in His presence to regroup from the crazy morning. Instead, however, I kept right on pace, barking at my children.
Instead of letting the peace of God's Word rule over my heart (Colossians 3:15), I let the distractions of the day eat away at my attitude and boy was I really grouchy that day!
Sound familiar? Do you have similar days too?
What if instead of just letting our grouchy moods and never ending to-do lists dictate our days, we just open our Bible and spend just a few moments letting God's truths permeate our hearts?
[clickToTweet tweet="What if instead of letting our grouchy moods & to-do lists dictate our days we open our Bible? " quote="What if instead of letting our grouchy moods & to-do lists dictate our days we open our Bible? "]
God's word is powerful, good for teaching and for reproof and for training in righteousness (2Timothy 3:16). It's the foundation to which we build our hearts and homes on (Matthew 7:24-27). It's like the bread and manna that fell from the sky to the Israelites roaming the desert (Exodus 16:1-18).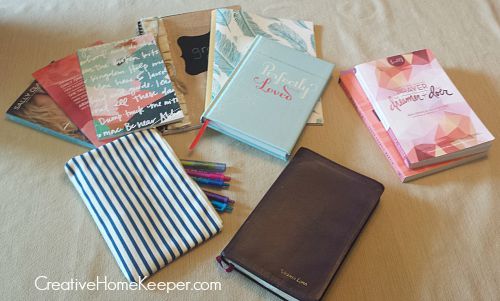 Jesus tells us that He is the bread of life.
I am the bread of life. Your fathers ate the manna in the wilderness, and they died. This is the bread that comes down from heaven so that anyone may eat of it and not die. I am the living bread that came down from heaven. If anyone eats of this bread he will live forever. The bread that I will give for life of the world is my flesh.     ~ John 6:48-51
God's Word fills us up. His Word meets us where we are in our needs, our weakness,  and our weariness and His provision then lifts us up. Just like the bread that fell from the sky, when we sit in His presence daily, taking in His Word as our own daily bread, we are fulfilled. He is our perfectly portioned manna for the day.
[clickToTweet tweet="God's Word fills us up. His Word meets us where we are and His provision lifts us up. " quote="God's Word fills us up. His Word meets us where we are and His provision lifts us up. "]
So if I know and believe all of this, why would I not want to start my day in God's Word?
What seems so natural and obvious gets put to the side by daily distractions and tasks that need to be done. My to-do list calls for my attention, my children need to be feed, and the laundry pile is getting scary tall.
But when we don't open our Bible, we are missing out on all the benefits of God's Word.
The unfolding of Your Words give light: it imparts understanding to the simple. ~ Psalm 119:130

I rise before dawn and cry for help: I hope in Your Words. ~ Psalm 119:147

The law of the LORD is perfect, reviving the soul; the testimony of the LORD is sure, making the wise simple; the precepts of the LORD are right; rejoicing the heart; the commandment of the LORD is pure, enlightening the eyes; the fear of the LORD is clean, enduring forever; the rules of the LORD are true, and righteous altogether. More to be desired are they than gold, even much fine gold; sweeter also than honey and drippings of the honeycomb. Moreover, by them is your servant warned; in keeping them there is great reward. ~ Psalm 19: 7-11.
Perfect, sure (trustworthy), right, pure (radiant), clean (pure), true (reliable)… those are just a few of the characteristics of God's Word. We can trust God's Word because it's whole, reliable, but most importantly because it's about God.
It's perfectly complete and completely fulfilled, thanks to Jesus!
For the Word of God is living and active, sharper than any two-edged sword, piercing to the division of the soul and of spirit, of joints and of marrow, and discerning the thoughts and intentions of the heart. ~ Hebrews 4:12.

God's Word is living
It is relevant yesterday, today and will be tomorrow!
The grass may wither and the flowers fade, but the Word of our God remains forever! ~ Isaiah 40:8
God's Word is active
The Holy Spirit guides us to remember and understand truths of Scripture.
But the Helper, the Holy Spirit, whom the Father will send in my way name, He will teach you all thing and bring you to remembrance all that I have said to you. ~ John 14:26
God's Word fills us up
His Word meets our needs and provides for us, right where we are. It is true and it is enough, we just have to be obedient to be in it ourselves.
I may not have the time to sit with my Bible open and to journal all the goodness every single morning in deep Bible study but I do have the time to read His Words.
If I have the time to scroll through Facebook, I have the time to read His Words.
If I have the time to watch TV, I have the time to read His Words.
If I have the time to stay up late to finish the page turner I'm reading, I have the time to read His Words.
If I have the time to write a blog post, I have the time to read His Words.
There is always time to sit in His presence. The rewards are great, my heart changes, I'm able to love and serve my family well and a funny thing also happens… I have time to do all the things that feel pressing on my to-do list.
When I'm in God's Word first, my day falls into place.
[clickToTweet tweet="When I'm in God's Word first, my day falls into place. " quote="When I'm in God's Word first, my day falls into place."]
I shared my one word of Wellness last week, which also includes Wellness of my heart.
Sitting in His presence, soaking up His Words and Truths, letting them guide my day and making my Bible time a priority is all based on my desire to be made well and complete this year.
My relationship with the Lord is the foundation for all of the other areas in my life. If I want to love my husband well, I must love God. If I want to be less grouchy with my kids, my heart must be built on the rock that is strong and firm, not the sand that will be blown away (Matt. 7:24-27). If I want my home to be a haven, that starts in my heart.
I pray I can encourage you to also be in the Word daily too.
---
In the coming weeks I'll be sharing some practical resources and tools to help you be in the Word but for now let me share two of the easiest ways you can be in the Word daily, both available right on your phone! Even though there is no substitution for opening your physical Bible, I'm so thankful for online tools that help to make getting into the word easy and convenient.
She Reads Truth :: I've been doing the She Reads Truth for over a year now and I can honestly say my time in the Word has been so beneficial and insightful. I have grown so much more in my faith and understanding of the Promises. While the App does have a small fee and there are study books you could purchase, the daily readings and devotions are FREE on their website, you can even sign up to have them delivered straight to your inbox every single morning for free too!
First 5 :: This is a FREE app you can download on your phone which daily delivers a short Bible passage along with a short devotion based on Scripture and even further reading options to go deeper. There is an option to purchase a physical study book but all of the daily readings are free. You can even sync the App to your alarm clock so it's the first thing you see on your phone in the morning (AKA before your check Facebook or answer emails).
Do you struggle to get in the Word every day? What are the distractions that get in the way and how do you overcome those?
I'd love to hear your thoughts in the comments below. Please share what has gotten in the way of your Bible reading and what has helped you overcome those so you can sit in His presence daily, soaking up the truths and promises found in His Word… if it's only for a few quiet moments.