7 Ways to Nourish Your Soul When You Can't Get to Church
Confession… I haven't been to church in over a month. In fact, the last service I attended was the candlelight Christmas Eve service.
It's not that I have been avoiding going to church — quite the opposite actually — nor do I recommend skipping church on a regular basis but sometimes unavoidable circumstances came up that kept us out of the pew for an entire month.
Free Stock Photo courtesy of picxclicx.com
For our family, it was a never ending round of sickness that included several colds (mine turned into a full blown sinus infection) and the dreaded stomach bug. On the one weekend where we actually all felt well, we had freezing drizzle that made every sidewalk, street, and driveway into a danger zone with a thin sheet of ice.
For other families, there might be a whole host of factors that may keep you out of church periodically.
Perhaps you just gave birth to newborn, moved to a new city, are housebound or bedridden due to illness. Maybe the drive is too far to allow you to regularly attend church or the one church in your community has significantly different theological ideas than you believe. Or maybe even the circumstances are the same for you — inclement weather that makes it unsafe to leave your home or a never ending round of sick germs being passed throughout your house.
The effects of my family not being in the church over the past month are beginning to make themselves known. I miss being in a community of believers, worshipping God, listening to my Pastor teach from the Bible and the whole community aspect of being in church. My heart and soul are feeling dry and depleted.
I'm even seeing the effects in our children too. The first few Sundays, they asked why we weren't going to church. The last few Sundays, they have stopped asking altogether… which breaks my heart.
We have been out for far too long, and I am fervently praying that this black plague of germs, viruses and snotty noises is dying a quick death once and for all!
Since not being in church for the past few weeks, I have had to be really intentional to make sure I was nourishing not only my soul but also encouraging my children to water the little seeds of faith being planted in their own hearts.
While I DO NOT recommend being out of church for an extended period of time, if you find yourself not able to attend, here is a list of soul-nourishing activities that have been vital to my own spiritual growth during this dry season.
7 Ways to Nourish Your Soul When You Can't Get to Church
Read the Bible Daily
Let's start with the obvious, we have the advantage to be in God's Word every single day through personal Bible study and reading. Here in the US, we are especially privileged to have easy access to countless Bibles, all withing the reach of our fingertips!
My YouVersion Bible app (which is FREE by the way!) is such a simple way to always have God's Word nearby. With the swipe of my finger, I have access to just about any Bible translation I could ever need. Many even have an audio recording so you can freely listen to Word which is something I do often as a tired young mama.
Listen to Sermons Online
My church posts their weekly sermons online a few days after Sunday. I am so thankful for that! I may not have been able to physically sit in the pew and listen but thanks to modern day technology, I can download the most recent sermon and listen at home.
I know it's becoming a popular trend that most churches are now able to record their sermons and upload them to their website to listen to at a later date. Most even have a whole archive of past sermons!
If you're not sure if your church has this option, ask! If they don't there are still many church sermon's you can easily find online.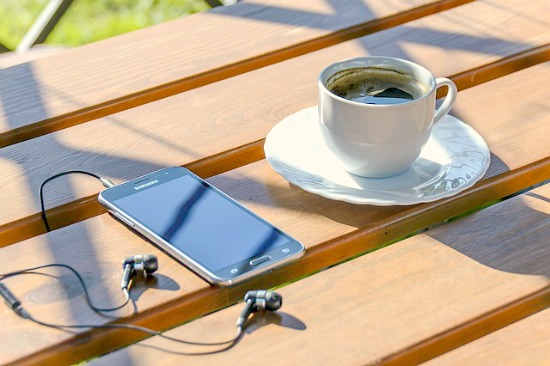 Listen to Podcasts
I am so thankful I have discovered podcasts in recent years. I subscribe to several ranging from business and entrepreneurship to Biblical motherhood and spiritual growth.
My favorite two women's podcasts to listen to when I need a bit of encouragement and inspiration are Sally Clarkson's podcast and Revive Our Hearts with Nancy DeMoss Wolgemuth (she also has Seeking Him, which is a 1-minute podcast with a Scripture verse and short daily encouragement.)
Listen to praise and worship music
Perhaps the easiest thing to do, but turning on some good old fashioned praise and worship music can instantly point our hearts to Him. While I love listening to our local Christian station, as well as KLOVE when we are out and about driving in the car, I tend to play my beloved, treasured CDs or listen to one of my selected Pandora stations while we are at home.
For my kids, we love listening to Seeds Family Worship CDs. They set Bible verses to music to help with memorization. The best part is that it is real music that appeals to the whole family, not just kids!
Write the Word
Perhaps one of my favorite things to do but writing the Word has dramatically transformed not only my faith but also my entire relationship and understanding of the Bible.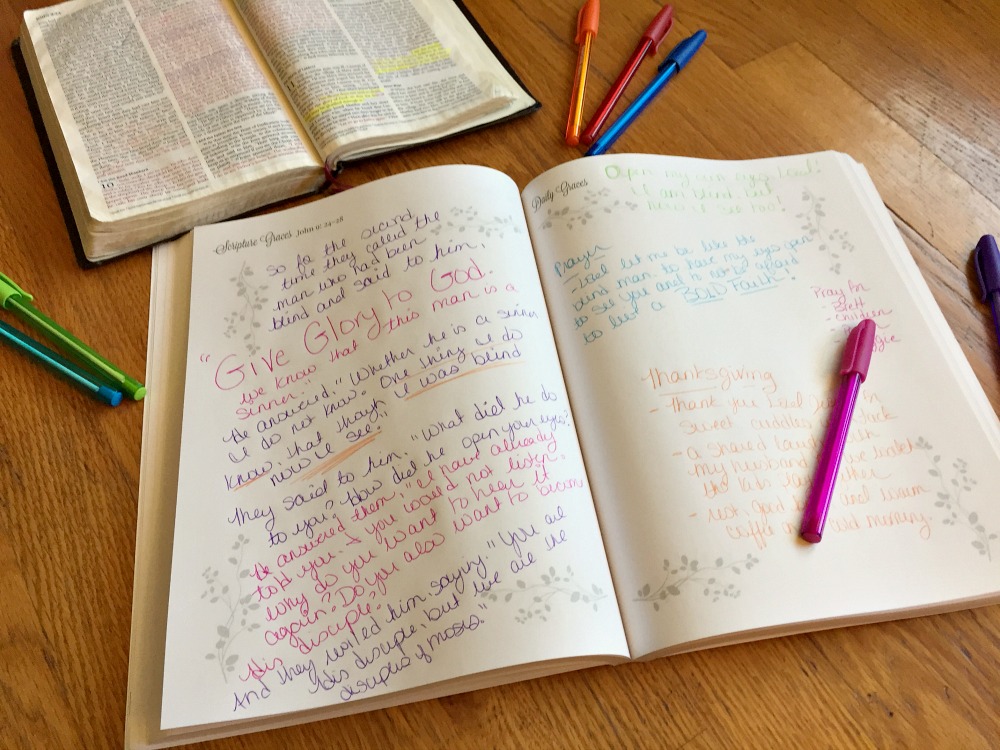 I used to just write our verses in random, whatever struck a chord as I was reading but I have become much more intentional about it in recent months. One of my goals this year is to write out two entire books from the Bible, which is why I created my brand new write the Word devotional, Scripture Graces.
For the next several months, I am committing myself to write out the entire Gospel of John in a few minutes each day. Slowly making my way through John, writing a few verses each day and letting them marinate in my heart and soul is such a powerful way to nourish my soul, especially in this dry season of being unable to attend church periodically.
Head HERE to learn more about Scripture Graces and powerful benefits of practicing the simple discipline of writing the Word each day.
Read the Children's Bible Aloud
I've said it before and I'll say it again, reading aloud from our children's story Bibles is another simple yet profound way we can nourish both our souls and our children's.
Currently, we rotate between The Jesus Storybook Bible and The Big Picture Story Bible, both of which are fantastic. We also have a large collection of Bible storybooks and devotionals written for children that we read aloud frequently.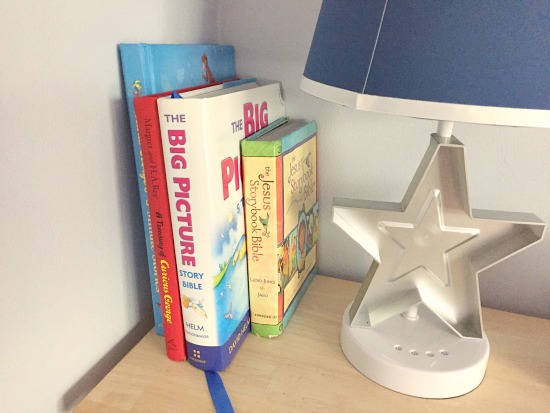 Here's the deal, they may be written for children but the adults reading them aloud to our kids are also greatly benefiting from them too!
Another great thing to do is read aloud from the actual Bible to your children. Sometimes I do this by turning on the audio option from my Bible app on the phone to listen to while we are eating breakfast. Or other times when I'm having my own quiet time in the living room with the kids around, I just start reading aloud as a way to focus myself, but my kids are also getting an added bonus too!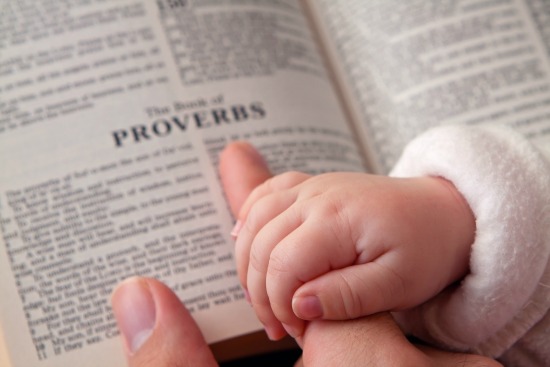 Read Soul Nourishing Books
I can't end my list without talking about the power that comes from reading high quality, theology rich non-fiction that can aid in personal spiritual growth.
Another goal I have this year is to read four books a month from several different categories, one of those being Spiritual Growth. Filling my mind, soul, and heart with inspiring, encouraging, challenging and convicting literature that helps me to grow and strengthen my faith is so important.
If reading isn't your thing, there are so many great books that are recorded as audiobooks so you can listen to while you drive, exercise, do chores around the house or listen to at your leisure.
In an ideal world, we would always be able to attend church weekly but sometimes life's circumstances make that hard. Thanks however to modern day technology and resources, we have many ways we can stay connected and nourish our soul if we do have to be absent from church for a set time.
What are some ways you nourish your soul if you are unable to attend church?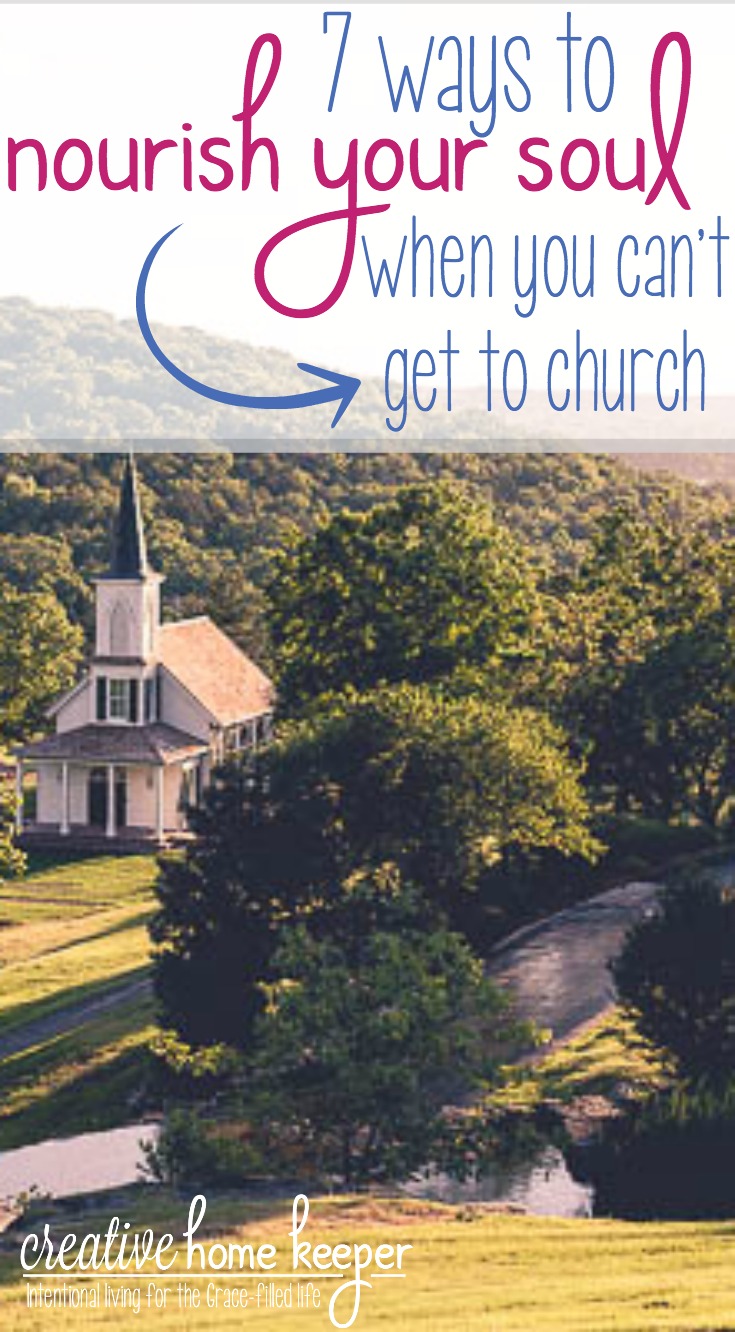 Free Stock Photo courtesy of picxclicx.com