Anxiety & Christian Women: Hope, Faith, & Encouragement for Your Anxious Heart (Part 4)

This is the final part in a series that tells a story about anxiety and Christian women. To start at the beginning, click here. 
---
We have come to an end of these series, though not the end of mine (or even your) story.
Over the past several days, I have shared my own personal story and struggle with anxiety. It's been a hard one to share and have definitely felt the enemy's attacks as I have stepped out in vulnerability to write the words I feel strongly the Lord has been encouraging me to share.
None the less, despite the enemy's attacks, I stand firm in the truth that he has no power over me.
My faith and strength come from God alone. I believe with all of my heart, that His death on the cross is the victory over sin and the enemy.
With all of that being said, I didn't want to close up this series all about me, I wanted to offer you hope, faith, and encouragement for your anxious heart.
I am not the only one who struggles with anxiety, in fact since sharing these words here, my inbox has been overflowing with messages from so many who also struggle with anxiety.
Anxiety and the Christian Woman
Here is the truth, because of the fall, anxiety is part of our human experience. Some struggle more deeply than others.
Everyone experiences anxiety, both the physical and emotional side effects, differently, but we all, to some degree, struggle with anxiety.
As I have shared in my own story, anxiety was robbing me of peace, joy, and abundance.
But what I have learned through my own story, is that while walking through this difficult journey, God has been ever present with me.
It is not me alone walking this path.
What could very well be seen as an obstacle, a hindrance, something to push past to get over, God has used as an opportunity in my life.
It's like what I shared the other day in my post when my counselor told me to be grateful for my anxiety, opening up my eyes to see exactly how God has been working in my life through this season has been heart transforming.
So let me offer this bit of encouragement to you right now, no matter what you are personally struggling with, God uses us in ways we may never understand or appreciate, to further His kingdom.
You may not be in a place yet where that statement feels true, and that's OK.
I wasn't ready to be grateful for my anxiety when I first heard that sentiment but slowly, through real soul transformative work, I have come to clearly see it in my life.
I am reminded of Joshua.
Joshua was leading the Israelites to the promised land, but there was one big problem. In order to claim the land God had promised, they would have to defeat the enemies who claimed the land as their own before they could settle.
I wonder what it was like for Joshua to stand there, small and meek, looking up at the towering walls of Jericho wondering what in the world God had led him and his people to?
But Joshua didn't succumb to fear or withdrawal. He clung to the promise of the Lord.
Last year when my anxiety hit a high note, over and over the verse found in Joshua 1:9 played on repeat in my mind:
"Have I not commanded you? Be strong and courageous. Do not be frightened, and do not be dismayed, for the Lord your God is with you wherever you go."
The Word of God spoke to me. It was my pillar of strength that allowed me to walk through the season.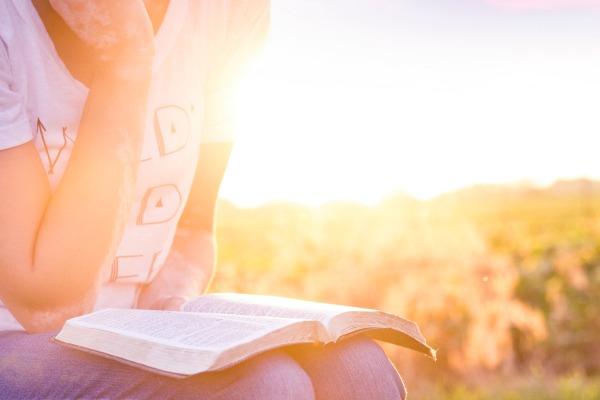 The Bible is alive and active and will speak to us in our times of need, distress, fear, and when we need wisdom. God's Word also speaks to us in times of joy, it is the bread of Life.
Another example of how God's Word has helped through the season of example is the story of Joseph. His brother's betrayed him and because of their actions, Joseph was in a dark place for many years, yet he clung to hope.
When Joseph finally gets the opportunity to confront his brothers, he does something that can only be attributed to the Lord's faithful hand over his life. He didn't exact revenge, He pointed to how God had used his brother's betrayal to fulfill the Lord's great plan.
Don't be afraid. Am I in the place of God? You intended to harm me, but God intended it for good to accomplish what is not being done, the saving of many lives." Genesis 50:20
Over and over throughout the pages of Scripture, it is made very clear that God uses everything, including hard things and struggles, for His Goodness. Romans 8:28
Jesus never said that once we became followers of Him, life would be easy and carefree. In fact, in John 16:33 he said the opposite.
I have said these things to you, that in me you may have peace. In the world, you will have tribulation. But take heart; I have overcome the world."
In Him — peace
In the world — tribulation, struggles, hardships
In HIM — PEACE
It has taken me a long time to fully grasp my head around this promise, in fact, if I'm being truly honest, I still struggle.
But there is hope and that is only found in Christ.
Friends, if you are struggling with anxiety or any other hardship, take comfort in this truth.
Anxiety isn't just a problem to ignore, it's an opportunity to rejoice in our afflictions and give thanks for our struggles.
"Rejoice in our afflictions, because we know that affliction produces endurance, endurance produces proven character, and proven character produces hope." Romans 5:3–4
We are being refined, made new, and like Christ.
Jesus knows our suffering and our pain because He came down to earth both fully God and fully man. He understands our pain and He is with us through every struggle, every hardship, every hard thing when we trust in Him and fully lean in His arms.
Resources for Your Anxious Heart
Before we go, I wanted to share a few practical resources to help you in your journey with anxiety. These have been invaluable in my own struggle and healing.
Biblical Counseling
Speaking to someone who is both trained in counseling and Scripture is life changing. Sometimes you need someone else who is unbiased or not connected to your life story in any way, to help you work through the layers deep in your soul.
Finding a counselor that is right for you may be just what your anxious heart needs.
I know it was for me! I found my current counselor by asking for a reference from my Pastor. Many churches had references for many skilled and qualified therapists, doctors, and counselors. Some larger churches even have a resource page on their church website.
Spend time searching and even asking for references if you feel comfortable.
Bible Study
Time in Scripture is so important and thankfully we live in a day and age where there are many Bible studies specifically geared towards women who struggle with anxiety, fear, worry, or other emotional health struggles.
Here are a few that may help guide your time in your Bible study:
Rest and Release: A 4-Week Bible Study by Courtney Joseph
Fear & Anxiety: Learning to Overcome with God's Truth: A Love God Greatly Study Journal from Love God Greatly
These are also some truth-filled, Gospel-centered books that have also helped me in my journey:
Growing in Gratitude by Mary K. Mohler
Choosing Gratitude: Your Journey to Joy by Nancy DeMoss Walgumuth
Humble Roots: How Humility Grounds and Nourishes Your Soul by Hannah Anderson
Overcoming Fear, Worry, and Anxiety: Becoming a Woman of Faith and Confidence by Elyse Fitzpatrick
Running Scared: Fear, Worry, and the God of Rest by Edward T. Welch
Breaking the Fear Cycle: How to Find Peace for Your Anxious Heart by Maria Furlough
If you struggle with anxiety, what resources (books, Bible studies, etc.) would you add to list? Share your favorite tools in the comments below.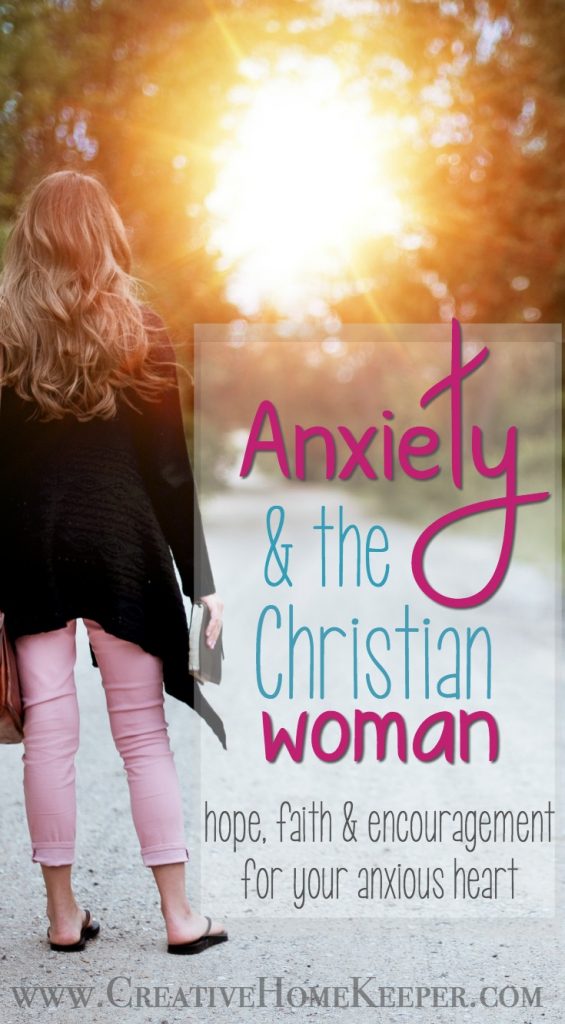 ---
Anxiety & Christian Woman: Hope, Faith, & Encouragement for Your Anxious Heart (Part 4)
---
Thank you for walking along this journey with me as I shared my own personal struggle with anxiety. If you are also suffering from anxiety, I want you to know something important…
You are not alone.
Struggling with anxiety doesn't mean your faith isn't strong or that God has forgotten about you.
But he said to me, 'My grace is sufficient for you, for my power is made perfect in weakness.' Therefore I will boast all the more gladly about my weaknesses, so that Christ's power may rest on me." 1 Corinthians 12:9
Do not be ashamed of your struggle with anxiety.
Instead, shift your perspective to view it as an opportunity to draw closer to the Lord and to rely on His strength.
This may be a path we would rather not walk on but when we lean on Him for strength, His power is made perfect in our weaknesses.