When Your Quiet Time Isn't Quiet
Is your quiet time anything but quiet? These 5 simple strategies will help you focus on your Bible reading and prayer time in the midst of distractions vying for your attention. Perfect for moms with little ones!
"Mommy! I'm hungry! Can you fix breakfast now?"
"Mommy… he's looking at me funny! Can you tell him to stop?"
"What are you reading Mama?"
"Can I sit here next to you?"
"What's this?"
These are all questions I was asked by all three of my children this morning as I was trying to finish my Bible reading before fixing breakfast.
Some mornings, it's not so bad but other mornings my quiet times are anything but quiet.
Who actually coined the term "quiet time" anyway?
I'm guessing it wasn't a mom because quiet time doesn't happen very often in our home, even during our quiet time in the afternoon for naps.
So I'm curious,… Does quiet time exist in your home?
I believe that regardless of the season of life we are all in, we probably all struggle with finding quiet in our quiet times.
From the noise and distractions of our children, husbands or pets to the environment noise and constant distractions happening all around us, it's often hard for us to set aside "quiet" blocks to time to read Scripture, spend time in prayer, and grow our faith through study and reading of spiritual growth books.
So how do you focus on reading your Bible and growing your faith when your quiet times isn't quiet?
Read Your Bible Aloud
Reading anything aloud allows you to focus better on what you are reading.
I remember studying when I was in school and always found it so helpful to read aloud passages from my textbook to better help concentrate and absorb what I was reading.
The same can be said about reading your Bible.
Reading aloud can help you focus while the noises are going on around you. It can also help you focus your reading through harder passages.
And much as we don't want to admit it, there are parts of the Bible that are not as engaging or captivating as others. It doesn't make it any less important or less significant, after all, ALL of God's Word is alive and active… but it also doesn't make it any easier to read through it.
I have found that when I read aloud through those harder passages, I actually take in more of the message and story than if I would do just a quick read through silently, where my mind is prone to wonder. 
Reading aloud forces your mind to focus on the words you are reading so you can say them correctly.
Another bonus of reading the Scriptures aloud is that your kids will also hear it as well if they are around and what an important memory that is for them!
[clickToTweet tweet="Reading #Scriptures aloud to your kids is an important memory for them & plants faith roots" quote="Reading Scriptures aloud to your kids is an important memory for them & plants faith roots"]
To hear their mom read the Bible aloud (not just the children's Bible, but the actual Bible) and to hear God's Words spoken will begin to plant little seeds.
This summer I read a book that completely changed the way I viewed reading the Bible aloud to my kids resulting in me really make an effort to incorporate this practice into our daily routines.
Listen to an Audio Bible
Some days we just need to listen to the Bible being read for us.
Whether you are exhausted and your eyes are just too tired to focus, or you just need to listen yourself, having an audio version of the Bible is a valuable tool to have in your toolkit.
It used to be that a complete audio recording of the Bible was extremely expensive but in recent years the prices have significantly dropped as more and more people are moving away from purchasing CDs and instead just downloading recordings straight to their phones or eReaders.
For those of you who are on a budget, I have great news…. the YouVersion Bible app has several audio versions of different Bible translations and it is completely free!
I have the app downloaded on my phone and Kindle (there is even an app for kids too!) and use it every single day.
I love that I can easily pick the book, chapter, and verse I left off on and hit play to have God's Word fill my kitchen, my car, or wherever else I am.
With an audio recording you purchase, you usually have access to an anthology with different readers reading different books for a bit more variety but with the YouVersion Bible app, you just have one reader.
I listen to the ESV version and the narrator is a man with a gentle voice who is engaging.
Another benefit of listening to the Bible is that you get to hear the correct pronunciation of harder names and cities.
[clickToTweet tweet="Listening to the #Bible helps w/ correct pronunciation of hard names & cities #ScriptureGraces" quote="Listening to the Bible helps with correct pronunciation of harder names and cities."]
Raise your hand if you have ever had to read aloud a portion of Scripture but have fumbled through trying to figure out how to say the names?
I have!
Listening to the audio version has really helped me read the Bible correctly and with confidence when I get to those hard names.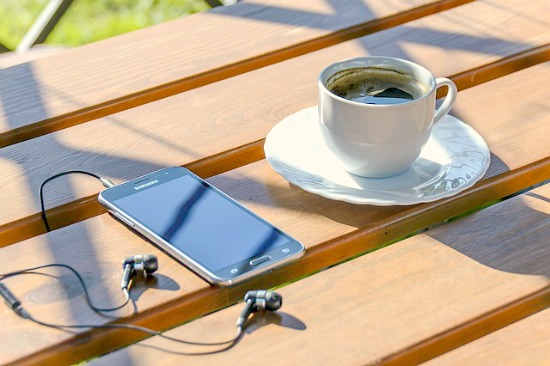 Ear Plugs 🙂
I'm being completely serious here.
I am a mom with littles who don't really understand the difference between inside and outside voices despite my constant teaching and modeling.
Someday they will get it…
So with that being said, some days are just loud.
And it's not just noise from your kids either.
The enemy loves to interrupt our quiet time with distractions from your environment, your neighborhood, other family members… any noise can easily become a distraction.
A good pair of earplugs, headphones, or earbuds can make all the difference to block out some of the noise surrounding you.
I have a small set of earbuds I keep in the pencil pouch of my Bible book basket that I can easily plug into my phone or Kindle.
Some days I will turn on the audio version of my Bible or I may turn on soft praise and worship music t focus my attention.
With my young children around, I make sure the volume is at a level where I can still hear if there is an emergency and of course, I can always see my kids. I'm not locked up in a room where I can't see or hear anything! 😉
Bible Book Basket for Your Kids
If you have children around while you are trying to have your quiet time, why not get them in the habit themselves?
I have talked about my love for my own Bible book basket for years now but creating a version for my kids has been a game changer as well.
I stock it with our favorite children's Bibles, Bible-based books, and stories.
When my kids hear me say to grab their Bible book basket, they know exactly what to do!
They sit at the table with me or on the couch with their own basket and flip their own books and look at the pictures that portray Bible stories. After I'm done with my Bible reading, I always read a story or two for them.
Bible-Based Entertainment
Some might disagree with me on this one but I honestly have no hesitation about letting my kids watch a TV show or movie if I reeeeeally need a quiet Bible study time.
The catch is that I don't let them watch just anything, we have a list of favorite Bible-themed children's shows that our family loves.
Last year for Easter we invested in the entire Theo DVD collection for our children's Easter baskets.
They LOVE these DVDS!
The animation is amazing (my husband actually thought Disney produced the movies) but the theology being presented to our children is age appropriate and filling their little hearts with so much truth.
We also love What's In the Bible, Owlegories, some Veggie Tales, and Boz.
Thanks to Amazon Prime and our church's membership to Right Now Media, we can easily stream many of these at home but our library also has a great selection of DVD to check out.
Not only do I occasionally let my kids watch these when I need an extended quiet time but they are also great for Sunday mornings while you are trying to get ready for church too!
These are just simple ways I have found to help me focus during my un-quiet times so I can read and study my Bible, write the Word, and have extended time in prayer… even though my home is anything but quiet 🙂
What are your go-to strategies to focus yourself when your quiet time isn't quiet?