Looking for a new routine? Check out these free quiet time resources to refresh your faith & plan for consistent daily Bible reading & study time even on your busiest of days!
A new season welcomes in plenty of fresh restarts & routines.
With the kids heading back to school, as well as me heading back to work, I've been thinking through several different routines and anchors to help our family transition from the long, lazy days of summer to the more structured routine of fall.
One area in particular that I have been thinking through is how I will approach my daily Bible reading and study time this year.
Three mornings a week, I will have to be up, dressed, and out of the house by a certain time, along with getting the kids ready too.
The other two days, I will have a more relaxed schedule.
So what this means is that three days a week, my Bible reading time will have to be bite-sized, and the other two days + weekends, by Bible reading time will be more of a feast with reading and study time.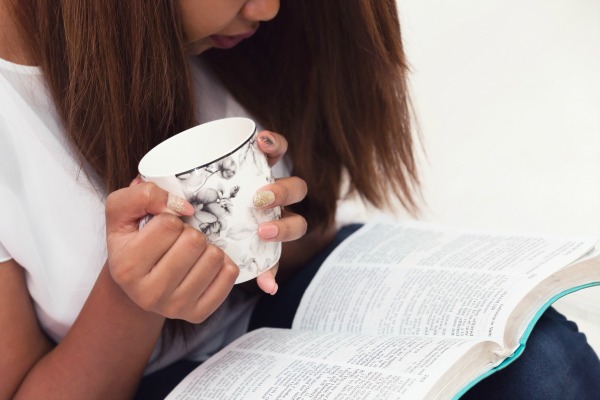 Bite-Size vs. Feast Quiet Time
Bite-size means exactly as it sounds, small bites or pockets of time to read smaller passages accompanied by short journaling and devotional with prayer.
Feasting is having an extended time of reading, in-depth study, journaling, and longer prayer time.
Both, if used appropriately, can have amazing impacts in your life.
When you are short on time, it's best to focus on QUALITY vs. QUANTITY
Not everyone can have long daily Bible study times every day.
It's just a fact due to busy schedules.
B U T everyone has pockets of time for smaller bite-sized times to read God's Word and pray with a genuine heart throughout their day.
While there are downsides to having our smartphones and tablets keeping us connected all the time, they can also be used for good too.
I am so grateful to live in a time where hundreds of Bible translations and free quality reading plans are available at just the swipe of my finger.
Below, I'm sharing my favorite 6 free quiet time resources as well as my own routine that I created using the new free quiet time planner.
My Fall Quiet Time Routine
As I mentioned above, three days a week I have to be out of the house, dressed and ready to go for the day.
These are the days where I won't have a dedicated morning Bible reading time, rather I will use those small bite-sized pockets of time throughout the day to read my Bible.
The other four days of the week, I will have a longer time to feast on the Word.
I will use this time to not only read but also to study, write Scripture, and longer times of prayer.
Here is what my fall routine will look like: (all of the resources mentioned here are included below in the free quiet time resource section)
Bite-Size Routine for Monday, Wednesday & Friday 
Read the daily Bible passage using the First5 app (For the fall, I am going to be reading through and studying the Joshua-Judges plan)
After I have read the passage, I will read the accompanying devotional and study notes. I will make highlights and notes directly in the app to add to my Bible journal on my feast days
As the day and time allow, I will open my YouVersion app to read the same passage using different translations. If I'm traveling in the car, I will turn on the audio version to listen.
For example: If the day's passage is Joshua 2, I may read the chapter in the ESV, then certain portions of the chapter in HCSB, NIV, NLT, or even The Message (though I only read this interpretations AFTER I spend time studying the other translations)
For prayer prompts, I will be using my school prayer calendar to pray over my kids and this book as a prompt to pray over my marriage.
Feast Routine for Tuesday, Thursday, Saturday & Sunday
Read the daily passage using the First5 app but will also use my Give Me Jesus Journal from Well Watered Women to write down notes and observations from today, as well as anything I made note of yesterday. This is when I also use BibleGateway to compare different translations, which can aid in my observations and notes.
After I have read and done my own journaling, then I will read the corresponding devotional and study notes from the First5 app. I will journal any teaching notes I want to remember.
Our women's Bible study group at church is reading through and studying the book of Joshua this fall, so these are the days I will be working through the workbook questions to prepare for our weekly discussion time.
To close out my time, I will be using my Prayer Journal to pray over all the prayer requests I have for the month. My feast days are the days where I can have a longer more focused time of prayer.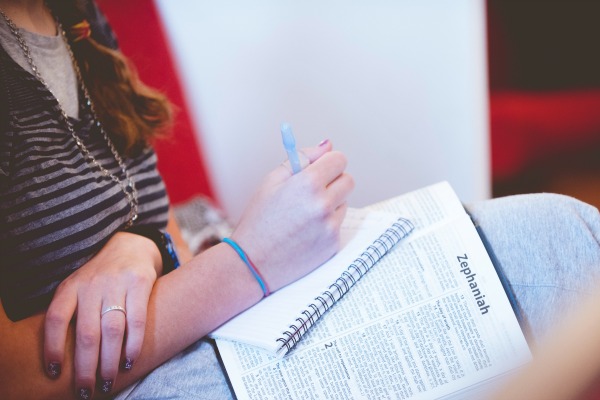 This is my plan to get started with over August through October. It may change if I find this doesn't work but I like having a plan.
When something is important, you prioritize your time to make it happen and Bible reading is important no matter how busy we are. 
My quiet time routine may look very different from yours and that is OK.
The beautiful thing is that we all get to create an individual Bible reading, studying, and prayer routine that is unique to each person.
To help me map out what my daily and weekly quiet time routine would like this fall, I created a quiet time planner to help me determine what I would read and study the Bible, as well as what tools I would use.
Have you sat down and thought through how you might structure your quiet time this fall? 
Do you know what book of the Bible you will read or study? Do you have a reading plan? 
If you need help, the quiet time planner is free for you to download to get you started as you create your own quiet time routine this fall. Use the free quiet time resources listed below to help you determine what to plugin for the upcoming season.
Also available in the resource library is the 31-Day Prayer Calendar to pray over the school year and a daily Bible study worksheet.
Free Quiet Time Resources
Once you have your plan, now it's time to locate some tools! These are my favorite free quiet time resources that include Bible reading plans, Bible studies, and tools that you can download or access on your computer or phone!
Scripture Graces: Quick Start Guide
OK, so I might be biased because I created this one 😜but this guide is everything you need to get started writing Scripture, including step-by-step directions and ideas. But my favorite part is the 5-week plan to write through the entire book of Colossians is also included!
Check it out HERE to get all the details and to download your free guide! 
YouVersion Bible App
I love the YouVersion Bible app for many reasons (having access to all the different Bible translations to read AND listen to) but I also love that they have hundreds of free Bible reading plans build right into their app.
You can pick from topical reading plans, reading plans designed specifically for women, men, and even teens/children. They have several reading plans to read through books of the Bible, the entire Old and New Testament, they even have reading plans that help you read the Bible in a year (or 90 days if you are ambitious!) The best part is that it's an app you can easily download to your phone or tablet so you always have your Bible with you.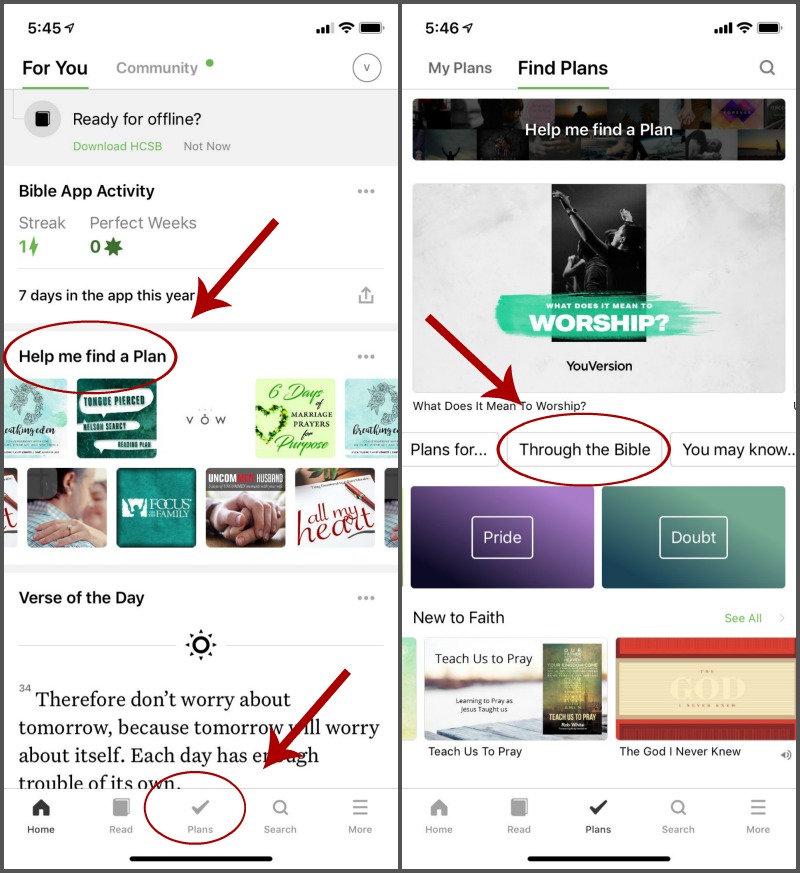 I use the app to read the Bible when I'm getting ready in the morning or when we are eating breakfast (I frequently turn on the audio when I'm fixing breakfast). Reading in the carpool line or waiting in line is also so easy. Plus the app itself and most of it's features are free, there are a few reading plans that may cost a few dollars but in my 8 years of using the app, I have never had to purchase anything.
Download the app HERE and then check out all the reading plans 
First5.org
Designed as an intentional tool, First5's mission is to get women to spend the first moments of their day in the Word…. before you start scrolling on your phone.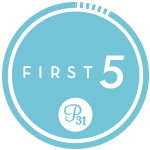 They have daily, chronological reading plans that begin with a short Bible reading (typically 1 chapter of what book they are in) then followed by a short devotional and teaching about this passage.
You can make notes and highlights within the app while you read, as well as connect with the community. There are several Bible reading plans available on the app. The First5 app is free but they do ask for optional donations if you feel so inclined, to help pay for the technical services.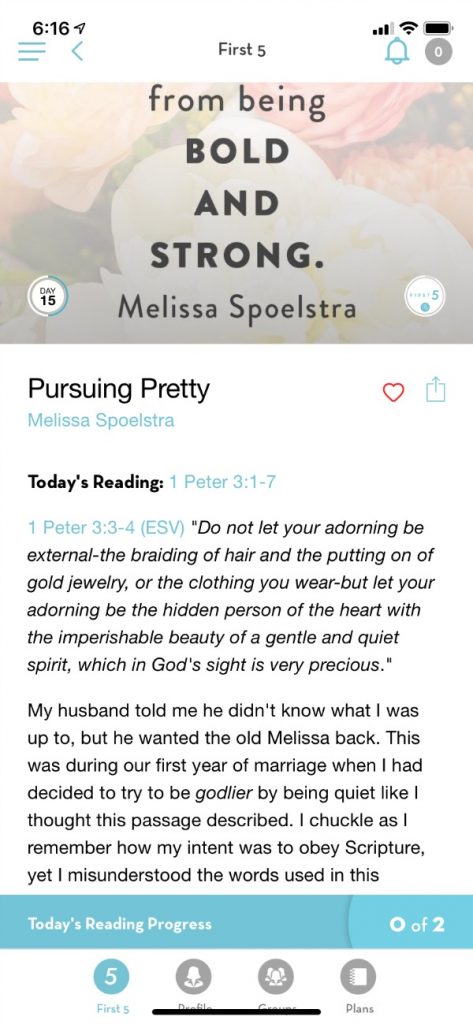 Check out the app HERE and download
*This is the prime app I will be using this fall as I go back to work, especially on the mornings when I won't have more than just a few minutes to read the Bible.
Love God Greatly
I first discovered Love God Greatly last summer when I was looking for Bible study resources for our women's group at church. LGG is an online Bible study ministry complete with free Bible studies on several books of the Bible. You can also purchase physical journals.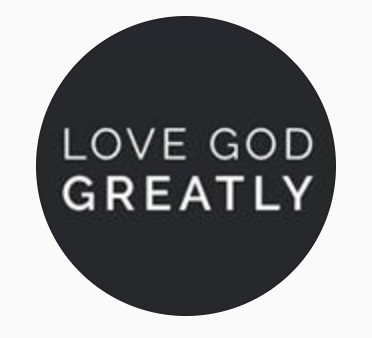 Each Bible study includes a reading plan, a downloadable journal, and weekly blog posts to further expand the Bible study. Last fall, my women's group worked through the study of David but I have also done the Ruth and Ecclesiastes study on my own. Both were great!
Another bonus is that most of their reading plans are also available on the YouVersion Bible app!
You can learn more HERE and scroll through their Bible studies 
She Reads Truth
I have been using She Reads Truth studies since January 2015 and they are so well done. While they do have beautiful journaling workbooks you can purchase, they also daily post the Bible reading plans and devotionals on their blog. You can even sign up by email to get them delivered to your inbox each morning!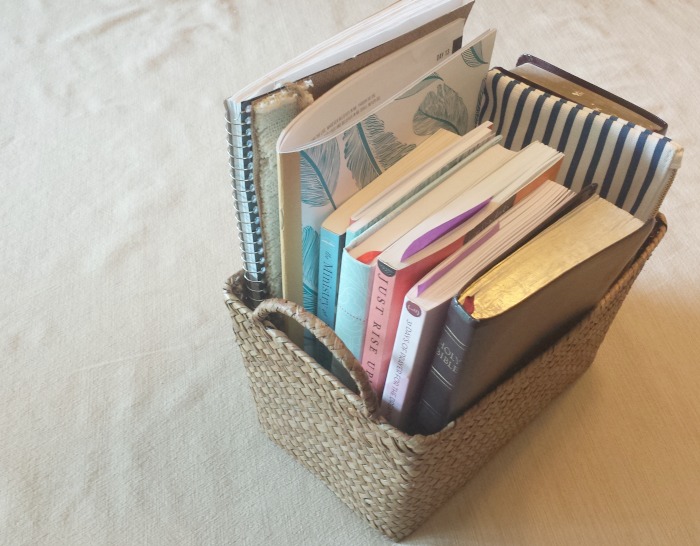 They have so many Bible reading plans available on their site, including many books of the Old and New Testament as well as several topical Bible reading plans. Their Advent and Lent studies are always so good (those are the two studies where I actually do splurge to purchase the workbook because they are gorgeous!)
They even have He Reads Truth and Kids Read Truth so the whole family can read the Bible together!

You can check out all the SRT Bible studies HERE
Intentional By Grace Bible Reading Plans
I love the simple topical reading plans that Leigh Ann offers on her blog, Intentional by Grace. She has free reading plans on each fruit of the spirit, as well as a plan to read through the Psalms, and many others.
Each plan includes a short reading for the day, as well as three simple questions to help you break down the verses. My kids and I have been reading through the Self-Control Bible Reading Plan this summer over breakfast each morning.
Head HERE to check them out and to download yours
What are your favorite free quiet time resources for reading plans and Bible study?