Slow and Steady Wins the Race
Do you feel like you've been left behind in the goal-setting race? What if I told you it's not a marathon and that slow and steady actually DOES win the race? Don't be like the hare, embrace the tortoise mentality when it comes to creating and accomplishing your goals this year.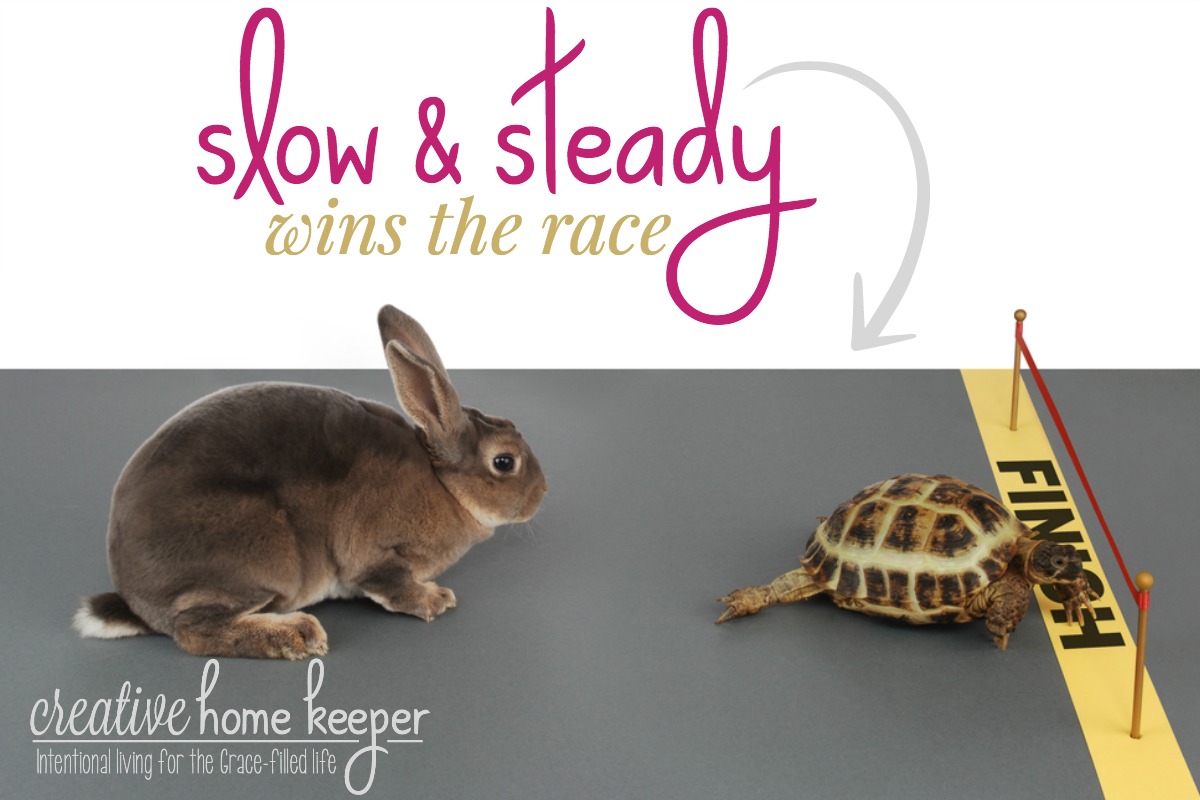 A few weeks have passed since the first of the year. The goal-setting posts have slowed and aren't in abundance anymore as you scroll through your newsfeed.
The fresh start that January 1st brings is replaced with a to-do list, daily responsibilities, and a busy life.
The motivation to look at those newly crafted goals that were so exciting a few weeks ago has been replaced by the rush, rush, rush of life.
We always start the new year with purpose and zeal but as the calendar flips through days, the eagerness of working towards the goals has quickly drained.
It's no secret that many people abandon those goals and New Year resolutions within the first few weeks of the year.
Real-life picks up once the holidays are behind us, work and school commitments fill our days once again and we have no room to work towards those things we felt so important a few short days ago.
My own first few weeks of this year didn't go according to plan either.
I had high hopes, fresh dreams, and an eagerness to start the year with a bang but as we are all too familiar, life happens.
I was moving through my days with a hurried pace trying to accomplish every task on my list only to be reminded that I wasn't moving towards anything that mattered in the grand scheme of things at all.
I hadn't stopped to reevaluate my priorities, re-read my mission statement or even taken the time to really hash out those goal ideas I had in my head.
Here I am almost two and a half weeks into the new year and I am just now sitting down to actually write out my own Goals with Grace.
Sure they had been swimming around in my brain for weeks, well before January 1st, but I hadn't actually put them to paper just yet.
Over the weekend, we experienced an ice storm (that never really happened so to speak) 😉  that caused my family to stay hunkered down in our home for almost three solid days. I was convicted to turn off my laptop and to put down my phone allowing me to totally unplug for that time.
Oh, how good it felt!
Using those hours well, I spent a lot of time in prayer, reading my Bible and writing out the Word when I felt God nudging me to take the time to sit down and write out my goals for the year, as well as make an action plan.
I printed out new sheets for my Goals with Grace notebook and I set to work. It didn't matter that it wasn't the first day of the year because as I've mentioned before, there is nothing magical about January 1st.
Goal setting and life evaluation can happen any day making TODAY your fresh start.
Two goal-setting lies are circulating right now:
If we don't begin the year with goals in place, then we miss out
If we don't accomplish our goals immediately, then we are failures
Are you feeling that you have missed out on the goal-setting party that everyone else attended weeks ago?
Let me share this truth with you… You aren't!
There isn't a rule that says if you don't start the year focused and with purpose, then you have missed out.
Nope!
Goal setting and accomplishment is a slow journey.
When I gave myself the time to work on my own this weekend, I also gave myself the permission to let go of the lie that if I don't meet my goals RIGHT NOW then I am a failure.
Last summer my kids and I went to see a puppet show at our local library. It was a fantastic production of The Tortoise and the Hare, a story I love so much and the message carries right into our own lives…
slow and steady wins the race.
In the play, the hare was confident.
He knew his purpose and mission, he knew his speed. Yet he took it all for granted.
He began with a ferocious pace that put him well in front but his enthusiasm slowly started to dwindle.
Because he was so far ahead he thought to himself he had time to lay down and take a nap. But oh how he missed out!
The tortoise, on the other hand, had a different sort of confidence — an "I think I can" sort of mentality.
He knew his capabilities, he knew he was much slower than the hare. But step by step, his determination took root and slowly he reached his destination, the finish line, leaving the hare in his dust.
Which would you rather be?
Running at full speed opening the door for a quick burnout, OR pacing yourself and slowly making your way to the finish line with focus, clarity, and energy?
It's just like those Direct TV ads that were in heavy rotation a few years ago… don't be like the hare, be the tortoise.
Work slowly and steady to set goals that matter and to accomplish them on your own timeline.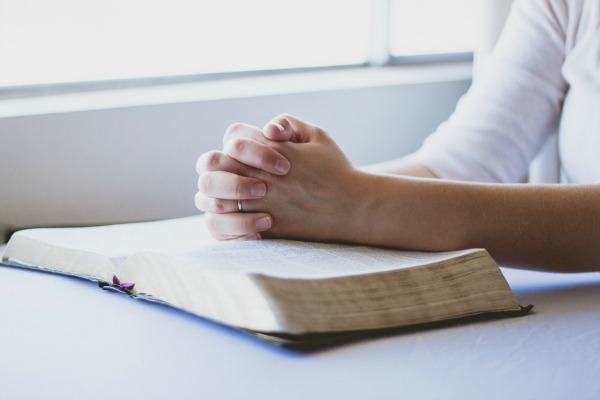 If you are reading this and it's well past the start of the year and you are already feeling behind, give yourself the grace to make TODAY your fresh start.
Spend some time in prayer, asking God to unpack those lies in your heart and focus on the priorities in your life today. Not someone else's priorities but the things that matter most to you.
Work through some self-reflective questions to help give yourself the boost you need to start evaluating why goal setting hasn't worked in the past and how you want your life to look and feel.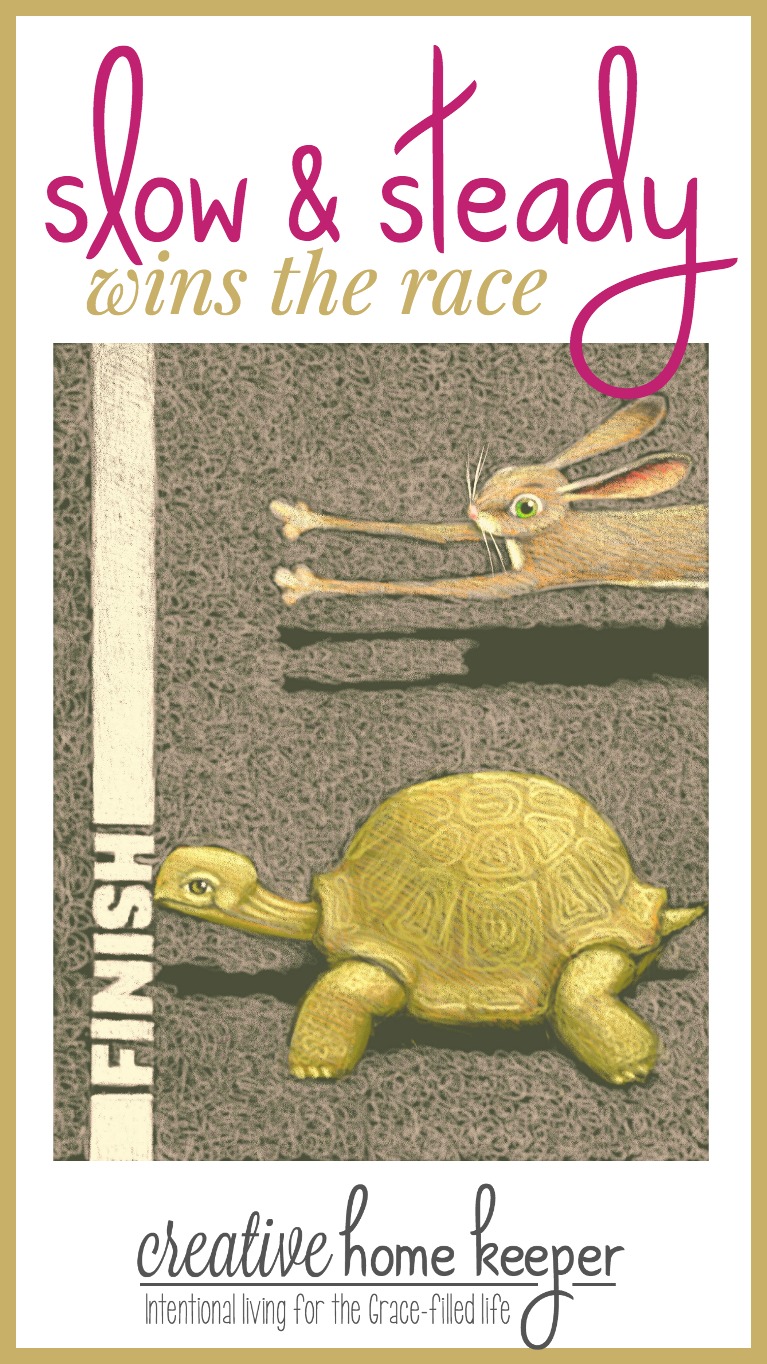 Examine your mission statement, or spend the time creating one if you have never done so. A personal mission statement is KEY in finally living with more intention and purpose every single day.
Download this FREE What's Your Purpose? workbook today to help guide you through the process of identifying your priorities and creating a personal statement.
Finally, start slow and set a few simple Goals with Grace.
Don't go overboard and create a huge list. Start small, with a handful of PSMART goals <— yes, I added an extra P there and I explain why in Goals with Grace.
Keep your mission statement and your carefully selected goals in a prominent place. Share them with your husband or trusted friend. You can even share them here below in the comments, or you can email me.
I truly believe in the importance of accountability when it comes to accomplishing our goals.
Start slow and steady today, run your race with endurance and confidence. You may not reach the finish line right this minute but Goals with Grace isn't a sprint, it's a marathon where you have to pace yourself.
In terms of goal setting, are you more like the tortoise or the hare?