Dark Chocolate Cupcakes with Chocolate Ganache
I shared earlier this week that it was birthday week here in the Osborn home with Silas' birthday on Monday and my husband's birthday Thursday. One of my husband's absolute favorite sweet treats are these chocolate cupcakes that I shared on Instagram last weekend.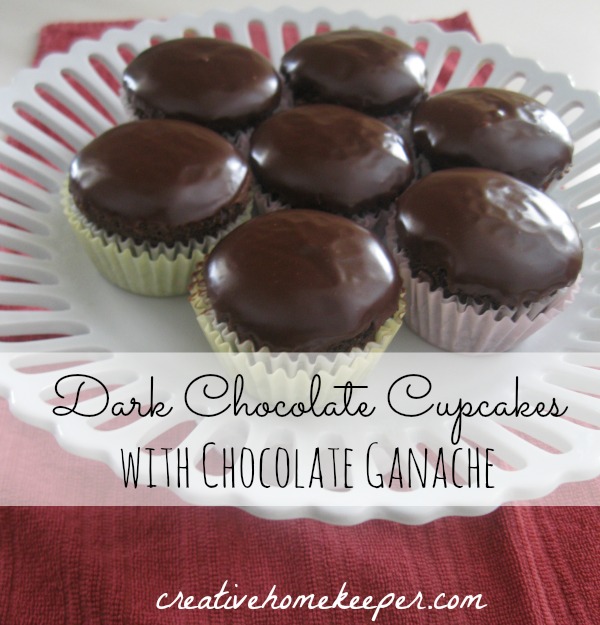 I always whip up a batch of them for his birthday every year.  It's hard to bake sweet treats since my husband has an egg allergy, so I have to use substitutions a lot, and I think you may be surprised what substitution I use for these cupcakes! 😉
Today I'm thrilled to share the recipe for these dark chocolate cupcakes topped with homemade ganache. As the chocolate gananche cools it forms a soft, candy-like shell that you have to break through to get to the soft cupcake. This is truly a delicious, indulgent treat that I love to whip up for my husband.
If you love chocolate, I am sure you will loves these dark chocolate cupcakes with chocolate ganache too! They are truly a decadent treat!
Dark Chocolate Cupcakes with Chocolate Ganache
Author:
Prep time:
Cook time:
Total time:
Ingredients
1 1/2 cups whole wheat flour
1 tsp baking soda
1/4 tsp salt
1/3 cup cocoa powder
1/4 cup coconut oil, melted
1 small (2.5 oz) container of baby food prunes
1 1/2 cup sugar
2/3 cup milk
1 tsp white vinegar
1/4 cup half and half
2 ounces chopped unsweetened chocolate, chopped
1/2 tbsp unsalted butter
Instructions
Preheat oven to 350 degrees Fahrenheit. Line a cupcake tin with cupcake liners.
In a large mixing bowl, combine flour, baking soda, salt, cocoa powder, oil, prunes, 1 cup of sugar, milk and vinegar. Mix until well blended. For best results, use an electric mixer as the batter will be thicker.
Fill the cupcake liners with the batter and place in the oven. Bake for 20 minutes. Remove from the oven and let cool on a baking rack.
To prepare the ganache, heat the half and half and remaining 1/2 cup of sugar in a small saucepan over medium-high heat until the mixture begins to boil.
Turn off the heat and add the unsweetened chocolate. Whisk until the chocolate is melted. Stir in butter until ganache is smooth and creamy.
Dip the tops of the cupcakes into the ganace and let ganache cool and harden on a baking rack.
So the surprise egg substitute? Baby food pruned and white vinegar! I promise you won't be able to taste them, plus the dark, velvety color adds to the dark color of the cupcakes.