Small Steps to a More Natural Home
So you want to live a more natural lifestyle and increase the health and wellness of your family?
You are not alone. It's becoming more and more popular these days to get back to the basics, to steer clear of harmful toxins and to limit our use of conventional cleaners and paper products. But sometimes it can seem so overwhelming to know where to start.
My family has been taking small, baby steps to live naturally. We aren't all the way there and there are some areas I would still like to change but with some intentional steps we are moving in the right directions.
If you don't know where to begin in your own natural living quest, why not start small with these 4 tips to a more natural home.
Make Your Own Natural Cleaners
It can be convenient to just buy whatever is on sale at the store but did you know you can easily make your own for half the price?
When I first started changing out my cleaning products, I started small with just vinegar and water to make my floor cleaner. I have slowly been adding in more ingredients over the years and now have a whole cleaning basket based on 10 simple and natural cleaning ingredients.
Use Cloth Napkins
I grew up on paper napkins. In fact I thought that was the norm. I thought cloth napkins were only for "fancy" dinners. For a wedding present we were given a set of cloth napkins but I thought that they were too pretty to use every day.
A year later I read my first book
on making transitions to live a more"green" lifestyle (Back in 2008 the word green was starting to become trendy). It was suggested that the first small step to reduce the amount of waste in your home was to ditch the paper and use cloth napkins and towels.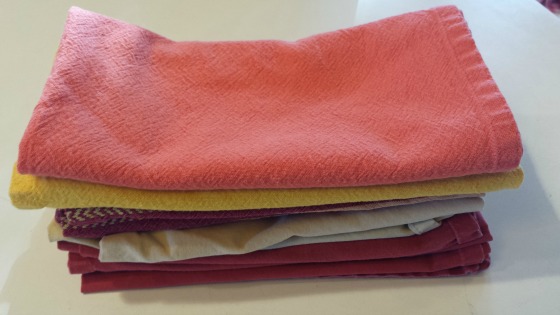 So out came the set of cloth napkins and I have been using them ever since, in fact it's a rare day if we ever use paper napkins now. We have even reduced our use paper towels with this simple trick.
Make a list of foods you would like to learn to make from scratch
We all know by now that most of the food sold in the grocery store is heavily processed and contains a lot of unnecessary ingredients. By just picking a few staples to start making at home, you can greatly improve your family's health.
For example I like to make my own jam. Not only am I able to control the amount of sugar but I can use organic berries (which are on the dirty dozen list) and create batches of freezer jam cheaper than what I can buy at the store.
I also make my own salad dressing, spice mixes,  and pizza dough just to name a few.
Pick one or two things you would like to start making and focus on that. Once you have mastered those foods then you can easily start to make more foods from scratch.
Make Your Own Beauty Products
Our skin is the largest organ on our body and most everything we put on it, seeps into our body. A lot of store bought items also contain a whole lot of unnecessary, and often times unhealthy, ingredients. To avoid exposure I have started to make and use some of my own beauty products.
For example I make my own face wash, exfoliate scrub, leave-in conditioner spray and bug repellent for our family. A simple Pinterest search can lead to hundreds of DIY recipes. Pick one product that you would like to try and make, and start from there. Don't feel like you have to make over your entire beauty routine. I still use plenty of products I buy from the store.
Making small changes over time can help lead and direct your family to a more natural home. Making a list of important areas you want to focus on can help prioritize where to put your efforts.
What small steps do you and your family take to a more natural home?