Simple Caesar Vinaigrette Salad
One of the best things about summer is reaping the benefits of your garden's harvest. Or in my case, since I don't quite yet have a garden, reaping the benefits of fresh local produce from the farmer's market and grocery store.
During the warmer months of summer, I like to incorporate lots of vegetable-based meals and even try to throw a few meatless meals in the mix every so often.
Main dish salads for dinner are an excellent way to stretch the budget and incorporate all those delicious seasonal vegetables. Whenever I do make a salad for dinner, I usually throw some meat on top as a condiment for my husband who is a meat lover and a simple salad just won't fill him up 🙂
I love that salads are versatile and you can pretty much add just about anything in them to pack them with flavor, color, and nutrients.
My personal favorites are fresh green salads layered with cucumbers, tomatoes, celery, carrots, radishes, and red onions. Topped with a simple vinaigrette it's a tasty rainbow of colors on your plate.
I also love to order salads when I go out to eat too. Whether it be a simple side salad with my meal or a full flavor-packed meal, salads always seem to appeal to just about anyone.
One of mine and my husband's favorite salads to order when we go out is a traditional Caesar salad.
It's tangy, full of garlic and peppercorns and topped with freshly grated Parmesan cheese. It's delicious and my mouth is watering just thinking about it.
While I love Caesar salads at restaurants I refuse to by the store-bought  Caesar salad dressings that are loaded with a whole bunch of questionable ingredients that I can't even pronounce (and to be fair I'm sure the restaurant version of the dressing is just as unhealthy, I just don't have an ingredient list mocking me every time I take a bite!)
So I knew that if I wanted to make a Caesar salad at home I would have to make the dressing from scratch, but here is my second issue… if I'm going to make a batch of homemade salad dressing then I want a vinaigrette, not a cream based dressing.
Plus we have an egg allergy among several family members and even though my husband can tolerate a little Caesar dressing on his salad when we go out, I don't want to whip up a large batch of dressing that he probably won't eat at home.
So after some experimenting and some internet results I have found the perfect combination of a traditional Caesar salad dressing and a vinaigrette.
It's light, flavorful, tangy and even tastes rich and creamy… but it isn't.
It's a Simple Caesar Vinaigrette salad and it's delicious.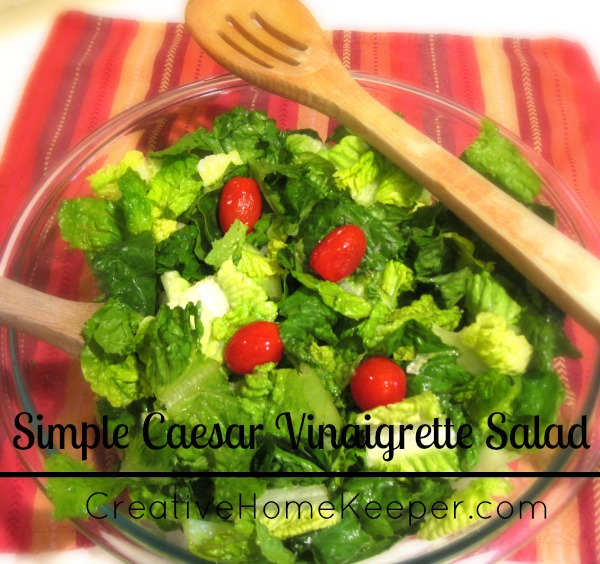 Simple Caesar Vinaigrette Salad
Recipe Type
:
Simple Vinaigrette Caesar Salad
Author:
Prep time:
Total time:
Ingredients
1 garlic clove finely chopped or 1 tsp minced garlic
1/4 cup Balsamic vinegar (you could also use Red Wine or White vinegar)
1/4 cup extra virgin olive oil
1 tsp Dijon mustard
3 to 4 dashes of Worcestershire sauce (about 1 Tbsp)
Juice of half a lemon
1 tsp of sugar
3 Tbsp grated Parmesan cheese
freshly cracked pepper
2 hearts of romaine lettuce
croutons
Instructions
In a small bowl whisk together the minced garlic, vinegar, oil, mustard, Worcestershire sauce, lemon juice, sugar and 1 Tbsp of the cheese. Add pepper to taste.
Wash, dry and chop the lettuce and place in a large bowl.
Toss the lettuce together with the vinaigrette, croutons and remaining Parmesan cheese.
If you don't want to toss the dressing with the salad, the vinaigrette stores nicely in a jar. If you refrigerate the dressing, the oil with solidifying so you will need to let it sit out at room temperature or place in a bowl of warm water.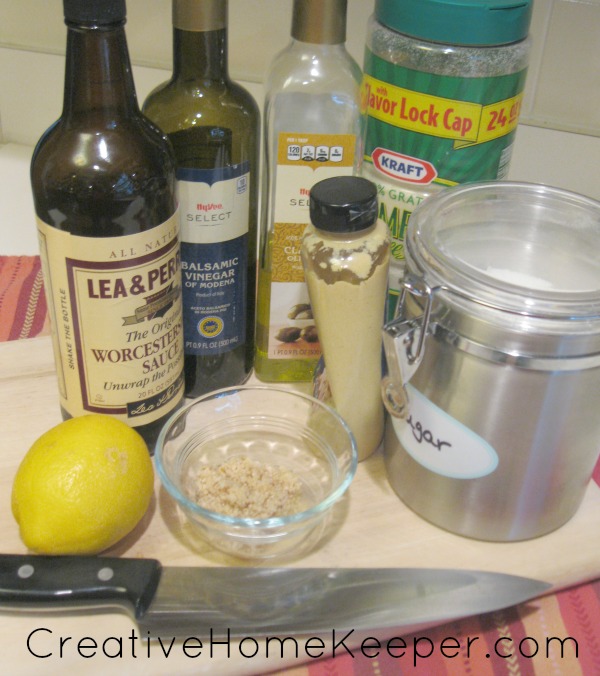 While not a traditional Caesar salad, as you can see from the photo, I added some fresh spinach and grape tomatoes that I had in the refrigerator that I needed to use up.
My kids LOVE grape tomatoes so they pretty much inhale them. You can make it your own salad by adding just about any garden fresh vegetables you have on hand.
I would also suggest using freshly grated Parmesan cheese.
I only had a gigantic Costco bottle of Kraft in the refrigerator and it definitely made the vinaigrette a little gritty but I think if I would have used fresh, similar to what you get when you order the salad in the restaurant, it would have been much better.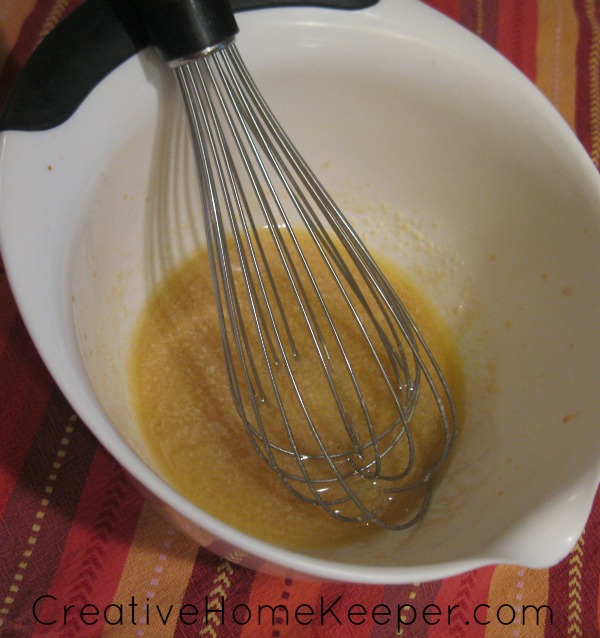 To make this a more complete, filling meal I added some shredded Rotisserie chicken that I had picked up from Costco earlier in the week.
You can also use chopped, cooked chicken breast or frozen shredded chicken if you have that in your freezer too.
Another benefit of this Simple Caesar Vinaigrette is that since it's not a cream based dressing it's easy to take with you to an outdoor picnic or cookout.
Also, you can easily make your own croutons by chopping up some crusty bread into cubes and sprinkling olive oil, salt and pepper and some grated Parmesan cheese on a rimmed baking sheet and bake until they are golden and crispy in a 400-degree oven.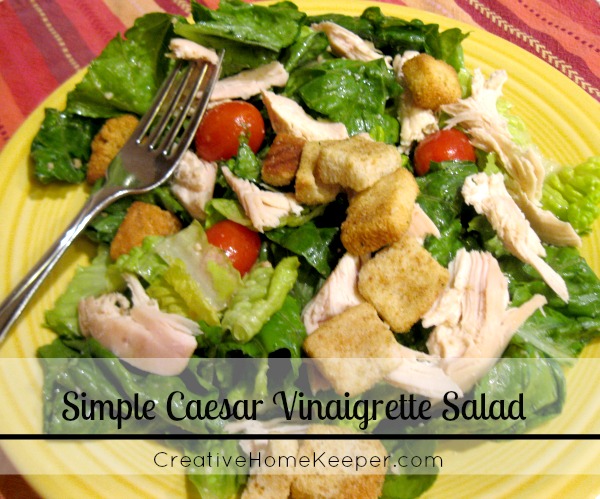 This is the perfect meal for those summer nights when you just want to get dinner on the table in minutes.
This quick and easy Simple Caesar Vinaigrette salad only takes minutes to throw together and it's filling enough for the whole family to enjoy!