Update: These are paleo-inspired snacks that are great to have on hand for your family if you are doing a Whole 30 and they are not.
Looking for healthy snacks that are filling, nutritious, kid-approved and paleo-friendly? These quick and easy snack options can be whipped up in no time and will satisfy any craving without ruining your whole day!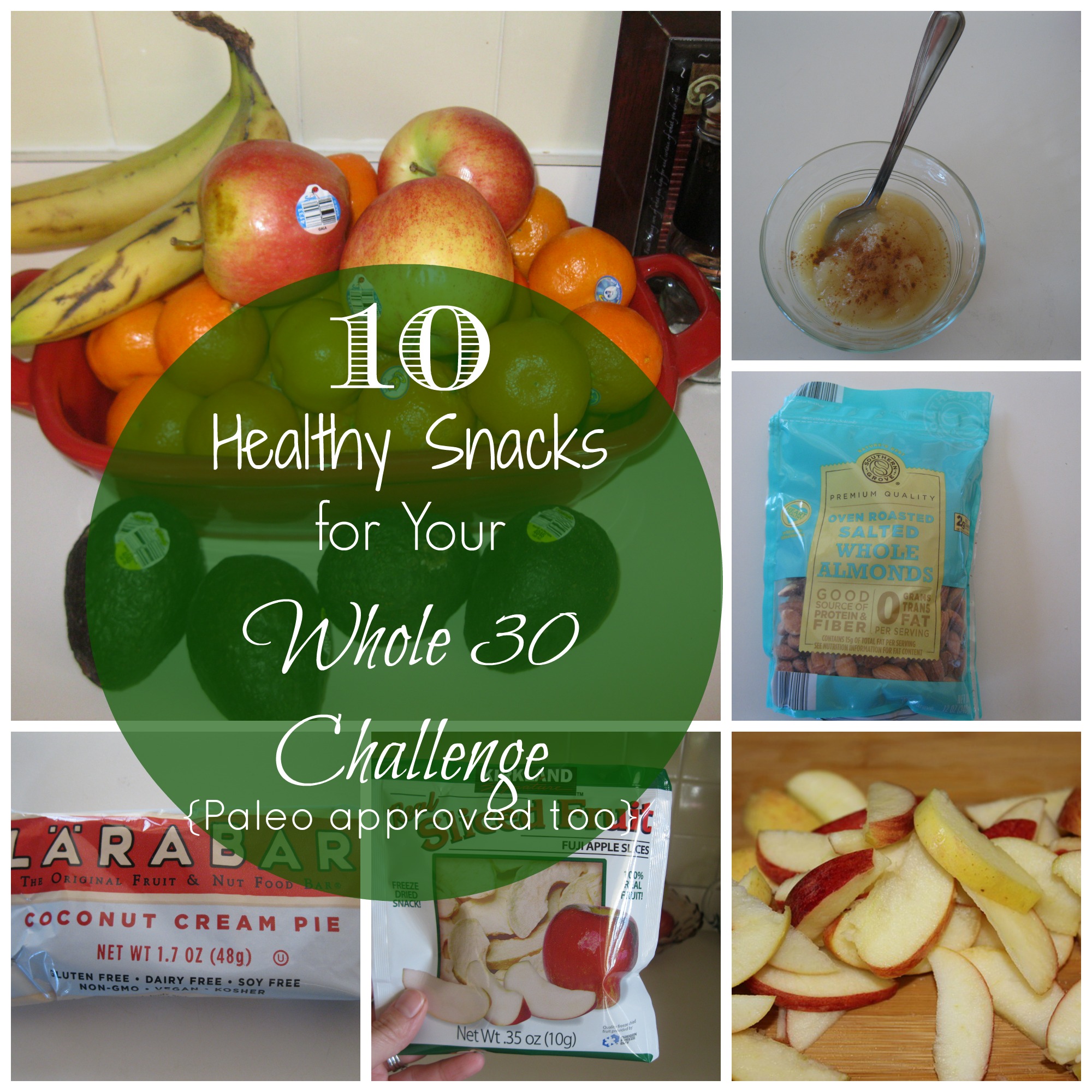 So I'm 14 days into my Whole 30 Challenge, almost halfway there! Whoo-hoo!
I've been doing so well too, no intentional cheats but I did have a few unintentional cheats (yes it does happen!)
When we went out to dinner on Saturday I thought I was going the safe route by ordering the salad but when they delivered it there were blue cheese crumbles all over it. Somehow I overlooked that while ordering. I was able to pick most of the crumbles out, but since blue cheese is pretty crumbly it was hard to get them all. I also had a small piece of bread during communion at church, I wasn't going to give up the sacrament of communion.
Other than that it's been pretty good. I still have some cravings, and it's funny because some days I don't even notice them and other days it takes every ounce of strength to overcome them. But I really do feel healthier and more energized then I have in a long time.
I will say the hardest part of the Whole 30 Challenge is finding alternative snack options since back in the day (as in a few weeks ago)  I would just munch on a few crackers or cheese if I was hungry during the day.
Part of the challenge of the Whole30  is to not snack if you can help it, instead of filling yourself up with wholesome and nutritious food during your meals to keep you satisfied. But since I work out almost every day and am constantly on the move chasing after the little ones and cleaning the house, I get really hungry.
Instead of falling back into my old habits, I am discovering much better and healthier snack options that are quick, easy to pack on the go, fulfilling, nutritious and kid-approved… which is a must!
While I'm not sure if all of these snacks are technically Whole30 approved, they are Paleo friendly and are minimally processed but it's always best to read labels and be vigilant about what foods you are putting into your body.
Fruit & Nut Bars
I discovered Lara bars about a year ago and fell in love with them.
Basically, they are a mixture of fruits and nuts with a dash of cinnamon, nutmeg, or other seasonings.

That's it. No added sugar, artificial ingredients, or any other questionable add-ins. My favorites are Coconut Cream Pie
, Cashew Cookie
, Chocolate Coconut Chew
, and Banana Bread
.
You do need to read the labels carefully though because some do have peanuts, which is not allowed on the Whole30, and I ate one Larabar uber Roasted Nut Bar
not realizing it had brown rice syrup. Oops!
Also, they are kind of expensive so it might be worth it to make your own.
Real Sliced Freeze-Dried Fruit Snacks
Sometimes you just want to open a little snack pouch and crunch something!
These Real Sliced Freeze-Dried Fruit Snacks
really fit the bill with just apples, cinnamon, and citric acid listed on the ingredients list. (Note: I get my box from Costco which is much cheaper than the price listed on Amazon).
Mixed nuts
When you want something crunchy and salty, mixed nuts are the way to go. You do need to carefully read the ingredients to make sure they were not cooked in canola or soybean oil which unfortunately most nuts are.
Also make sure to steer clear of peanuts, which are not actually nuts anyway.
The best place I have found natural nuts at an affordable price is Aldi's.
Smoothie
Since I have had to beef up my morning breakfast to include more protein, I usually only drink a smoothie when I need a mid-morning boost.
In the book It Starts with Food: Discover the Whole30 and Change Your Life in Unexpected Ways
, which outlines the Whole30 Challenge, they actually advise not to drink smoothies but rather just to eat the fruit instead. So this is sort of a personal preference.
I make a pretty healthy smoothie anyway (cup of frozen berries, cup or more of spinach or kale, 2 tbsp of collagen, banana, and a cup of almond milk) so I'm fine drinking it. Plus it tastes delicious and makes me feel like I'm indulging but it really just depends on your personal preference.
Turkey Roll-Up
This might sound gross to others, but I love turkey wrapped around a pickle spear with a drop of mustard. It's tangy, salty, and crunchy.
It's has a little protein too. Just pay attention to the quality of turkey making sure there aren't a lot of preservatives. The same is true for the brand of pickles, make sure there isn't any sugar in the juice.
Apples with cinnamon and almond butter
Apple slices sprinkled with cinnamon and a spoonful of Almond Butter
to dip them in are so wonderful. It's simple, easy and a filling snack. Just make sure the almond butter doesn't have any added sugar.
Ants on a log
Celery, almond butter, and raisins, just like when you were a kid!
It's still a great snack even with almond butter replacing the peanut butter. Not to sound like a broken record, but make sure your raisins are just that, only raisins and not coated in sugar.
Fresh fruit and vegetables aplenty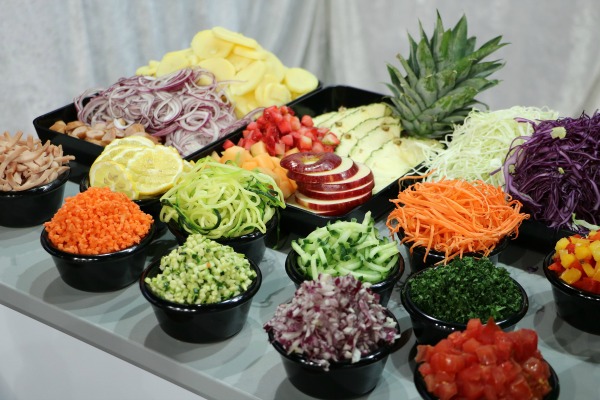 I keep plenty of fresh fruit and vegetables on hand to snack on and to throw in salads too. They provide the crunch or sweet flavor when you have a craving.
And when you get the hankering to dip them in something, try dipping them in…
Guacamole
Avocados, tomatoes, and other spices make this a delicious dip or snack all in itself.
If I can't find cheap avocados at Aldi's, then I buy a pre-made Guacamole, like Wholly Guacamole, it just has avocados and spices in it.
Applesauce with cinnamon
A small cup of unsweetened applesauce sprinkled with cinnamon is perfect when I'm craving something sweet and creamy.
It helps fight off my sweet tooth, but I usually also have to eat a few nuts with it for added protein.
These new snacks will continue to stay in the rotation once my Whole30 is complete.
If you are thinking about starting a Whole30 Challenge yourself, check out my Whole 30 recipes board where I am pinning Whole30 and Paleo resources to help get you motivated.
What are your favorite snacks to have on hand to provide a healthy energy boost throughout the day?