Gluten and Dairy Free Smoothie
I love smoothies and I think they can be a quick and delicious breakfast alternative too. What I love most about smoothies is how adaptable they are. You can pack so much nutritional value into a single serving, and still be satisfied for several hours.
Since I have a  minor gluten and dairy intolerance, I try to stay away from pretty much all your basic breakfast food items. Which leaves me basically with eggs, fruit, gluten-free oatmeal, meat (which I don't know about you, but meat is usually the last thing I want to eat in the morning even when I'm super hungry. Weird, I know!) and this gluten and dairy free smoothie recipe.
I like to rotate these choices around, so that I have plenty of variety. And during the summer, when it's hot, the last thing that sounds good is a bowl of hot oatmeal. A typical breakfast for me these days contains a smoothie and 1 or 2 eggs scrambled. This combination fills me up until lunch time, and provides plenty of energy to get things done.
Not all smoothies are created equal though. Depending on what you put in them, they can quickly turn unhealthy very fast! Most of the pre-made smoothie mixes contain a lot of unhealthy stuff that you don't need. I personally don't add in any juices, sugars, or natural sweeteners, I let the fruit sweeten it up naturally. I also don't include yogurt, including the non-dairy variety, since so many yogurts contain a lot of sugar.
Ok here is the recipe, and like all good smoothie recipes, you can easily adapt it to your preferred tastes.
Gluten and Dairy Free Breakfast Smoothie
Author:
Prep time:
Total time:
Ingredients
1 cup frozen berries (blueberries, blackberries, and raspberries are my favorites)
1 ripe banana, sliced
1/2 cup fresh fruit (peaches, strawberries, kiwi, or pineapple are my favorites)
1 cup spinach
1 cup almond milk, coconut milk, or water
1-2 Tbsp. unsweetened apple sauce (optional)
2 Tbsp. ground flax seed
1 scoop rice protein powder (optional)
Instructions
Place all of the ingredients in a blender.
Blend on high for about 30 seconds, or until everything is well blended.
Pour into cups and serve immediately.
My go-to frozen berries of choice are blueberries, but I also like to buy a bag of mixed berries to really enhance the flavor. Plus while we are still in berry season, now is the perfect time to stock up on berries at your farmers market. They freeze really well.
I typically enjoy coconut milk as the liquid base for my smoothies, but lately I have also enjoyed some almond milk too. Which ever variety you prefer, it's best to buy the unsweetened kind. I have also just used water when I ran out of the milk alternatives and I really couldn't notice that much of a difference in taste.
I do occasionally use protein powder to make the smoothie more filling. When I do, I use a rice protein, instead of a soy or dairy protein. While this smoothie recipe is delicious without the protein powder, it helps me feel full longer. If you do use a protein powder, make sure it is high quality and not filled with unnecessary ingredients.
This smoothie is very quick to whip up, and what I enjoy even more is that I can drink my breakfast with one hand, and serve breakfast to my kids with the other!
Enjoy, because my sweet Silas certainty does!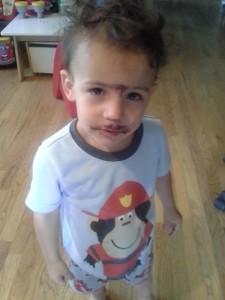 See the smoothie ring around his face? He pretty much sticks his whole head in the cup! Every morning he asks for his smoothie!